David Grusch (UFO Whistleblower) Age, Wife, Family, Biography & More
Quick Info→
Wife: Jessica Grusch
Hometown: Pittsburgh, Pennsylvania
Age: 36 Years
Bio/Wiki
Full name
David Charles Grusch [1]

Instagram - David Grusch
Other name
David C. Grusch [2]

David Grush's PPD-19 Form
Profession
Retired US Air Force personnel
Physical Stats & More
Height (approx.)
in centimeters- 175 cm
in meters- 1.75 m
in feet & inches- 5' 9"
Weight (approx.)
in kilograms- 65 kg
in pounds- 143 lbs
Eye Colour
Grey
Hair Colour
Brown
Military Service
Service/Branch
United States Air Force (USAF)
Rank
Major
Service Years
2009 - April 2023
Unit/Department
Intelligence
Personal Life
Date of Birth
Year, 1987
Age (as of 2023)
36 Years
Birthplace
Pittsburgh, Pennsylvania, United States of America
Signature
Nationality
American
Hometown
Pittsburgh, Pennsylvania
School
He did his schooling at Pittsburgh.
Educational Qualification
He holds a degree in Physics.

Note: He completed his graduation on an Air Force scholarship.
Hobby
Reading
Relationships & More
Marital Status
Married
Family
Wife/Spouse
Jessica Grusch
Parents
Father- Regis Grusch
Mother- Mary Alice Grusch
Siblings
Brother- Michael Grusch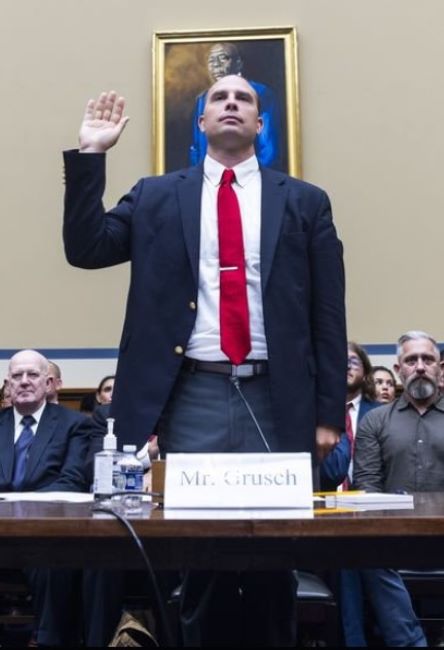 Some Lesser Known Facts About David Grusch
David Grusch is a former officer of the United States Air Force's intelligence department, who also served in the National Geospatial-Intelligence Agency (NGA), the National Reconnaissance Office (NRO), and the Unidentified Aerial Phenomena Task Force (UAPTF). His acts of whistleblowing, which involved revealing concealed operations of the US government related to extraterrestrial events, brought him widespread recognition. In 2023, he hit the headlines after he testified before the US Congress, exposing the government's secretive actions involving the cover-up of Unidentified Aerial Phenomena (UAPs), commonly known as Unidentified Flying Objects (UFOs), alien technology, and non-human entities.
During his time at college, David Grusch participated in the Air Force Reserve Officer Training Corps (AFROTC).
Following the completion of his formal studies, he enlisted in the United States Air Force (USAF) as a second lieutenant. In an interview, David expressed his long-standing admiration for service personnel and his desire to become a part of the armed forces himself and said,


I came from a blue-collar family in Pittsburgh and had the money for college. I always admired people in uniform, and I have always wanted to be a part of something bigger than myself."
Following his commission in the USAF, David Grusch joined the intelligence division and participated in numerous combat missions in Afghanistan. During his deployments, he played a vital role in gathering intelligence on the whereabouts of high-ranking Taliban officials. The valuable information he provided played a crucial part in the efforts of US and NATO forces to incapacitate these leaders.
During his tenure in Afghanistan, David received numerous awards and medals in recognition of his outstanding performance.
He was assigned to the National Geospatial-Intelligence Agency (NGA) in Belvoir, Virginia, U.S., after becoming a major.
Thereafter, he became a part of the National Reconnaissance Office (NRO), located in Virginia, which operates under the supervision of both the United States Intelligence Community and the United States Department of Defense.
David was selected in 2019 to be the NRO's representative at the Unidentified Aerial Phenomena Task Force (UAPTF), now referred to as the All-domain Anomaly Resolution Office (AARO). The task force's primary mission was to examine and provide accurate reports on UAP/UFO sightings within the United States. He fulfilled this role as a representative until 2021.
During his time at the UAP Task Force (UAPTF), David was a member of a team established by the U.S. Congress with the highest level of security clearance, granting them access to classified government files. The team's primary objective was to thoroughly investigate reports of UAP/UFO encounters by US Armed Forces personnel. They conducted a meticulous examination of two specific incidents: the 2004 Tic Tac encounter, in which US Navy F/A 18 Super Hornet pilots observed a cylindrical UAP during a training mission, and the 2021 USS Russell incident, which involved several pyramid-shaped objects. Subsequently, the team created a comprehensive report detailing their findings on these events.
David stated that during his investigation into UAPs, he conducted interviews with numerous government officers and scientists in prominent positions. These individuals asserted that the US government was actively engaged in a UFO crash retrieval and reverse engineering project. Additionally, David claimed that the government had covertly acquired not just UFOs but also alien technology and deceased extraterrestrial beings, all of which were kept hidden from the public and even from the US Congress. However, when he requested access to specific files related to this alleged program for deeper scrutiny, his request was rejected. While giving an interview, he said,


In 2019, the UAPTF director tasked me to identify all Special Access Programs & Controlled Access Programs (SAPs/CAPs) we needed to satisfy our congressionally mandated mission. At the time, due to my extensive executive-level intelligence support duties, I was cleared to literally all relevant compartments and in a position of extreme trust in both my military and civilian capacities. I was informed, in the course of my official duties, of a multi-decade UAP crash retrieval and reverse engineering program to which I was denied access to those additional read-on's."
IN 2021, he reported the UFO crash retrieval and reverse engineering program to his superiors at the Department of Defense (DoD). However, his complaint was suppressed and ignored.
In late 2021, he assumed the role of co-leader for UAP analysis at the NGA; he additionally acted as the organization's representative in the task force.
In 2022, Grusch decided to reveal the information to the US Congress. To make it easier for him to share confidential information with the U.S. Senate Select Committee on Intelligence, he filed a whistleblower complaint with the U.S. Office of the Intelligence Community Inspector General (ICIG). As per David, the Intelligence Community Inspector General confirmed the validity and urgency of his complaint, and a synopsis of it was subsequently shared with the Director of National Intelligence, the Senate Select Committee on Intelligence, and the House Permanent Select Committee on Intelligence. [3]

The Independent
Thereafter, he revealed information about the 1947 Roswell UFO crash event and insisted that the government's explanation attributing the crash to a weather balloon, not a UFO, was untrue. He further asserted that the government had recovered biological material from the wreckage of the spacecraft that was of non-human origin.
He also revealed an occurrence in which he asserted that he investigated an Unidentified Aerial Phenomenon (UAP) anomaly consisting of three to four UAPs, each approximately the size of a football field, which disrupted radar stations positioned along the US coastline.
He discussed another classified event in which some UAPs caused interference with the US missile systems, leading to a temporary deactivation. The reason for this disruption, as per his account, was an effort to gauge the United States' advancements in missile technology. He talked about it, in an interview, and said,


Officials observed a craft that appeared to be intelligently controlled hovered over the nuclear weapons. The silo and 10 nuclear ICBM missiles were shut down. It certainly looks like they (nonhuman organisms) want to understand how far we've advanced in our nuclear fissile kind of technologies at the very least."
David additionally said that the US government carries out disinformation campaigns, costing millions of dollars, intending to foster doubt about the reliability of statements concerning encounters with "non-human" (or alien) entities.
He had a vital part in formulating the National Defense Authorization Act of 2023, which includes provisions related to UFO reporting, like protecting whistleblowers and allowing exemptions from non-disclosure orders and agreements.
David concluded his active service in April 2023 and retired as a major.
After the US Air Force allegedly destroyed four unidentified aerial phenomena (UAPs) from China, the US Congress acknowledged his assertions. This acknowledgement came about because numerous experts argued that any technology from Earth couldn't reach the US mainland without being detected beforehand.
David, accompanied by two other former officers of the US Navy, testified before Congress on 26 July 2023. They appeared before the House Committee on Oversight and Accountability to present their statements.
At US Congress, Representative Tim Burchett asked Grusch if he had information about people who were harmed while trying to hide the government's possession of extraterrestrial technology. Grusch confirmed that he did, but stated that he could only reveal details inside a Sensitive Compartmented Information Facility (SCIF). David agreed to share not only the names of government officials who concealed information about Unidentified Aerial Phenomena (UAP) but also to provide evidence within the SCIF. He also asserted that UFOs exist in military hangars, where scientists are working tirelessly. Additionally, he claimed to have interviewed forty individuals involved in secretive extraterrestrial missions. [4]

NewsNation – YouTube

When asked by a representative about his reasons for making the claims, David explained that his main goal was to guarantee transparency and honesty from the government when it came to projects funded by taxpayers. He also raised concerns about extraterrestrial phenomena, stressing that they not only posed a significant threat to the US but to the entire Earth. According to him, monitoring these phenomena is challenging, far beyond our current capabilities. Furthermore, he asserted that after becoming a whistleblower against the government, he faced professional and personal targeting from the authorities. While talking about it, he said,

I became a Whistleblower, through a PPD-19 Urgent Concern filing with the Intelligence Community Inspector General (ICIG), following concerning reports from multiple esteemed and credentialed current and former military and Intelligence Community individuals that the US Government is operating with secrecy – above Congressional oversight – with regards to UAPs. It is my hope that the revelations we unearth through investigations of the Non-Human Reverse Engineering Programs I have reported will act as an ontological (earth-shattering) shock, a catalyst for a global reassessment of our priorities. As we move forward on this path, we might be poised to enable extraordinary technological progress in a future where our civilization surpasses the current state-of-the-art in propulsion, material science, energy production and storage." [5]C-SPAN
Following the conclusion of the US Congress, the US government responded to David's complaint, which he had filed with the Department of Defense (DoD). They stated that the All-domain Anomaly Resolution Office (AARO) found no substantial evidence to support David's claims regarding programs associated with possessing or reverse-engineering extraterrestrial materials.
Additionally, NASA issued a statement affirming that they had not come across any data concerning extraterrestrial life, thus unable to corroborate David's allegations. [6]

Smithsonian Magazine
The media and the government have frequently criticized David Grusch for allegedly promoting a deceptive storyline. After the US Congress concluded, many highlighted why David failed to disclose certain information in front of the representatives. Additionally, some sources alleged that David informed the representatives that he would address specific questions in a SCIF (Sensitive Compartmented Information Facility), but he openly discussed those same questions in interviews with journalists.