Benazir Bhutto Age, Death, Caste, Husband, Family, Biography & More
Quick Info→
Hometown: Karachi
Death Cause: Assassination
Age: 54 Years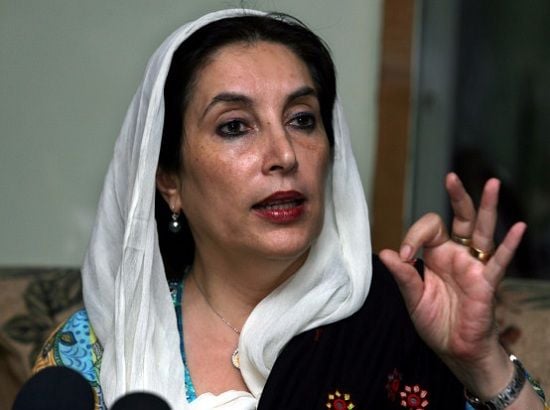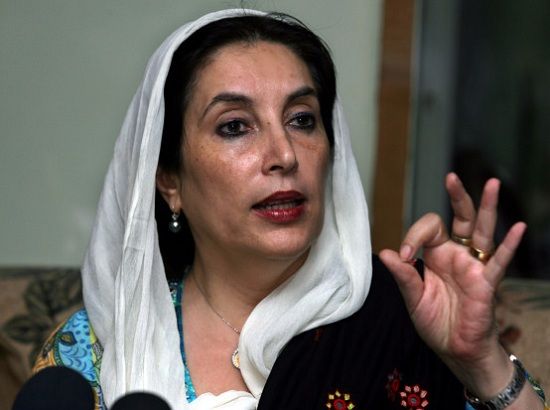 Bio/Wiki
Nickname
Pinky [1]

The Express Tribune

Note: She was named pinky due to her rosy complexion.
Profession
Former Pakistani Politician
Physical Stats & More
Height (approx.)
in centimeters- 165 cm
in meters- 1.65 m
in feet & inches- 5' 5"
Eye Colour
Black
Hair Colour
Black
Politics
Political Party
Pakistan People's Party

Political Journey
• Benazir became 11th Prime Minister of Pakistan in December 1988.
• In 1990, after a long political turmoil, Ghulam Ishaq Khan, the then President of Pakistan dissolved her government on charges of corruption, nepotism, and despotism.
• She lost the parliamentary elections of 1990 and began serving as leader of the opposition. Benazir remained on the post till 1993.
• Pakistan People's Party was again elected to power in 1993 and Benazir was named the Prime Minister of state for the second time.
• In November 1996, Farooq Leghari, the then Presiden of Pakistan ended the tenure of Benazir mainly on the charges of corruption.
• She again served as leader of the opposition from 1996 to 1999.
Awards
• In 1988, she was awarded the Bruno Kreisky Prize for her Services to Human Rights.
• In 2000, she was awarded the Academy of Achievement's Golden Plate Award by Pulitzer Prize-winning historian Dr. David Herbert Donald at the Achievement Summit in London.

• In 2008, Benazir was posthumously awarded the prestigious Tipperary International Peace Award for 2007 in recognition of her struggle for the restoration of democracy and peace in her country.
• In 2008, she was awarded the UN Human Rights Prize awarded posthumously by the general assemble at the 60th anniversary of the adoption of the Universal Declaration of Human Rights (UDHR); her son Bilawal Bhutto accepted the prize. The United Nations Human Rights award was given to Bhutto for her services to poor human beings and in recognition of her courageous struggle for restoring democracy in Pakistan.
Personal Life
Date of Birth
21 June 1953 (Sunday)
Birthplace
Karachi, Sindh, Pakistan
Date of Death
27 December 2007
Age (at the time of death)
54 years
Death Cause
Assassination
Resting Place
Bhutto Family Mausoleum, Garhi Khuda Bakhsh, Sindh, Pakistan
Zodiac sign
Cancer
Nationality
Pakistani
Hometown
Karachi, Sindh, Pakistan
School
• Lady Jennings Nursery School, Karachi
• Convent of Jesus and Mary, Karachi
• Presentation Convent High School, Rawalpindi
• Convent of Jesus and Mary, Murree, Punjab, Pakistan
• Karachi Grammar School, Karachi
College/University
• Radcliffe College, Cambridge, Massachusetts
• Lady Margaret Hall, Oxford, England
• St Catherine's College, Oxford, England
Educational Qualification(s)
• B.A (Hons) in Comparative Politics
• Bachelor of Arts in Philosophy, Politics and Economics
• Master of Arts in International Law and Diplomacy
Religion
Islam
Caste
Sunni (also, Sayyids)

Note: Benazir Bhutto, in her biography, wrote that although her entire family was Sunni, her mother, Begum Nusrat, was a Shia Muslim of Iranian origin.
Food Habit
Non-vegetarian [2]

Animals in Islam
Controversies
• Benazir smuggled nuclear data to North Korea
She has been accused of making North Korea a nuclear state. In her visit to North Korea in 1994, she closed the deal that in return for Pakistan's nuclear technology, North Korea would transfer its Missile Technology. An Indian journalist, Shyam Bhatia, in his book 'Goodbye Shahzadi' said that in 1993, Benazir, through Pakistan's top scientist Dr Abdul Qadeer Khan, had downloaded the secret files related to uranium enrichment, and asked him to not reveal the fact during her lifetime.
•Dismissal of Benazir Bhutto's government
On 2 December 1988, Benazir Bhutto was appointed as Pakistan's prime minister; however, on 6 August 1990, Ghulam Ishaq Khan, who was serving as the 7th president of Pakistan, dismissed her government on charges of corruption and nepotism. At the same time, he declared a state of emergency throughout the country, citing "the threat of outside aggression and internal unrest as beyond the provincial governments' control." On 19 October 1993, Benazir was reappointed as the prime minister of Pakistan; however; Was again dismissed by the president on charges of mismanagement on November 5, 1996.
• Benazir Bhutto's alleged secret life
According to the book, indecent Correspondence: Secret sex life of Benazir Bhutto, written by Pakistani author Roshan Mirza, Benazir Bhutto was bisexual. Reportedly, the book reveals the secret lives of some high-profile women including Benazir Bhutto. According to the author, various swinging parties were organized at Benazir's home in Surrey, England. The book also includes the e-mail correspondence made between various participants of this secret lifestyle. [3]

India TV AKiran Yusufzai, one of the participants of swinging parties, wrote
I greatly admire Benazir Bhutto. She had a libertine sex life. She was bisexual and participated in swingers' sex parties. Aunty Sherry introduced me to Benazir when she arranged a sex party in the UK. Benazir was really without example, unique with no parallel. My life's greatest moments were making love with Benazir. I am honoured and privileged to have done it. My only regret is that I only got the opportunity four times. Each and every occasion is burnt in my mind and soul. It would live forever with me as a cherished possession of my life. [4]

Indus Scrolls
According to the book, Benazir also had an incestuous relationship with her son, Bilawal Bhutto Zardari. [5]

Blitz
• Benazir Bhutto arrested for corruption
In 1999, Benazir Bhutto and her husband, Asif Ali Zardari, were sentenced to five years imprisonment, disqualified from holding public office, and fined $8.6 million on charges of taking kickbacks from a Swiss company hired to fight customs fraud. A higher court later overturned the conviction as biased. Bhutto, who had made her husband investment minister during her period in office from 1993 to 1996, was abroad at the time of her conviction and chose not to return to Pakistan.
Relationships & More
Marital Status (at the time of death)
Married
Affairs/Boyfriends
Imran Khan (Pakistani politician) [6]

Hindustan Times
Marriage Date
18 December 1987
Family
Husband/Spouse
Asif Ali Zardari (Pakistani politician)

Children
Son- Bilawal Bhutto Zardari (Foreign minister of Pakistan)
Daughter- 2
• Bakhtawar Bhutto Zardari (Pakistani Politician)
• Asifa Bhutto Zardari (Pakistani Politician)

Parents
Father- Late Zulfikar Ali Bhutto (Former Pakistani Politician)
Mother- Late Nusrat Bhutto (Former Pakistani- Iranian Public Figure)

Siblings
Brother- 2
• Murtaza Bhutto (Former Pakistani Politician) (deceased)
• Shahnawaz Bhutto (Former Pakistani politician) (deceased)
Sister- Sanam Bhutto

Favourites
Dessert
In Benazir's autobiography, she mentioned having a sweet tooth and used to eat "unconscionable numbers of peppermint-stick ice-cream cones sprinkled with 'jimmies' from Brigham's ice-cream parlour."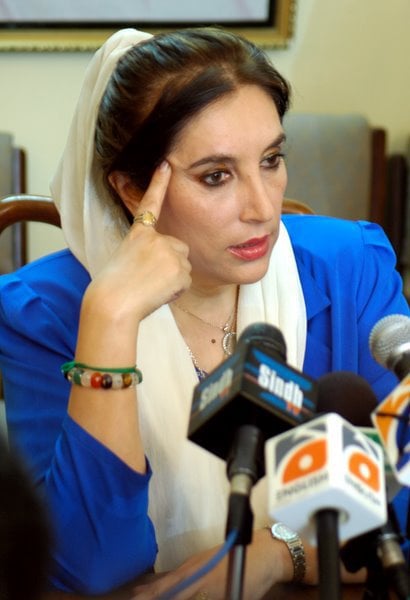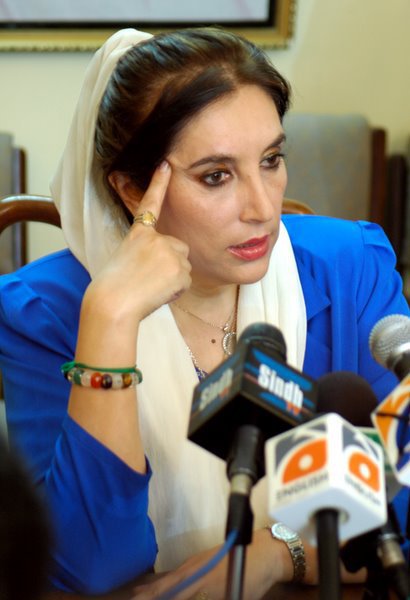 Some Lesser Known Facts About Benazir Bhutto
Benazir Bhutto was a Pakistani politician. She was the first female prime minister of Pakistan and served two terms as prime minister of Pakistan, in 1988–1990 and 1993–1996.
One of the scions of The Bhutto dynasty, a prominent and tragic prone family of Pakistan, Benazir studied at elite- English schools in Pakistan, owned by catholic nuns.
Benazir was named after an aunt who had died young. Her name means "One Without Equal."
Benazir's father, Zulfikar Ali Bhutto, was arrested and imprisoned for three months, in 1968. During his imprisonment, he wrote a letter to Benazir in which he advised her to pursue further education.
At the age of sixteen, in 1969, Benazir was sent to study at Radcliffe Institute, United States to pursue her graduation.
Initially, Benazir found it difficult to adapt to her life in the United States. In an interview, she mentioned how she hated to walk to her university in the bone-chilling cold of England and said that without a chauffeur, she never travelled in Pakistan. A classmate of Benazir's, in an interview, recalled,


She dressed in clothes from Saks Fifth Avenue and enjoyed a lifestyle similar to that of any spoiled daughter of a wealthy foreign potentate."

Despite belonging to a family of Sindhi, Benazir's first langauge was English. Her mother taught her some Persian in her childhood.
In 1972, Benazir accompanied her father to the India-Pakistan Summit in Shimla; her mother was unwell, and she was asked to attend the event with her father. Reportedly, it was the first time when Benazir attracted media attention globally.
In 1973, she moved to the United Kingdom to pursue her second undergraduate degree at the University of Oxford; she received a second-class degree. Later, she pursued a one-year postgraduate degree at the University of Oxford.
According to sources, Benazir was fond of attending parties organised by Oxford University students. An acquaintance of Benazir, in an interview, said that Benazir liked dancing at such parties, which would have been considered scandalous for her Islamic family in Pakistan. While recalling Benazir's life at Oxford University, he said,


Her Oxford lifestyle was almost a parody of the rich Islamic girl released from the constraints of a rigid Muslim home. Stories of her exotic love life abounded.When she stood for the presidency of the Oxford Union, she skilfully used the rumours about her un-Islamic activities to flutter her eyelashes at the male voters.At the same time she rallied the feminists with the suggestion that she would be held back by the male chauvinists and reactionaries – even though they were the kind of men with whom she enjoyed her leisure time." [7]Daily Mail
In 1977, she became the first Asian woman to be elected as the President of the Oxford Union debating organisation.
Following her postgraduation, she returned to Pakistan in June 1977, where she was scheduled to serve at the "Inter-Provincial Council of Common Interests" and the Prime Minister's office.
In the same year, the founder of PPP, Zulfikar Bhutto, who was re-elected in a general election in 1977, was upended in a military coup led by General Muhammad Zia-ul-Haq.
In 1977, Benazir's father was arrested for the murder of Muhammad Ahmed Khan Kasuri, a political opponent.
In 1979, Zulfikar Ali Bhutto was executed after he was convicted on charges of conspiring to murder a political opponent in 1974. The execution order read,


According to the March 18, 1978 order of the Lahore High Court, you, Mr Zulfikar Ali Bhutto, are to be hanged for the murder of Nawab Mohammad Ahmad Khan, "Your appeal in the Supreme Court was rejected on February 6, 1979 and the review petition was turned down on March 24, 1979. The president of Pakistan has decided not to interfere in this matter. So it has been decided to hang you."

After Benazir's father died, she was appointed as the titular head of Zulfikar's party, Pakistan People's Party.
Although, after Zulfikar's death, in 1979, Benazir was determined to make a career in politics, she suffered a lot in the process. She was arrested many times over the following years and was placed under house arrest for three years before being permitted to leave the country in 1984.
In an interview in 2007, Benazir said she wanted to become a diplomat and serve Pakistan in the international arena; however, after her father was imprisoned, she was resolute to make Pakistan a democratic country. Benazir said,


 I said I didn't choose this life because I really wanted a different kind of life, as a diplomat, serving my country in the international arena. But when my father was imprisoned and finally when he was hanged, I thought it was very important to continue with his mission of a democratic Pakistan. Pakistan has not had democracy, and I feel that unless Pakistan is a democracy, it would be wrong for me to give up the mission that I embraced as a young child, as a young woman."

In 1984, she shifted to London along with her two brothers, Murtaza and Shahnawaz, and started an underground organization to combat the military dictatorship in Pakistan.
In 1985, Benazir's brother, Shahnawaz, died under a mysterious condition in Nice, France. Reportedly, an empty vial that presumably contained poison was found near his body; according to sources, Shahnawaz, and his brother Murtaza, always carried a poison pellet with them as a means of suicide to avoid torture in case they get kidnapped by agents of Pakistan's Government. [8]

India Today
Benazir, after her brother Shahnawaz's death in 1985, travelled to Pakistan for his burial and was again arrested for participating in anti-government rallies. After three months in house arrest, she was released following which she went back to London.
By the end of 1985, martial law was lifted from Pakistan and in April 1986, Benazir returned to Pakistan. Her return to Pakistan received a heart-warming response from the public and approximately 3 million supporters gathered to greet her. According to sources, her convoy took more than 10 hours to travel 12 kilometres from the Lahore Airport to the centre of Lahore.
In 1982, Benazir was appointed as the co-chairwoman of the Pakistan People's Party (PPP), along with her mother, and when general elections were held in 1988, the People's Party returned to power by winning the elections with Benazir Bhutto becoming the 11th prime minister of the country. At 35, she was one of the youngest chief executives in the world, and the first woman to serve as prime minister in an Islamic country.
In 1986, Benazir got married to Asif Ali Zardari, a businessman from Sindh; it was an arranged marriage which was set up by her mother, Nusrat Bhutto. In an interview, Benazir answered why she decided to get married. She said,


I, who was my father's darling, the apple of his eye, who ruled the home, sat at the head of the table, would be relegated to a second-hand position. That's when I realized I needed a home of my own."

According to Benazir, it was an arranged marriage; however, in 1987, her husband, Asif Ali Zardari, said at a family gathering in London that he used to like Benazir since she was 14. Asif noticed Benazir when she used to visit his father-owned cinema hall. [9]

Washington Post
In January 1990, her first daughter, Bakhtawar Bhutto was born; Benazir was the first woman to give birth while in office. Reportedly, Benazir kept her pregnancy secret in the office and had Bakhtawar via a caesarian section. Benazir Bhutto, in her autobiography, wrote,


The next day I was back on the job, reading government papers and signing government files. Only later did I learn that I was the only head of government in recorded history actually to give birth while in office. It was a defining moment, especially for young women, proving that a woman could work and have a baby in the highest and most challenging leadership positions." [10]CNN
In August 1990, President Ghulam Ishaq Khan dismissed the Pakistan People's Party (PPP) government due to economic recession and issues regarding national security and nationalisation.
Benazir was re-elected as prime minister after the 1993 general election, however; in 1996, Pakistan President Leghari dismissed Bhutto's government from office, alleging mismanagement, and dissolved the National Assembly.
The third tragic event in the Bhutto family was the assassination of Benazir's brother, Mir Murtaza Bhutto, who had been estranged from Benazir Zulfikar Ali Bhutto's death, near his 70 Clifton residence on September 20, 1996. In a press conference, while talking about Mirtaza's murder, Benazir said that it was a conspiracy against her family and an effort to destabilize her government.
The two terms that she served as Prime Minister of Pakistan were no less than torture as she was constrained by Pakistan's two most powerful institutions, 'Military' and 'Mullahs.' Most of what she had lost in those ruling years was credibility because of the charges of corruption and nepotism. It was further degraded when her second brother was shot dead after he challenged her status as party leader.
Recovery in her image and the growth in support for Benazir in Pakistan worried Pervez Musharraf, who then released several members of the liberal secular force (Muttahida Qaumi Movement) MQM from imprisonment to hold back PPP from getting to victorious numbers in the next elections. Then in 2002, Musharraf amended Pakistan's constitution to hold back the Prime Ministers from serving more than two terms which opted out the chances of Benazir becoming a Prime Minister again.
Despite every preventive measure that Musharraf took to prevent PPP from winning the 2002 elections, the Benazir-led party secured the most seats (80). Such an unfortunate lady was that some of the elected members of her party made their wing called PPP- Patriots. Faisal Saleh Hayat led wing later formed a coalition government with Musharraf's party, Pakistan Muslim League (Quaid-e-Azam).
After nearly 5 years of trials against her husband, she and the kids were reunited with Asif Ali Zardari in December 2004.
Though Benazir was aware of the risk to her life, she expressed her desire in an interview in August 2007 that she wanted to go back to Pakistan for the 2008 parliamentary elections. She finally fled to Karachi in October of the same year.
In November 2007, Benazir was placed under house arrest for a couple of hours before she was to address a rally against the state of emergency that was declared by Musharraf earlier that month.
When she was to address a rally in Karachi in October 2007, two explosions were witnessed soon after she landed at Jinnah International Airport, which left 136 people dead and more than 450 got injured in the attack. Just as she was ducked back to the steel command centre to relieve her swollen feet from her sandals after about 10 hours of ruckus through Karachi, a bomb again went off. The total number of people injured according to PPP records stood at 1000 and at least 160 dead.
On December 27, 2007, Benazir, while leaving her campaign rally in Rawalpindi brought her head out of the sun shield of her bulletproof car providing killers with complete exposure to her body unsecured. They then fired shots at her head and soon the bombs were also detonated around her car. 17:35 was the local time she was taken to the Operation Theatre and was declared dead at 18:16. The cause of death was not determined until Scotland Yard investigators in February 2008 concluded that it was due to blunt force trauma to the head as she was tossed by the explosion.
After the death of  Benazir Bhutto, Asif Ali Zardari appeared in a press conference in the wake of the assassination in which he announced that his son would link with his mother's famous last name 'Bhutto.' Bilawal Zardari's name was change to Bilawal Bhutto Zardari.
On 30 December 2007, three days after the death of Benazir Bhutto, he was appointed as the chairperson of the Pakistan People's Party to succeed his mother. Bilawal was a 19-year-old Oxford undergraduate when his family made him get involved in politics.
Benazir's owned 15-bedroom mansion in Surrey, a place where dignitaries and world leaders in their formal attire might have sipped tea in the bone china mugs, is now being used by swingers and couples to meet for wife/ girlfriend swapping and erotic evenings.
Benazir's niece, Fatima Bhutto, wrote the book "Songs of Blood and Sword," which narrates the personal history of the Bhuttos, the first family of Pakistan. The memoir also mentioned Benazir's smoking habit; according to the memoir, Benazir often smoked cigarettes with her sister Sanam in their room.
According to sources, Benazir Bhutto used to consume alcohol. In an interview, a close friend of Benazir recalled her last meeting with Benazir over drinks at the Pierre, New York. She said,


The last time I saw her it was over drinks at the Pierre. I sipped a Tom Collins. She was feeling reckless, and downed three Jell-O shooters. "Oh, Pooh Bear," she said. "Pakistan has such a long and troubled history." [11]Slate