Dan Crenshaw Age, Wife, Family, Biography & More
Quick Info→
Age: 39 Years
Hometown: Houston. Texas
Wife: Tara Blake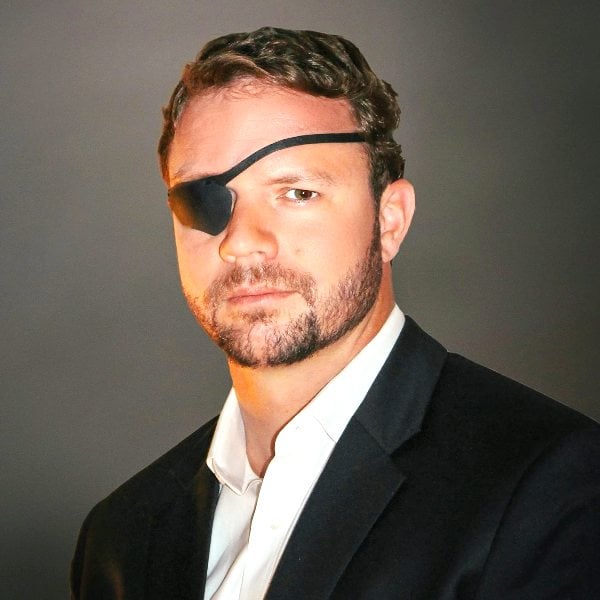 Bio/Wiki
Full name
Daniel Reed Crenshaw
Profession(s)
Retired US Navy SEAL, Politician, Author, Social Worker
Physical Stats & More
Height (approx.)
in centimeters- 178 cm
in meters- 1.78 m
in feet & inches- 5' 10"
Weight (approx.)
in kilograms- 65 kg
in pounds- 143 lbs
Eye Colour
Dark Brown
Hair Colour
Dark Brown
Military Career
Service/Branch
United States Navy
Rank
Lieutenant Commander
Service Years
2006–2016
Unit
Naval Special Warfare Group 1 (SEAL Team 3)
Military Decorations
• Two Bronze Star Medals (one with a "V" device for valour)
• Purple Heart
• Navy and Marine Corps Commendation Medal with Valour
Politics
Political Party
Republican Party

Political Journey
Elections
• Secured second position in the Republican Party's primary elections in Texas (2018)
• Contested and won the Republican primary runoff elections in Texas (2018)
• Contested and won the United States House of Representatives elections from Texas' 2nd congressional district (2018)
• Re-elected to Congress in 2020 and 2022

Member of Committees and Subcommittees
• Committee on Energy and Commerce
• Committee on Homeland Security
• House Permanent Select Committee on Intelligence
• Republican Study Committee
• Subcommittee on Environment and Climate Change
• Subcommittee on Health
• Subcommittee on Emergency Preparedness, Response and Recovery
• Central Intelligence Agency Subcommittee
• National Intelligence Enterprise Subcommittee
• Subcommittee on Oversight, Management and Accountability (ranking member)
Personal Life
Date of Birth
14 March 1984 (Wednesday)
Age (as of 2023)
39 Years
Birthplace
Aberdeen, Scotland
Zodiac sign
Pisces
Signature
Nationality
American
Hometown
Houston, Texas
School
Colegio Nueva Granada, Bogotá, Colombia
College/University
• Tufts University, Boston, Massachusetts
• Harvard Kennedy School, aka the John F. Kennedy School of Government, Cambridge, Massachusetts
Educational Qualification(s)
• BA in International Relations from Tufts University (2006)
• Master of Public Administration from Harvard Kennedy School (2017) [1]

Havard Kennedy School
Religion
Christian (Methodist) [2]

Pew Research Center
Controversies
Allegations of Helping in Running A Smear Campaign Against A Navy Officer
In 2019, Andrea Goldstein, a retired US Navy officer and Democratic staffer, registered a complaint with the Veteran Affairs Police against a Veteran Affairs official for making inappropriate gestures towards her while she was at a VA hospital for an appointment in Washington, D.C. After filing her complaint, VA Secretary Robert Wilkie, reportedly, started a "Smear Campaign" against Andrea to tarnish her reputation. The reports also suggested that Wilkie was assisted by many VA officials in running the campaign. Thereafter, an investigation into the matter was ordered by the VA Office of the Inspector General (OIG). The OIG then questioned James Byrne, the then VA Deputy Secretary, who revealed that Wilkie had informed him that Andrea had reported six "fake" cases of sexual assault involving her colleagues. James further revealed that he believed Wilkie received the information from several individuals who had close contacts in the Department of Defence (DoD) including Dan. Later, when the OIG interrogated Wilkie, he refused to have acquired the information from Dan Crenshaw. Dan refused to allow the OIG to conduct an inquiry by questioning him, and he also refused to address the issue whenever the media personnel asked him questions about it. [3]

VA Office of Inspector General Many retired members of the US Armed Forces wrote a letter to Dan, seeking his resignation, as they believed that Crenshaw abused his position as a Congressman. The letter read,

"His abuse of power as an elected member of Congress to smear a fellow veteran who works as a staffer in the same halls is disgraceful and unethical. As an elected member of the U.S. House of Representatives, Dan Crenshaw has failed to act in a manner that reflects credibly on the House and has broken the public trust necessary to represent his constituents and fellow veterans."

Dan later rejected the claims made in the letter as "partisan garbage." He expressed his lack of desire to engage in the investigations and expressed his solidarity with Andrea. [4]

Houston Chronicle

Navy SEAL Eddie Gallagher's claims
Eddie, a former member of the US Navy SEALs, faced allegations of human rights violations during his service in Iraq. Later, he was imprisoned in the United States and underwent a trial for alleged war crimes. However, he was cleared of all charges in 2019. After being released, Eddie uploaded a video on social media where he criticized Dan Crenshaw. Eddie alleged that during his time in jail, over fifty senators signed a letter in support of his release to allow him to prove his innocence. However, Crenshaw was the only senator who declined to sign it. He further claimed that Crenshaw refused to give time to Eddie's younger brother to discuss the matter for a solution. He went on to say that numerous senators informed Eddie about Crenshaw's work behind his back to ensure he remained in jail and got a lifetime prison sentence for political advantage. [5]

YouTube – Jamesons Tavels However, Eddie's statement was challenged by reports indicating that Dan was one of seventeen Congressmen who jointly penned a letter to the Secretary of the Navy. In the letter, they advocated for Gallagher's release on parole, enabling him to defend his innocence. [6]

Fox News The letter stated,

"Chief Gallagher is a decorated warfighter who, like all service members, is entitled to the presumption of innocence while awaiting court-martial. We have received reports that Chief Gallagher's access to counsel and access to food and medical care may have been restricted. As a result, we respectfully request that you review the Navy policies governing pretrial confinement for Chief Gallagher and other service members to ensure compliance with the Uniform Code of Military Justice."
Relationships & More
Marital Status
Married
Affairs/Girlfriends
Tara Blake (social activist)


Note: He met Tara while undergoing SEALs training in Coronado.
Marriage Date
1 April 2023
Family
Wife/Spouse
Tara Blake (social activist)

Parents
Father- Jim Crenshaw (petroleum engineer; worked on many oil rigs in and out of the US)
Mother- Susan Carol Crenshaw (passed away due to breast cancer when Dan was 10 years old)

Stepmother- Carmen

Siblings
He has a younger brother.
Money Factor
Salary (as a Congressman)
$174,000 + other allowances (annually; as of 2023) [7]

United States Senate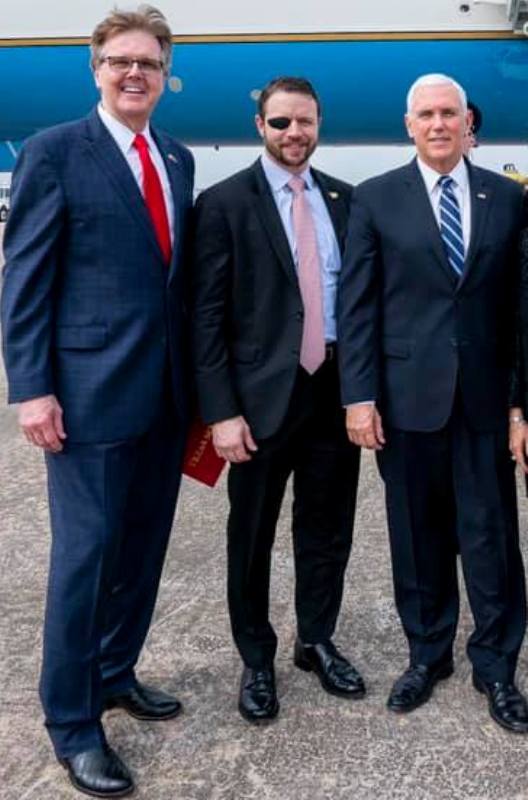 Some Lesser Known Facts About Dan Crenshaw
Dan Crenshaw is an American politician, retired US Navy SEAL, member of the Republican Party, and author, who has represented Texas' 2nd Congressional district in the US Congress three times. Crenshaw has gained popularity for wearing an eye patch on his right eye due to an injury sustained during his deployment in Afghanistan in 2012.
Dan spent his early childhood in Texas.
Dan attended school in various countries because his father had a job that required him to move frequently.
He gained fluency in speaking Spanish as he spent considerable time with his family in South America.
During his time at Tufts University, Crenshaw enrolled in the US Navy's Naval Reserve Officers Training Corps (NROTC) program.
Following his graduation from Tufts, he attended the Officer Candidate School (OCS) at Naval Station Newport in Rhode Island to undergo officer training.
Later, Dan arrived at the Naval Amphibious Base Coronado and joined Class 264 of Basic Underwater Demolition/SEAL training (BUD/S) intending to become a SEAL.
After that, Crenshaw went to the United States Army Airborne School, popularly known as Jump School, in Fort Moore, Georgia. He received basic training to become a paratrooper (military parachutist) there.
Later, he completed a 26-week SEAL Qualification Training (SQT) course.
After completing the 26-week-long SEAL Qualification Training (SQT) in June 2008, he received the Special Warfare Insignia, commonly referred to as the SEAL Trident badge, and was appointed as the Naval Special Warfare Officer with the code 1130. While giving an interview, Dan talked about it and said,


It was hard – some days really kicked us hard. We were basically their dummies. There was lots of hand-to-hand combat, it meant getting shot at, too. They also used real guns but replaced the lead with paint, which hurt. It's kind of hard to explain why I wanted to do it – there's a lot of reasons. I used to read books about it in middle school. I guess I really like the need to compete and be the best. There's definitely a patriotic sense to it, too."
He was sent to Iraq after becoming a SEAL. There, he joined SEAL Team Three and participated in numerous operations aimed at assisting the coalition forces, which included the NATO and the Iraqi troops, in eliminating the pockets of insurgency.
After his tenure in Iraq, Dan went to Afghanistan. There, he conducted military operations against the Taliban under Operation Enduring Freedom, which was led by the US.
In 2012, Dan was sent to Afghanistan's Helmand Province to support the US Army in their efforts against terrorism. While on a patrol mission, he sustained serious injuries when insurgents triggered an Improvised Explosive Device (IED), causing Dan to fall into a coma.
The blast resulted in Dan suffering from numerous bone fractures, and it inflicted significant harm to his eyesight, leading to the complete loss of his right eye and partial vision impairment in his left eye due to damage to the retina.
Dan returned to his duties after getting discharged from the hospital. As per reports, Dan had to adapt to using a weapon from the left hand as he could no longer aim with his right eye, making it difficult for him to accurately aim his weapon.
Dan was deployed to the Middle East in 2014.
He was posted to South Korea in 2016. Dan resigned from the US Navy in the same year.
In his decade-long tenure in the US Navy, Dan received multiple accolades, such as two Bronze Stars, one of which was earned for valour, a Purple Heart recognizing his injuries sustained in Afghanistan, and the Navy Commendation Medal with valour.
According to Dan, he did not want to leave the US Navy and wanted to continue his service. However, he was asked to give his resignation as the Navy thought that his injuries reduced his effectiveness as a SEAL. Dan also claimed that he found it very difficult to stay and serve in the Navy after getting injured. While giving an interview, Dan said,


I certainly miss [the military]. I never wanted to leave. I was injured in 2012 and fought the system to stay in for at least two [more] deployments, and that ended up being an impossible hill to climb. Just because of the medical waivers that you need from the top echelons of the Navy in order to continue to deploy without it being questioned every single time."
After leaving the military, Dan got involved in social work. He joined several NGOs that worked to assist the mentally and physically disabled war veterans of the United States Armed Forces.
After Hurricane Harvey caused massive destruction in the US in 2017, Dan offered his help to people who lost their properties due to the calamity.
He became a member of the Republican Party after completing his postgraduation in 2017.
He declared his candidacy for the 2018 United States House of Representatives elections in November 2017.
He secured the second position in the 2018 Republican Party's primary elections by securing 12,679 votes.
In the Republican primary runoff elections, held in the same year, he secured 11,562 votes more than his nearest rival Kevin Roberts.
For the 2018 United States House of Representatives elections, Crenshaw started an online store to sell various products to fund his election campaign. The website states that the funds raised also go towards aiding disadvantaged individuals and community development.
Pete Davidson, a comedian who appears in Saturday Night Live (SNL), made fun of Dan Crenshaw by saying that wearing an eye patch made him look like a hitman from an adult film. After the remark, Pete was criticised by the viewers for making fun of a disabled war veteran. Davidson later apologized to the viewers and said,


I made a joke about Lieutenant Commander Dan Crenshaw, and on behalf of the show and myself, I apologize. I mean this from the bottom of my heart. It was a poor choice of words. The man is a war hero, and he deserves all the respect in the world."

Later, Davidson, while doing a comedy show that was exclusively aired on Netflix, said that he saw nothing wrong with his "hitman" remark on Dan and claimed that he was forced to apologise as many people threatened to shoot him for not doing so. [8]The Washington Post
He received a total of 52.8% of votes in the 2018 United States House of Representatives elections. Dan emphasized two key issues during his election campaign: addressing immigration management and enacting policy reforms aimed at reducing unauthorized border crossings along the Texas-Mexico border. In an interview, Dan talked about contesting the elections and said,


I am running for Congress to continue fighting for the country I love. I am running because our country needs leaders, not politicians. I fought and bled for ten years as a Navy SEAL in Iraq, Afghanistan, and South Korea, because I know the importance of service before self."
He is known for his straightforward stand on different political issues including abortion and firearm regulations.
In 2019, Dan voiced his opinion against the legalisation of abortion in the US by criticising the 1973 Supreme Court's ruling in the Roe v. Wade case. In his statement, Dan said that the legalisation went against conservative American values. He also argued that the right to pass laws regarding the legalisation of abortion should be given to the state.
After the US government proposed a law to criminalise the sale and purchase of semi-automatic firearms, Dan expressed his views against the law and favoured the continuation of the existing "liberal" gun laws in the US in 2019.
To extend the provisions given in the September 11th Victim Compensation Fund Act, Dan co-sponsored a bill in Congress in the same year.
Dan voted against two impeachment bills presented against President Donald Trump in 2019 in the House of Representatives.
Despite being a member of the Republican Party, Dan has frequently spoken against Donald Trump's policies and statements.
In June 2019, a journalist named Wahajat Ali posted a tweet in which he claimed that Dan had opposed the enactment of the September 11th Victim Compensation Fund Act. Later, Dan took to Twitter (now X) and dismissed the accusations. He urged Ali to fact-check as he was a co-sponsor of the bill. The journalist later removed his tweet and publicly apologized to Dan. [9]

Fox News
In 2019, Dan Crenshaw's first book titled Safety Off: Life Lessons for an Unpredictable and Unsafe World was published.
Following the loss of his right eye, Dan started wearing different glass prosthetic eyes. In 2019, he showed a distinct glass eye featuring the Captain America emblem.
Dan reportedly spent around $11 million on his 2020 Congress elections campaign, making it the most expensive campaign in the history of the United States.
In 2020, Crenshaw and 125 fellow members of Congress supported the Texas v. Pennsylvania lawsuit by submitting an amicus brief to the Supreme Court. This legal action aimed to question the validity of the 2020 U.S. presidential elections, and it was initiated following concerns raised by Donald Trump regarding the election procedures.
In the same year, Fortune Magazine mentioned Crenshaw's name in its 40 Under 40 list in the "Government and Politics" category.
In 2020, Dan started hosting the podcast "Hold These Truths" through which he has interviewed many notable individuals.
Dan's second book, Fortitude: American Resilience in the Era of Outrage, which was released in 2021 became the New York Times bestseller.
He penned another book titled Fame, Blame, and the Raft of Shame in the same year.
Dan Crenshaw trained in urban combat with the Homeland Security Investigations – Houston in 2021.
Crenshaw had to undergo an emergency operation to fix the left eye's vision after the retina was dislocated in the same year. According to him, he was unable to see anything for a month after the surgery.
After the Joe Biden administration ordered the US troops to pull out of Afghanistan in 2021, Dan criticised the decision of the government through an Instagram post in which he said that the troops were pulled out without proper planning. He wrote,


Biden botched this withdrawal beyond belief. Their exit strategy was about optics instead of ground truth. But the problem runs even deeper than that: a widespread belief that foreign policy be dictated by a single, emotional slogan: no more endless wars!"
Dan signed a resolution in 2022 seeking the removal of the Russian Federation from the permanent seat in the United Nations Security Council (UNSC).
In 2023, he spoke against the Bipartisan Background Checks Act, aimed at preventing firearm sales by manufacturers until a detailed background check of the buyer was completed.
Crenshaw has often spoken against the implementation of the Patient Protection and Affordable Care Act, commonly referred to as Obamacare.
Dan has supported Israel on numerous occasions. He has given statements supporting increasing the military and economic assistance provided by the US to Israel. He has also spoken against many politicians for not giving their support and criticising Israel. While giving an interview, Dan spoke about Israel and said,


As a long-time supporter of Israel, I will ensure that our alliance does not waver, and that America continues to support Israeli security, advocate for her on the international stage, and contain the threat from Iran and terrorism across the region. If you're criticizing Israel, but you're doing it in a way that implies that the Jewish people in America have a dual loyalty, that's anti-Semitism. It's more than just criticizing Israeli policy."
Dan loves animals. He owns two Kokonis as pets.
He's a close friend of the former US Navy SEAL lieutenant and Congressman Morgan Luttrell. Dan endorsed Morgan's congressional campaign in 2022.
Dan Crenshaw criticized the practicality of Electric Vehicles (EVs) in a 2021 tweet, but it was revealed in 2022 that he had invested a significant amount of money in the EV industry. [10]

Business Insider
Dan, on numerous occasions, has spoken against the US government's mandate for COVID-19 vaccination, particularly for members of the US Armed Forces.
Dan has appeared on many talk shows, including Jocko Willink's Jocko Podcast.