Dr. APJ Abdul Kalam Age, Biography, Wife, Death Cause, Facts & More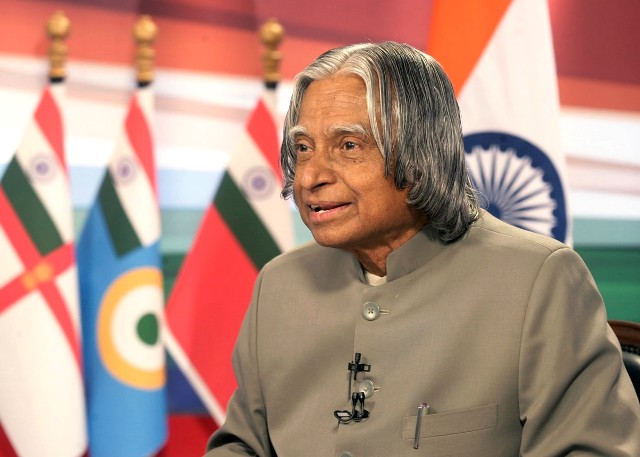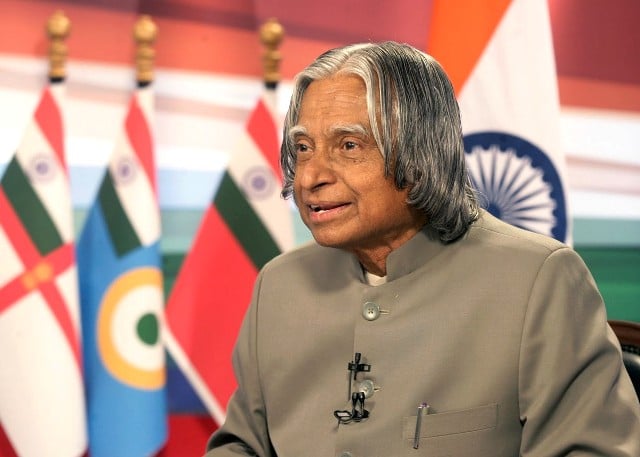 Bio
Full Name
Avul Pakir Jainulabdeen Abdul Kalam
Nickname
Missile Man, People's President
Profession
Professor, Author, Aerospace Scientist

Physical Stats & More
Height (approx.)
in centimeters- 163 cm
in meters- 1.63 m
in feet inches- 5' 4"
Weight (approx.)
in kilograms- 60 kg
in pounds- 132 lbs
Eye Colour
Black
Hair Colour
Grey
Personal Life
Date of Birth
15 October 1931
Birth Place
Rameswaram, Ramnad District, Madras Presidency, British India
(now in Ramanathapuram District, Tamil Nadu, India
Date of Death
27 July 2015
Place of Death
Shillong, Meghalaya, India
Age (at the time of death)
83 Years
Death Cause
Cardiac arrest (Stroke)
Resting Place
Pei Karumbu, Rameswaram, Tamil Nadu, India
Zodiac sign/Sun sign
Libra
Signature
Nationality
Indian
Hometown
Rameswaram, Tamil Nadu, India
School
Schwartz Higher Secondary School, Ramanathapuram, Tamil Nadu, India
College/University
St. Joseph's College, Tiruchirappalli, Tamil Nadu, India
Madras Institute of Technology, Chromepet, Chennai, Tamil Nadu, India
Educational Qualification
Bachelor of Science in Physics from Saint Joseph's College, the University of Madras in 1954
A Degree in Aerospace Engineering from the Madras Institute of Technology in 1960


Family
Father- Jainulabiddin Marakayar (A boat owner and Imam of a local Mosque)

Mother- Ashiamma Jainulabiddin (Housewife
Brothers- Kasim Mohammed, Mustafa Kamal, Mohammed Muthu Meera Lebbai Maraikayar

Sister- Asim Zohra (eldest)
Religion
Islam
Ethnicity
Tamil Muslim
Hobbies
Playing Veena, Delivering Motivational Lectures, Walking, Listening to Indian Classical Music
Awards/Honours
1981: Padma Bhushan by the Government of India
1990: Padma Vibhushan by the Government of India
1997: Bharat Ratna by the Government of India
1998: Veer Savarkar Award by the Government of India
2007: King Charles II Medal by Royal Society, UK
2009: Hoover Medal by ASME Foundation, USA
2013: Von Braun Award by National Space Society
2014: Doctor of Science by Edinburgh University, UK
Famous Books
1998: India 2020

1999: Wings Of Fire

2002: Ignited Minds

2006: Indomitable Spirit

2012: Turning Points

Famous Quotes
• All Birds find shelter during a rain. But Eagle avoids rain by flying above the Clouds.
• Man needs difficulties in life because they are necessary to enjoy the success.
• If you want to shine like a sun. First, burn like a sun.
• All of us do not have equal talent. But, all of us have an equal opportunity to develop our talents.
• Be more dedicated to making solid achievements than in running after swift but synthetic happiness.
• Without your involvement, you can't succeed. With your involvement, you can't fail.
• Let us sacrifice our today so that our children can have a better tomorrow.
• Science is a beautiful gift to humanity; we should not distort it.
• You have to dream before your dreams can come true.
• Great dreams of great dreamers are always transcended.
• Poetry comes from the highest happiness or the deepest sorrow.
• Life is a difficult game. You can win it only by retaining your birthright to be a person.

Institutes/Places Named After Him
30 July 2015: Uttar Pradesh State Government renamed Uttar Pradesh Technical University (UPTU) to "A.P.J. Abdul Kalam Technical University."
31 July 2015: A.P.J. Abdul Kalam Memorial Travancore Institute of Digestive Diseases, Kerala.
4 August 2015: A new academic complex at Mahatma Gandhi University in Kerala was named after him.
16 August 2015: The Puducherry Government announced that the newly inaugurated science centre-cum-planetarium would be named after former President A.P.J. Abdul Kalam.
August 2015: Kerala Technological University was renamed to A P J Abdul Kalam Technological University.
September 2015: Wheeler Island, a national missile test site in Odisha, was renamed Abdul Kalam Island.
May 2017: NASA named a new organism discovered by them after the much-loved A.P.J. Abdul Kalam. The new organism — a form of bacteria — has been found only on the International Space Station (ISS) and has not been found on earth! Researchers at the Jet Propulsion Laboratory (JPL), the foremost lab of NASA for work on interplanetary travel, discovered the new bacteria on the filters of the International Space Station (ISS) and named it Solibacillus kalamii.
Controversies
• During his tenure as the President of India, Kalam was criticised for his inaction in deciding the fate of 20 out of the 21 mercy petitions submitted to him. He acted on only one mercy plea in his 5-year tenure, rejecting the plea of rapist Dhananjoy Chatterjee, who was later hanged. Perhaps the most notable plea was from Afzal Guru who was sentenced to death by the Supreme Court of India in 2004. The pending action on his mercy plea resulted in him remaining on death row.
• In 2005, Kalam also took the controversial decision to impose President's Rule in Bihar.
• In 2011, civil groups criticised him over his stand on the Koodankulam Nuclear Power Plant as he supported the establishment of the nuclear power plant and was accused of not speaking with the local people.
Favourite Things
Favourite Subject(s)
Mathematics, Physics
Girls, Affairs and More
Marital Status
Unmarried
Wife/Spouse
N/A
Children
None
Money Factor

Net Worth
In material terms, the "People's President" owned 2,500 books, a Veena, a wrist watch, a CD Player, a laptop, 6 shirts, 4 trousers, 3 suits and a pair of shoes, his ancestral house and a small site near the house in Rameswaram.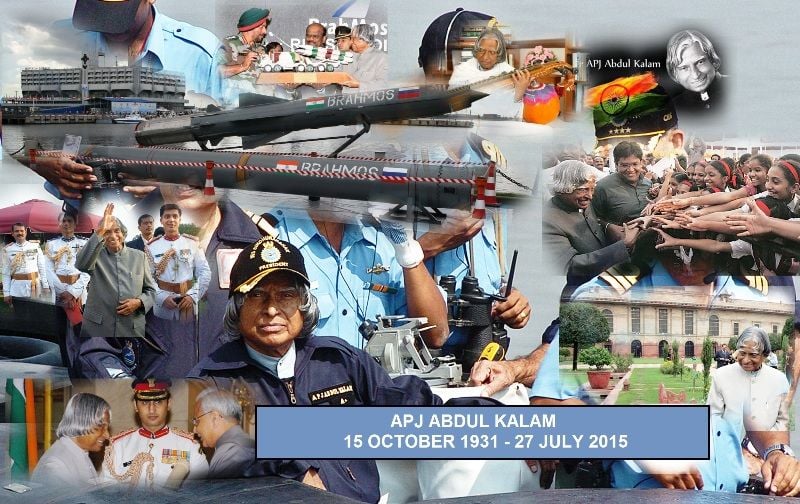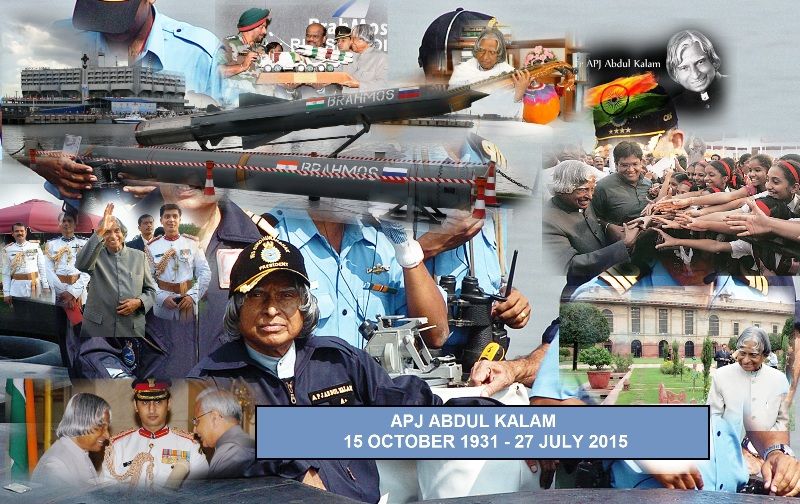 Some Lesser Known Facts About Dr. APJ Abdul Kalam
He was born to a Tamil Muslim family in Rameswaram.
Kalam's father owned a ferry, which took Hindu pilgrims back and forth between Rameswaram and Dhanushkodi (now uninhabited).
He was the youngest of 4 brothers and one sister in his family.
His ancestors had been affluent traders and landowners. They mainly had grocery trade to and from Sri Lanka.
Because of ferrying pilgrims between the mainland and Pamban, the family earned the title of "Mara Kalam iyakkivar" (wooden boat steerers).
However, when the Pamban Bridge was opened to the mainland in 1914, the family properties and fortune were lost over time.
By Kalam's early childhood, his family had touched the poverty line, and at an early age, Kalam started distributing newspapers to supplement his family's income. He used to collect the newspapers thrown out of the Dhanushkodi Mail train as because of the ensued World War; the trains didn't stop there.
Kalam was just 10 years old when the Second World War was going on. In an interview, Kalam had revealed that he had felt the travesty of the war as it had almost reached the doors of Rameswaram.
Since his childhood, Kalam had a great interest in books. He used to borrow books from one of his brother's friends in his locality. 
In his school, Kalam was an average-grade student. However, his teachers described him as a bright and hardworking student with a strong desire to learn. 
After graduating in Physics from Saint Joseph's College in Tiruchirappalli, he moved to Madras Institute of Technology to study Aerospace Engineering. 
At the MIT, while working on a senior class project, the Dean wasn't satisfied with the progress of his project and threatened him to revoke his scholarship unless he finished the project within the next 3 days, and when he met the deadline, the impressed Dean stated, "I was putting you under stress and asking you to meet a difficult deadline." 
Kalam had dreamt of becoming a fighter pilot. However, he narrowly missed his dream as he placed 9th in the qualifiers of Indian Air Force (IAF) that has only 8 available positions. 
After graduating from MIT in 1960, Kalam joined the Aeronautical Development Establishment of the Defence Research and Development Organisation and started his career by designing a small hovercraft. However, Kalam wasn't satisfied with his job at the DRDO.
Being a member of INCOSPAR committee, Kalam worked under the renowned space scientist Vikram Sarabhai. 
In 1963, Kalam visited NASA's Virginia; Goddard Space Flight Center in Greenbelt (Maryland), Langley Research Center in Hampton; and Wallops Flight Facility.
While at the DRDO in 1965, Kalam had started work on an expandable rocket project independently.
Kalam was transferred to Indian Space Research Organization (ISRO) in 1969 where he became the Project Director of India's 1st Satellite Launch Vehicle (SLV-III) that successfully deployed the "Rohini" Satellite in near-earth-orbit in July 1980. 
Between the 1970s and 1990s, Kalam had put an immense effort into developing Polar Satellite Launch Vehicle (PSLV) and (SLV-III) projects and both of them proved to be successful. 
Raja Ramanna invited Kalam to witness India's 1st nuclear test "Smiling Buddha," even though Kalam had not participated in its development. 
In the 1970s, to develop ballistic missiles using the technology of the successful SLV-III programme, Kalam directed two projects- 'Project Devil' and 'Project Valiant.' When the then Union Cabinet disapproved the projects, Indira Gandhi (the then Prime Minister of India) allotted secret funds for these projects. 
In 1980, Kalam's educational leadership and research prompted the Government to start an advanced missile programme under Kalam's directorship.
R Venkatraman (the then Defence Minister of India) appointed Kalam as the Chief Executive of Integrated Guided Missile Development Programme (IGMDP) and allocated 388 crores INR for the mission. Kalam played a significant role in developing several successful missiles under the mission including 'Agni' and 'Prithvi.'
From July 1992 to December 1999, Kalam served as Chief Scientific Advisor to the Prime Minister and Secretary of the DRDO. During this period, Pokhran-II Nuclear Tests were conducted in which Kalam played a crucial political and technological role along with Atal Bihari Vajpayee (the then Prime Minister of India).
In the late 1990s, the media coverage made him India's best known nuclear scientist that earned him the sobriquet of "Missile Man." 
In 1998, Kalam developed a low-cost coronary stent along with cardiologist Soma Raju named the "Kalam-Raju Stent." The duo also designed a rugged tablet computer named "Kalam-Raju Tablet" for health care in rural areas in 2012.
In 2002, he succeeded K. R. Narayanan to become the 11th President of India. 
APJ Abdul Kalam became the third President of India to have been honoured with the Bharat Ratna before becoming the President. Dr. Sarvepalli Radhakrishnan (1954) and Dr. Zakir Hussain (1963) were the earlier recipients of Bharat Ratna who later became the President of India.
Kalam was also the first bachelor and the first scientist to occupy the "Rashtrapati Bhawan." 
During his stay at the Rashtrapati Bhawan, he insisted that he will pay for his food. General KS Dogra (former Military Secretary to President APJ Abdul Kalam) recalled an incident; his relatives were visiting him for the first time when he became the President. He refused to let Rashtrapati Bhavan make any special arrangements. They travelled in ordinary sleeper class, and we hired a small bus to ferry them around Delhi, and he paid for it., even though the Rashtrapati Bhavan has a fleet of vehicles for the use of President and his family. Rashtrapati Bhavan has stables, club, hospitals, a golf course, which Kalam never used. His only recreation was his books, and his thinking walks in the Mughal gardens.
During his tenure as the President of India, media affectionately called him the "People's President." 
In September 2003, during an interactive session at the PGI Chandigarh, he supported the need of "Uniform Civil Code" in India.
In 2011, a Hindi Film "I Am Kalam" was released in which Kalam was portrayed as a positive influence on a poor-bright Rajasthani boy named 'Chhotu.'
On 27 July 2015, while delivering a lecture on "Creating a Livable Planet Earth" at the Indian Institute of Management Shillong, at around 6:35 p.m. IST, only 5 minutes into his lecture, he collapsed. When he was rushed to the nearby Bethany Hospital, he lacked a pulse or any other signs of life. He was declared dead of a cardiac arrest at 7:45 p.m. IST. According to reports, his last words were: "Funny guy! Are you doing well?" to his aide Srijan Pal Singh.
India reacted to Kalam's death with an outbursting grief; numerous tributes were paid across the country and on social media. The Government of India (GOI) declared a 7-day State mourning. Pranab Mukherjee (the then-President of India), Hamid Ansari (the then-Vice President of India) and Rajnath Singh (incumbent Home Minister of India) condoled his demise.
On 30 July 2015, he was laid to rest at Rameswaram's Pei Karumbu Ground with full state honours. Over 3.5 lakh people attended the last rites including Narendra Modi (Incumbent Prime Minister of India), Rahul Gandhi, the Governor of Tamil Nadu and the Chief Ministers of Kerala, Karnataka and Andhra Pradesh.
On 27 July 2017, Narendra Modi (Incumbent Prime Minister of India) inaugurated Dr. A.P.J. Abdul Kalam National Memorial at Pei Karumbu, in the island town of Rameswaram, Tamil Nadu, India. The Memorial was built by DRDO. 
Kalam was very close to his mother, and he described his affection for his mother in a poem written by him in his autobiography, Wings Of Fire:
        Mother
"I still remember the day when I was ten,
Sleeping on your lap to the envy of my elder brothers and sisters.
It was full moon night, my world only you knew Mother!, My Mother!
When at midnight, I woke with tears falling on my knee
You knew the pain of your child, My Mother.
Your caring hands, tenderly removing the pain
Your love, your care, your faith gave me strength,
To face the world without fear and with His strength.
We will meet again on the great Judgment Day. My Mother!