Humza Yousaf Wiki, Age, Caste, Wife, Family, Biography & More
Quick Info→
Wife: Nadia El-Nakla
Hometown: Glasgow, Scotland
Age: 38 Years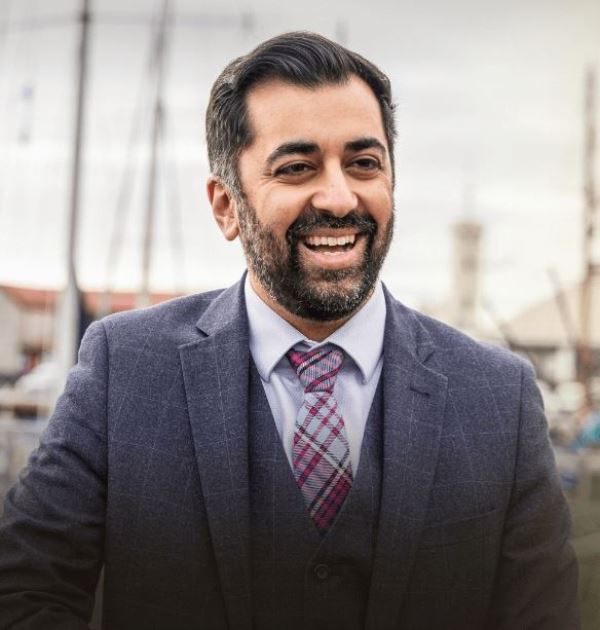 Bio/Wiki
Profession
Politician
Physical Stats & More
Height (approx.)
in centimeters- 185 cm
in meters- 1.85 m
in feet & inches- 6' 1"
Eye Colour
Dark Brown
Hair Colour
Black
Politics
Political Party
Scottish National Party (SNP)
Political Journey
• Joined the SNP in 2005
• Parliamentary assistant to MSP Bashir Ahmad (May 2007 - February 2009)
• Parliamentary assistant to MSP Anne McLaughlin (February 2009 - October 2009)
• Parliamentary assistant to MSP Alex Salmond (October 2009 - July 2010)
• Communications Officer, SNP Headquarters (September 2010 - March 2011)
• Elected as additional member for the Glasgow electoral region in 2011 Scottish Parliament elections
• Served on the SNP's backbenches and was a member of the parliament's justice and public audit committees
• Parliamentary Liaison Officer to the Office of the First Minister (25 May 2011 - 4 September 2012)
• Minister for External Affairs and International Development (6 September 2012 - 21 November 2014)
• Minister for Europe and International Development (21 November 2014 - 18 May 2016)
• Elected MSP from Glasgow Pollok constituency in 2016 Scottish Parliament elections
• Minister for Transport and the Islands (18 May 2016 - 26 June 2018)
• Cabinet Secretary for Justice (26 June 2018 - 20 May 2021)
• Elected MSP from Glasgow Pollok constituency in 2021 Scottish Parliament elections
• Cabinet Secretary for Health and Social Care (20 May 2021 - 28 March 2023)
• Became First Minister of Scotland on 29 March 2023
Personal Life
Date of Birth
7 April 1985 (Sunday)
Age (as of 2023)
38 Years
Birthplace
Glasgow, Scotland
Zodiac sign
Aries
Signature
Nationality
British (Scottish) [1]

The Times
Hometown
Glasgow, Scotland
School
• Mearns Primary School in East Renfrewshire, Scotland
• Hutchesons Grammar School, Glasgow, Scotland (1997-2003)
College/University
University of Glasgow in Glasgow, Scotland (2003-2007)
Educational Qualification
Master of Arts (Hons) in Politics (2007) [2]

The Indian Express
Religion/Religious Views
Islam [3]

The Times of India
Caste
Muslim Rajputs [4]

Humza Yousaf – Twitter
Relationships & More
Marital Status
Married
Family
Wife/Spouse
• Gail Lythgoe (former SNP worker) (2010-2016)

• Nadia El-Nakla (psychotherapist, politician, and political activist, who became Councillor on Dundee City Council in 2022) (2019 - Present)

Children
Daughter- Amal
Stepdaughter- Name Not Known

Note: Nadia El-Nakla was previously married to an IT expert named Fariad Umar, and they had one daughter together.
Parents
Father- Mian Muzaffar Yousaf (accountant)
Mother- Shaaista Bhutta

Siblings
Brother- None
Sister(s)- Faiza Yousaf, Safa Yousaf

Others
Grandfather- Muhammad Yousaf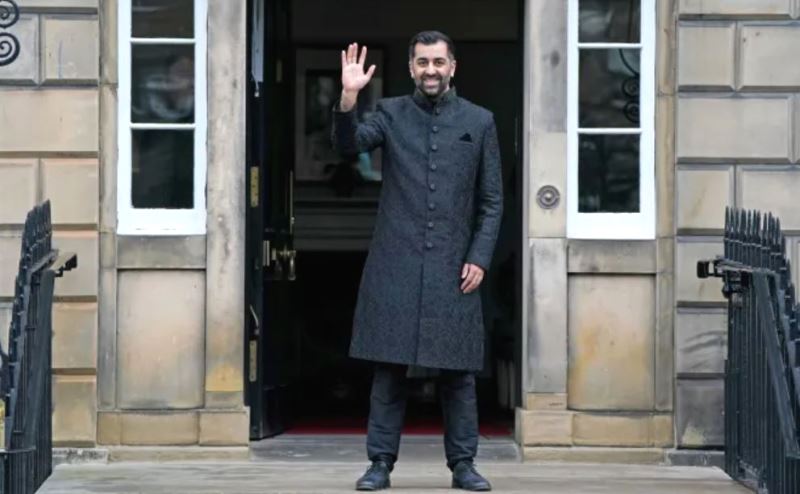 Some Lesser Known Facts About Humza Yousaf
Humza Yousaf is a Scottish politician and a member of the Scottish National Party (SNP) who was sworn in as the First Minister of Scotland after winning the leadership of the SNP on 29 March 2023.  Yousaf made headlines in 2012 when he became the first Muslim to be appointed as a minister to the Scottish Government. He was elected as a Member of the Scottish Parliament (MSP) from the Glasgow Pollok constituency in 2016 and 2021. Previously, he served as the regional MSP for Glasgow (2011-2016). He served in First Minister Nicola Sturgeon's cabinet as justice secretary from 2018 to 2021 and as health secretary from 2021 to 2023.
Yousaf was born into a Muslim Pakistani Rajput family. [5]

Humza Yousaf – Twitter [6]

The Indian Express His grandfather, Muhammad Yousaf, emigrated to Scotland from Mian Channu in Punjab, Pakistan with his family in 1962, seeking better job opportunities. In Scotland, he worked in the Singer sewing machine factory in Clydebank. While Yousaf's grandfather was not particularly interested in politics, Yousaf's father, Muzaffar, joined the SNP in 1972. Muzaffar was the first non-white member of the SNP.
Yousaf's maternal family is of South Asian descent; they emigrated to Scotland from Kenya. [7]

The Indian Express Some media houses say that Yousaf's mother, Shaaista Bhutta, is of Punjabi descent [8]

The Nation and came from the bustling metropolis of Karachi in Pakistan. [9]

The Express Tribune Once Yousaf shared that his mother's family faced racially motivated attacks because they were seen as someone who were taking jobs that "belonged" to Africans. It was the discrimination that led the family to move to Scotland. In an interview, he said,


My grandfather was a train conductor, so he was seen as taking that job away from a black African, a black Kenyan, so life became very difficult…My family was attacked a few times and there was one in particular when my maternal grandmother was attacked with an axe in the back. She survived and so on but that was the last straw for my grandfather, it was time to get away and again, it made sense because there was a British call for people from the Commonwealth to come and take on industrial jobs."

In an interview, he shared that he used one of the only two ethnic-minority pupils in the class during his schooling days. He said,


I'm Scottish born, bred, raised. My primary school was 95 per cent white Scottish, there was only me and one other brown face, and so I don't know what it is or why it is but I remember almost just literally waking up one day and wanting to ask my mum and dad why we were here, what was the background like, what was life in Pakistan like, what was life like as an immigrant?"

From a young age, Yousaf showed a passion for public service. Growing up, he dedicated his time to support numerous charitable causes, including Islamic Relief UK, where he held the role of a media spokesperson. For over a decade, he volunteered for community radio, and he also participated in a project aimed at providing food packages to both homeless people and asylum seekers in Glasgow.
He was 16 when the 9/11 attack happened in which four coordinated Islamist suicide terrorist attacks were carried out by al-Qaeda against the United States. In an interview, he remembered it as the "day that changed the world and for him" as he questioned his Muslim identity for the first time when his classmates posed questions like "Why do Muslims hate America?" in the aftermath of the event.
Studying at the University of Glasgow, Yousaf gained recognition in the student politics circle when he served as the President of the Glasgow University Muslim Students Association.
Following the footsteps of his father, Humza joined SNP in 2005 while he was a student at Glasgow University. The SNP is known for supporting and campaigning for Scottish independence from the United Kingdom and for Scotland's membership of the European Union. Yousaf was inspired to join the party by listening to the speeches of then-party leader Alex Salmond and anti-war activist Rose Gentle, who spoke out against the Iraq War. They were trying to convince the masses that independence was the only way for Scotland to avoid going to war.
From May to September 2006, Yousaf worked in the call centre of O2, a British telecommunications services provider.
Yousaf actively campaigned for the SNP in the 2007 Scottish Parliament elections. SNP won the elections, emerging as the largest party with 47 seats. In the elections, SNP's Bashir Ahmad became Scotland's first Muslim MSP when he was elected from the Glasgow region. Yousaf served as a parliamentary assistant to Ahmad from his election to his death two years later.
Thereafter, he worked as an assistant to a string of top SNP figures, including Anne McLaughlin, Nicola Sturgeon, and Alex Salmond.
In 2009, he received the "Future Force of Politics" award at the 2009 Young Scottish Minority Ethnic Awards at Glasgow City Chambers.
Before his election to Holyrood in 2011, he worked in the SNP's headquarters as a communications officer.
Yousaf grew up with a strong sense of community and an appreciation for multiculturalism, which was reflected during his oath-taking ceremonies and MSP in 2011 and 2016. In 2011, during his swearing-in ceremony as an MSP, he chose to recite his oath in both English and Urdu, emphasizing his dual Scottish-Pakistani heritage. He wore a traditional sherwani, embellished with a Partick Thistle tartan motif, and draped a plaid over his shoulder. Then, in 2016, upon securing his second term as an MSP, Yousef once again took his oath in Urdu, this time wearing a kilt.
.@HumzaYousaf just gave his swearing in oath in Urdu. Look how great it sounds: pic.twitter.com/mvPqRucslx

— Siraj Datoo (@dats) May 12, 2016
He became the first Scottish Asian and Muslim to be appointed as a minister to the Scottish Government when First Minister Alex Salmond appointed him as the Minister for External Affairs and International Development on 6 September 2012. This junior ministerial appointment saw him working under the Cabinet Secretary for Culture and External Affairs, where he was responsible for external affairs, international development; fair trade policy and diaspora.
In October 2013, while serving as the Scottish external affairs minister, Humza Yousaf outlined SNP plans to set out the United Nations target for overseas aid at 0.7%, accusing the UK government of reneging on its promises in the 2010 coalition agreement to guarantee that level of spending.
When Nicola Sturgeon became the First Minister in November 2014 after Alex Salmond's resignation, she retained Yousaf as a junior minister. However, the name of the position he held was changed to the Minister for Europe and International Development.
In 2016, Yousaf received the prestigious Sitara-i-Quaid-i-Azam award from the President of Pakistan in recognition of his efforts to improve ties between Scotland and Pakistan. This award is one of the highest civilian honours in Pakistan.
In November 2016, Yousaf was fined £300 and had six penalty points added to his driving licence, after being caught by police driving a friend's car without insurance. He blamed his marriage split with Gail Lythgoe for driving without insurance. While accepting full responsibility for it, he said,


I totally accept the decision. I paid the fine and told my insurers about the points. This was an honest mistake, and the result of my personal circumstances during my separation."

In 2018, Yousaf got married to Nadia El-Nakla, who is of Scottish-Palestinian descent. During an interview in 2020, Nadia revealed that she experienced five pregnancies in less than three years and suffered multiple miscarriages when finally her daughter Amal was born at 36 weeks in May 2019.
In the cabinet reshuffle of Sturgeon's second ministry in 2018, Yousaf became the Cabinet Secretary for Justice. One of his flagship policies as justice secretary was the Hate Crime and Public Order (Scotland) Bill, which abolished the offence of blasphemy. It was controversial as opponents said it could stifle freedom of speech. However, it was passed on 11 March 2021, with 82 votes in favour, 32 votes against, and 4 abstentions.
In 2021, Sturgeon formed a third administration in which Yousaf succeeded Jeane Freeman as the Cabinet Secretary for Health and Social Care. Yousaf took up the role amidst the ongoing COVID-19 pandemic.
In June 2021, Yousaf stated that ten children under the age of nine had been hospitalized in Scottish hospitals for COVID in the past week. However, Professor Steve Turner, representing the Royal College of Paediatrics and Child Health in Scotland, disagreed and said that the children's wards didn't have more COVID cases. He mentioned that the hospitalized children had other health issues. Yousaf later clarified his statement and apologised for "any undue alarm."
He faced public criticism when the World Health Organization (WHO) revealed that six of the ten COVID hotspots in Europe were located in Scotland. The SNP was criticized for appearing inactive during the COVID surge, and Yousaf received backlash for going on a vacation. He justified his trip by explaining that he had made a commitment to take his stepdaughter to the Harry Potter studios. He posted a tweet saying,


Most important job I have is being a good father, step-father & husband to my wife and kids. In the last seven months they've had virtually no time from me."

In September 2021, the waiting times for ambulance services in Scotland significantly increased, reaching an average of around six hours. Yousaf, in response, advised the public to exercise caution when considering calling 999 for an ambulance, urging them to carefully assess whether it was truly necessary. This statement generated strong criticism from opposition politicians, with Dr Sandesh Gulhane, the Scottish Conservative health spokesperson, condemning it as "irresponsible messaging that could endanger lives."
Due to reports of elderly individuals passing away while waiting for ambulances, Yousaf requested assistance from the Ministry of Defence. British Army personnel were deployed to operate ambulances. An official review conducted by Audit Scotland in 2021 revealed that 500 people in Scotland had lost their lives because they couldn't access emergency medical treatment.
Under his leadership, the Scottish Chambers of Commerce (SCC) signed a historic Memorandum of Understanding with the Federation of Pakistan Chambers of Commerce & Industry in 2022 to boost collaboration in the fields of education, health, and renewable energy.
On 15 February 2023, Nicola Sturgeon officially tendered her resignation as the leader of the SNP and the First Minister of Scotland. Consequently, Yousaf declared his candidacy for the roles. He won SNP's leadership contest by 52.1% of the vote, beating nearest rival Kate Forbes who received 47.9%. He became the sixth First Minister of Scotland after securing 71 of the 128 MSP votes cast.
On 29 March 2023, Yousaf was sworn in as the First Minister of Scotland, becoming the youngest person and the first Scottish Asian and Muslim to hold the office.
He was sworn in as Scotland's sixth First Minister on Wednesday, making him the first Muslim leader of a Western European country.
On 17 May 2023, he became a member of His Majesty's Most Honourable Privy Council at Buckingham Palace. This granted him the lifelong honorific prefix of "The Right Honourable."
Throughout his political career, Yousaf has been a strong advocate for social justice, equality, and human rights. In 2012, he played a critical role in the successful passage of the Marriage and Civil Partnership (Scotland) Act, which legalised same-sex marriage in Scotland. Apart from that, he was a strong supporter of Sturgeon's Gender Recognition (Reform) Bill, which aimed at allowing trans persons to self-identify.
Yousaf and his second wife, Nadia El-Nakla, became embroiled in a bitter racism row with a children's nursery in Dundee in 2021. The Little Scholars in Broughty Ferry near Dundee told Humza and Nadia that there was no space for their daughter in the nursery. Thereafter, El-Nakla and a friend put in fake applications for children with 'white-sounding names' and discovered that the nursery didn't treat everyone fairly and equally when it came to admitting kids. While a watchdog told the nursery to change its procedures, El-Nakla later dropped her legal action against it.