A short conversation with 'Veere Di Wedding' fame Kashish Kanwar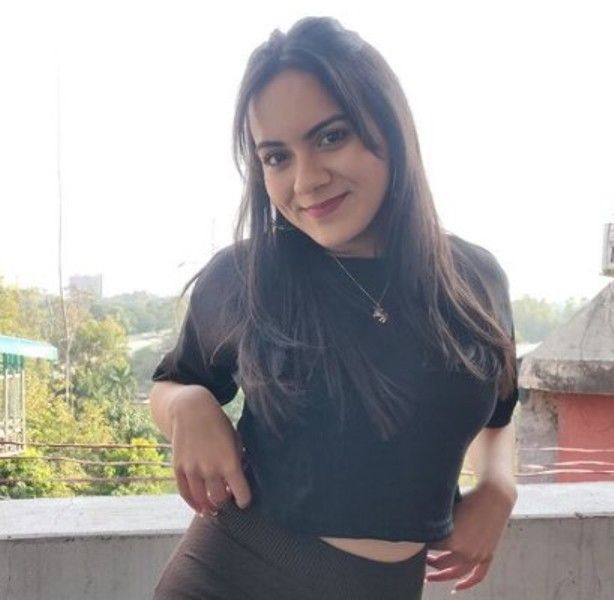 About Kashish Kanwar:
Kashish Kanwar is an actress and model. She made her Bollywood debut with the film, 'Veerey Di Wedding' starring Kareena Kapoor, Swara Bhaskar, Surya Sharma, Neena Gupta, and more… She played the role of young Meera in the film. Kashish was also the face of the television soap 'EkDujeKeVaaste 2' aired on Sony. She played the character of Devika. Some of her prominent ad films include Nestle, Maggie, Airtel, Dalmia, Byjus, Unicef KK, Chaayos, and many more… Kashish started her modelling journey as a child. She appeared in the fashion show by Medha Nanda. Her portfolio was later appreciated and Kashish did her first ad film for Byjus.
Find out more about the young and beautiful actress Kashish Kanwar in conversation with celebrity interviewer Shruti Sharma exclusively on StarsUnfolded.
In conversation with celebrity host Shruti Sharma:
Gym, Yoga, or Dieting, what do you follow in your lifestyle?
Kashish: "I think all are equally healthy choices in a person lifestyle. I follow the gym and take care of my diet. Yoga is something I have never tried but, would love to experience it."
What's your favourite cuisine?
Kashish: "I don't have a favourite cuisine outside (pauses and thinks…). I just love homemade food, especially KadiChawal. I would die for KadiChawal! If I have to select a cuisine outside, I would choose Indian and Italian. I love pizzas and pasta."
What's your favourite dress code when you leave your house?
Kashish: "So… my fashion sense would always be something that is comfortable. I would never step out in attire that makes me uncomfortable. However, the dress needs to be chic and classy at the same time. For instance, a simple crop top, baggy jeans, shoulder bag, followed by accessories and jewellery is something I would prefer."
If you get an opportunity to travel to your dream destination with a celebrity, who would you choose?
Kashish: "My dream destination is Greece. I would love to travel to Greece with the Canadian singer The Weeknd (Abel MakkonenTesfaye). He is my favourite and I remember all his songs and lyrics!"
When you are not shooting, how do you spend your free time?
Kashish: "If I have to give an honest answer, I annoy my mom in my free time (laughs…). Well, usually I watch Netflix, listen to The Weeknd, dance, and relax. I am also developing an interest in reading."
Mountains or beaches what do you prefer the most?
Kashish: "I love both, mountains and beaches but, I will always choose mountains over beaches. There is something special about the mountains."
If you have to choose between health and wealth, what would you personally choose?
Kashish: "It's a very good question… I think I will choose health over wealth coz if you have good health, you can work toward making wealth. Everyone should prioritize their health mentally and physically.
What inspires you to be an actress?
Kashish: "I have always been a person with a head full of dreams. Even in my school, I have always been an active child who would participate in all co-curricular activities. I loved going to the theatres. I have always aspired to be an actress. I would give credit for this inspiration to my Grandfather. He was a phenomenal actor! Unfortunately, he couldn't pursue it for some reasons, but I would love to pursue acting…"
One Bollywood or Hollywood personality whose life you would love to live or follow?
Kashish: "Again… a tough question… There are so many names coming to my mind. I would give priority to The Weeknd(Abel MakkonenTesfaye). I would die to live like him once and experience how he writes and performs on stage. From Bollywood, I would name Kareena Kapoor Khan. There is a sense of gracefulness and class in her. I remember, during my shoot for Veerey Di Wedding, I remember how she glowed even in the dark. She is drop-dead gorgeous! I mean Kareena Kapoor Khan ki life kaun naahin jeena chahega, I would love to live her life."
For centuries, there is a practice and belief that is being followed that women must know how to cook. How much do you agree to this or do you think cooking is an act of survival regardless of gender.
Kashish: "I think cooking is a very general skill and it is all about survival. Everyone must know this as a basic skill. Yes, I agree some people from society still believe that women must stay back home, cook, and take care of the house chores… It is 2022 and it is time that we get mature with our thinking and attitude towards the women gender."
What's that feeling in one word when someone recognizes you as a celebrity?
Kashish: "If I have to describe in one word that feeling, it is Surreal… When someone recognizes you, you feel you have done something in life and get inspired to continue working towards your goal…"
Watch the whole interview of KashishKanwar on StarsUnfolded Channel: