Sheryl Sandberg Age, Boyfriend, Husband, Family, Biography, & More
Quick Info→
Age: 53 Years
Husband: Tom Bernthal
Hometown: North Miami Beach, Florida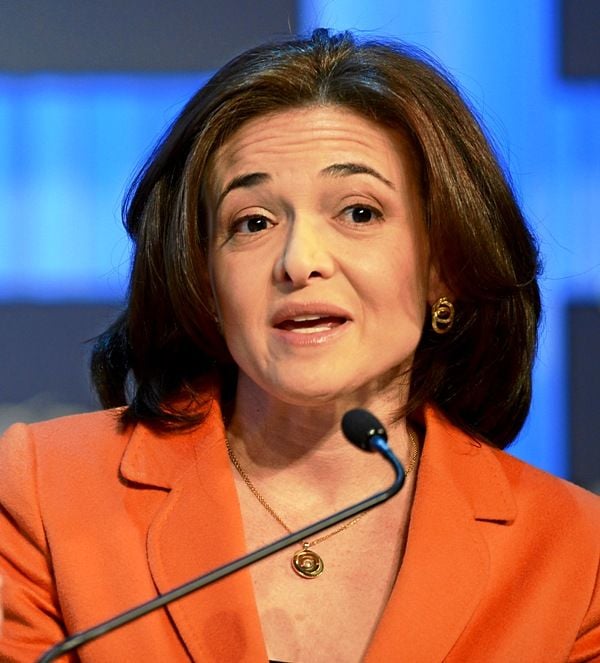 Bio/Wiki
Full name
Sheryl Kara Sandberg [1]

The New York Times
Names Earned
The Sheryl Kara Sandberg [2]

The New York Timesfirst lady of Facebook [3]

The Guardian
Profession(s)
Business Executive, Chief Operating Officer at Meta (formerly known as Facebook)
Physical Stats & More
Height (approx.)
in centimeters- 163 cm
in meters- 1.63 m
in feet & inches- 5' 4 "
Eye Colour
Black
Hair Colour
Black
Personal Life
Date of Birth
28 August 1969 (Thursday)
Age (as of 2022)
53 Years
Birthplace
Washington, D.C.
Zodiac sign
Virgo
Signature
Nationality
American
Hometown
North Miami Beach, Florida
School
• Highland Oaks Middle School, Ojus, North Miami-Dade, Florida
• North Miami Beach High School, North Miami Beach, Florida

Note: She entered North Miami Beach High School when she was in 10th grade.
College/University
• Harvard University, Cambridge
• Harvard Business School, Boston
Educational Qualification
• Bachelor of Arts in Economics at Harvard University, Cambridge (1987-1991)
• Master of Business Administration at Harvard Business School, Boston (1993-1995)

Note: She graduated from Harvard University in 1991 summa cum laude and Phi Beta Kappa. After her first year at Harvard Business School, she won a fellowship. She received an MBA with highest distinction from Harvard Business School. Her undergraduate thesis was on 'How economic inequalities contributed to spousal abuse' and economist Lawrence Summers volunteered to be her thesis adviser.
Religion
Judaism [4]

The Forward
Political Inclination
During the 2016 presidential elections, Sheryl Sandberg lent her support to the Democrat presidential candidate Hillary Clinton. [5]

Politico During the 2020 elections, although Sheryl hinted that was likely to support a Democratic candidate, she declined to endorse Elizabeth Warren. [6]

CNBC
Controversies
Russian Interference in the 2016 United States Elections
In 2018, Mark Zuckerberg and Sheryl Sandberg came under public scrutiny for ignoring and then trying to conceal Russia's use of Facebook to disrupt the 2016 U.S. election. The duo received immense criticism after the release of the Mueller report, the official report documenting the findings and conclusions of Special Counsel Robert Mueller's investigation into Russian efforts to interfere in the 2016 United States presidential election. The report suggested that the Russian government, through the Internet Research Agency (IRA), had waged a social media campaign that favored Donald Trump and disparaged Hillary Clinton. The Report also claimed that IRA spent $100,000 on more than 3,500 Facebook advertisements from June 2015 to May 2017. [7]

The Verge In November 2018, The New York Times in its article accused Zuckerberg and Sandberg of deflecting public scrutiny onto their competitors. [8]

The New York Times Thereafter, she responded to the allegations leveled against her and Mark Zuckerberg via a Facebook post, [9]

CNBC which read,
"Mark and I have said many times we were too slow. But to suggest that we weren't interested in knowing the truth, or we wanted to hide what we knew, or that we tried to prevent investigations, is simply untrue…As Mark and I both told Congress, leading up to Election Day in November 2016, we detected and dealt with several threats with ties to Russia and reported what we found to law enforcement."

Cambridge Analytica Data Scandal
In March 2018, Christopher Wylie blew the whistle on Cambridge Analytica, a political consultancy that worked on the 2016 presidential campaigns of Ted Cruz and Donald Trump. Wylie disclosed that personal data belonging to millions of Facebook users was collected without their consent by Cambridge Analytica in 2015 for political advertising. The data enabled Cambridge Analytica to choose target users that were more prone to impulsive anger or conspiratorial thinking than average citizens. The revelation attracted controversy for Facebook for serving as a medium of data harvesting. Consequently, Mark Zuckerberg paid a £500,000 fine to the UK Information Commissioner's Office for exposing the data of its users. Amid the controversy, The Wall Street Journal reported that Zuckerberg had blamed Sandberg and her team for the public fallout over Cambridge Analytica during a meeting. [10]

Business Insider In 2022, Zuckerberg and Sandberg were in line to give hours of depositions in response to a lawsuit over the privacy scandal, but the company reached a settlement agreement with the plaintiffs. [11]

The Verge

2021 Riot at the U.S. Capitol
Following Donald Trump's defeat in the 2020 United States presidential elections, a mob consisting of his supporters attacked the Capitol Building in Washington, D.C. on 6 January 2021. Apparently, Trump's followers disrupted the joint session of Congress from counting the electoral college votes as it would have formalized the victory of Joe Biden. Consequently, Facebook was blamed for serving as a medium for organizing the mob which fueled the insurrection at the U.S. Capitol. [12]

The Washington Post Many media houses highlighted the fact that advertisements and hashtags promoting the pro-Trump rally circulated on Facebook and Instagram days beforehand and boosted the attendance at the rally. However, when Sandberg dismissed the claims she was accused of downplaying Facebook's role in the attack and deflecting the blame onto its competitors. During an interview, she said, [13]

Forbes
"I think these events were largely organized on platforms that don't have our abilities to stop hate, don't have our standards and don't have our transparency."

Pressuring the Daily Mail to Drop Stories About her boyfriend CEO Bobby Kotick
On 21 April 2022, The Wall Street Journal published a report that claimed that Sandberg had allegedly pressured the Daily Mail to drop unflattering stories about Activision Blizzard Chief Executive Bobby Kotick in 2016 and 2019, who was then Sandberg's boyfriend. In 2016 and 2019, the Daily Mail was about to disclose the story of a temporary restraining order against Kotick that his ex-girlfriend obtained in 2014. According to The Wall Street Journal, Kotick told his associates that Sandberg had warned the Daily Mail that its relationship with Facebook could be damaged if any article was published against Kotick. [14]

The Wall Street Journal Thereafter, Sandberg became the subject of internal scrutiny at Facebook for allegedly violating the company's rules by pulling resources from Meta to quash stories about Bobby Kotick. The article also stated that she was under review at Meta for the alleged claims. [15]

The Guardian

Using Corporate Resources For Her Personal Project
In June 2022, Sheryl Sandberg attracted controversy when The Wall Street Journal alleged that she was under internal review at Meta for employing corporate resources for her personal projects including writing her second book around 2016-17 and her wedding to Tom Bernthal in 2022. [16]

The Wall Street Journal
Relationships & More
Marital Status
Married
Affairs/Boyfriends
• Dave Goldberg (2002-2004)

• Bobby Kotick (CEO of Activision Blizzard) (2016-2019)

• Tom Bernthal (2019-2022)

Family
Husband/Spouse
• Brian Kraff (businessman) (1993-1994)
• Dave Goldberg (deceased; founder of LAUNCH Media and the CEO of SurveyMonkey) (2004-2015)

• Tom Bernthal (co-founder and CEO of Kelton Global and former NBC News producer) (2022-Present)

Note: On 1 May 2015, Dave Goldberg died due to an arrhythmia caused by undiagnosed coronary artery disease while he was on a vacation with Sheryl Sandberg in Punta Mita, Mexico.
Children
Sheryl has five children. She has a son (born in 2005) and a daughter (born in 2007) from her marriage to Dave Goldberg. In 2022, Sheryl got married to Tom Bernthal who has three children from his ex-wife Leah Bernthal.
Parents
Father- Joel Sandberg (ophthalmologist)
Mother- Adele Sandberg (teacher)

Note: Earlier, Adele Sandberg worked as a French teacher, but she left her job to raise her family. Later, she started teaching English as a second language an EF International Language School in Miami Beach.
Siblings
Brother- David Sandberg (pediatric neurosurgeon)
Sister- Michelle Sandberg (pediatrician)

Note: Sheryl Sandberg is oldest of three siblings.
Money Factor
Net Worth (approx.)
$1.5 billion (as per Forbes her real-time net worth in 2022) [17]

Forbes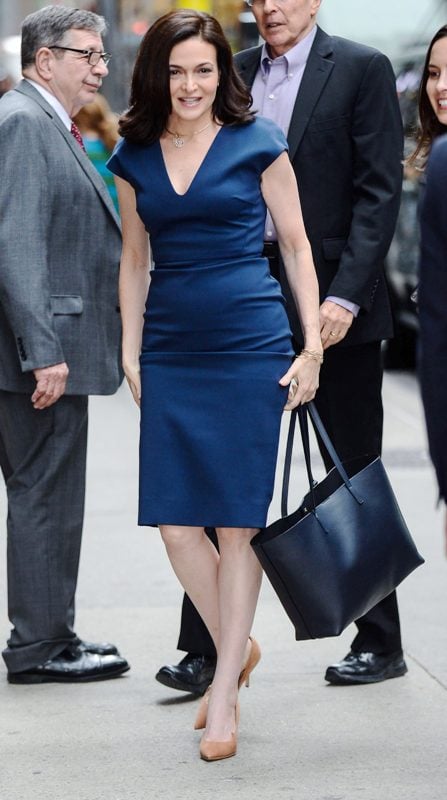 Some Lesser Known Facts About Sheryl Sandberg
Sheryl Sandberg is an American business executive and philanthropist. Sandberg held the position of Chief Operating Officer (COO) at Meta (formerly known as Facebook) from 2008 to 2022 after which Javier Olivan succeeded her. She also serves on Meta's board of directors. Before joining Meta, then called Facebook, Sheryl had served as Vice President of Global Online Sales and Operations at Google, Chief of Staff for United States Secretary of the Treasury, Lawrence Summers under President Clinton, a management consultant with McKinsey & Company, and an economist with the World Bank.
She grew up in North Miami Beach, Florida, where her parents moved when she was 2.
Growing up in a Jewish family, with parents who were actively involved in helping Jews leave the Soviet Union, Sheryl spent her childhood attending rallies. Her parents helped create the South Florida Conference on Soviet Jewry and turned their home into a safe haven for Soviet Jews looking to escape anti-Semitism. The Sandberg family was actively involved with Temple Sinai in North Miami Beach, especially in the temple's advocacy for the freeing of Soviet Jews. In 1982, when Sandberg was 13, she was featured in a Miami Herald article about Soviet Jews. In the article, she shared that she attended her first rally when she was one year old and had participated in protest marches, handed out petitions, and worked on letter-writing campaigns to help advance their cause ever since.
In 1987, Sheryl graduated ninth in her class with a 4.646 GPA from North Miami Beach Senior High School.
While studying at Harvard, Sandberg founded a group initiative called 'Women in Economics and Government.' According to her, the group was created to encourage more women to major in government and economics.
As an undergraduate at Harvard, Sandberg first got the attention of her professor Larry Summers in a class on public sector economics. Upon Lawrence Summers's appointment as Chief Economist at the World Bank in 1991, he recruited Sandberg as a research assistant. During her two-year stint at the World Bank, Sheryl had the opportunity to travel to India, where she worked on health projects— like leprosy, AIDS, and blindness in the country's most remote and poorest regions, prompting her to go back to Harvard to study for a law degree. However, she later changed it to a business degree.
After receiving her MBA in 1995, Sheryl spent a year working for McKinsey & Company, a global management consulting firm in Los Angeles, before returning to Washington, D.C to work for Summers.
In 1996, she again started working for Summers, who was promoted to Deputy Secretary of the Treasury under his long-time political mentor Robert Rubin in 1995.
When Summers succeeded Rubin as Secretary of the Treasury in 1999, he promoted Sheryl to the position of Chief of Staff.
She began her career in the tech business in Silicon Valley in 2001 when she joined Google three years after the company was founded. As Business Unit General Manager at Google, Sandberg was responsible for sales operations for the company's consumer products and Google Book Search. Apart from that, she was also instrumental in launching Google.org, the search giant's philanthropic arm.
She supervised sales and operations for AdWords, an online advertising platform developed by Google. After its success, Sheryl put her efforts into developing AdSense, a program run by Google through which website publishers in the Google Network of content sites serve text, images, video, or interactive media advertisements that are targeted to the site content and audience. During her seven-year-long career at Google, Sheryl grew its advertising revenue to billions of dollars and resigned as Vice President of Online Sales and Operations in March 2008.
Sheryl Sandberg first met Dave Goldberg in 1996 in Los Angeles. They started dating in 2002 while Dave was working at Yahoo in Los Angeles and Sheryl was working as an advertising executive at Google in the Bay Area.
In an interview, Goldberg talked about his courtship of Sandberg and said that they flipped a coin to choose where they were going to live, Los Angeles or Bay Area. As Goldberg lost the coin flip, he had to relocate to Bay Area and commute from there to L.A.
She met Mark Zuckerberg, CEO of Facebook, in 2007 at a Christmas party hosted by American business executive Dan Rosensweig.
In March 2008, she joined Facebook as Chief Operating Officer. At that time, Facebook was a start-up of 130 employees. Thereafter, Sheryl adopted an advertising strategy to make Facebook profitable, similar to what she had done at Google.  She was tasked with assisting the company in scaling its operations and expanding its global presence. Her strategy was successful in earning the company a revenue of $3.7 billion in 2010, a stark contrast to their $56 million dollar loss in 2008, the year she first joined. In 2012, Sandberg became the first woman to get elected to the board of directors at Facebook. As COO, Sandberg positioned Facebook as a platform for small business advertising, helping increase ad revenue by 37% during 2021, to nearly $115 billion.
On 1 June 2022, after her fourteen-year-long career at Meta, Sandberg announced that she would be stepping down from the position of COO, saying that she desired to focus on her philanthropic work and raising five children with Bernthal.
In 2009, Sandberg joined the Board of Directors of The Walt Disney Company. She has served on the Board of Directors for Women International, ONE, The Center for Global Development, and V-Day in addition to, SurveyMonkey, Starbucks, Brookings Institution, and Ad Council.
In 2010, Sheryl spoke at a TEDWomen event in Washington, D.C. in which she discussed why a smaller percentage of women than men reach the top of their professions in a presentation titled "Why We Have So Few Women Leaders." Ever since then her TEDTalk became wildly popular with more than 11 million views, making it one of the most popular TEDWomen talks.
She is the founder of the Sheryl Sandberg & Dave Goldberg Family Foundation, a nonprofit organization that works to build a more equal and resilient world through three key initiatives, Lean In, Option B, and the Dave Goldberg Scholarship Program.
She is the author of the bestseller Lean In: Women, Work, and the Will to Lead (2013). Sheryl is also the co-author of Option B: Facing Adversity, Building Resilience, and Finding Joy (2017) with Wharton professor and bestselling author Adam Grant. In 2013, Lean In was shortlisted for the Financial Times and Goldman Sachs Business Book of the Year Award and Thinkers50 Best Book Award. The success of her books led her to establish nonprofit organizations of the same name.

As an advocate for women's rights in the workplace, she founded LeanIn.Org in 2013. The 501(c)(3) nonprofit organization encourages women to share their stories and create support groups to maximize their career potential. Meanwhile, Option B focuses on supporting people who face adversity, whether it's grief and loss, incarceration, or divorce.
She spearheaded advocacy movements like #BanBossy and #LeanInTogether. The popular campaign #BanBossy criticized the use of the word "bossy" to represent assertive girls and women at the workplace and at home as the word discouraged women from seeking positions of leadership.
Sheryl Sandberg was named among Time magazine's most influential women of 2013. Before that, she was included in Time Magazine's 2012 'Time 100' annual list of the most influential people in the world. She has also been ranked among the most powerful women in business by Fortune magazine multiple times.
In 2014, Sheryl signed The Giving Pledge, a campaign that encourages extremely wealthy people to contribute a majority of their wealth to philanthropic causes.
In 2019, Sheryl donated $5 million to United Hatzalah, the Jerusalem-based volunteer first responder organization, in honor of her parents at a Miami fundraiser. The money was directed toward United Hatzalah's women's unit in Israel, which was later named the Adele and Dr. Joel Sandberg Women's Unit.
In the same year, she also donated $2.5 million to the Anti-Defamation League in her parent's name to support anti-hate programs in the United States and Europe.
Tom Bernthal and Sheryl Sandberg were introduced by Rob Goldberg, the brother of Sandberg's late husband Dave Goldberg.
As of 2022, she lives in Menlo Park, California, with her fiancé and their five children.
In 2022, Forbes calculated that Sandberg had parted with 92% of the shares in Facebook ever since the company's initial public offering in 2012. Until March 2013, Sandberg owned nearly 17.9 million shares. The report revealed that she had been aggressively unloading her stake in the company, and she had offloaded about 30% of her stake when the company went public in 2012. In 2015, she sold an additional 42% of her shares. In early 2016, Sheryl donated 290,000 shares of her Facebook stock, then valued at roughly $31 million, with a majority going to LeanIn.Org. The sales slowed down in 2016 before coming to a halt in 2019.
In the 2019 book "The Age of Surveillance Capitalism: The Fight for a Human Future at the New Frontier of Power," author Shoshana Zuboff referred to Sandberg as "the Typhoid Mary of surveillance capitalism" accusing Facebook for profiting off the collection of data from social media users' online behavior, preferences, shared data and relationships.
She has given the Commencement Address at various recognized institutions like Barnard College in 2011, the University of California, Berkeley in 2016, Virginia Tech in 2017, and the Massachusetts Institute of Technology in Cambridge in 2018.