Top 10 Best Movies of Nana Patekar
Nana Patekar is an Indian actor, filmmaker and writer. He is one of the finest actors in the Indian film industry. Not many know that before leaving the world stunned with his perfect acting skills, Nana Patekar did strange jobs like painting zebra crossing on the roads and movie posters to earn some money. He was given the fourth highest civilian honour of India when he has bestowed the Padma Shri award for his devotion in the field of Arts and Films.
1. Ab Tak Chhappan (2004)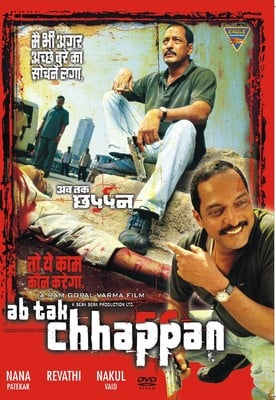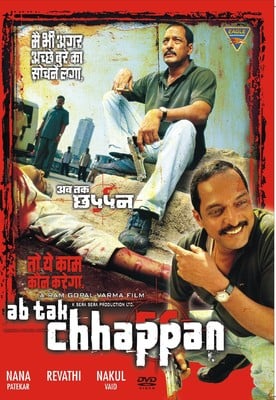 Ab Tak Chhappan is a crime thriller film directed by Shimit Amin, written by Sandeep Srivastava, produced by Ram Gopal Varma, and starring Nana Patekar in the lead role.
Plot: Sadhu, an encounter specialist, is armed with an individual vendetta to find and eliminate the gangsters responsible for his wife's death.
2. Krantiveer (1994)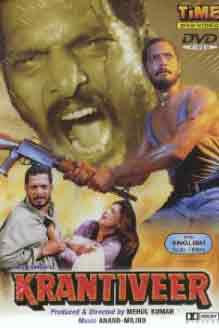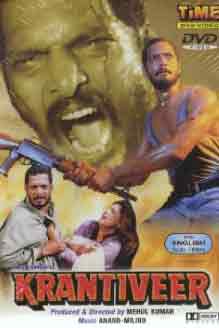 Krantiveer is an action crime film directed by Mehul Kumar. The film stars Nana Patekar, Dimple Kapadia, Atul Agnihotri, Mamta Kulkarni, Danny Denzongpa and Paresh Rawal in lead roles.
Plot: Pratap, who is abandoned by his parents, runs into a problem when he ends up in a small village controlled by criminals and corrupt politicians.
3. Taxi No. 9 2 11 (2006)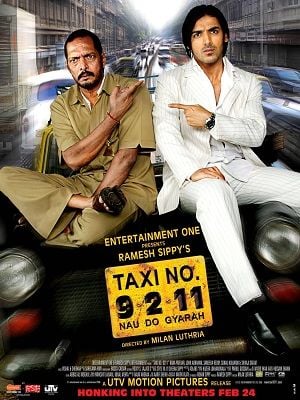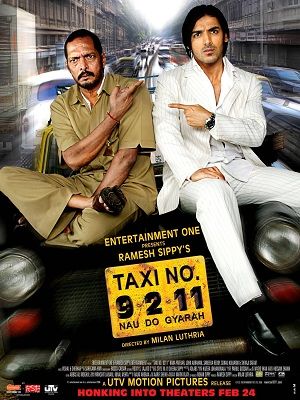 Taxi No. 9 2 11 is a slice-of-life drama film directed by Milan Luthria and produced by Ramesh Sippy. The film stars Nana Patekar along with John Abraham in lead roles. It is a loose remake of the Hollywood film Changing Lanes.
Plot: Taxi driver Raghav and businessman Jai are hot-tempered personalities. A taxi ride introduces them to each other. However, both are ignorant of how their life is going to change drastically thereafter.
4. Ghulam-E-Musthafa (1997)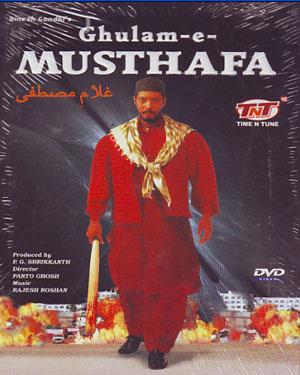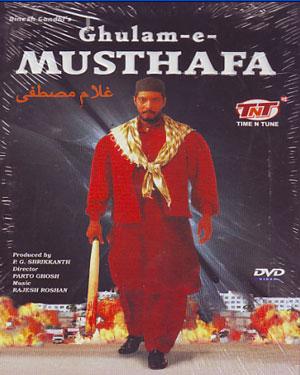 Ghulam-E-Musthafa is an action-drama film directed by Partho Ghosh, Starring Nana Patekar and Raveena Tandon in the lead role.
Plot: following to his bosses orders, Mustafa goes to live with a family who refuses to sell their house to his boss. Little does he know that this will change his life forever.
5. Yugpurush: A Man Who Comes Just Once in a Way (1998)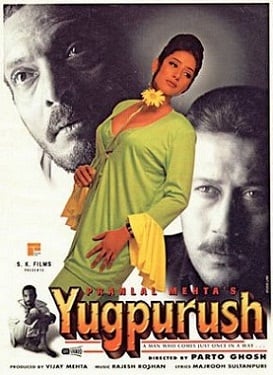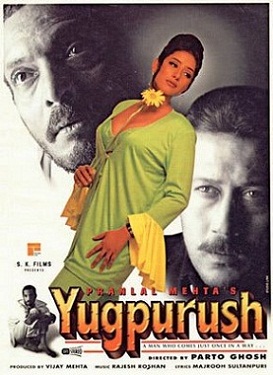 Yugpurush: A Man Who Comes Just Once in a Way is a drama Bollywood film directed by Partho Ghosh and produced by Vijay Mehta. The film stars Nana Patekar, Jackie Shroff and Manisha Koirala in the title roles.
Plot: Anirudh is released from an asylum after twenty years of treatment. He struggles to adjust in the normal world. He finds comfort in Sunita's company, but his friend Ranjan also loves her.
6. Wajood (1998)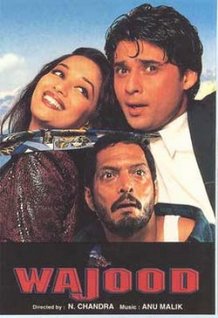 Wajood is a drama film by directed and written by N. Chandra. It features Nana Patekar and Madhuri Dixit in lead roles.
Plot: Malhar is in love with Apoorva and believes that her engagement with Nihal is forced. Enraged, he protests against it. He, however, is arrested, forcing him into a life of crime.
7. Tirangaa (1992)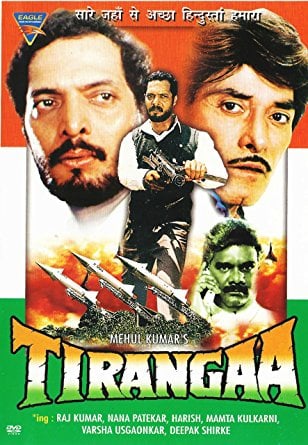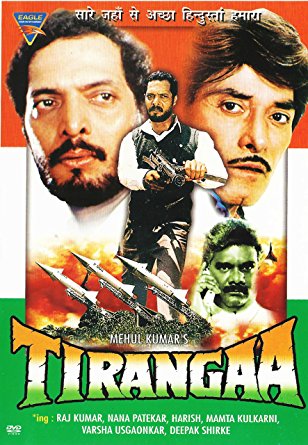 Tirangaa is a Patriotic film features Raaj Kumar, Nana Patekar and Mamta Kulkarni. The movie was a blockbuster. At the time of 1993 Plaza cinema, Mumbai was bombed where the movie was showing, leaving 10 dead and 37 injured.
Plot: Harish witnesses his father's murder and plans to avenge his death but does not know where to begin. However, he is unjustly arrested for raping a woman and is sentenced to long term imprisonment.
8. Welcome (2007)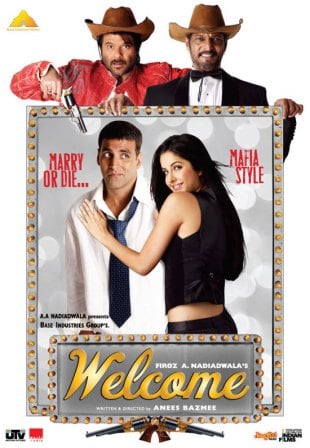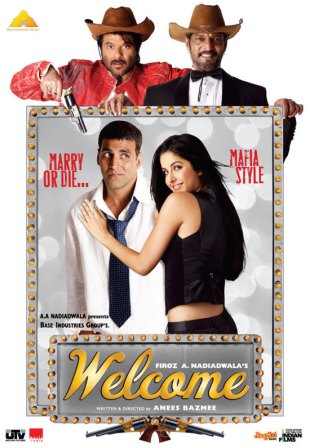 Welcome is a comedy film directed by Anees Bazmee and produced by Firoz A. Nadiadwala and Ronnie Screwvala. The film features a large ensemble cast of Akshay Kumar, Anil Kapoor, Nana Patekar, Katrina Kaif, Paresh Rawal, Malika Sherawat.
Plot: Two thugs, Uday and Majnu meet Rajeev, who belongs to a respectable family, and want to get their sister married to him. A series of funny situations befall when Rajeev's uncle denies the marriage.
9. The Attacks of 26/11 (2013)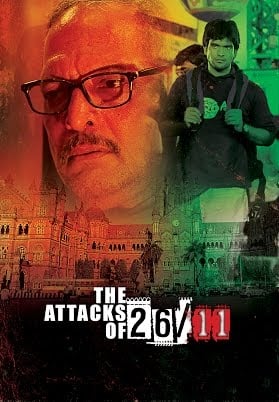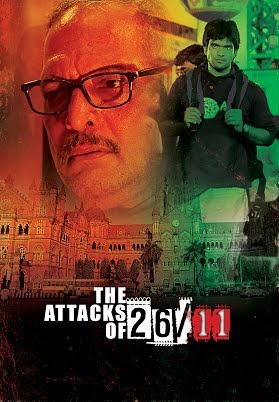 The Attacks of 26/11 is a docudrama crime film directed by Ram Gopal Varma, based on the 2008 Mumbai attacks. The film stars Sanjeev Jaiswal in his film debut, playing the role of terrorist Ajmal Kasab with Nana Patekar in a pivotal role.
Plot: Ten terrorists travel to India and launch various attacks at many places in South Mumbai. Afterward, the Mumbai Police arrest Ajmal Kasab, one of the terrorists.
10. Prahaar: The Final Attack (1991)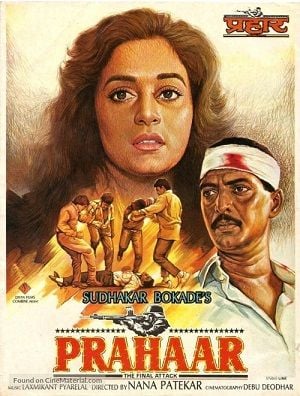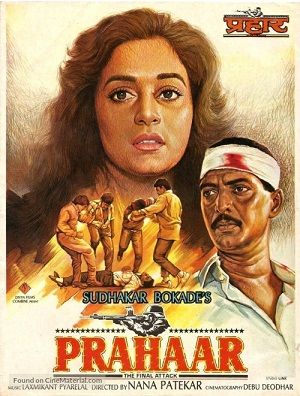 Prahaar: The Final Attack is an action drama film, written and directed by Nana Patekar. The film was nominated for Best Story at the 37th Filmfare Awards.
Plot: Major Chauhan, a highly trained officer in the Indian Army, diligently serves his country on the battleground. He decides to take a stand against the corruption widespread in the country.