Vikraman Radhakrishnan (Bigg Boss Tamil 6) Height, Age, Girlfriend, Family, Biography & More
Quick Info→
Marital Status: Unmarried
Father: Radha Krishnan
Hometown: Tirunelveli, Tamil Nadu, India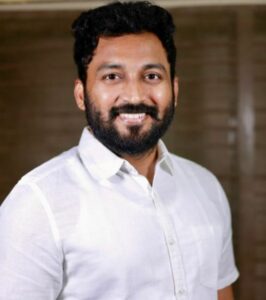 Bio/Wiki
Other Name
Vikraman R [1]

Vikraman R - Instagram
Profession(s)
• Actor
• Politician
• Anchor
• Journalist
Known for
Becoming the first digital media political anchor to appear as a contestant in the reality television show Bigg Boss Tamil season 6 on Star Vijay (October 2022). [2]

Galatta

Physical Stats & More
Height (approx.)
in centimeters- 173 cm
in meters- 1.73 m
in feet & inches- 5' 8"
Weight (approx.)
in kilograms- 75 kg
in pounds- 165 lbs
Eye Colour
Black
Hair Colour
Black
Career (as an actor)
Debut
Host: Nadanthathu Enna? Kutramum Pinnaniyum on Vijay TV (2016)

TV (Lead Role): EMI-Thavanai Murai Vazhkai as Mahesh on Sun TV (2016)

Career (in politics)
Political Journey
• Appointed as a state spokesperson of the Liberation Tigers Party (2020) [3]

Dailymotion
• Appointed as a spokesperson of the Viduthalai Chiruthaigal Kachi (VCK) party in Tamilnadu, founded by Thol Thirumalavalan (2021-present)

Career (in journalism)
Correspondent
Puthiya Thalaimurai TV, a Tamil digital news channel headquartered in Chennai, Tamil Nadu, India
Political Editor
Galatta Media, a media company in Chennai, Tamil Nadu
Personal Life
Date of Birth
24 August
Birthplace
Tirunelveli, Tamil Nadu [4]

OTT Play
Zodiac sign
Virgo
Nationality
Indian
Hometown
Tirunelveli, Tamil Nadu
Food Habit
Non-vegetarian

Controversies
• Accused Sumanth C. Raman of encouraging caste-based discrimination
In November 2022, Vikraman accused Sumanth C. Raman, a Tamil television anchor and sports commentator, of biased behaviour and unfair treatment towards people based on their caste. Vikraman took to Twitter and revealed that when he went to Sumanth's house for an interview, he asked for a glass of water, but his demand was neglected even after several requests. His tweet read,
When I came to your house to interview you, you sent me back without even giving me a glass of water. When I asked for it to you myself, you suggested me to receive water from the watchman. Why is that ??"
Sumanth denied the allegations made against him by Vikraman and demanded to withdraw his baseless statement along with an apology. Vikraman replied to his tweet, which read,
Even two cameramen were accompanying me at that time. Don't threaten a journalist. Our truth will triumph."
Sumanth even threatened Vikraman to take legal action against him, to which he replied with a tweet,
I am not going to fear for these kind of gimmicks. Truth will triumph." [5]

Chennai Memes

• Accused of sexually harassing a man
As per sources, in April 2021, Vikraman was accused of sexually molesting a man, who came to his place to give an audition. Addressing Vikraman as a gay, the victim revealed that he promised to help him in getting roles for the films, but instead, harassed him. He shared the incident with a meme page on Instagram and said,
He called me in the name of audition to a house and made me act. Then he pushed me to the bed and sexually harassed me. I couldn't do anything at that time. His friends later called and scolded him. He put away my shirt in a cupboard and locked it. I had to struggle to get my shirt back from him. He later begged me to not disclose this incident to anyone and that he would help me get a chance in films. Then he blocked me. I couldn't do anything as many told me that he has many political connections and knows several bigshots. They told me that I won't be able to do anything to him." [6]

The Commune

• Addressed as anti-Hindu
During a debate on the English news channel Times Now, in June 2022, Vikraman was accused of offending and hurting the religious sentiments of people by insulting the Hindu God Lord Krishna. Vikraman passed a derogatory statement about Lord Krishna's immoral relationship with Gopis (devotees of Krishna) in his young age. Vikraman said,
Krishna's young age life was full of illicit love affairs with the women of Vrindavan. It was called Rasleela." [7]

OP India
People heavily criticized Vikraman for passing such a disrespectful statement on a Hindu god and addressed him as anti-Hindu. [8]

Sanatan Prabhat Rahul Easwar, a Hindu philosophy author, lashed out at him for passing offensive remarks and said,
Shri Krishna's relationship with the Gopis was not illicit but was a spiritual bond. Making such remarks about Hindu Deities is nothing but Hinduphobia. In this way, people try to belittle Hindu culture and beliefs. They make vulgar and offensive statements." [9]

OP India

• FIR filed for passing provocative remarks
An FIR was filed against the All India Majlis-E-Ittehadul Muslimeen (AIMIM) chief Asaduddin Owaisi and 31 other people, which included Vikraman Radhakrishnan, for allegedly passing objectionable and offensive statements on social media, which promoted hatred among different social groups. Vikraman, along with 31 other people, was booked under sections 153, 153A, 153B, 295A, 298, 504, 505 and 506 of the Indian Penal Code (IPC). [10]

The Times of India


Relationships & More
Marital Status
Unmarried
Family
Parents
Father- Radha Krishnan
Mother- Name not known
Favourites
Cuisine(s)
Thai and South Indian
Holiday Destination(s)
Rome and Macau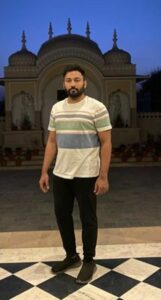 Some Lesser Known Facts About Vikraman Radhakrishnan
Vikraman Radhakrishnan is an Indian actor, politician, anchor, and journalist who is known for participating in the reality television show Bigg Boss Tamil season 6 on Star Vijay (October 2022).
In 2016, Vikraman played the role of Vikram in the musical short television series Vinnaithaandi Varuvaayaa on Vijay TV.
Vikraman, in an interview, talked about the incident, which made him enter into politics after working as a journalist and said,


During Covid, a woman contacted me on social media and appealed for help stating that her brother was unwell. She told me that her parents were quite old and that they lived abroad. She called it a desperate situation and asked if I could help her. As a journalist, I had a set of followers, and I tweeted about it. An ambulance was soon ready at her disposal and the state's CM, too, replied to me. So, I used this attention that I got in a productive way. But a lone man with an ideology doesn't get you far. You need more people around you who are of the same thoughts and ideology as you to make things happen. I am someone who believes that the justice you get in the Legislative Assembly is more important than the one you get in the court. Even if you can't do something, you should make those in power do it. It's the end result that matters." [11]OTT Play
Vikraman, through a tweet, revealed an incident of his school days, when he faced discrimination on the basis of his caste, which read,


"I went to a Brahmin's house to raise fund for the Kargil war during my school days. At that time, I happened to see them washing the place I sat" [12]Chennai Memes
பள்ளி மாணவனாக கார்கில் நிவாரண நிதிதிரட்ட ஒரு பிராமணர் வீட்டுக்கு சென்றிருந்தபோது நான் அமர்ந்த இடத்தை என் கண்முன்னே கழுவிவிட்டார்கள். 80 ஆண்டுகளாக நீங்கள் ஒடுக்கப்பட்டீர்கள் என்கிறீர்களே @sumanthraman நியாயமா?

— Vikraman R (@RVikraman) November 22, 2020
Vikraman ardently follows the ideologies of Babasaheb Ambedkar and Periyar. He follows their set principles and is against the Sanatana Dharma. In an interview, he talked about his views against the Sanatana Dharma and said,


We follow the principles of Babasaheb Ambedkar and Periyar who have been vocal against Sanatan Dharma. Sanatan Dharma is a dharma which promotes caste inequality, has inhuman values and divides the society into castes. Any human who has understood the concept of Sanatan Dharma will definitely be against it. The party which is promoting social justice, equality will always be against Sanatan Dharma.
Vikraman, through his tweets, often criticizes the BJP government and Narendra Modi, the 14th prime minister of India.
Stooping to new lows @timesofindia. Isaignani @ilaiyaraaja is reduced to "a Dalit from Tamil Nadu". This is what exactly the filthy BJP and it's parivar wanted. pic.twitter.com/DruCVUazlt

— Vikraman R (@RVikraman) July 7, 2022
"ஓ மை காட்" @PMOIndia @narendramodi pic.twitter.com/Tf3PQYTmjA

— Vikraman R (@RVikraman) May 3, 2022
In May 2022, Vikraman took to Twitter to express his objection to the decision of the Jawaharlal Institute of Postgraduate Medical Education and Research (JIPMER) for using the Hindi language as far as possible for official purposes.
புதுச்சேரி ஜிப்மரில் அலுவல் மொழியாக இனி ஹிந்தி மட்டுமே பயன்படுத்த வேண்டும் எனும் சுற்றறிக்கை புதுச்சேரி அலுவல்மொழிகள் சட்டம்,1965 மற்றும் அலுவல்மொழி விதிகள்,1976[பிரிவு 11(2)] படி சட்டத்திற்கு புறம்பானது. உடனே இதை திரும்பப்பெற வேண்டும். #stopHindiImposition pic.twitter.com/kZd3y8gvUS

— Vikraman R (@RVikraman) May 8, 2022
In July 2022, Vikraman received a Net Zero Fellowship from the School of Policy and Governance.
In October 2022, Vikraman participated as a contestant in Star Vijay's television reality show Bigg Boss Tamil season 6.