Wally Funk Age, Husband, Family, Biography & More
Quick Info→
Age: 82 Years
Marital Status: Unmarried
Hometown: New Mexico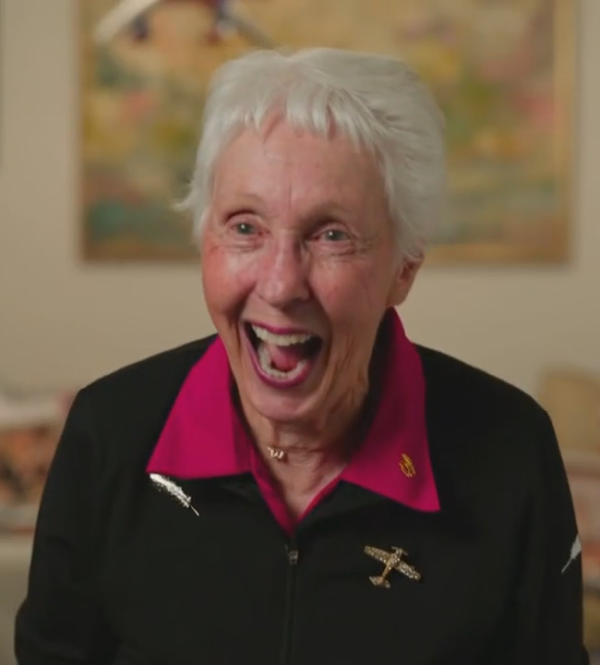 Bio/Wiki
Full name
Mary Wallace "Wally" Funk [1]

Los Angeles Times
Profession(s)
American Aviator, Commercial Astronaut
Famous for
Being the oldest person to fly into space when she accompanied Amazon founder Jeff Bezos and two others on a suborbital trip on July 20, 2021
Physical Stats & More
Height (approx.)
in centimeters- 170 cm
in meters- 1.70 m
in feet & inches- 5' 7"
Eye Colour
Hazel Brown
Hair Colour
Gray
Career
Flying Experience
19,600 hours
Time in space
10 mins. 18 sec.
Selection
Blue Origin
Mission
NS-16
Awards, Honours, Achievements
• At the age of 14, President Dwight Eisenhower sent her a letter of appreciation, after the National Rifle Association praised about her shooting results.
• In 1964, Stephen's College honoured her with the Alumna Achievement Award.
• Received "Outstanding Female Pilot" trophy, the "Flying Aggie Top Pilot" and the "Alfred Alder Memorial Trophy" at at Oklahoma State University (OSU).
• In 1965, she was listed as one of the "Outstanding Young Women in America.
• In the 1960s, Funk was listed in "Who's Who in Young Women in America" and "Who's Who in Aviation."
• In 1968, she earned Airline Transport Rating, becoming the 58th woman in the United States to achieve this.
• In 1975, she was named Honorary Colonel by the Governor of Louisiana.
• In June 2010, she was inducted into the Oklahoma State University's Aviation Hall of Fame.

• In 2017, her name was inscribed on the Smithsonian National Air & Space Museum's Wall of Honor.
Personal Life
Date of Birth
February 1, 1939 (Wednesday)
Age (as of 2021)
82 Years
Birthplace
Las Vegas, New Mexico, United States
Zodiac sign
Aquarius
Nationality
American
Hometown
Taos, New Mexico, United States
School
She did her schooling in Taos, a town in New Mexico.
College/University
• Stephen's College in Columbia, Missouri
• Oklahoma State University
Educational Qualification(s) [2]

Ninety-Nines
• Associate of Arts degree from Stephen's College
• Bachelor of Science degree in Secondary Education
Hobbies
Riding Bike, Horse Riding, Hunting, Fishing
Relationships & More
Marital Status
Unmarried
Family
Husband/Spouse
N/A
Parents
Her father owned a five-and-ten store in Taos, New Mexico, while her mother was an art enthusiast.
Children
None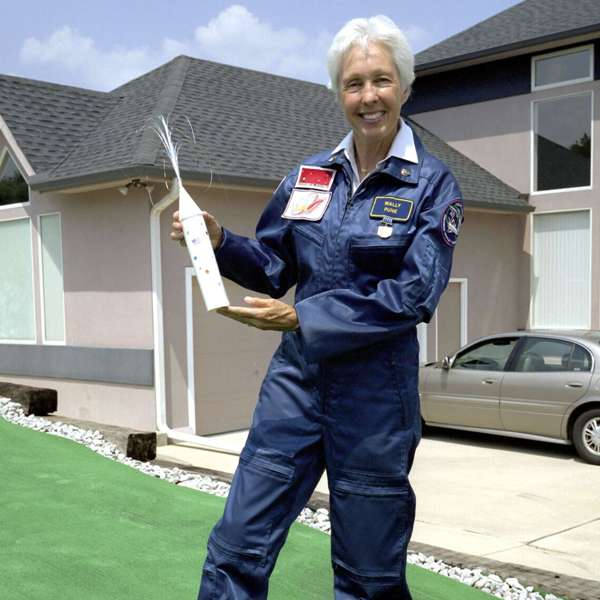 Some Lesser Known Facts About Wally Funk
Wally Funk is an American aviator and commercial pilot who became the oldest person to fly into space after accompanying Amazon founder Jeff Bezos and two others on a suborbital trip on July 20, 2021. With a flying experience of 19,600 hours, Funk has many records to her name including the first female civilian flight instructor at Fort Sill, Oklahoma, the first female air safety investigator for the National Transportation Safety Board, and the first female Federal Aviation Agency inspector. In the 1960s, she was the youngest member of the "Mercury 13," a program designed to train women to send them into space. Besides assisting thousands of Private, Commercial, Multi-engine, Seaplane, Glider, Instrument, CFI, Al and Air Transport Pilots, Funk has also trained more than 3,000 people to fly.
Wally Funk spent most of her childhood in Taos, New Mexico, where her parents owned a chain of shops. While growing up in Taos, her mother noticed that Funk was not like any other girl who would bake something out of a Betty Crocker cookbook, rather she was a tomboy who would ride horses and compete in marksmanship contests.
In an interview, she talked about her mother who also desired to fly as a young girl, and how her maternal grandfather doubted her mother's dreams. Wally said,


My mother passed the flying gene down to me. I was given the gift of great confidence and born with the ability to fly."
At an early age, Funk became fascinated by flying, and she would love to make planes from balsa wood. According to Funk, she can't remember a time when she wasn't fascinated by flying. The young Funk was only a year old when she got her first glimpse of an airplane; her parents had taken her to an airport near their home in New Mexico, where she saw a Douglas DC-3, an early airliner. Talking about this, Funk says,


I go right to the wheel and I try to turn the nut, and mother said: 'She's going to fly.'"
Wally Funk, who was five at the time, jumped from her father's barn in Taos, New Mexico, while wearing a Superman cape. Funk says it was a pivotal moment that inspired her to become a pilot. [3]

Los Angeles Times
A pilot gave Wally Funk her first flying lesson at age nine, letting her help steer the plane and telling her parents she did a great job. Talking about this, she says,


The air and how pretty it was, and how the ground looked. It was probably all of 15 minutes."
According to Funk, since childhood, she was an adventure enthusiast who loved outdoor activities. In an interview, she revealed that it was her parents' encouragement that made her a confident girl. She said,


I did everything that people didn't expect a girl to do. There was nothing I couldn't do."
As a high school student, Funk sought out courses such as mechanical drawing and auto mechanics; however, as a girl, she was only allowed to take courses such as home economics. [4]

Columbia Missourian
Funk claims she was not an excellent student, but she was cynical about flying. She says,


I was not an 'A' student. But, flying was my thing. I did what I had to do to fly."
In an interview, she revealed that when she entered Stephen's College in Columbia, Missouri, she hadn't even completed high school. [5]

Huck Magazine She said,


When I was sent to Stephens College aviation program, I hadn't even graduated from High School yet. They sent me right into college and right into flying."
According to Funk, while she was studying at Stephen's College, her scores were not brilliant, and she was rather interested in flying. In an interview, while talking about this, she said that once her adviser called up her mother and said,


Mrs. Funk, your daughter's not doing too well in her subjects. Do you have an airport? You get her out there and start her flying."
In 1958, Funk was rated first in her class of 24 flyers, when she graduated with an Associate of Arts degree and her pilot's license from Stephen's College. [6]

Ninety-Nines Wally Funk was one of the last members of the Flying Susies to receive her pilot's license while she was studying at Stephen's College. In an interview, while talking about this, she said,


I was the last 'Flying Susie' to receive my license."
At Stephen's College, she was required to fly 100 miles as part of her flying training. In an interview, Funk recalled picking up her parents while flying through the countryside. She said,


I was required to do 100 miles of flying so I would fly around the countryside and even pick up my parents."
After graduating from Stephen's College, she attended Oklahoma State University, where she earned a Bachelor of Science degree in Secondary Education. While attending OSU, she also earned her Commercial, Single-engine Land, Multi-engine Land, Single-engine Sea, Instrument, and Flight instructor's and all Ground Instructor's ratings. [7]

Ninety-Nines In an interview, she talked about OSU's famous "Flying Aggies" program that inspired her to attend the university. She said,


As a Flying Aggie, I could do all the maneuvers as well as the boys, if not better."
Wally flew for Oklahoma State University in the International Collegiate Air Meets as an officer of the famous "Flying Aggies."
On August 29, 1960, after getting inspired by an article 'A Lady Proves She's Fit for Space Flight,' published in Life magazine, Wally decided to go into space. The article gave detail about the achievements of aviator Geraldyn 'Jerrie' Cobb, who had just undergone a series of terrifying endurance tests for potential astronauts and completed it successfully. Wally was so inspired by Cobb's achievements that she wrote letters to Cobb and Dr. William Randolph Lovelace; Dr. William was the one who devised the trials. Through these letters, Wally expressed her desire to take these tests and go into space.
Soon after writing letters to Cobb and Dr. William Randolph Lovelace, Wally was called to Albuquerque to participate in the Woman in Space Program. At Albuquerque, Wally underwent five and a half days of training during which she had to ingest radioactive material and having icy water poured into her ears; these tests were similar to the tests taken on by the Mercury 7, NASA's first successful human space mission. After passing these tests, 22-year-old Wally Funk joined Cobb and 11 other successful participants in the Mercury 13 program, a privately funded program that aimed to train women astronauts and send them into space.
Although all 13 participants of Mercury 13 proved that they could endure extreme physical conditions, the program was shelved on the pretext that sending women into space was 'against the natural order,' after its private funding was pulled and several prominent NASA figures lobbied against sending women astronauts into space.
At the age of 21, Wally Funk joined Fort Sill, Oklahoma as a Civilian Flight Instructor of noncommissioned and commissioned officers of the United States Army, making her the youngest and the only female professional aviator in the US Army. [8]

The Guardian In an interview, Wally revealed that to get this job, she valiantly entered the local airfield office and asked,


Does anybody need a flight instructor?"
In the fall of 1961, Wally worked as a Certified Flight Instructor, Charter, and Chief Pilot at an aviation company in Hawthorne, California.
In 1970, Wally received the Commercial Glider Rating, she taught five Aeronautical Science classes at Redondo High School in California. Wally was also appreciated by Sacramento's Educational Board for her efforts to encourage high school students to pursue their careers in aviation.
In 1971, when Wally finished the FAA General Aviation Operations Inspector Academy course, she became the first woman in the United States to do so. During the course, Wally learned Flight Testing procedures and handling accidents and violations, the course also included Pilot Certification.
In 1973, when Wally was promoted as a specialist to FAA SWAP (Systems Worthiness Analysis Program), she became the first woman in the United States to hold this position. [9]

Ninety-Nines
In late November 1973, Wally Funk returned to the FAA Academy, where she underwent air-taxi, charter, and aviation rental businesses-related courses, and following this, Wally inspected flight schools and air taxi operations while traveling to Arizona, Nevada, and California.
On December 9, 1974, Wally Funk became the first female investigator at the National Transportation Safety Board in Washington, D.C., after she joined them as Air Safety Investigator. During the same time, she attended two schools for field investigators to learn crucial things about airplane accidents and how to investigate them.
On June 23, 1975, in response to Mrs. Gerald Ford's request, Wally Funk joined a luncheon at the White House in Washington, D.C.
Wally Funk is also known for participating in air races, and she has successfully competed in many prominent women's air races including Powder Puff Derby's 25th Annual Race in which she stood 8th, Pacific Air Race in which she was placed 6th, and Palms to Pines Air Race in which she stood 8th. On August 16, 1975, Wally participated in the Palms to Pines All Women Air Race from Santa Monica, California to Independence, Oregon in which she stood 2nd. On October 4, 1975, while flying her red and white Citabriashe, Wally became the winner among 80 participants in the Pacific Air Race from San Diego, California to Santa Rosa, California.
There have been numerous television and radio appearances by Wally Funk. Additionally,

she has addressed over 50 professional organizations.

A TV show called "What Will the Women Be Doing In The Year 2000?" interviewed Wally in November 1973.

Her interview on the "Mike Douglas Television Show" took place the same year.

Wally was interviewed on Gene Burke's television program "Salute of Women in Aviation" in the fall of 1975.

On February 8, 1995, NBC's "Dateline" aired an interview with Wally Funk, one of the original thirteen female astronaut candidates.
Various magazines have featured Wally Funk, including 'Life,' 'Town and Country,' and 'Ms Magazine'.

Oklahoma State Alumnus' 'Aviation News Illustrated' magazine has featured Wally Funk on their cover.

She has also been featured in Charles Paul May's 'Women in Aeronautics;' 'Ladybirds II The Continuing Story of American Women in Aviation' by Henry M. Holden and Captain Lori Griffith; 'Woman into Space,' 'The Jerrie Cobb Story,' 'Amelia Earhart's Daughters,' 'Illustrated Encyclopedia of Aviation in Space,' and 'Aerospace Education.'

A total of eight European and South African publications featured her in 1969.
Wally was present at the launch of Eileen Collins' first Space Shuttle as a pilot and commander in 1995. During the launch, Wally reportedly cried out of emotion –


Go Eileen. Go for all of us."
Numerous books and movies have acknowledged Wally Funk's role in the history of the space program like Martha Ackmann's 2003 history The Mercury 13: The True Story of Thirteen Women and the Dream of Space Flight and the Netflix documentary Mercury 13.
A biography titled Wally Funk's Race for Space by Wally Funk's friend Sue Nelson was published by the Chicago Review Press in March 2019. 
She became the oldest person to fly into space on July 20, 2021, after over 50 years of waiting. Wally Funk was chosen by Jeff Bezos, the world's richest man, to accompany him on the journey. On July 1, 2021, Jeff Bezos, through an Instagram post, announced Funk's inclusion in a four-person crew set for launch by Blue Origin. On her inclusion into this space journey, Wally Funk said,


I can't tell people that are watching how fabulous I feel to be picked by Blue Origin to go on this trip."
When Blue Origin's New Shepard rocket launched from remote West Texas on July 20, 2021, 82-year-old Wally Funk became the oldest passenger to travel into space. Three others accompanied her including Jeff Bezos, Mark Bezos, and Oliver Daemen (an 18-year-old physics student). From launch to capsule touchdown in the desert, Blue Origin's flight lasted around 10 minutes. As compared to Branson's Virgin Galactic, whose flight reached a height of 86 km and lasted about 90 minutes from launch to landing, this flight flew at a height of 107 km. Tesla CEO Elon Musk's SpaceX plans to observe the earth at a height of 300 km from launch to landing over a period of three to four days.
In addition to flying airplanes, Wally is interested in parachute jumping, ballooning, and hang-gliding.
Wally has set aside a corner of her home in Grapevine for her collection of space and aviation memorabilia that she has collected over the years.