Frances Haugen Age, Boyfriend, Husband, Family, Biography & More
Quick Info→
Hometown: Iowa City
Education: MBA
Age: 37 Years
Bio/Wiki
Profession(s)
Data Engineer, Product Manager
Known for
Being the whistleblower behind a series of damaging revelations about Facebook
Physical Stats & More
Height (approx.)
in centimeters- 168 cm
in meters- 1.68 m
in feet & inches- 5' 6"
Eye Color
Blue
Hair Color
Extra Light Ash Blonde
Personal Life
Date of Birth
Year, 1984
Age (as of 2021)
37 Years
Birthplace
Iowa City, Iowa, U.S.
Nationality
American
Hometown
Iowa City, Iowa, U.S.
School
• Horn Elementary
• Northwest Junior High School
• Iowa City West High School
College/University
• Franklin W. Olin College of Engineering, Needham, Massachusetts
• Harvard Business School
Educational Qualification(s)
• Degrees in electrical and computer engineering from the Olin College of Engineering outside Boston in 2006 [1]

New York Post
• Master of Business Administration from Harvard Business School in 2011 [2]

The New York Times
Hobby
Exploring geography-related things [3]

Iowa City Press-Citizen
Relationships & More
Marital Status
Not Known
Family
Husband/Spouse
Not Known
Parents
Father- Tom Haugen (a doctor)
Mother- Alice Fulton Haugen (professor-turned-episcopalian priest)

Siblings
She has a brother named Peter Haugen.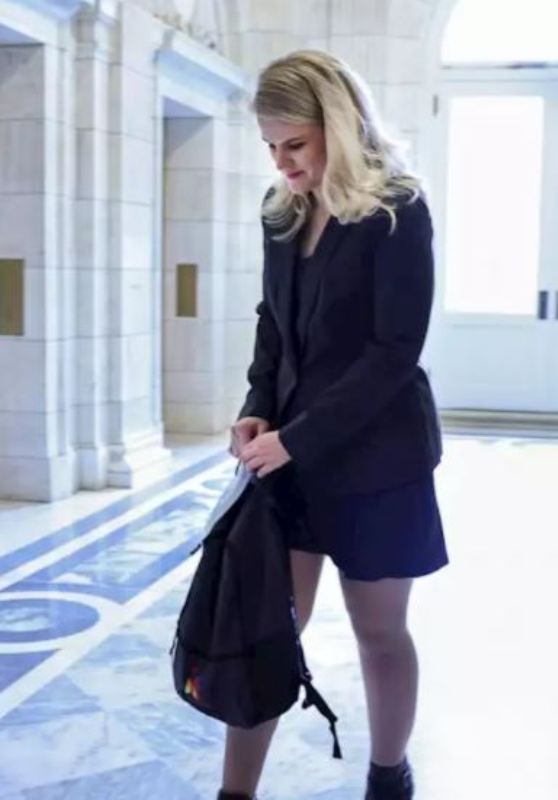 Some Lesser Known Facts About Frances Haugen
Frances Haugen is an American data engineer and former Facebook employee who became the Facebook whistleblower after she provided the Securities and Exchange Commission and the Wall Street Journal with tens of thousands of Facebook's internal documents in 2021.
As a data scientist, Frances has worked for several major techs and social media companies including Google, Pinterest, and Facebook, where she worked till May 2021.
While growing up in Iowa City, Frances Haugen excelled as a student and showed a strong curiosity about her world.
When Frances was eight years old, she was so worried about widening a neighborhood road that she wrote to U.S. Rep Jim Leach:


Please don't let them turn Melrose Avenue into a four-lane road. I couldn't walk home from school because I have to cross Melrose. Sincerely yours Frances Haugen."
Frances Haugen was often mentioned in local newspapers as her academic interests grew.
In 2002, she graduated from Horn Elementary, Northwest Junior High School, and Iowa City West High School. During her school years, Frances developed an interest in geography and participated in debate and engineering competitions. She also took part in multiple geography bee competitions and won school-level contests. She was so fascinated by geography that as a sixth-grader, she even told a newspaper reporter that geography was a hobby for her. [4]

Iowa City Press-Citizen
While she was preparing for the Iowa Bee, the statewide geography competition as part of the National Geography Bee, she said,


It would be interesting to win, but there are others in two grades above me. I'm just really happy to be going."
In April 1997, she talked about her career options. She said,


I'm more into gardening because I want to be a biologist, and grow food to feed the world. Or I want to be a lawyer and then become a politician."
In 2001, among seven students from West High School who won first place in a statewide engineering competition, Haugen provided a national ranking to the Junior Engineering and Technical Society at West High School. In this contest, Haugen and her peers answered questions using reference books in physics, chemistry, and biology to win the first-place prize.
Frances Haugen was an active member of her high school debate team. Additionally, she was the captain of the policy team.
In March 2002, she was named a semifinalist at the Iowa Forensic League State Speech and Debate Tournament.
According to Haugen, she grew up attending Iowa caucuses with her parents, which instilled 'a strong sense of pride in democracy and responsibility for civic participation.'
When Haugen was studying at Olin College, engineering professor Debbie Chachra described her as an exemplary student. The professor said,


She was not just brilliant as most of our students were and are, she was enthusiastic, she was committed… She was the student who always had her hand up."

She later tweeted,

I am incredibly proud of Frances for living her values and effecting change in the world."
In 2011, she recalled her Horn Elementary School days and said that she had six or seven "excellent teachers" at Horn who put her on the path to technology. She said,


A big part of my success in science and tech is because of where and who I grew up with in Iowa."
The first job she had after school was at Google, where she helped design algorithms for Google Books. Additionally, she worked on Google+, the company's ill-fated competitor to Facebook.
In 2009, Google sponsored Haugen's study at Harvard Business School to earn a management degree. She co-founded Secret Agent Cupid at Harvard in 2010, a dating site that eventually became Hinge. In 2013, years after Haugen left the company, the app was launched as a mobile app.
In 2011, Haugen returned to Google. Soon after she rejoined Google, she suffered a personal setback when she was diagnosed with celiac disease, an autoimmune disorder, that left her with severe mobility issues. [5]

New York Post
Soon after she left her job at Google in 2014, Haugen developed a blood clot in her thigh, and she landed in the ICU. Haugen hired a family friend to help her with chores and errands while she was recovering; however, he also got sucked into white nationalist and occult forums online, which eventually led to a deterioration of their friendship. Later, in an interview, she talked about this. She said,


It's one thing to study misinformation, it's another to lose someone to it. A lot of people who work on these products only see the positive side of things."
After joining Yelp in 2015, she made changes to its photo algorithms and launched an integration agreement between Yelp and Twitter; however, she left Yelp for Pinterest the following year, where she worked on algorithms as well. In January 2018, she left Pinterest.
An employer from Facebook reached out to Haugen about a possible position in late 2018. According to Haugen, having lost a dear friend to conspiracy theories, she told the company she wanted to work to stop the spread of misinformation. [6]

New York Post
After joining Facebook in June 2019, she started working on the company's 200-person "civic integrity" division along with four other new hires, who were tasked with building a system to track misinformation targeted at specific groups of people in just three months. According to Haugen, inadequate resources caused the project to fail. She observed that the civic integrity teams that track slavery and sex trafficking, as well as those that investigate organ trafficking, were understaffed as well. She reportedly observed that Facebook did not want to implement any safety measures that would decrease the amount of time people spent on its platforms. When she appeared on 60 Minutes in October 2021, she talked about this. She said,


Facebook has realized that if they change the algorithm to be safer, people will spend less time on the site, they'll click on less ads, they'll make less money."

In the same interview, she revealed that following the 2020 US Presidential election, Samidh Chakrabarti, founder and head of the civic integrity team, informed staff that he was taking a leave of absence and that Facebook was dissolving the civic integrity team. [7]New York Post
Haugen reportedly left her home in California in March 2021 to live in Puerto Rico, where she was expected to work remotely for Facebook. In the meantime, she read through and copied documents from Facebook's internal document system, called "Workplace." Among those documents were studies on misinformation, trafficking, and other harmful content that were eventually published by The Wall Street Journal. Later, Haugen was told that she couldn't work from a US territory by Facebook's human resources department.
In April 2021, Haugen announced that she would quit Facebook the next month, and in May 2021, she quit the social media giant after she decided it was important to become a whistleblower.
Reportedly, Haugen was afraid of being caught since Facebook tracks what its workers access in Workplace; however, It was reported that she could collect material up until the moment her access was revoked on her last day.
In the spring of 2021, after contacting John Tye of the nonprofit law firm Whistleblower Aid for help, she was able to keep her anonymity with Tye's assurance. [8]

The New York Times
She began meeting with members of Congress in the late summer of 2021, including Senator Richard Blumenthal and Senator Marsha Blackburn. [9]

The New York Times
Beginning in September 2021, The Wall Street Journal began posting The Facebook Files, designed to include a review of internal Facebook documents such as research reports, employee discussions online, and drafts of presentations to senior management; it includes nine reports, including reports on high-profile exemptions, impacts on youth, changes in the algorithm in 2018, weaknesses in responding to human trafficking and drug cartels, vaccine misinformation, and Haugen, who collected the supporting documents. [10]

The Wall Street Journal
In an interview with 60 Minutes on October 3, 2021, Haugen revealed her identity as the whistleblower. In the interview, Haugen described a Facebook program called Civic Integrity, which was intended to curb misinformation and other threats to public trust and security in elections. She also told that after the 2020 US Presidential election, the program was dissolved that left her shocked. She said,


It really feels like a betrayal of democracy to me."

Haugen also believes that the program contributed to the 2021 United States Capitol attack. [11]The Guardian
In her interview on 60 Minutes, she said,


The thing I saw at Facebook over and over again was there were conflicts of interest between what was good for the public and what was good for Facebook. And Facebook, over and over again, chose to optimize for its own interests, like making more money."
Reportedly, Haugen's attorneys have filed at least eight complaints with the Securities and Exchange Commission (SEC), involving topics reported by The Wall Street Journal and Facebook's handling of political misinformation, hate speech, teenage mental health, human trafficking, the promotion of ethnic violence, preferential treatment for certain users, and its communications with investors. [12]

The Guardian
According to sources, in the 24 hours following Haugen's 60 Minutes interview on October 3, 2021, and after the Facebook outage on October 4, 2021, Facebook's market capitalization dropped by six billion dollars. [13]

CNBC [14]

The Independent
Haugen testified before the Sub-Committee on Consumer Protection, Product Safety, and Data Security of the United States Senate Commerce Committee on October 5, 2021. [15]

The New York Times Haugen indicated she was in contact with another congressional committee about espionage and disinformation issues during the October 5 hearing. [16]

The New York Times In addition, Haugen said one of the reasons she did not share documents with the FTC was that the Facebook system "will be dangerous even if it's broken up." Senator Richard Blumenthal, chair of the Commerce subcommittee, announced after the hearing that Haugen "wants to fix Facebook, not burn it to the ground." [17]

The New York Times