Aamir Liaquat Hussain Age, Death, Wife, Children, Family, Biography & More
Quick Info→
Age: 50 Years
Hometown: Karachi, Pakistan
Death Date: 09/06/2022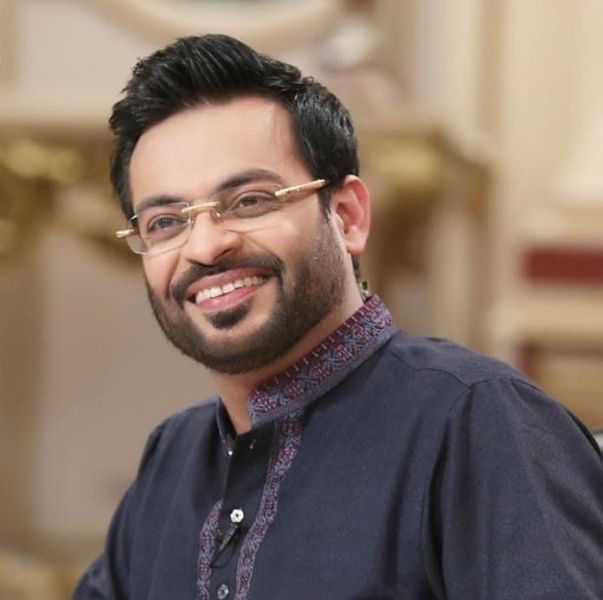 Bio/Wiki
Profession(s)
Politician, Television Host, Actor, Comedian
Physical Stats & More
Height (approx.)
in centimeters- 172 cm
in meters- 1.72 m
in feet & inches- 5' 8"
Eye Colour
Black
Hair Colour
Black
Politics
Political Party
• Muttahida Qaumi Movement (2002–2016)
• Pakistan Tehreek-e-Insaf (2018–2022)
Personal Life
Date of Birth
5 July 1971 (Monday)
Birthplace
Karachi, Pakistan
Date of Death
9 June 2022
Place of Death
Aga Khan University Hospital, Karachi, Pakistan
Age (at the time of death)
50 Years
Death Cause
Suspected Cardiac Arrest

Note: On a cpourt's order, the autopsy of his dead body was scheduled on 23 June 2022 to determine cause of his sudden death. [1]

Daily Pakistan
Zodiac sign
Cancer
Nationality
Pakistani
Hometown
Karachi, Pakistan
College/University
• Liaquat University of Medical & Health Sciences (LUMHS), Jamshoro, Pakistan
• Trinity College Dublin
Educational Qualification
• Bachelor of Medicine, Bachelor of Surgery from Liaquat University of Medical & Health Sciences (LUMHS), Jamshoro, Pakistan
• Master of Arts in Islamic Studies from Trinity College Dublin
• PhD degree in Islamic Studies from Malaya, Spain[2]

Dawn
Religion
Islam
Controversies
• Provoking violence against Ahmadis
In 2014, a religious preacher on a television show hosted by Hussain declared Ahmadis to be enemies of Islam, and Hussain responded by nodding his head in agreement while the audience applauded. The guest continued to use abusive words against Ahmadis for several minutes while he was seen applauding him. Five days after the show was telecasted, an Ahmadi man, Luqman Ahmad Shehzad, was assassinated in Gujranwala. This was the second time Hussain's broadcast was linked to Ahmadi violence.
• Defeat in a Cricket Match
Hussain said on a television show in 2010 that Pakistan's defeats in cricket matches for the year were attributable to their new green shoe bottoms. The colour green is the colour of the Pakistani flag and the Dome of Muhammad's tomb, the green shoes were allegedly disrespectful to Islam, and the squad was evidently being divinely chastised. Hussain said that this was a religious issue. He was later chastised in the media for his opinions.
• Vulgar footage leaked
A compilation of behind-the-scenes footage tapes showing Hussain using various profanities on the set of his show was released online in 2011. In the same video, he was seen laughing off a rape-related topic, ridiculing his religious guests, singing Indian songs spontaneously, and referencing to Bollywood rape scenes. In his defense, Hussain accused Geo TV of fabricating the alleged phoney film in order to undermine his reputation, and claimed that the footage was modified and dubbed by synchronisation masters. He also said that the video showed his lighter side.
• Giving out abandoned newborn children
In 2013, Hussain received huge backlash for giving out abandoned children to parents seeking to adopt babies during the Amaan Ramazan transmission. The parents were picked after the Chhipa association conducted background checks, and the babies were given off to them during the show.
• Fake education qualification
Hussain's degree in Islamic Studies from Trinity College and University was deemed to be fraudulent and falsified by Pakistan's Higher Education Commission in 2006. The Guardian exposed this university as a fraud in 2003, claiming that you could acquire a degree for as little as £150 in 28 days. In 2005, the University of Karachi declared his BA degree to be falsified. While submitting nomination forms for the Pakistani general elections in 2002, Hussain presented his BA degree to the Pakistan Election Commission. Hussain allegedly bought his degrees from Trinity College and University in order to run for office. In 2002, candidates for Provincial and National legislature seats were required to have at least a bachelor's degree.
Relationships & More
Marital Status (at the time of death)
Married
Marriage Date
First Marriage: Not Known
Second Marriage: Year, 2018
Third Marriage: Year, 2022
Family
Wife/Spouse
First Wife- Syeda Bushra Iqbal ​(div. 2020) (television host)

Second Wife- Syeda Tuba Aamir (m. 2018- div. 2022)​ (model, actor)

Third Wife- Syeda Dania Shah (m. 2022)

Children
Son- Ahmed Aamir
Daughter- Dua Aamir

Parents
Father- Sheikh Liaquat Hussain (politician)

Mother- Ghousia Mehmooda Sultana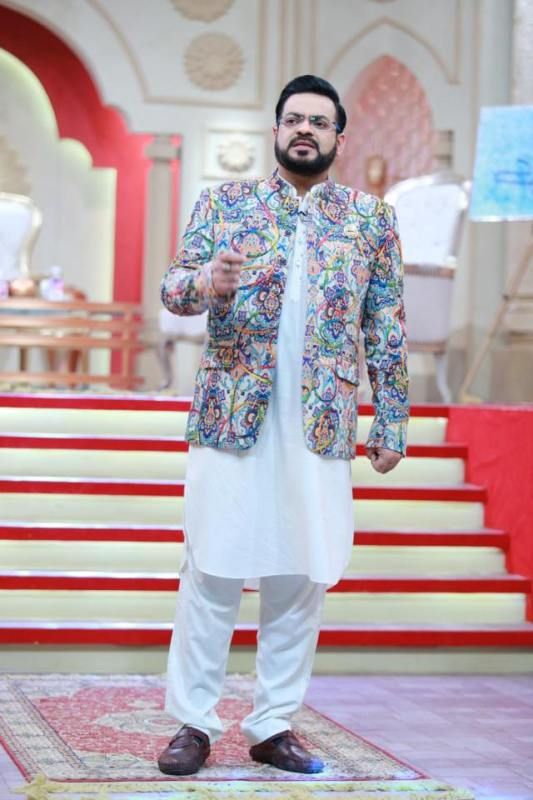 Some Lesser Known Facts About Aamir Liaquat Hussain
Aamir Liaquat Hussain was a Pakistani politician, television host, actor, and comedian. He was one of the top-ranking TV anchors in Pakistan. Aamir was listed three times in The 500 influential Muslims worldwide list. He was also among the 100 popular personalities in Pakistan. He was also politically active and was a member of the National Assembly of Pakistan. On 9 June 2022, he died at the age of 50 in Karachi.
Hussain was a RJ on FM 101. For many years, he has also hosted Ramadan transmissions, including Suhur and Iftar. He began his television career with Pakistan Television Corporation but was quickly fired. In 2001, he became a founding member of Geo TV, where he hosted the religious show Aalim Online. Hussain left Geo in 2010 to become managing director of ARY Qtv and executive director of ARY Digital Network. There, he hosted the religious programme Aalim Aur Aalam. After rejoining Geo TV, he hosted Pehchan Ramazan in 2012 and Amaan Ramazan in 2013. He was appointed vice president of Geo TV in January 2014, and he presented the game programme Inaam Ghar.
Hussain was elected to the National Assembly of Pakistan for the first time in 2002 on the ticket of the Muttahida Qaumi Movement from NA-249 (Karachi-XI) seat, and was appointed as the Minister of State for Religious Affairs, Zakat, and Ushr Division in the Shaukat Aziz government in September 2004. In May 2005, Hussain, as the Junior Minister of Religious Affairs, urged many Pakistani religious institutions and organisations to publish a 'Fatwa' on suicide bombers. Later, during a visit to Jamia Binoria in June 2005, he was attacked by some furious youngsters. However, the Pakistani police denied any incident of manhandling of Hussain and said that they were only reciting slogans.
Hussain served as the Minister of State for Religious Affairs until July 2007, when his party urged him to retire both as Minister and as a member of the National Assembly. According to an official statement, the party was dissatisfied with Hussain's remarks about Salman Rushdie. He stepped out from politics in 2007. Later that year, the MQM dismissed him from the party.
In 2008, he hosted the television show Khatmay Nabuwat. He was criticized by the Ahmadi Community's founder, Mirza Ghulam Ahmad. The guests who appeared on the show made a statement that mentioned everyone linked with the Ahmadi organization should be killed for blasphemy. Within two days of the telecast of the show, two important Ahmadi community members were slain, one of them was a physician and the other a community leader. On 7 September 2008, Aamir Liaquat dedicated an entire show to the Ahmadi community in regret of his previously made statement. He then explained that there was a misunderstanding since the board just used the term Wajib-ul-qatl (meriting murder) in reference to false prophets. In the show, while explaining his innocence, he said,


I apologise to the families, but this has nothing to do with me or anything mentioned on my show."

https://youtu.be/q9zODju9gYM

Hussain said on a television show in 2010 that Pakistan's defeats in cricket matches for the year were attributable to their new green shoe bottoms. The colour green is the colour of the Pakistani flag and the Dome of Muhammad's tomb, the green shoes were allegedly disrespectful to Islam, and the squad was evidently being divinely chastised. Hussain said that this was a religious issue. He was later chastised in the media for his opinions.
In 2013, Hussain received huge backlash for giving out abandoned children to parents seeking to adopt babies during the Amaan Ramazan transmission. The parents were picked after the Chhipa association conducted background checks, and the babies were given off to them during the show.
He was the founder of the Memhooda Sultana Foundation. From 2013 to 2015, Hussain was named in the 500 Most Influential Muslims list by the Royal Islamic Strategic Studies Centre in Jordan. Hussain was arrested by Sindh Rangers in August 2016, following an attack on media houses by MQM workers and the arrest of MQM leaders. After Hussain was charged with facilitation of hate speech

but police failed to present him in court, an Anti-Terrorism Court in Pakistan ordered the authorities to place his name on the Exit Control List in February 2017.
In 2014, a religious preacher on a television show hosted by Hussain declared Ahmadis to be enemies of Islam, and Hussain responded by nodding his head in agreement while the audience applauded. The guest continued to use abusive words against Ahmadis for several minutes while he was seen applauding him. Five days after the show was telecasted, an Ahmadi man, Luqman Ahmad Shehzad, was assassinated in Gujranwala. This was the second time Hussain's broadcast was linked to Ahmadi violence.
Syed Arif Shah Owaisi, a religious pastor, declared Ahmadis to be Islam's enemies in a show presented by Aamir Liaquat Hussain that broadcasted on Geo Television on 22 December 2014. "This adversary is a traditional adversary and a foe of Pakistan in general." Furthermore, this adversary is the Qadiyani sect," Owaisi noted, using the correct word for Ahmadis. "They are the ones who despise the Holy Prophet" (PBUH). All Muslims should recognise that opponent." Following Owaisi's statements, Aamir Liaquat responded by defying the crowd by gesticulating his head. While the TV demonstrators applauded, the visiting pastor continued to use pejorative words against the minority group. Five days after the exhibition, an Ahmadi man, Luqman Ahmad Shehzad, was shot dead in Gujranwala. This was the second time Aamir Liaquat Hussain's broadcast had been linked to Ahmadi attacks.
In 2016, Hussain was set to make his Pakistani cinema debut in an upcoming film by Syed Noor, with Saima Noor in the lead role. He revealed in April 2019 that he will play Burhan Wani in Ayub Khoso's upcoming film about the Kashmir crisis. In April 2020, he began anchoring "Jeeway Pakistan," a game programme that airs on Express TV.
In June 2016, the Pakistan Electronic Media Regulatory Authority (PEMRA) stopped Hussain from hosting his Ramadan show 'Inaam Ghar' on Geo Entertainment for three days due to a past incident that allegedly made a girl commit suicide. Jibran Nasir, a social activist and lawyer, filed a complaint with PEMRA for accusing Hussain of conducting a "malicious, libellous, and life-threatening campaign" against him. Following the incident PEMRA banned Hussain and his BOL News show 'Aisay Nahi Chalay Ga' for spreading hatred. In March 2017, Amnesty International condemned the Pakistani government for failing to prosecute Hussain for risking the lives of journalists, bloggers, and social activists, and urged Pakistani Interior Minister Nisar Ali Khan to take prompt action. Later that month, PEMRA issued a notification to Hussain, requiring him to apologise the viewers for his hate speech.
Hussain became a member of the Pakistan Tehreek-e-Insaf (PTI) in March 2018. In the 2018 Pakistani general election, he was re-elected to the National Assembly as a PTI candidate rom NA-245 (Karachi East-IV) Constituency. PEMRA banned Hussain again on 26 May 2018, following a scandal involving the religious organisations Jamiat Ahle Hadith and Zakir Naik.
In 2020, a video clip from a television show where Hussain went on a guest went viral all over the internet. His video clip was used by social media user to make comic memes.
Amir married Syeda Dania Shah, who was 18 at the time, in February 2022. During an interview, recalling how he met his third wife, he said,


When we met for the first time, it was only for 28 minutes. It wasn't a 28-day affair. Nothing of that sort ever happened," Hussain shared. "I visited Lodhran for an event. It was a Milad function organised by an affluent family. I also called Jahangir Tareen Sahab from Lodhran. He later invited me to his farmhouse. After Milad, we went to Lodhran's Pir's house. I didn't know him. I discussed some personal affairs with him. He told me he will settle me with someone now but the only condition was that I wouldn't get to see her before. When I met her, it was Dania." Hussain continued, "But when I did meet her, I came to know that when she was a kid and would cry, her parents would put on Aalim Online to calm her."

She added,

I didn't think he was real," she commented. "To meet someone you have idealised since you were a kid, someone you have been obsessed with and he just appears in front of you; how would you feel?" Hussain then shared how Shah has already allowed him to tie the knot for the fourth time. "She told me I have you, now I don't want anything or anyone else. You can even marry someone else now." To this, Shah quipped, "I have also told him that if he wants to marry someone else, he should. I have given him permission to get married for the fourth time." She went on to add, "It is not my right to stop him from tying the knot again. If he is happy with me and I love him enough, he'd stay with me. If I don't, then he will find someone else and marry her."

After three months of marriage with Hussain, his third wife, Syeda Dania Shah, filed for divorce in May 2022. According to News International, Hussain used to physically torture Dania and force her to create sexual tapes. In an interview, talking about the same, she said,


With a heavy heart, I want to make people aware of a development in my life. My close family and friends are aware that after a separation of 14 months, it was evident that there was no hope for reconciliation in sight and I had to opt to take khula from court. I cannot express how difficult it has been but I trust Allah and His plans. I would appeal to everyone that my decision is respected during these testing times."

https://youtu.be/B3BdMJPo-A0

Yasir Shami of Daily Pakistan interviewed Aamir Liaquat's wife after she filed a divorce case against Aamir .  At the beginning of the conversation, the host introduced Dania Shah and stated that Dania had provided them with information indicating that Aamir Liaquat is using narcotics. At the end of the same interview, Yasir Shami asked Dania if she would present the footage to the court, and she said yes. As a result, Liaqat's filthy film was released the next day, and it has been circulating on social media ever since.