Even in his wildest dreams, director S. S. Rajamouli had never thought that he would get such an 'epic' response for the second installment of Bahubali. The Magnum Opus smashed almost every record at the domestic box-office and even crossed the INR 1000 crore global mark in a matter of days. Although the story has come to an end in the sequel, fans are still left craving for more.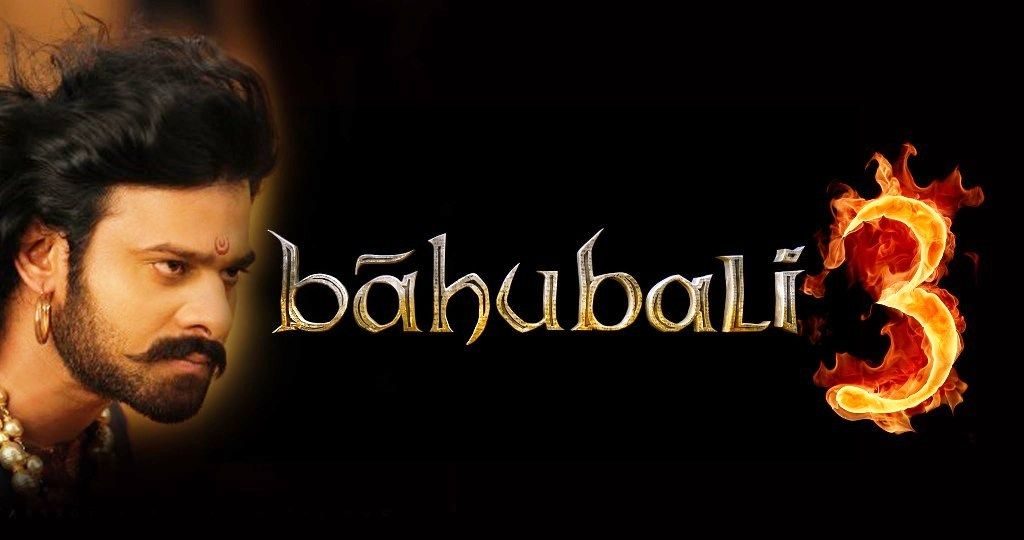 With such cravings, the question that often pops up is that whether the series will get a third installment? Since you are reading this text, it seems that you are also looking for the answer to this highly intriguing question.
Initially, the reports suggested that the series would end with Bahubali 2: The Conclusion, as there was no scope for a third part. However, the rage among fans forced the filmmakers to come out with an answer and thus director Rajamouli took to twitter to clear the air regarding numerous speculations.
In a series of tweets, the helmer revealed that he will not drag the story with a third part; however, the world of Bahubali will continue in a way that has never been experienced before. He added that the further details about the project would be revealed only at an appropriate time. In another tweet, he advised fans to not believe in absurd speculations as, at the moment, it is only he who knows the future of the epic saga.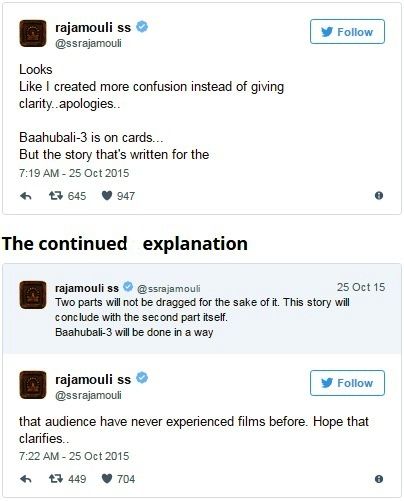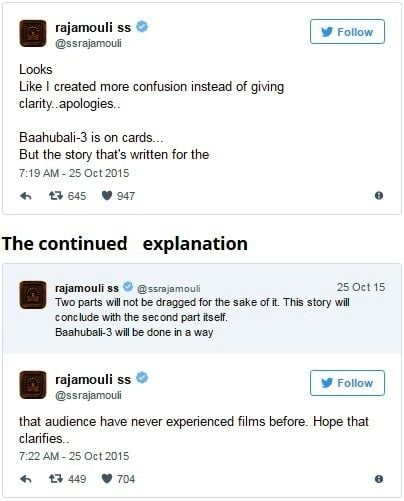 In an interview, scriptwriter K. V. Vijayendra Prasad, father of director S. S. Rajamouli, said that though he is penning down a story which would perhaps be released under the Bahubali banner, the film will not star actor Prabhas and 'Kattapa' Sathyaraj. Quite Heartbreaking, isn't it?
Interestingly, the filmmakers had initially set the budget at INR 100 crore for only a single installment of Bahubali. However, as they kept on shooting, the budget increased to a humongous 250 crore and the film's duration now stood at 4:30 hours. Since it wasn't possible for the makers to release it in a single part, they divided it into two halves and the rest they say is history!
The "first-of-a-kind hype" created by the film series will take some extraordinary effort if the makers wish to surpass the benchmark set by 'The Beginning' and 'The Conclusion.'