Eminem Height, Weight, Wife, Age, Affairs, Biography & More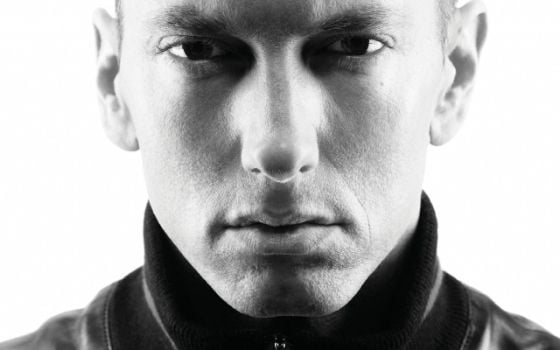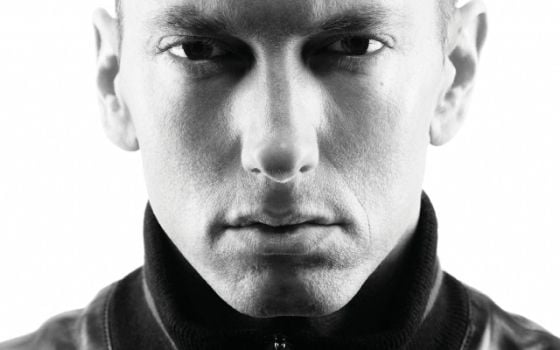 Bio
Real Name
Marshall Bruce Mathers III
Nick Name
Double M, M&M, Marshall Mathers
Profession
Rapper, record producer, actor
Famous For
Please Stand Up, Not Afraid, Love the way you Lie, Mockingbird and Mosh
Physical Stats & More
Height
in centimeters- 173 cm
in meters- 1.73 m
in Feet Inches- 5'8"
Weight (approx.)
in Kilograms- 68 kg
in Pounds- 150 lbs
Body Measurements
- Chest: 43 Inches
- Waist: 14 Inches
- Biceps: 32 Inches
Eye Colour
Blue
Hair Colour
Dark Brown
Personal Life
Date of Birth
October 17, 1972
Age (as in 2016)
44 Years
Birth Place
St. Joseph, Missouri, U.S.

Zodiac sign/Sun sign
Libra
Nationality
American
Hometown
Detroit, Michigan, U.S.

School
Lincoln High School
College
N/A
Education Qualification
High School drop out
Debut
Album - Infinite (1996)
Film - The Hip Hop Witch (1996)

Family
Father- Marshall Bruce Mathers, Jr. (Member of the band Daddy Warbucks)
Mother- Deborah Rae Nelson (Debbie)(Member of the band Daddy Warbucks)

Children
Hailey Mathers

Alaina Mathers

Lainey Mathers


Religion
Christianity
Ethnicity
English, German, Scottish and Swiss descent
Fan Mail Address
Eminem
Shady Records,
270 Lafayette Suite 805,
New York, NY 10012,
USA
Hobbies
Writing, Rapping, Listening to music, Football and Watching movies
Favorite Sports
Basketball
Favorite Color
Light Blue
Favorite Music
Hip Hop
Favorite Movie
Scarface
Favorite Song
Put your hands where my eyes can see - Busta Rhymes
Favorite Book
Comic Books
Favorite Rappers
Tupac Shakur, Jay-Z and Dr. Dre
Favorite Food
Fast Food (Taco's Bell and Wendy's)
Major Controversies
• Eminem faced the jail in at the age of 20 when he was arrested for a drive-by shooting at a car with a paintball gun. The case was dismissed as the victim never showed up in the court.

• He was accused of copying the style and lyrical content from the underground rapper 'Cage'.

• He was in trouble with the people who he insulted with his track 'The real slim shady', including his mother. His mother sued him for $10 million but received only $1600.

• He was opposed for disrespecting Michael Jackson in his song "Just lose it" and its video.

• He was arrested for pulling out the gun in the audio-store after an altercation with Douglas Dail.

• The very next day, he was arrested for assaulting a bouncer John Guerrerra for kissing his wife Kim.

• Eminem's wife Kim made a suicide attempt by cutting her wrists and sued him for defamation.

• M&M's show in Toronto's Skydome was canceled because the Ontario Attorny

• General Jim Flaherty said, "I personally don't want anyone coming to Canada who will come here and advocate violence against women,"

• He was sued by DeAngelo Bailey, a sanitation worker because he accused Eminem of portraying his character in "Brain Damage" in dark light.

• He was on year's probation in June 2001 for weapon charges when he got into an altercation with an employee of Psychopathic Records.

• Jacques Loussier filed a $10 million lawsuit against Eminem and Dr. Dre for copying his beat from the instrumental 'Pulsiion', which they used for the track "Kill You". The case was settled later.

• Eminem's company 'Eight Mile Style' sued Apple Inc. and Aftermath Entertainment in 2007 accusing them for making a deal for selling rights of Eminem's 93 songs on iTune. He also sued Aftermath for 50% royalty for licensing Eminem's music to different companies.

• Hotstylz, in 2008, sued Eminem for $8 million for using their 25 seconds sample and not crediting/compensating them.


Girls, Affairs and More
Marital Status
Unmarried
Affairs/Girlfriends
Kendra Jade

Kaya Jones

Kimberly scott (1989-2006)

Kesia Alveraz (1999-2000)

Brittany Andrews (2001)

Mariah Carey(2002)

Karrine Steffans(2003)

Wife/Spouse
Kimberly Anne Scott (m. 1999, div. 2001, m. 2006, div. 2006)

Current Relationship Status
Single
Money Factor
Net Worth
$200 million
House
Michigan Mansion ($4.75 million)
Car
Hummer H2, Cadillac, Ford Mustang, Lexus LFA, Lamborghin and Rolls Royce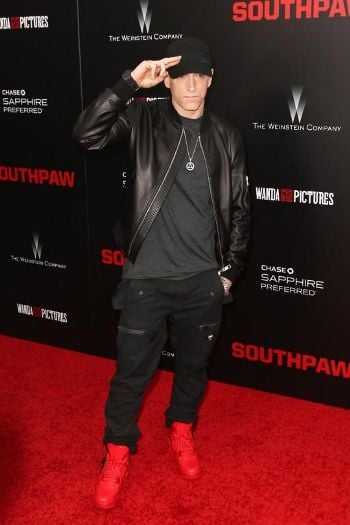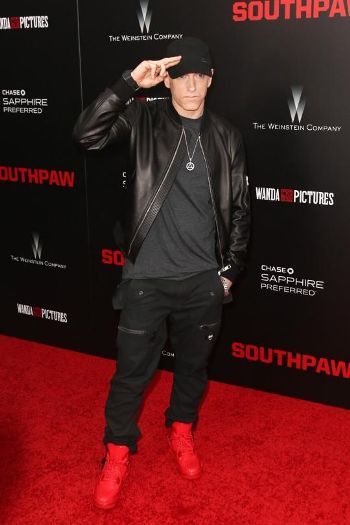 Some Lesser Known Facts About Eminem
Does Eminem drink alcohol?: No
The stylized form of EMINEM is  EMINƎM.
Rolling Stone ranked Eminem at number 83 on the 100 Greatest Artists of All Times  list and called him the King of Hip Hop.
Ten of his albums were on Billboard 200 and have sold all together 172 million albums worldwide. He is the best selling hip-hop artist.
Eminem won a Grammy Award for the Best Rap Album in 1999 as well as for two following albums "The Marshall Mathers LP"(2000) and "The Eminem Show"(2002).
After releasing Encore in 2004, he took a hiatus and then released his album Relapse (2009) and Recovery (2010). Relapse was the best-selling album of the year and so was The Eminem Show.
"The Marshall Mathers LP 2″ won two Grammys including the "Best Rap Album" adding up Eminem's Grammys to a total of 15 awards.
Eminem became the first rap artist to won the Academy Award in the category Best Original Song for his song "Lose Yourself" for the hip-hop movie "8 Mile".
Eminem's mother met Bruce (M&M's father) at the age 14 and Debbie almost died because of 73 hours labor when she was 17.
Eminem and Debby used to shuffle between Missouri and Michigan when he was a child. They were never stable at a place for more than one year and often stayed  with relatives.
Eminem wrote letters to his father but they always came back marked as "Return to Sender".
Eminem is remembered as a happy kid but is also said to be a loner. He was bullied in the school and neighborhood. Once he was injured severely by De'Angelo Bailey. Debbie sued the school but the case was dismissed.
Eminem lived in lower-middle-class in Detroit's black neighborhood where he was beaten up by the black youngsters. They were one of the only three white households there. He remained in coma for several days when he was 9.
Eminem liked storytelling more than music and wanted to be a comic artist. Debbie's half-brother Ronnie Polkinghorn gifted Eminem a CD, which brought the first rap song to Eminem's ears.
Ronnie Polkinghorn also became his music mentor later on. Eminem didn't speak for several days when he committed suicide in 1991; neither did he attend his funeral.
Eminem didn't experience much stability in his early life and the social worker described his mother as "suspicious and paranoid". She let Kimberly Scott to stay at her house.
Mathew Mathers was in 9th standard for three years because of absenteeism and low grades. He dropped after the third year.
He took several jobs to support the household but recalls that his mother threw him out anyways. He would play the music and write songs when she was away to play Bingo.
Eminem started rapping in the streets at the age of 14 along with his friends in the neighborhood. They would sneak in to a school's lunch room to practice rap battles.
He also used to attend the open mic rap battles on the so called zero-ground of Detroit.
As much as the white guy had trouble growing up in a black neighborhood, so did rapping seem to him. The white guy struggling to make it in the genre of black people. The underground crowd liked his music though.
He doesn't allow profanity or swearing in his home.
Eminem's first album was not welcomed by the disc jockeys and the feedback he received was – "Why don't you go into Rock n Roll ?". This in fact made Eminem to change his style a bit to write angrier and more free lyrics.
Mathew Mathers is left handed.
Kim and he lived in a high crime-rate area and were robbed several times. Eminem did dish-washing and cooking for a local restaurant called Gilbert's Lodge.
He worked so hard after Hailie's birth that he was described as a model employee as he was working 60 hours a week.
When he was fired just before Christmas, he said, "It was, like, five days before Christmas, which is Hailie's birthday. I had, like, forty dollars to get her something."
After the release of his first album Infinite, he got into into substance abuse, which along with his personal problems ended in a suicide attempt.
After being fired for the last time from the Gilbert's Lodge, along with wife Kim, he stayed with his mother in a mobile home.
Slim Shady was his alter ego that attracted a lot of attention for him.
In 1997, Eminem went to a rap battle in the Rap Olympics in New York after he was evicted from his house. He scored the second place and the staff of Interscope Records were present in the audience who took his music to Dr. Dre.
Soon as he listened to Eminem's music, Dr. Dre ordered to "Find him. Now!". His team was reluctant to hire a white rapper but Dr. Dre goes like: "I don't give a fuck if you're purple; if you can kick it, I'm working with you."
United States Secret Service said that it was looking into the fact that Eminem threatened to kill the president. The reason was Eminem's song "We are Americans' lyrics" – "We As Americans" ("Fuck money / I don't rap for dead presidents / I'd rather see the president dead / It's never been said, but I set precedents").
Ending of the video of the song "Mosh" was changed after the election of the president Bush's re-election.
Eminem holds the record for his album Recovery to be the highest selling album in the history! It sold more than 3 million copies just in the US.
Eminem is the only rapper with two diamond certified albums.
Eminem received 60 million 'likes' on Facebook, surpassing Lady Gaga, Justin Bieber, Rihanna and Michael Jackson.
Eminem's autobiography The Way I am describes his struggle for fame and his personal life which includes the original notes of his songs as well.
Eminem has been addicted to sleeping pills like Vicodin, Ambien and Valium. He had his first Ambien when he was working a 16 hours shift for his movie 8 Mile when someone offered him to take the tablet for sleeping as Eminem was insomniac.
His weight had shooted up to 100 Kgs (230 pounds) due to his drug addiction as he had a lot of fast food too.
He is always scribbling! Literally! Almost Always!
Eminem collapsed in his bathroom after he started buying drugs from a dealer. He was take to the hospital and doctors said he drugs equivalent to four bags of heroin and was only 2 hours away from death.
He refused to sing at the Oscars because he could not sing the original uncut version.
He joined church meetings to come clean of drugs, but quit getting tired of giving autographs. He joined an exercise plan that included running and became sober in April 2008.
According to the  Nielsen SoundScane, he was the number one best selling artist for the decade 2000-2010.
On being asked about same-sex marriage, he said, "I think if two people love each other, then what the hell? I think that everyone should have the chance to be equally miserable, if they want".
"Love the way you lie" is 11 x Platinum and "Not Afraid" is 10 x Platinum and both are certified as Diamond.
Eminem sued Audi  for using his song "Loose Yourself" in their 2012 Audi 6 ad.