Patruni Sastry Height, Age, Girlfriend, Wife, Family, Biography & More
Quick Info→
Age: 29 Years
Wife: Rajeswari Raji
Hometown: Kharagpur, West Bengal

Bio/Wiki
Full name
Patruni Chidananda Sastry [1]

Instagram- Patruni Chidananda Sastry
Nickname
Sas III [2]

Facebook- Patruni Sastry
Drag Name
SAS [3]

Instagram- Patruni Sastry
Profession(s)
Drag Performer, Actor, Indian Classical Dancer, Model
Physical Stats & More
Height (approx.)
in centimeters- 168 cm
in meters- 1.68 m
in feet & inches- 5' 6"
Eye Colour
Black
Hair Colour
Black
Personal Life
Date of Birth
25 December 1992 (Friday)
Age (as of 2022)
29 Years
Birthplace
Kharagpur, West Bengal
Zodiac sign
Sagittarius
Nationality
Indian
Hometown
Kharagpur, West Bengal
School(s)
• Kendriya Vidyalaya, West Bengal (2001-2008)
• State Board of Technical Education and Training, West Bengal (2008-2010)

College/University
• West Bengal University of Technology, Kolkata
• Maharashtra Institute of Technology, Pune
• Kalai Kaviri College of Fine Arts, 18 Benwells Road, Tiruchirappalli, Tamil Nadu
• Jaipur National University, Rajasthan
Educational Qualification(s)
• Bachelor of Technology (B.Tech.) from West Bengal University of Technology, Kolkata (2010-2014)
• Post Graduate Diploma in Telecom Management from Maharashtra Institute of Technology, Pune (2015-2017)
• Diploma in Bharatanatyam from Kalai Kaviri College of Fine Arts, 18 Benwells Road, Tiruchirappalli, Tamil Nadu
• Master of Business Administration in Telecommunications Management from Jaipur National University, Rajasthan (2015-2017) [4]

LinkedIn- Patruni Sastry
Religion
Hinduism
Caste
Brahmin [5]

YouTube- Narthaki Official
Ethnicity
Tamilian
Relationships & More
Gender & Sexual Orientation
He first identified himself as gender fluid. [6]

YouTube- Narthaki Official He then realised he was Pansexual, and in 2021, he redefined himself as Pomosexual. [7]

Telangana Today [8]

Livemint
Marital Status
Married
Marriage Date
18 August 2021

Family
Wife/Spouse
Raja Rajeswari Devi (heterosexual)

Parents
Father- Patruni Dharmayya (Carnatic singer)
Mother- Name Not Known

Siblings
Sister- Nishika Patruni (elder)

Grandparents
Names Not Known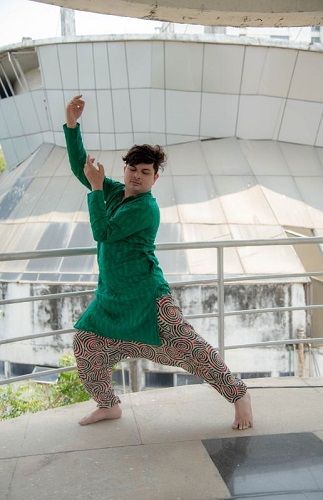 Some Lesser Known Facts About Patruni Sastry
He was born in Kharagpur, West Bengal, and later, he moved to Hyderabad, Telangana.
When he was 7 years old, he watched a Telugu dubbed Tamil film 'Padayappa' (1999) in which the Indian actor Rajinikanth rejected Ramya Krishnan in a scene after which Ramya screamed loudly and danced fervently. In an interview, while talking about it, Patruni said,


What fascinated me the most in the movie was a character called 'Neelambari' which was played by Ramya Krishnan. In a sequence, upon being rejected by the hero, she screams loudly and dances vehemently. That was the very first time I saw someone dancing and I thought that if I wanted to be taken seriously, I needed to scream out loud and dance. It started when my mom didn't give me my favourite chocolate. I started to dance in range to ensure that I got one."
His father then noticed that he was inclined towards dancing, so he asked Patruni to start his training in the Indian classical dance form under his aunt, who is a Kuchipudi dancer.
From class 1 to class 7, he did his training in Bharatanatyam under his guru Kalamandalam Venkitt in Kolkata.
Patruni then continued his training under various dance forms like Odissi, Contemporary, and Butoh. Patruni Sastry did his training in Bharatanatyam under Sri Kalamandalam Ventak in Kolkata, Smt Vaidehi Subhash, and Sri Hari Mangalampalli from Hyderabad.
He is trained in Oddisi dance form under Swayam Pragyan Shahoo and Preeti Mohapatra. He did his training in Kuchipudi dance under Sri Siva Kumar. Patruni Sastry is trained in Butoh (an Avant grade art form) under Adam Koan from Japan.
At the age of 14, he gave his first drag performance in the traditional Kuchipudi dance form. His mother did his makeup, and his father clicked his pictures during the same event.
During an interview, he shared that in childhood he picked dance over PT for which his PT teacher made fun of him. He said,


I remember being this way even when I was a child. When I was in class V, we had choice of attending PT class or dance class. I chose dance. I even learnt dance for about three weeks, until my PT teacher stormed into class one day and started abusing me for taking dance instead of PT. 'PT is meant for boys and dance is for girls', he said. That is my first memory of being exposed to gender stereotypes. Since then, I've been encountering these stereotypes everywhere, throughout my life. I still don't understand why everything from what we wear to the work we do to how we behave is given a gender colour."
In an interview, he shared that while he was in college, he started dating a girl. The first year of their relationship went well, but soon, the girl started asking him to change his dressing style and mannerism to a man. Patruni said,


I was studying B Tech when I first fell in love. It was with a girl from my college. We were in a relationship for nearly two years. The first year went by okay. But soon, she started telling me what kind of clothes I should wear and what kind of mannerisms I should to adopt as a 'male' person. That left me perplexed. The problem was that though I looked like a man physically, my sexual orientation and gender identity were not fixed. But at that time, there was no awareness about gender spectrum or gender orientation. If this battle within myself wasn't enough, there was a battle to be fought outside as well. I was even the victim of ragging and bullying in college — mostly thanks to how I looked and behaved. That's when I first began to use dance as a tool of activism."
In 2014, while he was in Hyderabad, he decided to perform as a drag queen. His first performance as a drag queen was at a local café in Hyderabad, but after that, he thought of quitting the drag scene. In an interview, while talking about it, he said,


I wanted to quit this time since I couldn't resonate with the aesthetics of beauty standards and glamour of the traditional drag which we, as a country, have adopted from the West. The dissonance was more apparent because I had always looked up to traditional artists like Bal Gandharva and Chapal Bahadur as my inspiration. These aesthetics weren't suitable for the changing identity of my body as I kept exploring gender fluidity."
In June 2014, Patruni started working as an associate at Wipro, Kolkata.
After working there for 3 months, he joined an IT firm Armia Systems Inc. in Cochin, as a trainee system engineer. He worked there for 6 months, and in May 2015, he started working as an associate at Tech Mahindra, Hyderabad.
From June 2015 to February 2016, he worked at Deloitte, Hyderabad as an associate analyst. Patruni joined HSBC Retail Banking and Wealth Management, Hyderabad, in February 2016 as a customer service representative.
After working there for 9 months, he started working at Deloitte Consulting, Hyderabad as an analyst, and later, he was promoted to a business analyst in the same company. He worked there for more than 4 years.
In 2021, he started working as a senior business analyst at CGI, Hyderabad for around 3 months.
In June 2020, he started an online platform 'DragVanti' for budding drag queens.
Patruni then joined a private firm FactSet as a product development specialist.
Patruni has termed a dance form "Indian Expressionism" in which a person expresses his/her emotions through various dance forms. During an interview, while talking about it, he said,


One thing I found out is that people were not aware of the subjects like polymorphism, gender fluidity etc. and televisions regularly misinterpretations of LGBT+ individuals, which bogged me down. A constant fight of the right of identity made me think of using art as a medium to create awareness, activism, education, and experience. I reconfigured Expressionism dance which was used as a tool at the time of World War 2. Using the same art form into the Indian context of classical dance, I created Indian classical expression to showcase subject from gender binary to sexual education, gender fluidity to gender rights and so on."
He has imparted various social messages through his dance performance for many organisations like Mobbera Foundation, Mental Health Organization, Good Universe, Human Library, and the Humsafar trust.
Patruni has also performed at various dance festivals such as Golden Beach Festival and Kalpashree Dance Festival.
He has performed in a theatre production "Skepticism" under the theatre director Amaan Ahemad from Hyderabad.
​Under the drag name 'Suffocated Art Specimen' (S.A.S), he has performed Traminal Drag at various dance festivals. Some of his popular drag productions are Pancha Pandhakas (Untold Queer characters of Indian Mythology), La Nari (why women suffer), Kavach (all about safe sex), Nir Rod (Condom), and Aratrika (Indulging with Alcohol Addiction).
Patruni's popular performances as a drag queen are 'Four Play' (2019), 'Strip Tease' (2019), 'Mati' (2019), and '69' (2020).
He has performed drag at various events including 'Queer And Allie Film and Art Festival' (2014 and 2019), 'International Story Telling Festival' (2017), 'Menstrual Festival, Hyderabad' (2018), and 'Hyderabad Dance Festival' (2021).
In 2020, he acted in the English short film 'Polar Night.' He has worked as a director in the short film 'Shoonyam' (2020). He has also worked as an editor in the short film '70/100′ (2020).
In 2020, Patruni authored two books named "Dressing as a Goddess: A Drag Photo Book" and "My Experiments with Drag."
Patruni has also released a few songs like "Pride Masam Anna" (2021), "Cheeranjiva Sukhibhava" (2021), and "Chudu Sexy Gurl" (2021). All her songs are based on the LGBTQ community.
Patruni Sastry is an active LGBTQ activist. In 2018, he filed a petition against a Telugu YouTube channel which uploaded a couple of videos against the LGBTQ community. In 2020, he appeared in the TV reality show 'Bigg Boss Telugu' as a special guest where he shared his views against transphobics. In an interview, while talking about the policies made against the LGBTQ community, he said,


I cannot believe that people who are involved in making polices are being this irrational about the basic gender rights of a human being. We expect our fellow citizens to stand with us in this as it's a threat to the existence of entire community."
In 2021, he shared his views on DC Marvel's bisexual superman, he said,


The whole Superman thing made me feel empowered after a long time. He came out as a bisexual which is not so usual. People usually come out as gay or a trans person. When a protagonist like Superman reveals his sexual identity, it triggers a conversation about gender diversity and inclusion. People need to understand that gender fluidity is not about costume play. Wearing a ghaghra or putting a nail paint from a cis-het privilege doesn't make someone gender fluid. Such things are quite insulting and disqualifying to the actual lives of people who are gender fluid. It leads to a lot of trauma and disqualification of a person's existence."

Patruni further talked about the portrayal of the LGBTQ community in Hindi films. He said,

Even if Ram Gopal Verma's Lesbian-based movie Dangerous is released in PVR and multiplexes, who is benefiting-RGV or the community? Is it message-oriented like Badhai Do or Chandigarh Kare Aashiqui? In a media interaction, he wanted to discuss only lesbian and not gay-related issues. If he donates half of his earnings to the community, then yes we can support him. Yet another shameless robbery of trans role was in Gangubai Kathiawadi. The only roles trans people get is to play are like this one and when some cis person plays a trans role, they take away the only opportunity."
Patruni has been invited as a guest speaker at more than 5 events of TedX.
In August 2021, he got married to a heterosexual girl named Rajeswari Raji and became the first Indian drag queen to marry a heterosexual partner. During an interview, Sastry shared how he met his wife Rajeshwari. [10]

Telangana Today He said,


During lockdown, I hosted live shows online during Pride month and noticed an unfamiliar account following my every move and showing up at every live show I put on. Months later, at a family function where a relative put a little too much kumkum on my forehead, which then went into my eyes, I met Raji. I felt a warmth I'd never experienced and then realised she was offering me a towel to clear my eyes. A few minutes into the conversation, she asked me an amusing question, What is drag? I thought it came out of nowhere. I didn't realise at the time that my "adoring social media fan" was none other than Raji."

They both then exchanged their phone numbers. Soon, they became friends and fell in love with each other. After dating for a few months, Patruni dropped a message to Rajeshwari that he was pansexual. In an interview, while talking about it, Patruni said,

I dropped her a text one day: I am pansexual. The next day, I got back two weblinks about pansexuality and a question: Is this what you meant? I needed to know whether she understood me, so I called her. It doesn't matter what your sexuality or gender is. I may not fully understand these words and feelings, but it only matters whether you love me and wish to be with me."
In 2022, Patruni appeared in a few music videos like "Kaun Bataye" by Dastaan Live and "Sunshine on the Street" by Peekay and Andrea Tariang.
As per his Facebook account, his favourite quote is,


Life is a popcorn . it shows both highest and lowest. life is a water bubble it doesn't grantee its existing. life is a game. has equal probability of success and failure life is a song .. has many scales . i am my life. i am what i want."