Sahir Ludhianvi Age, Death, Wife, Girlfriend, Family, Biography & More
Quick Info→
Girlfriend: Amrita Pritam
Marital Status: Unmarried
Age: 59 Years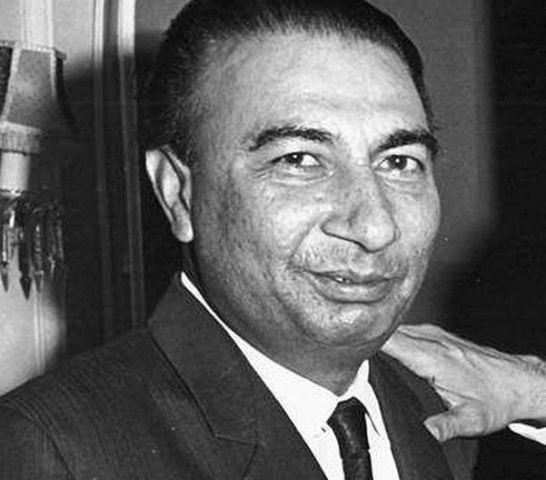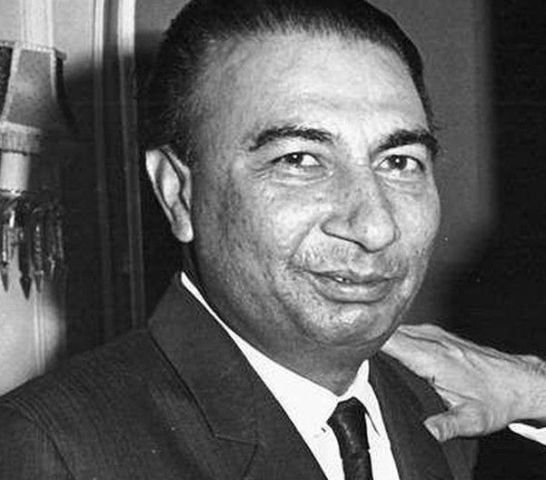 Bio
Real Name
Abdul Hayee
Pen Name
Sahir Ludhianvi
Profession
Poet, Lyricist
Physical Stats & More
Height (approx.)
in centimeters- 183 cm
in meters- 1.83 m
in feet inches- 6'
Personal Life
Date of Birth
8 March 1921
Birthplace
Ludhiana, Punjab, British India

Date of Death
25 October 1980
Place of Death
Mumbai, Maharashtra, India
Age (at the time of death)
59 Years
Death Cause
Cardiac Arrest
Zodiac sign
Pisces
Nationality
Indian
Hometown
Ludhiana, Punjab, India
School
Khalsa High School, Ludhiana, Punjab
College
• S. C. Dhawan Government College for Boys, Ludhiana, Punjab
• Dayal Singh College, Lahore
Educational Qualification
Graduate
Family
Father- Fazal Mohammad
Mother- Sardar Begum
Religion
Atheist
Hobbies
Reading, Travelling
Awards/Honours
• 1958: Nominated for Filmfare Award for Best Lyricist for Aurat Ne Janam Diya's Sadhna.
• 1964: Filmfare Best Lyricist Award for "Jo Wada Kiya" from the film, Taj Mahal.
• 1971: Padma Shri.
• 1977: Filmfare Best Lyricist Award for "Kabhi Kabhie Mere Dil Mein" from the film, Kabhi Kabhie.
Controversies
• He was there in controversy on many occasions as he was artistically temperamental.
• He insisted music composers that the film scores should be composed for his lyrics only and no other way around.
• He also insisted on being paid 1 rupee more than Lata Mangeshkar and it created a rift between them.
• He also promoted his girlfriend, Sudha Malhotra's singing career.
• He insisted that All India Radio credit lyricists.
Favourite Things
Poet
Faiz Ahmad Faiz
Girls, Affairs and More
Marital Status
Unmarried
Affairs/Girlfriends
Amrita Pritam (Poet)

Sudha Malhotra (Singer & Actress)

Wife/Spouse
N/A
Children
None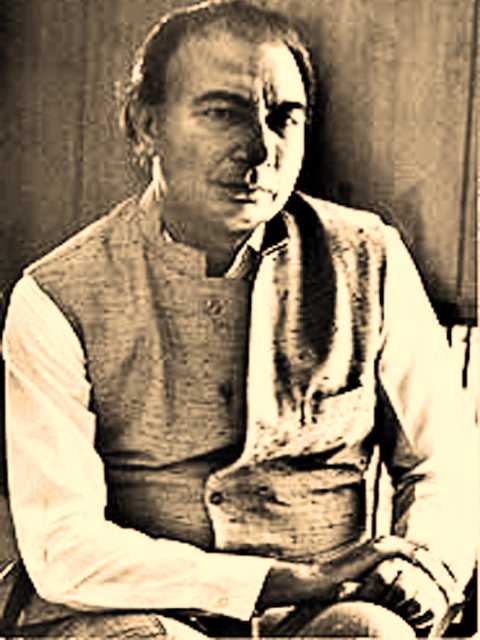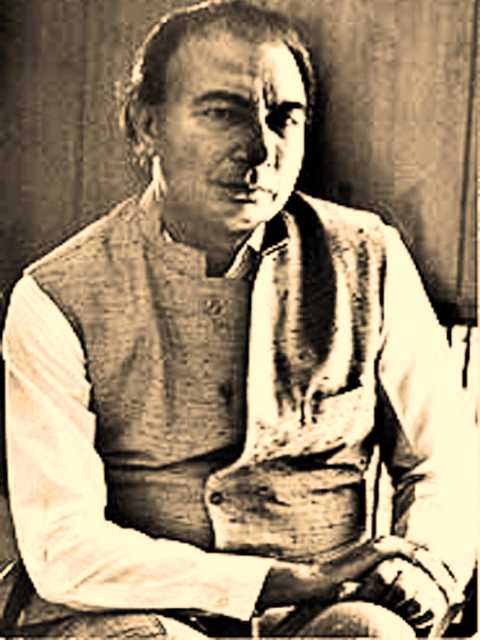 Some Lesser Known Facts About Sahir Ludhianvi
Did Sahir Ludhianvi smoke:? Yes
Did Sahir Ludhianvi drink alcohol:? Yes
He was born to a Muslim family in a red sandstone haveli in Karimpura, Ludhiana, Punjab.
His mother had a sour relation with her husband and left him soon after Sahir's birth. However, she didn't compromise with his education.
In 1934, his father remarried and sued Sahir's mother. Sahir's mother suffered financial deprivation and required protection from Sahir's father.
He studied at the Satish Chander Dhawan Government College For Boys in Ludhiana, and now, the auditorium of the college is named after him.
During his college days, he was very popular for his "Ghazals" and "Nazms." However, in his first year, he was expelled for being friendly with a female classmate on the lawn of the Principal's office.
In 1943, he moved to Lahore where he joined Dayal Singh College.
He was elected the President of the Student Federation and it was there that he published his first book, Talkhiyaan (a collection of poems) in 1945. 
He also worked as the editor of many Urdu magazines such as Shaahkaar, Adaab-e-Lateef, and Savera.
He was also a member of the Progressive Writers' Association. However, the Government of Pakistan issued an arrest warrant when he made controversial statements promoting Communism.
In 1949, after the partition of India, Sahir fled from Lahore to Delhi; as he preferred to live in a secular India over an Islamic Pakistan.
Soon, he moved to Bombay (now Mumbai) and started living in Andheri. There, his neighbours included Gulzar (poet & lyricist) and Krishan Chander (Urdu Poet).
In the 1970s, he built a bungalow in Bombay and named that as Parchaiyaan (Shadows). He lived there until his death.
In 1944, he met Amrita Pritam for the first time at a Mushaira in Lahore. Amrita was married at that time and got impressed the way Sahir recited his couplets and became a huge fan of him. Later, they exchanged letters and started meeting at different places.
Amrita left her husband for Sahir. However, they used to meet on rare occasions and whenever they did meet, they sat in silence. She recounts those meetings in her autobiography "Rasidi Ticket." According to Amrita, whenever Sahir visited her, he used to smoke cigarettes one after the other and once he had left, Amrita would keep the ashtray full of half-smoked cigarettes. She would smoke the leftover cigarettes. She writes of the habit of smoking in her autobiography:


When I would hold one of these cigarettes between my fingers, I would feel as if I was touching his hands. This is how I took to smoking. Smoking gave me the feeling that he was close to me. He appeared, each time, like a genie in the smoke emanating from the cigarette."
Amrita also gives us a glimpse of Sahir's side too:


Sahir also told me, much later in life- when both of us were in Lahore, I would often come close to your house and stand at the corner where I would sometimes buy a Paan, or light a cigarette or hold a glass of soda in my hand. I would stand there for hours together watching that window of your house which opened towards the street."'
Sahir did have other partners and one of them was Sudha Malhotra (Singer & Actress). However, he didn't marry anyone. Once, Sahir had told his mother: "Woh Amrita Pritam Thi. Woh Aapki Bahu Ban Sakti Thi." Yet he never took the step to marry Amrita.
Besides being a poet, Sahir was also a famous lyricist and had penned a number of hit Bollywood songs such as, 'Tu Hindu Banega Na Musalman Banega,' 'Allah Tero Naam Ishwar Tero Naam,' 'Main Pal Do Pal Ka Shayar Hoon,' 'Chalo Ik Baar Fir Se Ajnabi Ban Jayein Ham Dono,' ' Kabhi Kabhi Mere Dil Mein,' 'Aye Meri Zoharjabin,' 'Mere Dil Mein Aaj Kya Hai,' Abhi Na Jao Chhodkar,' etc.
He made his debut as a lyricist with 4 songs performed in the film Azadi Ki Raah Par (1949). Both the songs and the film went unnoticed. However, after collaborating with the Music Director S.D. Burman, Sahir gained recognition and his first major success was Baazi (1951). The last film Sahir worked with S.D. Burman was Pyaasa (1957).
He also became good friends to Yash Chopra, Mahendra Kapoor, and N. Datta.
Sahir's writings were different from his contemporaries; as he did not eulogize Khuda (God), Husn (Beauty), Jaam (Wine). Instead, he wrote about the declining values of society, the domination of consumerism over love, and the insensitiveness of war and politics.
His songs reflected that there were other starker concepts more important than love.
Sahir is often termed as the "bard for the underdog;" as dehis writings picted the soldier gone to fight someone else's war, the farmer crushed by debt, the youth frustrated by unemployment, and the woman forced to sell her body.
Sahir's poetry contains Faizan quality. Like Faiz, he gave an intellectual element to the Urdu Poetry.
Sahir was a staunch critic of Agra's Taj Mahal and wrote about it:
"मेरे महबूब कहीं और मिला कर मुझसे,
बज़्म- ए-शाही में ग़रीबों का गुज़र क्या माने.
सबत जिन राहों पर है सतबते शाही के निशां
उसपे उल्फत भरी रूहों का गुज़र क्या माने?"
India's first Prime Minister, Jawaharlal Nehru, was moved by his lyrics used in the film Pyaasa (1957):
"ये कूचे, ये नीलामघर दिलकशी के,
ये लुटते हुए कारवां ज़िंदगी के,
कहाँ है कहाँ है मुहाफ़िज़ खुदी के?
जिन्हें नाज़ है हिंद पर,वो कहाँ हैं?"
He wrote of his legacy as:
"कल और आयेंगे नगमो की खिलती कलियाँ चुनने वाले,
मुझसे बेहतर कहनेवाले,
तुमसे बेहतर सुननेवाले;
कल कोई उनको याद करे,
क्यूँ कोई मुझको याद करे?
मसरूफ ज़माना मेरे लिए क्यूँ
वक़्त अपना बर्बाद करे?"
Sahir Ludhianvi's life has been chronicled by Sabir Dutt, Chander Verma and Dr. Salman Abid in "Main Sahir Hoon." 
At the fag end of life, Sahir became a heavy smoker and took to alcohol. The following piece by Sahir depicts this phase of his life quite philosophically:
"मैं ज़िन्दगी का साथ निभाता चला गया
हर फ़िक्र को धुएँ में उड़ाता चला गया
बरबादियों का सोग मनाना फ़जूल था
बरबादियों का जश्न मनाता चला गया
जो मिल गया उसी को मुकद्दर समझ लिया
जो खो गया मैं उसको भुलाता चला गया
ग़म और ख़ुशी में फ़र्क़ न महसूस हो जहाँ
मैं दिल को उस मुक़ाम पे लाता चला गया"
On 25 October 1980, at the age of 59, he died after a cardiac arrest.
Here's a glimpse of Sahir's life: