Jawaharlal Nehru Age, Death, Caste, Wife, Children, Family, Affairs, Biography & More
Quick Info→
Age: 74 Years
Girlfriend: Edwina Mountbatten
Caste: Kashmiri Pandit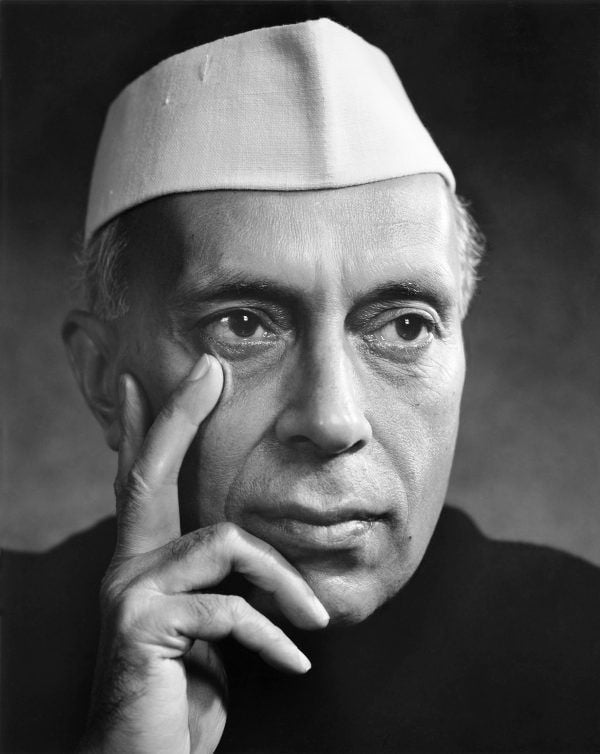 Bio/Wiki
Full Name
Pandit Jawaharlal Nehru
Nickname(s)
Chacha Nehru, Panditji
Profession(s)
Barrister, Writer, Politician
Major Works
• Nehru supported the Indian civil rights movement in South Africa led by Mahatma Gandhi. He also took a firm stand against other discriminations including the campaign against the indentured labour faced by Indians in the British colonies.
• Nehru's efforts of internationalizing the Indian independence struggle got India an invitation to attend the Congress of oppressed nationalities in Brussels in Belgium where he represented the country.
• In the Lahore Session of 1929, Nehru hoisted the tricolour flag of India in Lahore and called for the complete independence from the British Raj.
• On 15 August 1947, Jawaharlal Nehru became the first Prime Minister of India.
• He made many efforts to uplift the position of India after Independence from Britishers and launched his five years planning in 1951.
Famous Quotes
• There is no end to the adventures that we can have if only we seek them with our eyes open.
• Citizenship consists in the service of the country.
• Life is like a game of cards. The hand that is dealt you is determinism; the way you play it is free will.
Physical Stats & More
Height (approx.)
in centimeters- 173 cm
in meters- 1.73 m
in feet inches- 5' 8"
Eye Colour
Black
Hair Colour
Grey
Politics
Political Party
Indian National Congress

Political Journey
1912: Joined the Indian National Congress
1947: Became the first Prime Minister of India and held the post until his death in 1964
Memorials (Major ones)
• Jawaharlal Nehru Award for understanding presented by the Government of India
• Jawahar Sagar Dam on Chambal river
• Jawahar Setu across the Son river
• Jawaharlal Navoday Vidhyalay Stadium, Himachal Pradesh
• Jawaharlal Nehru Biological Park, Jharkhand
• Jawaharlal Nehru Cancer Hospital & Research Centre, Bhopal
• JNU Stadium, New Delhi
• Jawaharlal Nehru University, New Delhi
Personal Life
Date of Birth
14 November 1889
Birthplace
Allahabad, United Provinces, British India (Now, Uttar Pradesh, India)
Date of Death
27 May 1964
Place of Death
New Delhi, India
Age (at the time of death)
74 Years
Death Cause
Heart Attack
Zodiac sign/Sun sign
Scorpio
Signature
Nationality
Indian
Hometown
Allahabad, United Provinces, British India (Now, Uttar Pradesh, India)
School
Harrow, England
College/University
• Trinity College, Cambridge
• Inns of Court
Educational Qualification(s)
• Honours in Natural Science from Trinity College, Cambridge Inns of Court
• Law from Inner temple Inn
Religion
Hinduism
Caste
Kashmiri Pandit
Blood Group
B+
Food Habit
Non-Vegetarian
Hobbies
Reading, Writing, Swimming, Sword Fighting
Awards, Honours, Achievements
Bharat Ratna (1955)

Controversies
• At the time of partition, Nehru was not the first choice for the post of Prime Minister of Independent India rather he was voted down for it. Sardar Vallabh Bhai Patel was being considered as the best candidate. It is believed that Nehru jeopardized Patel's candidature for the PM as he wanted to run for office. The members were also asked by Mahatma Gandhi to change their decision so that Nehru could become the first PM of India.
• Nehru was awarded Bharat Ratna (highest civilian award given by Government of India) which constitutionally is recommended by the Prime Minister to the President, Nehru recommended his name for the Bharat Ratna which is looked down by many critics in our society. [1]indiafacts
• Various sections of the society widely criticised Nehru's decision of acquiring Kashmir through the Instrument of Accession which is considered as the birth of the issue of Kashmir in the present. [2]Greater Kashmir
Relationships & More
Marital Status
Widower
Affairs/Girlfriends
Edwina Mountbatten

Marriage Date
1916
Family
Wife/Spouse
Kamala Nehru (1916-1936)

Children
Son- None
Daughter- Indira Gandhi (Politician)

Parents
Father- Motilal Nehru (Freedom Fighter, Lawyer, Politician)
Mother- Swaruprani Thussu

Siblings
Brother- None
Sister(s)- Vijaya Lakshmi Pandit (First Female President of the United Nations General Assembly)

Krishna Hutheesing (Writer)

Family Tree
Favourite Things
Favourite Food
Tandoori Chicken
Favourite Activist
Mahatma Gandhi
Favourite Cigarette Brand
555 Cigarette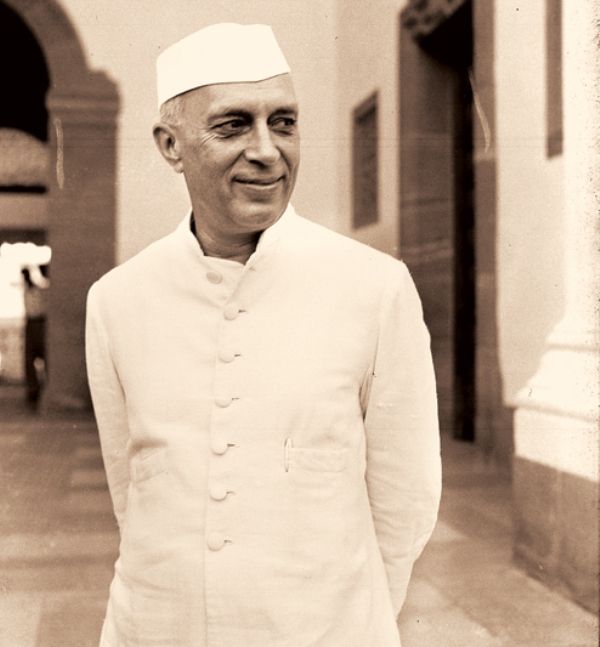 Some Lesser Known Facts About Jawaharlal Nehru
Did Jawaharlal Nehru smoke?: Yes
Did Jawaharlal Nehru drink alcohol?: Yes
Nehru was born in a wealthy family, having grown up in a privileged atmosphere including the Anand Bhavan (situated in Allahabad, built by Motilal Nehru), describing his childhood as "sheltered and uneventful one."
His father, Motilal Nehru, parted Jawaharlal's education at home by tutors and private governesses. He was pretty much influenced by the subject "science and theosophy" under his tutor Ferdinand T. Brooks, which led him to join the Theosophical Society at age thirteen with a family friend, Annie Besant.
Shortly after joining the Theosophical Society, his tutor Ferdinand T. Brooks departed as his tutor. Nehru's interest in Theosophy soon too vanished and he left society. He wrote for his tutor that "for nearly three years (Brooks) was with me and in many ways, he influenced me greatly."
Nehru started developing his interest in Buddhist and Hindu scriptures. Bal Ram Nanda described these scriptures as Nehru's;


"first introduction to the religious and cultural heritage of [India]…[they] provided Nehru the initial impulse for [his] long intellectual quest which culminated…in The Discovery of India."
He became a zealous nationalist and was highly moved by the Russo-Japanese War and the Second Boer War. He wrote about the Russo-Japanese;


"[The] Japanese victories [had] stirred up my enthusiasm … Nationalistic ideas filled my mind … I mused of Indian freedom and Asiatic freedom from the thraldom of Europe."
During his schooling from Harrow, England, he admired G. M. Trevelyan's Garibaldi books which he received as a reward for his academic excellence. He considered Garibaldi as a revolutionary hero and wrote: "Visions of similar deeds in India came before, of (my) gallant fight for (Indian) freedom and in my mind, India and Italy got strangely mixed together."
During his graduation, he started studying politics, history, economics, and literature and became an avid reader of writers like H. G. Wells, Bernard Shaw, J.M. Keynes, Lowes Dickinson, Bertrand Russell, and Meredith Townsend, which brought changes in his economic and political perception. In 1912, he was called to the Bar (It is a legal term of art in most common law jurisdictions when a person is eligible to argue in a court on behalf of another party).
In 1912, he returned to India and got himself enrolled as an advocate in the Allahabad High Court. He wanted to carry forward his father's legacy as a barrister, but he did not enjoy the practice of law.


"Decidedly the atmosphere was not intellectually stimulating, and a sense of the utter insipidity of life grew upon me," He wrote. His inclination towards politics eventually replaced his legal practice.
In 1912, Nehru attended his first ever annual session of the Indian National Congress (at that time, Congress was a party of moderates who believed in the justice of British Government and took the path of non-violence) in Patna. Nehru actively supported the Indian civil rights movement in South Africa led by Mahatma Gandhi. Later, Nehru campaigned for many other such discriminations including the campaign against the indentured labour, faced by Indians in the British colonies.
During World War I, many including Frank Moraes believed that Nehru's sympathy was with France, as he admired the culture of that country.
During World War I, Nehru was emerging as an eminent political leader, though Gopal Krishna Gokhale (known as the political guru of Mahatma Gandhi) held the domination of political discourse. Whereas Nehru had already urged the nationalists the need of, "politics of non-cooperation, the need of resigning from honorary positions under the government and of not continuing the futile politics of representation."
Nehru was not satisfied with the working of the moderates of the Congress and hence got involved with extremist nationalist leaders who proposed Home Rule for the Indians. In 1916, extremists, Annie Besant, and Bal Gangadhar Tilak formed "Indian Home Rule League" and "Home Rule League," respectively. Nehru joined both the movements but worked predominantly for his family friend, Annie Besant.


"[Besant] had a very powerful influence on me in my childhood… even later when I entered political life her influence continued," he remarked. Later, he went on to become the secretary of Besant's Home Rule League.

Sponsored

The Lucknow Pact (1916), which holds its importance for uniting Hindu-Muslims, was held at the Nehru residence at Anand Bhawan. The same year Nehru got married to Kamala Nehru.

On 19 November 1917, Nehru and Kamala were blessed with a daughter, Indira Gandhi.

In 1920, Nehru was put behind bars for anti-government activities initiated by him in the United Provinces (now, Uttar Pradesh) as a part of Non-Cooperation movement; though he was released in a few months. After the sudden closure of the movement due to the 1922's Chauri-Chaura incident, the rift within the Congress made Nehru remain loyal to Gandhi and did not join the party formed by CR Das and his father, Motilal Nehru, 'Swaraj Party.'

In 1927, due to Nehru's efforts of internationalizing the Indian independence struggle, India was invited to attend the Congress of oppressed nationalities in Brussels in Belgium where Nehru represented the country.

In 1929, during the Lahore session, under Nehru's Presidentship of Congress, he called for the complete independence from the British Raj and decided that 26 January 1930 will be celebrated as India's Independence Day. He hoisted the tricolour flag of India in Lahore at the midnight of New Year's Eve 1929.

In the mid-1930s, his ailing wife, Kamala Nehru died of tuberculosis in a sanitarium in Switzerland.

Subhash Chandra Bose and Jawaharlal Nehru worked together to develop India's strong relations with governments of free countries, but they split in the late 1930s when Nehru decided to support the Republicans against Francisco Franco's forces amidst the Spanish Civil War. A dictator of Italy, Benito Mussolini, expressed his wish to meet Nehru, he refused to meet him. Whereas, Subhash Chandra Bose shook hands with fascists to oust British out of India.

In 1930, he was arrested for six months for promoting the Civil Disobedience movement with a satyagraha against the salt tax put up by the British. He wanted Gandhi Ji to become the President of Congress in his absence, but when Gandhi Ji refused to take his post, he nominated his father to become his successor.

His autobiography 'Toward Freedom," also know as "An Autobiography" was released on 14 February 1935 in Almora jail.

On 31 October 1940, he was again arrested for offering individual Satyagraha against India's enforced involvement in World War 2.

Nehru's longest and also the last detention was for moving the 'Quit India' resolution at the A.I.C.C. session (Bombay) on 8 August 1942, and he was taken to Ahmednagar Fort along with other leaders. In all, Nehru was arrested nine times till India got independence.

Upon his release from jail, Nehru found that Muhammad Ali Jinnah's 'Muslim league' had become much stronger. Though initially, he opposed the partition of India and Pakistan but could not change the fate under Lord Mountbatten's pressure.

On 15 August 1947, India won its independence, and Jawaharlal Nehru became India's first Prime Minister. He delivered a speech "Tryst with Destiny" which reads,


"Long years ago we made a tryst with destiny, and now the time comes when we shall redeem our pledge, not wholly or in full measure, but very substantially. At the stroke of the midnight hour, when the world sleeps, India will awake to life and freedom."

India launched its first five-year plan under his supervision in 1951.

He was the first Prime Minister of India, and four attempts of his assassinations were made. The first attempt was made in 1947 after the partition of India and Pakistan, the second was in the year 1955, third in 1956 in Mumbai and fourth in 1961, but he was fortunate enough to escape all the attempts.

He has authored some books which include 'The Discovery of India,' 'Letters from a Father to His Daughter,' and 'Glimpses of World History.' He used to write letters to his daughter Indira when she was studying in a boarding school in Mussoorie. There were a total of 30 letters he had written to her.

Pandit Ji's name was associated with many women after the death of his wife. There were many speculations about the alleged relationship between Nehru and Edwina Mountbatten (wife of the last Viceroy of India, Lord Mountbatten).

In a book written by Pamela Mountbatten (daughter of Edwina Mountbatten and Lord Mountbatten), revealed that Nehru used to write letters to Edwina even after the partition until she died. She stated that "It was a very very deep love that lasted for 12 years."

There were rumours about Jawaharlal Nehru's relationship with Padmaja Naidu (daughter of Sarojini Naidu) [3]Word Press. Nehru and Indira Gandhi shared a strained relationship because of this as Nehru always kept a portrait of Padmaja in his bedroom which Indira often removed.

He was an energetic, charming, and fitness enthusiast. He loved sword fighting and had a skilled hand at it.

He was nominated for the Noble Peace price 11 times, but he never won the award.

In 1962, his health starting declining and was being treated in Kashmir. On 26 May 1964, he returned from Dehradun and was in sound health till the next morning when he complained of backache and consulted his doctors. He collapsed due to a stroke and later, a heart attack which he could not survive. On 28 May 1964, he was cremated on the bank of Yamuna with all the Hindu rites at the Shantivan.

References/Sources: [ + ]