Sukumara Kurup Age, Girlfriend, Wife, Family, Biography & More
Quick Info→
Age: 75 Years
Wife: Sarasamma
Hometown: Alappuzha, Kerala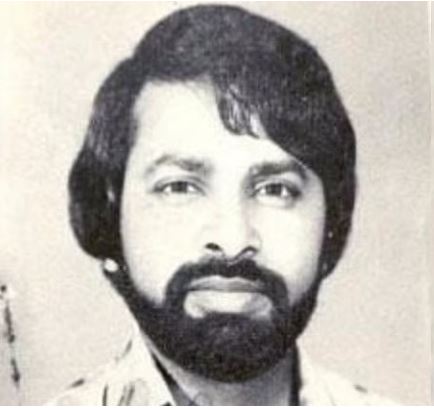 Bio/Wiki
Birth Name
Gopalakrishna Kurup [1]

The Indian Express
Other Name(s)
P. S. Joshi, Sukumara Pillai [2]

The Week
Nickname(s)
Suku [3]

The Indian Express
Profession
Criminal
Known For
The Infamous Chacko murder case (1984)
Physical Stats & More
Height (approx.)
in centimeters- 172 cm
in meters- 1.72 m
in feet & inches- 5' 8"
Eye Colour
Black
Hair Colour
Salt & Pepper
Personal Life
Date of Birth
Year 1946
Age (as of 2021)
75 Years
Birthplace
Cheriyanad, Chengannur, Alappuzha, Kerala
Nationality
Indian
Hometown
Cheriyanad, Chengannur, Alappuzha, Kerala
Educational Qualification
Pre-degree course (equivalent to class 12) [4]

The Indian Express
Ethnicity
Malayali [5]

The Quint
Caste
Nair Community [6]

The Indian Express
Relationships & More
Marital Status
Married
Family
Wife/Spouse
Sarasamma
Children
He has two sons. His younger son is named Sunit Pillai.
Some Lesser Known Facts About Sukumara Kurup
Sukumara Kurup is an Indian fugitive who was the prime accused in the Chacko murder case. He is one of the most wanted criminals in Kerala and has been on a run away from police custody since 1984.
He grew up in a middle-class family in Cheriyanad, Chengannur, Alappuzha, Kerala.
Kurup was a daredevil since childhood.
After completing his pre-degree course, Sukumara joined the Indian Air Force as an airman. The job didn't interest him much, and he took a long break from work. He was marked a 'deserter' after he failed to return to his job after his leave ended.
Fearing a deserter inquiry on him, Sukumara bribed a head-constable to produce a fake report of his (Kurup's) death.
Once, when Sukumara was at his relative's place in Mumbai, he saw a girl named Sarasamma and fell in love with her. Her mother worked as a house help at his Cheriyanad home. While Sukumara was serving the Indian Air Force, Sarsamma was pursuing a nursing course in Mumbai. The two of them started meeting each other regularly and soon, began dating.
When Sukumara's parents came to know about their affair they tried to end their relationship by sending letters to Sarasamma; ordering her to quit. However, captivated by Sarasamma's beauty, Sukumara married her in a secret ceremony at a temple in Matunga.
After marrying Sarasamma, Kurup prepared himself to move to Abu Dhabi.
He changed his name to 'Sukumara Pillai' and applied for a passport. After receiving the passport, Sukumara flew to Abu Dhabi and began working as an executive with a marine petroleum company. His job earned him a steady income.
Soon, his wife Sarasamma also moved to Abu Dhabi. She worked there as a nurse at a private hospital.
In Abu Dhabi, Sarasamma befriended a bunch of guys and started spending lavishly on parties. He also started offering monetary help to his friends, especially in times of crisis.
During his visits to Kerala, Sukumara usually brought suitcases filled with gifts for his friends and family members.
He often insisted on paying the liquor bills for his friends throughout his stay in Kerala, gaining a superior social and economic status.
During one such staycation in Kerala, Sukumara bought a plot of land at Ambalapuzha and decided to build a luxury house on it. At the same time, he also purchased an Ambassador car for himself.
Taking pride in his superior social status, Sukumara made several needless expenses, resulting in a low bank balance. Together, Sukumara and his wife earned Rs. 60,000 a month. However, their savings were close to nil.
In 1984, when he visited his native place during vacations, Kurup began the construction of his house. Meanwhile, there were rumours about Gulf companies planning to shed their existing workforce and hiring new workers at low wages. On hearing the news, Sukumara got worried as his house was still under construction and he was in dire need of money.
Habitual of a luxury lifestyle, Sukumara began thinking of an idea to get rich quickly. One night, when he was reading an English magazine, Kurup came across a financial embezzlement case that took place in Germany in which the delinquent faked his death to collect the insurance money.
Impressed by the idea, Kurup started thinking of ways to execute it. One night when he was sitting with his friend Shahu for a round of drinks, Sukumara, presented the idea to him. On Shahu's approval of the plan, Kurup, convinced his brother-in-law Bhaskara Pillai (his wife's sister's husband) and his driver Ponnappan to join him in the plan.
The plan was to fake Kurup's death in order to claim the insurance amount of Rs. 8 lakh.
To begin with the plan, Sukumara asked his brother-in-law to arrange a second-hand car, after which, Pillai bought a used Ambassador car for Rs. 8000.
They first thought of arranging an unclaimed dead body (that bore resemblance to Kurup) from the Alappuzha Medical College as one of Pillai's relatives worked there. However, it did not work out.
Next, they planned to scavenge a dead body from a cemetery but could not do so.
When all their plans to arrange a dead body failed, Kurup suggested a murder as a last resort.
On 21 January 1984, during the night, all four of them gathered at the Kalpakavadi Hotel at Karuvatta. They had their dinner, consumed a little liquor, and went hunting for their prey.
Sukumara got into the Ambassador car with the plate KLQ-7831 and all others sat inside the car bearing the number KLY-5959. They drove around 25 km on the highway but could not find a suitable person. However, when they drove past the Hari movie theatre, they saw a man, who looked somewhat similar to Kurup, asking for a lift.
Kurup and his partners stopped their cars and offered him a lift. The man was Chacko, a film representative who was standing outside the theatre to go back home (in Alappuzha) after assessing the ticket collections at the theatre.
Although the four of them were going in an opposite direction, they altered it to offer a ride to Chacko. Chacko who was in a hurry to reach home didn't notice it and sat inside the car.
After a while, Pillai offered Chacko a glass of spiked drink, but Chacko refused to have it. Some minutes passed and Pillai again offered Chacko a drink (this time in a serious tone). However, Chacko again refused to have it. This infuriated Pillai who shouted,


Drink it."
Seeing Pillai shout, Chacko panicked, and quickly gulped the drink, and became unconscious. When Chacko fell into their laps, Pillai and Shahu strangled him to death using a towel.
Subsequently, they moved to Smita Bhavan, Kurup's wife's native place in Cheriyanadu, where they undressed Chacko and charred his face to hide his identity. They removed all his accessories including his rings and watch, dressed him in Kurup's clothes, and loaded him in the newly-purchased Ambassador car. They then drove towards the paddy field at Thannimukkam.
After reaching the place, the four of them put Chacko's body on the driving seat and set the car on fire.
The next morning at around 5, a person informed the Mavelikkara police about the burning car on the road. Soon, circle inspector M. Haridas and his team members reached the place of crime and found a charred body of a man lying inside the car.
The preliminary investigation hinted that the incident was an accident and the man inside the car was first believed to be Sukumara Kurup. However, the police sent the body for post-mortem and soon came to know that the body was not of Kurup.
Further, the forensic team revealed that there was no trace of charcoal in the dead body's respiratory system despite the fire being the supposed cause of his death. The forensic team also revealed that there was a stench of poison present in the stomach of the dead man.
The police grew suspicious and closely inspected the sight of the crime. They found a pair of footwear, a rubber glove with a few strands of hair in it, and a matchbox from the spot. The police also traced some footprints in the mud indicating that someone has flown from there and came to a conclusion that the man was first poisoned and then planted in the car.
In an interview, while sharing the details about the incident, Haridas (Deputy Superintendent of Police who handled the case) said,


I reached the spot of the crime by 5.30 that morning. I suspected foul play from the very beginning as I noticed a matchbox, a hand glove, and stains of petrol in the area. I found out that the car belonged to one Sukumara Kurup, an expatriate. But in the investigation that followed, we found that the body was not that of Kurup."
The police also doubted Kurup's family as their behaviour was very unusual. Soon, a few policemen were deployed in casual clothes outside Kurup's house to keep a watch on them. They noticed that the family had a lavish non-veg meal just two days after the demise of Sukumara, which they found strange.
On the Contrary, Chacko's wife, Santhamma, came across this news, and she, along with Chacko's brother, registered a missing complaint about Chacko at the Mavelikkara police station. Earlier, Santhamma did not worry about Chacko's absence as Chacko often moved out of his home for days due to his work.
Soon, Santhamma was called to the Mavelikkara police station to identify a dead body. Although the body was fully burnt, she recognised Chacko by his underwear which was not fully destroyed.
On learning that the dead man was Chacko, police soon connected the clues and reached the conclusion that Sukumara had faked his death to claim the insurance money.
As soon as the mystery got solved, the police arrested Kurup's aides in the crime- his driver Ponnappan, his brother-in-law Bhaskara Pillai, and his friend Shahu. However, Sukumara had a narrow escape.
While Ponnappan and Bhaskara Pillai were sentenced to life-term imprisonment, Shahu turned an approver and was later released.
Taking advantage of the 72-hour head start, Kurup fled from the country. It was later said that he first flew to Aluva and then moved to Chennai. From there, he moved to Bhutan and later to Andamans. Subsequently, he relocated to Bhopal. Despite learning about his locations, the police failed to catch him.
In order to get a hold of Kurup, the special investigation team (SIT) of the police also placed four undercover policemen in Kurup's neighbourhood for eight years but did not succeed.
As a result of Kurup's heinous crime, his family was ostracised by the community and his wife had to leave her job.
The Chacko murder case was one of the longest-standing cases in the judicial history of Kerala. The case closed in 1996 when despite searching for 12 long years the Kerala police was unable to nab Kurup.

Since the day, Kurup went missing, people made many theories about his disappearance. Some people believed that Sukumara had become a monk in Nepal. A few said that he had fled for the Gulf from Nepal. People even said that he converted to Islam and was living in a mosque in Saudi Arabia.
Once, a nurse working at a hospital in Ranchi claimed that she had treated Kurup when he was on a run. During a conversation with the police, she said that he was not likely to live long as he suffered a serious illness.
In 1990, a person named Joseph claimed that Kurup was very ill and most probably would have died. In an interview, he said,


Kurup was spotted at the district hospital, Dhanbad, Bihar, in 1989. He was admitted with severe cardiac issues. The name given was P. S. Joshi, and he was 50. A Malayali nurse, who had her suspicions, asked him about his original home; he vanished the very next day with his medical records. The same person has been sighted in nine states including Odisha, West Bengal, and Assam. He was last spotted in Narayanpur (currently in Chhattisgarh) in January 1990. He vanished from there, too. Doctors told us that he would not survive for more than a week as his condition was that critical."
In 2010, when Kurup's younger son, Sunit was getting married, his wedding invitation read 'son of Mr. Sukumara Pillai.' There was no 'late' attached to his name which hints that Kurup was still alive.
When Kurup murdered Chacko, he was married for less than a year and his (Chacko's) wife Santhamma was pregnant with their first child. In 2018, during a meeting near the St Thomas Malankara Syrian Catholic Church at Chengannur, Chacko's wife Santhamma said that she had forgiven Kurup and others involved in her husband's death. She said,


We don't know whether he's alive or dead. However, we forgive Sukumara Kurup and the others involved in the murder of my husband."
Sukumara's criminal act has inspired many Malayalam films like NH47 (1984) and Pinneyum (2016).
In 2021, a Malayalam mystery crime thriller based on the life of Sukumara and the consequences of Chacko's murder was made. The film was titled 'Kurup' and cast Dulquer Salmaan in the eponymous role. In December 2021, Chacko's son, Jithin, slammed the filmmakers with a legal notice complaining that his father's killer should not be glorified as a hero.