Christopher Bhatti (Telgi's Aide) Age, Death, Family, Biography & More
Quick Info→
Hometown: Khanapur
Father: Chennaya Bhatti
Age: 23 Years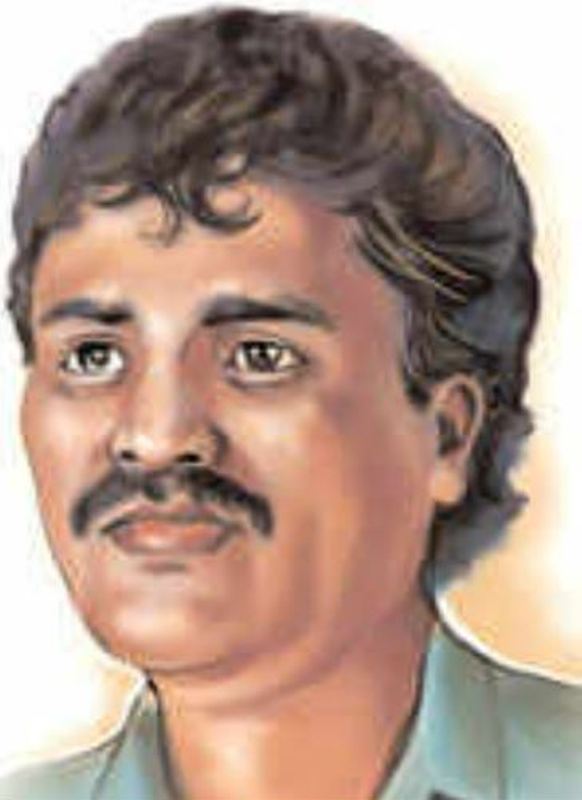 Bio/Wiki
Full name
Christopher Chenappa Bhatti [1]

DNA
Profession
Driver
Known for
Being one of the aides of Abdul Karim Telgi, the mastermind behind the 2003 Scam
Personal Life
Date of Birth
Year, 1978
Date of Death
27 August 2001
Place of Death
Near Minoo Manor building in Cuffe Parade, Mumbai

Note: After Christopher was subjected to the assault by Telgi's associates near the Minoo Manor building in Cuffe Parade, Telgi disposed of his body by throwing it into the Mahim Creek. [2]

Mumbai Mirror
Age (at the time of death)
23 Years
Death Cause
Torture and Assault

Note: Christopher was beaten-up by Telgi's men with hockey sticks, and his body was burnt multiple times with cigarettes; he could not sustain injuries received by these torture and assault. [3]

Mumbai Mirror
Nationality
Indian
Hometown
Khanapur, Karnataka
Relationships & More
Marital Status (at the time of death)
Not known
Family
Wife/Spouse
N/A
Parents
Father- Chennaya Bhatti (worked at a paper mill)
Mother- Saroja

Note: According to Saroja, although Chennaya Bhatti retired from his job at the paper mill, he took on part time work as a labour after Christopher's death and became the sole provider for the family.
Siblings
Among his four siblings, Chemaya is his elder brother, who is mentally unstable.
Other Relatives
Brother-in-law- Arun Hurli
Some Lesser Known Facts About Christopher Bhatti
Christopher Bhatti (1978-2001) played a key role as an associate and driver for Abdul Karim Telgi, the mastermind behind the 2003 Scam. Bhatti died in 2001 when Telgi's associates took his life due to a dispute over money.
According to his father, Chennaya Bhatti, Christopher was the only educated member of their family.
In an interview, Christopher's mother mentioned that he was recognised within his neighbourhood for his talent in playing the tabla. According to some sources, he was also known to play the harmonica at the church.
In 2000, Christopher's brother-in-law, Arun Hurli, introduced him to Abdul Karim Telgi, who happened to be a neighbour of Arun. Christopher later received a job offer from Telgi at his counterfeit stamp paper manufacturing company in Chennai, Tamil Nadu, which he readily accepted. Christopher also worked as a driver for Telgi during that time.
His parents, in an interview, revealed that Christopher used to send them Rs. 2,000 monthly to cover household expenses when he used to work for Telgi.
According to various reports, Christopher later misappropriated approximately Rs. 3 lakhs from Telgi's business along with Suraj Butki and disappeared; however, some sources claim that Bhatti stole Rs. 1,80,000 before leaving the job and made it look like a robbery. When Telgi became aware of Christopher's involvement in taking his money, he allegedly directed his associates to convince Christopher to come to Mumbai to resolve the matter.
On 27 August 2001, Christopher, along with Arun Hurli, paid a visit to Telgi near the Minoo Manor building in Cuffe Parade, Mumbai, with the intention of resolving their financial dispute; however, instead of reaching a resolution, Telgi's associates subjected Christopher to brutal torture, ultimately leading to his death. Reportedly, Telgi placed Christopher's body in the trunk of his car and disposed it of in Mahim Creek. Mahim Creek. The police discovered Christopher's body in the creek the following day, but they were unable to identify it at the time. Consequently, a case was registered at Shahu Nagar Police Station, and Christopher's clothes and photographs were preserved for identification purposes before the body was disposed of.
According to police officials, nine months later, during the investigation into the 2003 stamp paper scam, one of Telgi's associates, Sajid, revealed critical details about Christopher's murder. Subsequently, an investigation into Christopher's murder was started by Cuffe Parade police. The case was later handed over to the Mumbai Crime Branch. API Dilip Kamat, who was later arrested for helping Telgi in the scam, took charge of Christopher's murder case. On 27 October 2002, Telgi was apprehended in connection with the case, and a chargesheet was filed against him.
According to officials, a Special Investigation Team (SIT) then re-investigated Christopher's murder case along with the stamp paper scam case. The team later found that the initial investigation into the murder case was insufficient. Police Inspector Mahabole, in an interview, mentioned that due to a lack of conclusive evidence confirming the identity of the body recovered from the creek as Christopher's, they sought the expertise of a forensic specialist from the Kolkata Forensic Science Laboratory. The team found concrete evidence when a DNA sample extracted from blood on a bandage found on the body was matched with blood samples obtained from Telgi's residence and his vehicle; it was discovered that the bandage was linked to Telgi's illicit operations, as it was a specific type used in his business. This evidence confirmed that the body belonged to Christopher and that he was murdered by Telgi and his associates. On 29 November 2007, the special CBI court delivered a verdict, convicting Abdul Karim Telgi along with four of his associates namely Sajid Khan, Mohammed Ghaus Shigwe, Maqdum Hussain, and Kalim Bandenawaz under IPC Section 304 Part II.