Thug Behram Story, Biography, Death & More

Bio/Wiki
Nickname(s)
Buram, Buhram Jemedar, King of the Thugs
Profession(s)
Serial Killer, Robber, Thuggee
Famous For
Notorious Thuggee of the 18th Century
Personal Life
Date of Birth
Year, 1765
Birthplace
Jabalpur, Madhya Pradesh, India
Date of Death
Year, 1840
Place of Death
Village Sleemanabad, Katni, Jabalpur, Madhya Pradesh, India
Age (at the time of death)
75 Years
Death Cause
Sentenced to Death
Nationality
Indian
Hometown
Jabalpur, Madhya Pradesh, India
Religion
Hindu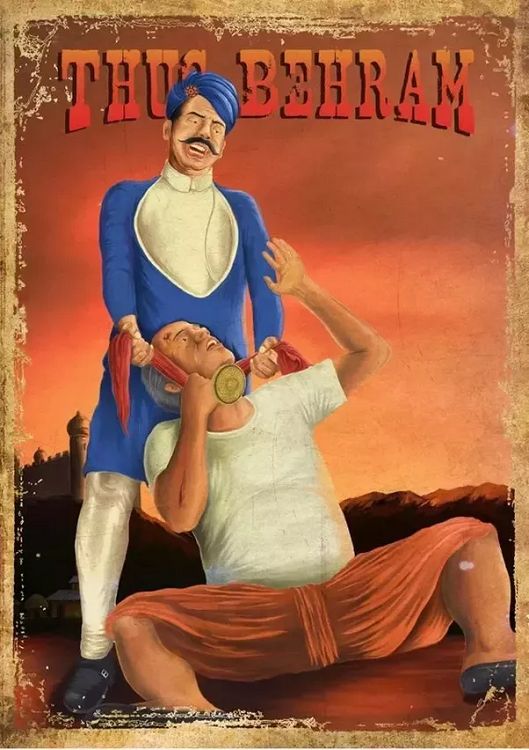 Some Lesser Known Facts About Thug Behram
Thug Behram was one of the most prolific serial killers of the 18th century in Indian History.
He was a leader of the Thuggee cult whose name is recorded in the book of Guinness World Records for killing 931 victims.
In his childhood, Behram was quite shy and was quite reluctant to mix up with others. Later, he became friends to one of the notorious Thugs Syed Ameer Ali who was 25 years older than him.
Syed Ameer Ali is the only person who introduced Behram in the world of Thuggee and also made him the head of thuggee.
According to sources, during his initial days of Thugee, Behram was also accompanied by a female thug named Dolly, but, later on, both got separated.
By the age of just 10, Behram had started killing and terrifying the people with his crimes.
He started robbing and thugging at the age of 25.
Sources also confirmed that Behram always used to keep a yellow handkerchief with himself in which he used to put a coin in order to calmly strangle his victims to death; so that he could loot them all.
He had a group of nearly 200 Thugs; due to which, the territory of the central states of India had become terrified. The impact of Behram and his gang was so much that people usually had to change their ways.
Behram and his group used to talk in their different code languages. 'Ramos' is a word which was used by them before assaulting their victims.
As per traditions, he, along with his group, did not use to kill women, fakirs (Muslim Sufi), musicians, lepers, and Europeans. They usually attacked traders, tourists, and pilgrims in a mysterious way.
Behram's popularity had been spread to England, therefore, Britishers sent their 5 investigation teams to Jabalpur for his investigation, but after an intense examination, they could come out with only a name of a Thug, i.e., 'Behram'.
Behram killed all those investigators who had been sent by the Britishers, and thereafter, the British Government had to send a soldier named William Henry Sleeman to India for the further investigation.
In 1822, Sleeman was made a magistrate of district Narsinghpur of Madhya Pradesh. In order to collect Behram's information, Sleeman had to move from one city to another, but he did not get any information.
In between, Lord William Bentinck was appointed as the Governor-General of India. He gave full freedom to investigators to reveal all the information. Bentinck also equipped the team of investigators with security forces.
Sleeman had got an intimation about Syed Ameer Ali's location, thereafter, Britishers reached to his house, but until then, Syed had absconder from there, and as a result, his mother and another family members had arrested by the Britishers.
In 1832, after a lot of inquiries, Syed Ameer Ali gave clear information about Behram to the Britishers, thereafter, he surrendered for the sake of his family, and finally, in 1838, Behram was also arrested.
After the arrest, Behram revealed that he, along with his group members, had killed nearly 931 victims with the help of yellow handkerchiefs and coins, of which, 150 well killed by Behram himself. After narrating the stories of his crimes, the other members of his group were also arrested by the Britishers.
In 1840, Behram and his gang were executed by hanging with a tree in Jabalpur and Sleeman gave concession to Behram's new gang members by sending all of them to the Jabalpur's reformatory.
Village Sleemanabad in Jabalpur, Madhya Pradesh has been named after the British soldier William Henry Sleeman, and a memorial has also been built in the memory of Sleeman.
Behram and his group was the devotee of Goddess 'Kali' and the ritualistic killings were done in her honour.
In 2005, Mike Dash published the book- 'Thug: The True Story of India's Murderous Cult' on the biography of Behram.