Amartya Sen Age, Wife, Children, Family, Biography & More
Quick Info→
Hometown: Shantiniketan, Bengal
Wife: Emma Rothschild
Age: 90 Years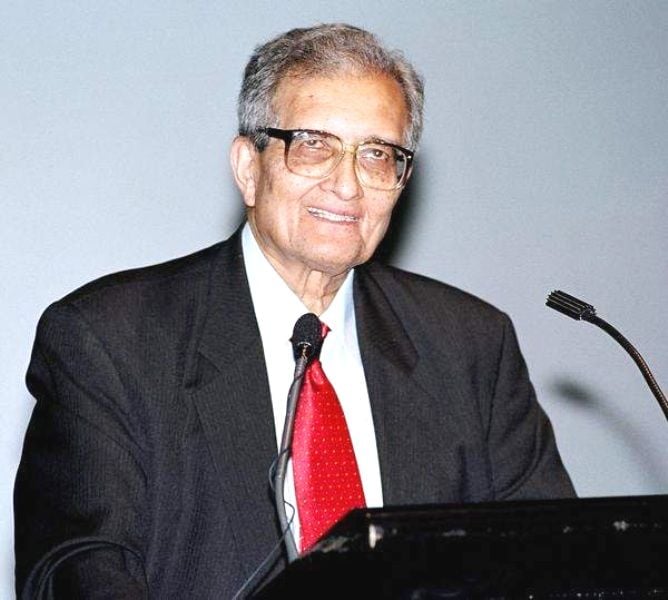 Bio/Wiki
Full name
Amartya Kumar Sen [1]

International Centre for Research on Women
Dr. Amartya Sen
Profession(s)
• Economist
• Philosopher
Known For
First Indian to win the Nobel Prize in Economics
Physical Stats & More
Height (approx.)
in centimeters- 167 cm
in meters- 1.6 m
in feet & inches- 5'6"
Eye Colour
Black
Hair Colour
Grey
Awards, Honours, Achievements
• Mahalanobis Prize, 1976
• Frank E. Seidman Distinguished Award in Political Economy, 1986
• Senator Giovanni Agnelli International Prize in Ethics, 1990
• Alan Shawn Feinstein World Hunger Award, 1990
• Jean Mayer Global Citizenship Award, 1993
• Indira Gandhi Gold Medal Award of the Asiatic Society, 1994
• Edinburgh Medal, 1997 Catalonia International Prize, 1997
• Nobel Memorial Prize in Economics, 1998

• Bharat Ratna, 1999

• Leontief Prize, 2000
• Brazilian Ordem do Merito Cientifico, Grã-Cruz, 2000
• Eisenhower Medal, 2000 Presidency of the Italian Republic Medal, 2000
• Honorary Companion of Honour, UK, 2000
• Bruno-Kreisky Award for the Political Book of the Year, 2001
• Electricité de France European Economics Book Prize, 2002
• Ayrton Senna Grand Prix of Journalism, 2002
• Barnard College, Medal of Distinction, 2005
• Silver Banner, Florence, Italy, 2005
• George C. Marshall Award, 2005
• Sidhartha Maitra Memorial Lecture Award, 2006
• NASSCOM Global Indian Award, 2007
• United Nations Life Time Achievement Award, UNESCAP, 2007
• Global Economy Prize, University of Kiel, 2007
• Meister Eckhart Prize, Identity Foundation, Germany 2007
• Annual Best Book Award, North American Society for Social Philosophy, 2009
• National Humanities Medal, USA, 2012
• Thomas C. Schelling Award, Harvard University, 2012
• International Edgar de Picciotto Prize, Graduate Institute of International and Development Studies, Switzerland, 2012
• Légion d'Honneur, France, 2012
• Aztec Eagle, Mexico, 2012
• Shigemitsu Award, Shigemitsu Global Cultural Center, Japan, 2012
• Chevalier of the French Legion of Honour, 2013
• 25 Greatest Global Living Legends in India by NDTV, 2013
• Top 100 thinkers who have defined our century by The New Republic, 2014 Charleston-EFG John Maynard Keynes Prize, 2015
• Albert O. Hirschman Prize, Social Science Research Council, 2016
• Johan Skytte Prize in Political Science, 2017
• Bodley Medal, 2019
• Friedenspreis des Deutschen Buchhandels, 2020
• Princess of Asturias Award, 2021
• Gold Medal from The National Institute of Social Sciences, 2021
Personal Life
Date of Birth
3 November 1933 (Friday)
Age (as of 2023)
90 Years
Birthplace
Shantiniketan, Bengal, British india
Zodiac sign
Virgo
Signature
Nationality
Indian
Hometown
Shantiniketan, Bengal
School
• St. Gregory's School Dhaka
• Shantiniketan
College/University
• Presidency College Calcutta
• Trinity College Cambridge
Educational Qualification [2]

Curriculum Vitae - Amartya Sen
• Bachelor of Arts degrees in Economics at Presidency College Calcutta (1953)
• Bachelor of Arts degrees in Economics at Trinity College Cambridge (1955)
• Master of Arts Degree in Economics (1959)
• PhD (Thesis on The Choice of Techniques)
Religion/Religious Views
Atheist [3]

YouTube - Al Jazeera English
According to him, he is not anti-religion and admire people whose belief in god made them do great things, like what Mother Teresa did in Calcutta.
Caste
Bengali Hindu Baidya [4]

The Nobel Prize
Food Habit
Non-Vegetarian

Political Inclination
Leftist [5]

YouTube - Al Jazeera
Address
Pratichi, Shantiniketan, West Bengal [6]

The Hindu
Hobbies
reading, writing
Controversies
• Controversial Article in The New York Review of Books
Sen wrote an article in The New York Review in which he claimed that more than 100 million women are missing in the developing countries particularly in Asia. This became a cause of controversy as many economist including Emily Oster, American, said that it is an overestimation. Though, she refuted her own claims later. [7]

The New York Review

• Said to return the Bharat Ratna Award if Vajpayee asks
In 20013, BJP MP Chandan Mitra remarked that Sen should be stripped of the Bharat Ratna Award because despite receiving the highest national award he don't know how to behave and often speak against the then Gujarat CM Narendra Modi. To this, Sen replied that he will return the award only if Atal Bihari Vajpayee asks him to do so because he was the one who honored him with the Bharat Ratna Award. [8]

The New Indian Express
Relationships & More
Marital Status
Married
Family
Wife/Spouse
• First Wife: Nabaneeta Dev Sen (m. 1959 - div. 1976; Writer)

• Second Wife: Eva Colorni (m. 1978) (deceased; Economist)

• Third Wife: Emma Georgina Rothschild (m. 1991 - Present; Professor)

Children
Son- 1
• Kabir (Hip Hop artist & Music teacher; with Eva Colorni)

Daughter(s)- 3
• Nandana Dev Sen (actress; with Nabaneeta Dev Sen)
• Antara (Journalist; with Nabaneeta Dev Sen)

• Indrani (Journalist; with Eva Colorni)

Parents
Father- Ashutosh Sen (Chemistry Professor)
Mother- Amita Sen (writer)

Siblings
Sister- Supurna Dutta (writer; deceased)

Favourites
Philosopher
Karl Marx, John Stuart Mill, Adam Smith
Idol
Rabindranath Tagore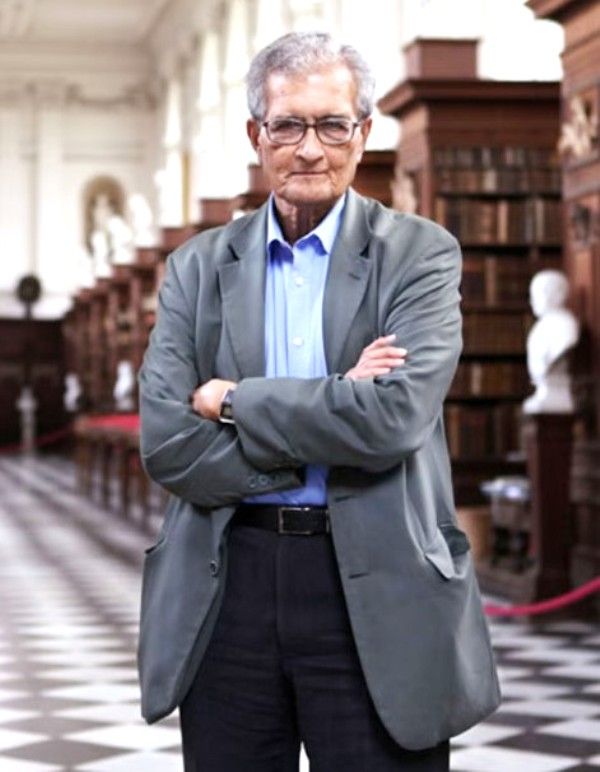 Some Lesser Known Facts About Amartya Sen
Amartya Sen is an Indian Nobel laureate economist and philosopher. He is the first Indian to win the Nobel Prize in Economics. He was also awarded the Bharat Ratna, the highest civilian award in India.
He hit the headlines on 10 October 2023, when the rumor of his death was spread. Many prominent news channels and papers reported his death. Later, his daughter Nandana Dev Sen shared her photo with him and clarified that his father was alive and doing fine.
Friends, thanks for your concern but it's fake news: Baba is totally fine. We just spent a wonderful week together w/ family in Cambridge—his hug as strong as always last night when we said bye! He is teaching 2 courses a week at Harvard, working on his gender book—busy as ever! pic.twitter.com/Fd84KVj1AT

— Nandana Sen (@nandanadevsen) October 10, 2023
Sen's family belonged to Manikganj, Dhaka (now in Bangladesh). In 1945, his father, Ashutosh Sen, moved to West Bengal.
His father was a soil scientist and a professor of Chemistry at Dhaka University. After India's independence, he served as the Development Commissioner in Delhi and then as Chairman of the West Bengal Public Service Commission. He passed away in 1971.
His maternal grandfather, Kshiti Mohan Sen, was a great Sanskrit scholar and a close associate of Rabindranath Tagore. He served as the second vice-chancellor of the Vishva Bharati University from 1953 to 1954.
Rabindranath Tagore gave him the name Amartya which means immortal in Hindi. [10]

YouTube – Al Jazeera English Tagore and Kshiti Mohan Sen both influenced Sen's life and awakened his interest in gaining knowledge of various subjects.
He studied at St. Gregory's School in Dhaka for a year before moving to Patha Bhavana of Shantiniketan in 1941. At St. Gregory's School, Amartya was not a bright student. He got the 35th rank out of 37. [11]

YouTube – Talks at Google. In Shantiniketan, he explored different disciplines including physics, psychology, economics, and polity which shaped him as an academician.
In School, his favorite subjects were Mathematics, Sanskrit, and Physics, and he wanted to pursue his higher education in these subjects. However, later he got attracted to economics as it could answer his questions related to famine and social deprivation.
India's partition of 1947 also played a major in drawing her attention towards deprived people of society and economic unfreedom. During an interview, he shared a personal life story, he said,


"One morning, a Muslim daily labourer named Kader Mia stumbled through the rear gate of our home, bleeding from a knife wound in his back. Because of his extreme poverty, he had come to a primarily Hindu neighbourhood in search of work; his choices were the starvation of his family or the risk of death in coming to the neighbourhood. The price of Kader Mia's economic unfreedom was his death. Kader Mia need not have come to a hostile area in search of income in those troubled times if his family could have managed without it. This experience led me to begin thinking about economic unfreedom from a young age."
Sen was diagnosed with oral cancer in the early 1950s while studying at the Presidency College, Calcutta. The doctor said there was a chance that he would live only for the next five years, however, he went through high doses of radiotherapy which cured him completely.
In 1956, Sen started his professional career when the Jadavpur University, Kolkata, appointed him as a professor of Economics and head of the department. At the age of 22, he was the youngest one to head any department in the university.
Sen's doctoral research in Cambridge in the 1950s was supervised by Joan Robinson and greatly influenced by his teachers there, particularly Maurice Dobb. He submitted the paper on the topic 'Choice of Techniques' according to which, workers were expected to demand no improvement in their standard of living despite having become more productive.
In 1959, Sen got married to Nabaneeta Sen who was a scholar, writer, and poetess. Nabaneeta was a visiting professor and a visiting creative writer at several universities including Harvard, Columbia, Chicago (USA), Humboldt (Germany), Universities of Toronto, British Columbia (Canada), Melbourne, and New South Wales (Australia). She retired as a Professor from the Jadavpur University. She received the Sahitya Akademi Award in 1999 and Padma Shri in 2000. She passed away in 2019.
Between 1957 and 1963, Sen held a fellowship at Trinity College, Cambridge. During this time, he also served as a visiting professor at the Massachusetts Institute of Technology from 1960 to 1961. Furthermore, he held visiting professorships at the University of California, Berkeley, from 1964 to 1965 and at Cornell University from 1978 to 1984. From 1963 to 1971, Sen was a Professor of Economics at the Delhi School of Economics.
He taught economics at the London School of Economics from 1971 to 1977. From 1977 to 1988, he taught at the University of Oxford as a professor of economics and later as the Drummond Professor of Political Economy.
In 1978, Sen got married to Eva Colorni, an Italian economist who taught at Delhi University for some time where they both started dating each other. Eva was diagnosed with stomach cancer and died in 1985.
He gave several theories that are published in his books and articles; these theories significantly influence contemporary economic and developmental thoughts, taking into consideration social and political factors. In his book, 'Poverty and Famines: An Essay on Entitlement and Deprivation,' Sen emphasized the fact that famines are highly unlikely to occur in countries with a stable democracy not because stable democracies are good at food production but because stable democracies are more answerable to their people. He argued that famine results not just from a lack of food, but also from the unequal distribution of food.
Sen's interest in famine came from personal experience. As a nine-year-old, he witnessed the Bengal famine of 1943, in which three million people died. Sen concluded that the loss of life in Bengal famines was unnecessary. Despite enough food, lower-middle-class, and poor people couldn't afford it due to rising prices caused by war-related factors. In many famines, including Bengal, food supplies weren't significantly reduced. According to him, factors such as unemployment, reduced wages, and rising food prices were responsible for the starvation. [12]

YouTube – Talks at Google
In his 'Capability Approach Theory,' he emphasizes 'positive freedom', which is about a person's real capacity to do or be something. This is different from 'negative freedom' that is often discussed in economics and is about non-interference. For example, during the Bengal famine, the rural workers had the 'negative freedom' to buy food – no one was stopping them. But they still starved because they lacked 'positive freedom' – they didn't have the means to nourish themselves or the ability to avoid sickness.
Sen's groundbreaking work in development economics emphasizes the "capability" concept, arguing that a government's success should be evaluated based on its citizens' concrete capabilities. He believes that true rights, such as the right to vote, require certain "functions" like education and access to transportation. Only when these are provided can citizens truly exercise personal choice. Each society should determine its list of minimum guaranteed capabilities. Martha Nussbaum's "Women and Human Development" provides a practical example of this approach.
In 1987, Sen was appointed a Professor of Economics at Thomas W. Lamont University of Harvard. In 1998, he became Master of Trinity College, Cambridge. The position of Master of Trinity College in Cambridge is a Royal appointment and is considered the highest academic appointment in the United Kingdom. He became the first Asian and first Indian head of any Oxbridge (Oxford and Cambridge) college.
He established the Eva Colorni Trust at the London Guildhall University (now London Metropolitan University) in memory of his deceased wife.
In 1991, Sen married Emma Georgina Rothschild, a British professor who teaches History at the Jeremy and Jane Knowles of Harvard University.
In 1998, Amartya Sen became the 37th Nobel laureate from Harvard [13]

The Harvard Gazette when he was awarded the Nobel Prize in Economics for his remarkable contributions to Welfare Economics and Social Choice Theory. The Royal Swedish Academy recognized his works on social choice, welfare distributions, and poverty, highlighting his research on individual values, collective decisions, majority rule, individual rights, and information about the welfare of individuals. Moreover, his contributions to indices of welfare and poverty and the welfare of the poorest were also acknowledged. The citation also notes his research on famine, hunger, and poverty. [14]

The Nobel Prize
After winning the Nobel Prize, Amartya Sen made a stopover in Bangladesh on his way back to India. He visited his birthplace and childhood school and was given a civic reception at Balda Garden in downtown Dhaka. This was the same place where Rabindranath Tagore was honored after winning the Nobel. During a simple ceremony at Ganabhaban, Prime Minister Sheikh Hasina presented Sen with a certificate of honorary citizenship and a Bangladesh passport.
In July 2022, Sen refused to receive the Benga Bibhushan Award given by the Bengal Government to honor the services of the people in various fields. A few groups of activists appealed to the intellectuals including Amartya Sen to refuse the award in protest of the West Bengal School Service Commission Scam however, in a press conference her daughter said,


I spoke to my father this morning. He told me that he has received innumerable awards throughout his lifetime. He wants these awards to go to other people." [15]The Economic Times
In his book, The Idea of Justice, Sen places Rawls within one of two divergent strands of modern Western thought about justice. Stretching from Hobbes to Rousseau and Kant, political philosophers have taken the model of a social contract as a way to secure agreement over the allocation of freedoms, obligations, and goods among individuals. Sen calls this "transcendental institutionalism", focused as it is on identifying a singular institutional model, derived from abstract principles.
He founded two trusts, one in India and one in Bangladesh; these trusts focus on elementary healthcare and education, and gender equality.
He worked on the United Nations's Human Development Index (HDI) to assess a country's development. This index is considered the most trusted factor in measuring a country's economic growth over the years. Sen created it along with a Pakistani economist Mahbub-ul-Haq. [16]

The Times of India
Discussing his political inclination, Sen said,


"I have been, on the left of the political spectrum, and still am – in my undergraduate days I had a lot to do with the left, including Marxists. But these are people who in the 1950s were talking about 'bourgeois democracy' in India and I thought that was very stupid, not to see the importance of democracy. I mean, the left were the only people who were talking about inequality and the poor, and the rights of the underdog, so they had my natural sympathy; I just didn't agree with them in all respects. And those who agreed with me about democracy often took the view that you don't have to worry very much about poverty – with economic growth, wealth will trickle down to everybody. And that I didn't believe in either."
Sen knows three languages Bengali, Sanskrit, and English.
He has received over 40 honorary doctorate degrees from universities worldwide, including institutions in Canada, the United States, Madrid, and Portugal.
He is an honorary fellow of several universities around the world including All Souls College, Oxford, Institute of Social Studies, The Hague, Netherlands, London School of Economics, Delhi University, India, and American Academy of Arts and Sciences.
Sen is conscious of gender inequality. In his work, while writing about any person, he ensures he uses feminine pronouns like 'she' and 'her' instead of 'he' and 'him.' [18]

The Times of India