Arundhati Roy Age, Boyfriend, Husband, Children, Family, Biography & More
Quick Info→
Age: 60 Years
Marital Status: Divorced
Hometown: Aymanam, Kottayam, Kerala, India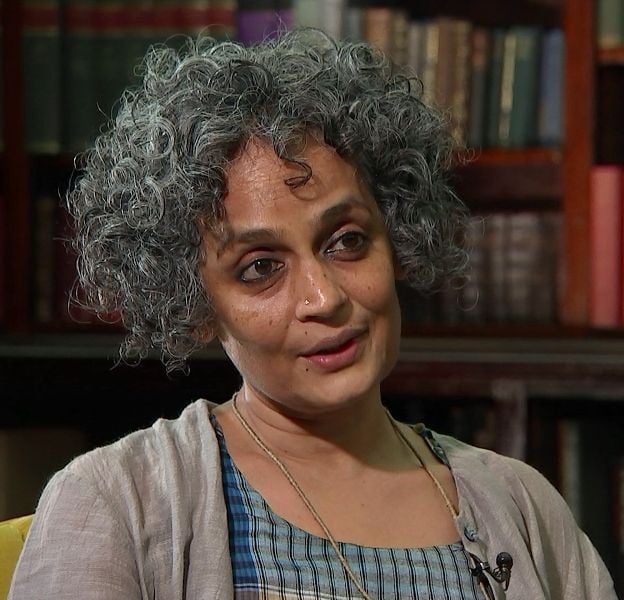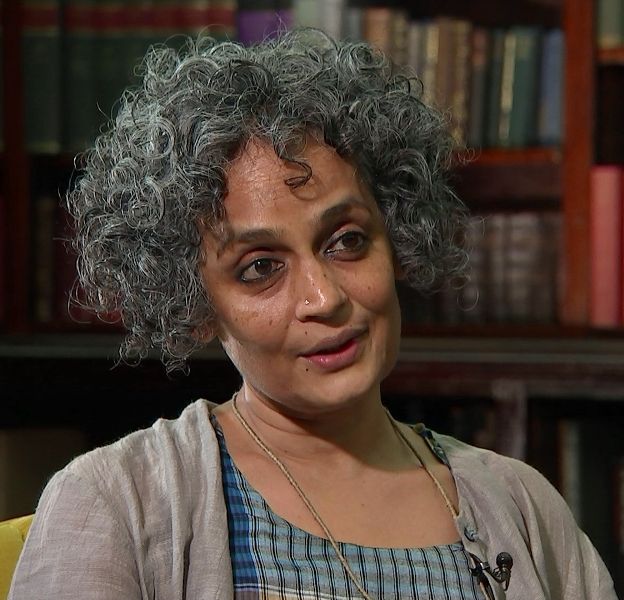 Bio/Wiki
Full name
Suzanna Arundhati Roy [1]

Britannica
Profession(s)
• Author
• Novelist
• Activist
Physical Stats & More
Height (approx.)
in centimeters- 163 cm
in meters- 1.63 m
in feet inches- 5' 4"
Weight (approx.)
in kilograms- 55 kg
in pounds- 121 lbs
Eye Colour
Black
Hair Colour
Salt and Pepper
Career
Awards, Honours, Achievements
• 1989: National Film Award for Best Screenplay for the screenplay of "In Which Annie Gives It Those Ones."
• 1997: Booker Prize for her novel The God of Small Things.
• 2002: The Lannan Foundation's Cultural Freedom Award for her work about civil societies.
• 2003: Awarded "special recognition" as a Woman of Peace at the Global Exchange Human Rights Awards in San Francisco.
• 2004: The Sydney Peace Prize for her work in social campaigns and her advocacy of non-violence.
• 2006: The Sahitya Akademi Award by the Government of India for her collection of essays on contemporary issues, "The Algebra of Infinite Justice," but she declined to accept it.
• 2011: Awarded the Norman Mailer Prize for Distinguished Writing.
• 2014: Featured in the list of Time 100, the 100 most influential people in the world.
Personal Life
Date of Birth
24 November 1961
Age (as of 2021)
60 Years
Birthplace
Shillong, Assam (present-day Meghalaya), India
Zodiac sign
Sagittarius
Signature
Nationality
Indian
Hometown
Aymanam, Kottayam, Kerala, India
School
• Corpus Christi High School (now, Pallikoodam), Kottayam, Kerala, India
• Lawrence School, Lovedale, Nilgiri, Tamil Nadu, India
College/University
School of Planning and Architecture, Delhi, India
Educational Qualification
A Degree in Architecture from the School of Planning and Architecture, Delhi. [2]

British Council
Religion
• Bengali Hindu (Father)
• Syrian Christian (Mother) [3]

New York Times
Hobbies
Cycling, Reading, Writing, Travelling
Controversies
• In 1994, she criticised Shekar Kapoor's film Bandit Queen and accused him of having distorted the story of Phoolan Devi. Her statement caused much controversy and peaked in a lawsuit. [4]

Independent
• In 1999, The Pachmarhi Special Area Development Authority (SADA) in Madhya Pradesh had served a "stop building" order on Arundhati Roy and her husband Krishen for building a house in the protected Pachmarhi area. The SADA notice said that under Section 16 of the state Town and Country Planning Act, 1973, the land use of Pachmarhi and its neighbouring areas had been frozen. [5]

India Today
• In 2001, she attracted controversy for calling convicted terrorist Mohammad Afzal a "prisoner-of-war." Mohammad Afzal aka Afzal Guru was convicted in the 2001 Indian Parliament Attack and was hanged in 2013. [6]

Hindustan Times
• In 2008, she was criticised by Salman Rushdie and others for linking the 2008 Mumbai Attacks with Kashmir and economic injustice against Muslims in India. [7]

The Times of India
• Roy has also attracted a controversy for her description of the Maoists as "Gandhians." In other statements, she has described Naxalites as patriots "of a kind" who are "fighting to implement the Constitution, (while) the government is vandalising it." [8]

The Times of India
• In 2010, she again attracted a controversy for her statement- "Kashmir has never been an integral part of India. It is a historical fact. Even the Indian government has accepted this." For this statement, Roy was also brought up on charges of sedition by the Delhi Police. [9]

The Hindu
• In 2011, she received criticism for criticising Anna Hazare's anti-corruption campaign. [10]

First Post
• In 2013, Roy raised a controversy by describing Narendra Modi's nomination for the prime ministerial candidate as a "tragedy". [11]

The Hindu
In 2019, Arundhati Roy was arrested by the Delhi Police while appealing the general public at Delhi University to mislead the authorities of the National Population register when they would come to enroll them in the National Register of Citizens. She was charged under the sections 295A, 504, 153 and 120B of IPC by Delhi Police. [12]

India Today

Relationships & More
Marital Status
Divorced
Affairs/Boyfriends
Gerard da Cunha (Architect)
Pradip Krishen (independent filmmaker)
Family
Husband(s)
Gerard da Cunha (Architect)

Pradip Krishen (independent filmmaker)

Parents
Father- Rajib Michael Roy (He was a tea plantation manager in Calcutta)
Mother- Mary Roy (a women's rights activist) - She passed away on 1 September 2022 at the age of 89. [13]

Deccan Chronicle

Children
She has two stepdaughters named Mithva Krishen and Pia Krishen from her second husband.

Siblings
Brother- Lalit Kumar Christopher Roy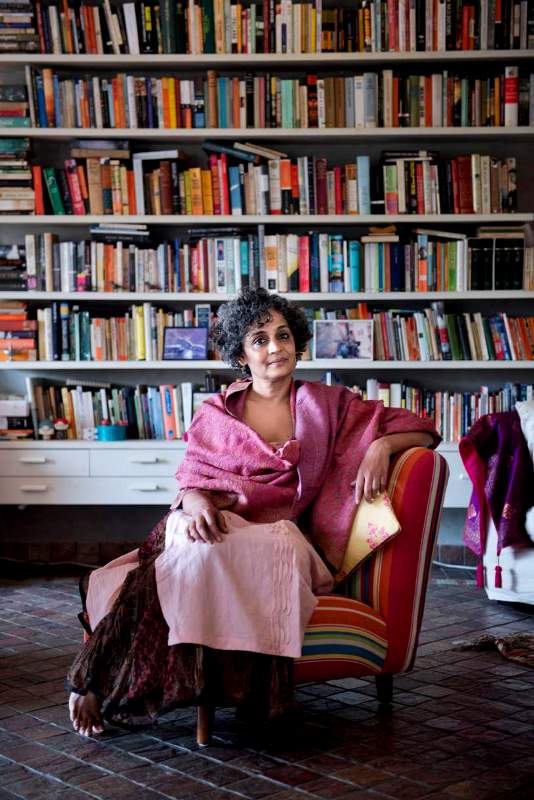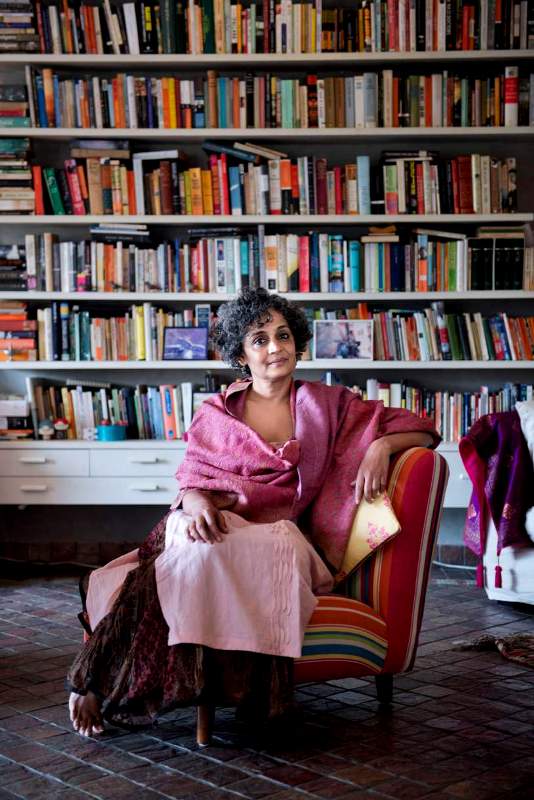 Some Lesser Known Facts About Arundhati Roy
Does Arundhati Roy smoke?: Yes
Does Arundhati Roy drink alcohol?: Yes
Arundhati Roy is a renowned Indian author and novelist. She is the winner of 1997 the Man Booker Prize for her first fiction novel 'The God of Small Things.' She is also a political activist who actively raises her voice against several environmental issues and human rights crusades in India and globally.
She was born to a Bengali Hindu father and a Syrian Christian mother in Shillong, a hill village in the far northeast of India.
Her father was a tea plantation manager from Calcutta and her mother was a women's rights activist from Kerala.
Roy's father was an alcoholic and when Arundhati was 2-years old, her parents divorced. Her mother brought Arundhati back to the family home in Kerala with her older brother, Lalit.
Arundhati grew up in Kerala and was very much influenced by her mother, Mary, who was a lifetime campaigner for women's rights and the founder of a prominent school.
At the age of 16, she left home and enrolled in an architecture college in Delhi where she met an architect named Gerard da Cunha. The two lived together in Delhi, and then Goa, and then broke up.
She returned to Delhi and started working at the National Institute of Urban Affairs.
In 1984, Roy met Pradip Krishen (an Independent Filmmaker) who offered her a role as a goatherd in his award-winning movie Massey Sahib.
The two later married and worked on a television series on India's independence movement. They also worked on two films- "Annie" and "Electric Moon."
Soon, Arundhati was disenchanted with the film world and did various jobs, including running aerobics classes at a five-star hotel.
Eventually, Roy and Krishen split up.
In 1997, at the age of 37, Roy won the Man Booker Prize for her semi-autobiographical book "The God of Small Things." Translated into 42 languages, The God of Small Things has sold more than 8 million copies worldwide and joined the ranks of the classics.
After "The God of Small Things," she stopped writing fiction novels and began writing excoriating political essays highlighting the corruption of the Indian Government & the human cost of the country's race to modernity.
Roy has also written a television serial, "The Banyan Tree," and the documentary DAM/AGE: A Film with Arundhati Roy (2002).
In June 2017, Arundhati's 2nd novel, "The Ministry of Utmost Happiness" was published by Penguin India and Hamish Hamilton UK.
Roy released her next book titled 'The End of Imagination' in 1998 as a response to the Indian government's nuclear weapons testing in Pokhran, Rajasthan. In this book, she criticised the government for nuclear projects and their policies in India.
In 1999, 'The Cost of Living' was the next book that she wrote and published to criticise the construction of hydroelectric dam projects in the central and western states of Maharashtra, Madhya Pradesh, and Gujarat.
In 2001, Roy questioned and raised her voice against the proceedings of the central government for the 2001 Indian Parliament attack, and in 2008, she campaigned against the Batla House encounter case.
In 2001, after the 11 September attacks in America, Roy responded to an opinion piece in the Guardian regarding the invasion of Afghanistan by the U.S. military. Roy declared in a statement that this act was a retaliation by the United States for the 11 September attacks. In the opinion piece, she stated,


The bombing of Afghanistan is not revenge for New York and Washington. It is yet another act of terror against the people of the world."

As per Roy, President George Bush and Tony Blair were the main culprits of the war between the two countries. She affirmed in the Guardian,

When he announced the air strikes, President George Bush said: "We're a peaceful nation." America's favourite ambassador, Tony Blair, (who also holds the portfolio of prime minister of the UK), echoed him: "We're a peaceful people." So now we know. Pigs are horses. Girls are boys. War is peace."

On Taliban's activities amid declaration of strikes by the US, she said,

Now, as adults and rulers, the Taliban beat, stone, rape, and brutalise women, they don't seem to know what else to do with them."

According to Roy, the reason for the stikes on Afganistan was American-style capitalism,

In America, the arms industry, the oil industry, the major media networks, and, indeed, U.S. foreign policy, are all controlled by the same business combines."
Arundhati Roy, along with Medha Patkar, protested against the construction of the Narmada Dam Project in 2002. This construction led to the displacement of half a million people. The reason behind the protest was that the projected irrigation, drinking water, and other benefits were not provided by the local government to the displaced people amid the construction of the dam. Arundhati Roy was featured as an actress by Franny Armstrong in his documentary named 'Drowned Out' about the Narmada Dam Project in 2002.
In 2003, on the border of Kerala and Karnataka, a social movement by Adivasi for their land rights in Kerala was organised by Adivasi Gothra Maha Sabha to conquer a major land piece at the Muthanga Wildlife Reserve. After 84 days of the protest, police was sent to knock down the sabha. Consequently, during the clash between the police and Adivasis, one policeman and a protester died, and the leaders of the protest were arrested. Soon after the incident, Roy visited the area and met the wounded protesters. Later, in a letter to the then Chief Minister of Kerala, A. K. Antony, Roy wrote "You have blood on your hands, Sir." [14]

Frontline
In August 2006, Arundhati Roy, along with Noam Chomsky and Howard Zinn, signed a letter in The Guardian that penned that the 2006 Lebanon war was a "war crime" and blamed Israel for "state terror." 'Queers Undermining Israeli Terrorism' and the South West Asian, North African Bay Area Queers issued this letter on International media. [15]

The Guardian The letter cited,


To honor calls for an international boycott of Israeli political and cultural institutions, by discontinuing Israeli consulate sponsorship of the LGBT film festival and not cosponsoring events with the Israeli consulate."
In 2009, in an opinion to The Guardian, Roy accused the Sri Lanka government of the genocide of the Tamils in Sri Lanka, which she stated was possibly government-sponsored genocide. She pointed it as "a brazen, openly racist war" when the reports from the camps pointed that the Tamilians were herded at these camps in Sri Lanka. She blamed the Sri Lankan government as "Government of Sri Lanka is on the verge of committing what could end up being genocide." [16]

The Guardian Soon after her statement, Roy's remarks were described as "ill-informed and hypocritical" and for "whitewashing the atrocities of the LTTE" by a Sri Lankan writer. [17]

New Indian Express Later, she clarified her statement,


I cannot admire those whose vision can only accommodate justice for their own and not for everybody. However I do believe that the LTTE and its fetish for violence was cultured in the crucible of monstrous, racist, injustice that the Sri Lankan government and to a great extent Sinhala society visited on the Tamil people for decades." [18]Tamil Guardian
In 2008, she demanded the independence of Kashmir from India amid massive demonstrations for the independence of Kashmir by more than 500000 people in Srinagar, India. Roy, along with Hurriyat leader Syed Ali Shah Geelani, was booked with sedition charges by Delhi Police while delivering an anti-India speech at a convention on Kashmir: "Azadi: The Only Way" in 2010. [19]

The Hindu As per Roy,


The rallies were a sign that Kashmiris desired secession from India and not union with India." [20]The Times of India

Soon after the incident, the Bhartiya Janata Party and Indian National Congress responded to her statement,

It would do better to brush up her knowledge of history and know that the princely state of Jammu and Kashmir had acceded to the Union of India after its erstwhile ruler Maharaja Hari Singh duly signed the Instrument of Accession on 26 October 1947. And the state, consequently has become as much an integral part of India as all the other erstwhile princely states have." [21]The Hindu
She is a cousin of Prannoy Roy (the head of the leading Indian TV media group NDTV).
A detailed conversation with Arundhati Roy:
Reportedly, Arundhati Roy left her home to live with her Gerard Da Cunha and for a living, she sold cakes in Goa and later, lived in slum areas of Delhi as they were not able to pay the hostel fees.
Arundhati Roy was spotted while shaking hands with Jammu Kashmir Liberation Front Chairman Yasin Malik on 17 March 2005. They were clicked together while attending the inauguration of a photo exhibition named "Voices for Peace, Voices for Freedom" in New Delhi.
Arundhati Roy refused to take her Sahitya Akademi Award while protesting against the social and religious intolerance in India in 2006.
As per Arundhati Roy, Shakespear, John Berger, Tolstoy were the prominent writers who positively impacted her life and writings. In 2017, in an interview, she disclosed,


Growing up, there were really a lot of Shakespeare, a lot of Kipling. Later on, people like John Berger, Tolstoy, writers like that. In nonfiction, I'd say perhaps pretty high up on my list would be someone like Eduardo Galeano."
In 2017, Arundhati Roy was thrashed by Indian actor-politician Paresh Rawal on Twitter when she defamed the Indian Army.
According to Arundhati Roy, John Lennon was her favourite Beatle. In a conversation with a media house in 2018, she explained why she liked John Lennon. She said,


John Lennon. I can say that in my sleep! Why? Because I always felt that there was a sadness that was wrapped with brilliance. And, this is not the reason that I love him – I also love the way he looks. This morning I woke up and felt a little jealous of seeing Yoko Ono and him together. I was like, "Fuck!" Although it was really before my time, but still…"
Roy was interviewed by FRANCE 24 in 2019 where she narrated the Indian situations amid the Covid-19 pandemic. She stated,


The virus amplifies co-morbidities, and it does the same thing to human societies: "It exposes infirmities, weaknesses and prejudices." On the post-pandemic world, she tells us that if we were "sleepwalking" into a surveillance state before, we're now "panic running."
Arundhati Roy narrated her love for books and writing. In an interview, she spelt out,


Language is my friend. Every time I am able to write to close the gap between language and thought, the blood flows easier in my veins. That is why I think I am always writing."
Arundhati Roy mentioned Narendra Modi and his governance in one of her interviews in 2019. She said,


Modi is back once again, even bigger than before, worshipped like a deity. It's fascinating psychology—pain turned into pleasure for the sake of the nation. The opposition parties behaved pettily and arrogantly with each other, diminishing each other while their ship went down."
Arundhati loves her pet dog. On her social media account, she often posts pictures of her pet dog.