Ganesh Damodar Savarkar Age, Death, Wife, Children, Family, Biography & More
Quick Info→
Father: Damodar Savarkar
Wife: Saraswatibai Savarkar
Age: 65 Years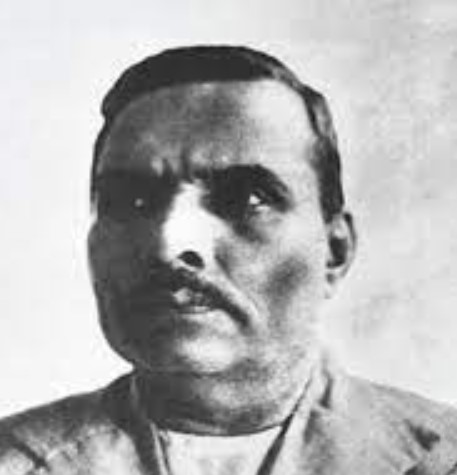 Bio/Wiki
Nickname
Babarao [1]

Haritambhara
Profession
• Freedom Fighter
• Social Activist
Famous for
Being an Indian Freedom Fighter and the brother of Vinayak Damodar Savarkar
Physical Stats & More
Eye Colour
Black
Hair Colour
Black
Personal Life
Date of Birth
13 June 1879 (Friday)
Birthplace
Bhagur, Bombay Presidency, British India (present-day Maharashtra, India)
Date of Death
16 March 1945
Place of Death
Sangli, Bombay Presidency, British India (present-day Maharashtra, India)
Age (at the time of death)
65 Years
Death Cause
Prolonged Illness [2]

Haritambhara
Zodiac sign
Gemini
Caste
Chitpavan Brahmin [3]

Vinayak Damodar Savarkar: The Much-maligned and Misunderstood Revolutionary and Freedom Fighter
Education qualification
Soon after completing his Marathi education, he left for Nashik to pursue higher education in English. [4]

Biography of Ganesh Savarkar
Nationality
British Indian
Hometown
Bhagur, Bombay Presidency, British India (present-day Maharashtra, India)
Relationships & More
Marital Status (at the time of death)
Married
Marriage date
Year, 1896
Family
Wife/Spouse
Yesubai Savarkar

Children
His two children died in infancy. [5]

OP India
Parents
Father- Damodarpant Savarkar
Mother- Radhabai Savarkar
Siblings
Brothers- 2
• Vinayak Damodar Savarkar
• Narayanrao Savarkar
Sister- Mainabai

Some Lesser Known Facts About Ganesh Damodar Savarkar
Ganesh Damodar Savarkar was an Indian freedom fighter. He was also a nationalist and social activist. He was popularly known as Babarao Savarkar. He is known for being the elder brother of Vinayak Damodar Savarkar. In 1904, he co-founded the Abhinav Bharat Society along with his brother Vinayak Damodar.
At the age of twenty, his parents died. Being the eldest brother among the four siblings, the responsibility of the family was single-handedly managed by him. His mother died when he was thirteen years old. His father died in a plague epidemic a few years later.
Reportedly, Babarao Savarkar was the one who persuaded Indian youth to revolt against the British Raj in India by distributing weapons among them. He arranged finance to publish the biography of Mazzini, an Italian revolutionary in India. His revolutionary activities were popular in Bengal, Madras, and Punjab.
At a very young age, he used to study the texts of the books such as Bharatkathasangraha, Pandavpra ap, Ramvijay, Harivijay, Shivleelaamrit and Jaimini Ashwamedha.
During his studies at Nashik, he learnt some yogamudras (yogic postures) from a mendicant named Balabuva. Reportedly, he used to spend 14-15 hours daily practising yoga.
During his involvement in the Indian independence movement, Babarao Savarkar was the leader of an arm revolution against the British government in India. His involvement in the anti-British activities led to his transportation for life to the Andamans jail. His comrade Anant Kanhare assassinated the then collector of Nasik, Jackson as revenge for Ganesh Damodar Savarkar's detention.
Ganesh Savarkar learnt the bomb-making techniques from Pandurang Bapat. Bapat learnt these techniques when he was in Russia and on the advice of Vinayak Savarkar.
Hindu Janajagruti, an Indian website, stated in one of its articles that Babarao was the first one who declared that India was a Hindu nation. Ganesh Damodar Savarkar claimed,


Hindustan is a Hindu nation."
An Indian biographer, Dhananjay Keer, describes in one of his writings that Jackson was responsible for deporting Babarao to cellular jail. Keer described Jackson as,


part of the oppressive machinery of the British Empire" and "…responsible for deporting Babarao…"
Indian politician, M. J. Akbar mentioned Ganesh Savarkar in one of his books titled India: The Siege Within and narrated that Babarao Savarkar was one of the co-founders of the Rashtriya Swayamsevak Sangh (RSS). Akbar wrote,


The five friends who started the RSS were Dr. B. S. Moonje, Dr. L. V. Paranjpe, Dr. Tholkar, Babarao Savarkar and Dr. Hedgewar himself."
Ganesh Damodar Savarkar's essay "Rashtra Mimansa," which was based on the ideology of nationalism, was summarised by Golwalkar in 1938 in his book "We, and our Nationhood, Defined." This book is regarded as a pioneer in explaining the ideological statements of the Rashtriya Swayamsevak Sangh in a systematic manner.
During his detention period in Andaman cellular jail, Ganesh Damodar Savarkar fell victim to the contaminated food, which was served by the Muslim wardens of the jail to the prisoners along with Irish jailor David Barry. Ganesh Damodar Savarkar, along with his fellow beings, held a protest against the contaminated food offered to the Indian prisoners in the jail.
Reportedly, Ganesh Damodar Savarkar was involved in the 'Nasik Conspiracy Case' in 1909. The Bombay High Court website declared in one of its articles that the masterminds of the Nasik Conspiracy Case were the three Savarkar brothers. It mentioned,


Among these thirty-eight persons, one was Vinayak Damodar Savarkar. From the evidence, it was clear that Savarkar (with his two brothers) was the brain, leader, and moving spirit of the conspiracy."
In cellular jail, Ganesh Damodar Savarkar was allowed to meet his brother Vinayak Savarkar on 4 July 1911 after two years of his detention.
At the end of 1919, Ganesh Damodar Savarkar became severely ill due to the maltreatment provided to him in jail. Soon, he was diagnosed with Tuberculosis. The British government denied the basic treatment to him.
In 1921, the Savarkar brothers were transferred to Indian land by the British government after the public pressure and the pleas of Bal Gangadhar Tilak and Surendranath Banerjee. They were transported to Calcutta and kept in Alipore jail.
In January 1922, Ganesh Damodar Savarkar was shifted to Sabarmati jail where he came to know about the conspiracy of pan-Islamists who were planning to invite Amir-Amanullah of Afghanistan to invade India. He requested the British government to release him from jail because he was secretly planning to spread the information about this invasion to the Indian revolutionaries, but due to his bad health conditions, Ganesh Damodar Savarkar was hospitalised by the jail authorities. In September 1922, he was released from jail after thirteen years of severe imprisonment on the plea of his younger brother, Narayan Savarkar.
Soon after his release from the jail, Ganesh Damodar Savarkar worked tirelessly for propagating the ideologies of Hindu Society. He was against Mahatma Gandhi's Hindu-Muslim unity ideology. According to Ganesh Savarkar,


Freedom could not be won by pleadings and petitions, it could be attained by adopting a Russian-style terrorism if need be."
In 1923, Ganesh Damodar Savarkar became a member of 'Tarun Hindu Sabha' (an organisation started by Hindu Mahasabha) and travelled extensively for four to five years all across India to propagate the ideologies of this organisation. The youths between the age group of 16-40 were allowed to participate in this revolutionary organisation only after vowing to participate in the Shuddhi movement. This Shuddhi meant that one should not believe in caste discrimination and must train oneself in self-defence.
In 1924, Dr Keshav Balram Hedgewar, a former member of the revolutionary organisation Anushilan Samiti, met Ganesh Savarkar in Nagpur. Ganesh was impressed by Hedgewar's passion for uniting Hindus. Soon, Ganesh Damodar Savarkar entrusted the responsibility of Nagpur's unit of Tarun Hindu Sabha to Dr Keshav Balram Hedgewar. In 1925, Dr Keshav Balram Hedgewar began another branch of this organisation in Nagpur. This was the initiation of the RSS organisation with the aim to unite Indian Hindus. The pledge of RSS was drafted by Ganesh Damodar Savarkar, who already drafted the pledges of Abhinav Bharat and Tarun Hindu Sabha.
Dr Keshav Balram Hedgewar used to consult Babarao Savarkar regarding the issues and workings of the RSS. In 1932, Ganesh Damodar Savarkar decided to dissolve Tarun Hindu Sabha into the RSS and went on a Maharashtra tour along with Dr Keshav Balram Hedgewar to propagate and expand the network of Sangh.
Ganesh Savarkar died in 1945; however, soon after the assassination of Mahatma Gandhi in 1948, the RSS organisation and his brother Vinayak Damodar Savarkar were linked to Gandhi's assassination. RSS was also banned at that time after it came under suspicion. However, after Vinayak Damodar was cleared from all the killing charges, the ban on RSS was also uplifted in 1949.
Babarao Savarkar used to write articles for some renowned periodicals such as Kesari (Pune), Lokamanya (Mumbai), Maharashtra (Nagpur), Sakaal (Mumbai), Aadesh (Nagpur), and Vande Mataram (Mumbai).
Ganesh Damodar Savarkar was a very religious man. According to some media sources, he used to spend a lot of hours worshipping Hindu deities and religious activities. He was inspired by the ideologies of Swami Vivekananda and Swami Ramtirtha.
Reportedly, all of his children died in infancy, and his wife, Yashoda died when he was imprisoned in Andaman cellular jail.
Ganesh Damodar Savarkar was qualified in Ayurveda, Samudrikas, Sastras, Astrology, Yoga, and Vedanta. Apart from being a freedom fighter and social activist, he was also an author. His first edition was 'Rashtramimansa va Hindusthanche Rashtraswaroop,' which was written by him in Marathi. The name of his other book was 'Hindu Rashtra- Poorvi, aataa, aani pudhe' (Hindu Rashtra – past, present, and future). He also published a disputable book titled 'Christ Parichay' in which he claimed that Christ had been a Hindu by birth.
A statue of Ganesh Savarkar was established by Vinayak Savarkar soon after Ganesh's death.