Nathuram Godse Age, Wife, Death, Family, Biography & More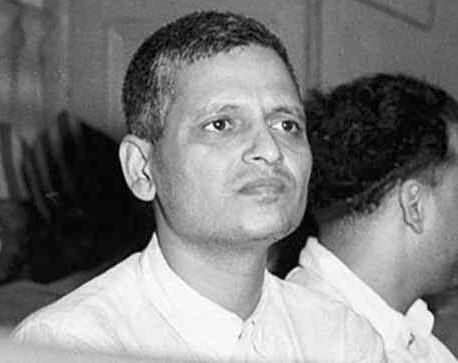 Bio/Wiki
Real Name
Ramachandra
Full Name
Nathuram Vinayak Godse
Profession(s)
Rashtriya Swayamsevak Sangh (RSS) Activist, Politician, Journalist
Known For
Killing Mahatma Gandhi by shooting him three times in his chest
Physical Stats & More
Height (approx.)
in centimeters- 168 cm
in meters- 1.68 m
in feet inches- 5' 6"
Eye Colour
Black
Hair Colour
Black
Personal Life
Date of Birth
19 May 1910
Birthplace
Baramati, Pune district, Bombay Presidency, British India
Date of Death
15 November 1949
Place of Death
Ambala Prison, East Punjab (Now, Haryana), Dominion of India
Age (at the time of death)
39 Years
Death Cause
Hanging
Nationality
Indian
Hometown
Baramati, Maharashtra, India
School
A local school at Baramati, Bombay Presidency, British, India
College/University
Dropout
Educational Qualification
N/A
Religion
Hinduism
Caste
Brahmin
Controversy
The biggest controversy in his life was attacking Mahatma Gandhi twice; first, on 20 January 1948 which was an unsuccessful attack by Godse and his associates and second, on 30 January 1948 which was a successful attack when he shot Mahatma Gandhi three times in his chest.
Relationships & More
Marital Status
Unmarried
Family
Wife/Spouse
N/A
Parents
Father- Vinayak Vamanrao Godse (Worked in Post Office)
Mother- Lakshmi
Siblings
Brother- Gopal Godse (Freedom Fighter)

Sister- 1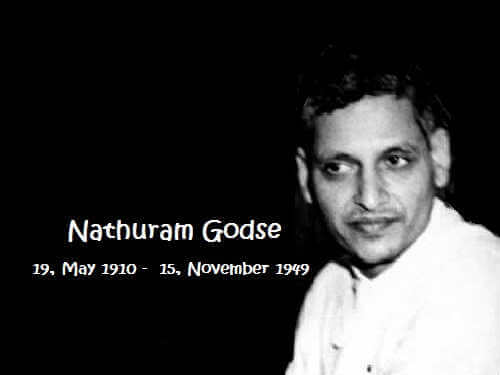 Some Lesser Known Facts About Nathuram Godse
His birth name was Ramachandra. He was re-named as Nathuram to avoid an ill-omen. Before his birth, his parents had three sons and a daughter. Unfortunately, all three sons died and his parents started to treat him as a girl for a few years; his nostrils were also pierced. Thus, he was nicknamed as Nathuram (Literally, A man with pierced nose). When his younger brother, Gopal Godse was born, his parents switched to treating him as a boy. [1]

Firstpost
In his childhood, he highly respected Mahatma Gandhi but, according to him, when Gandhi favoured Muslims, his ideology changed. He started writing his articles to publicised his thoughts.
He got failed in his Matriculation and the next year, Godse dropped out of his High School. Initially, he worked as a carpenter and later he joined Hindu Nationalist Organizations, Hindu Mahasabha.
After joining Hindu Mahasabha, he started a Marathi Language newspaper called, 'Agrani' which was renamed as "Hindu Rashtra" some years later.
In 1932, Godse joined the 'Rashtriya Swayamsevak Sangh' (RSS) in Sangli, Maharashtra in 1932. However, he remained a member of Hindu Mahasabha. He was highly inspired by the Indian Independence activist, Vinayak Damodar Savarkar.
In 1942, Godse founded his own organization, 'Hindu Rashtra Dal' on the day of Vijayadashmi.
In 1946, he left RSS and Hindu Mahasabha for not protecting India from its Partition. Meanwhile, his relations with many RSS and Mahasabha workers soured.
Godse mourned the Partition of Indian and he blamed Mahatma Gandhi for it. The first attempt to assassinate Mahatma Gandhi was made by him and his colleagues on 20 January 1948. On that day, Gandhi Ji was offering prayers in the raised lawns in Birla House, New Delhi. Nathuram Godse along with his colleagues went to the park where Gandhi Ji was delivering a speech. One of his friends threw grenade away to the place where Gandhi Ji was standing. A loud explosion scared and dispersed the public causing a stampede. According to plan, the first grenade was to disperse the crowd and second grenade to kill alone Mahatma Gandhi but his friend, Digambar Badge lost the courage and did not throw the grenade. They (Godse and his friends) all ran away with the crowd except Madanlal Pahwa, who was arrested.
The second attempt to assassinate Mahatma Gandhi was made by Nathuram Godse himself and his friend, Narayan Apte plotted the assassination. On 30 January 1948, Gandhi Ji was moving for his prayer meeting in Birla House in the evening. He was already 10 minutes late for his prayer. Gandhi Ji was flanked by Manuben (Gandhi's great-niece) to the right and Abha (an adopted girl by Mahatma Gandhi) to the left. Godse wearing khaki dress pushed his way through the crowd folding his hands. Manuben thought that he was trying to touch the feet of Gandhi Ji. She tried to move him aside asserting, "Bapu is already ten minutes late, why do you embarrass him." According to Manuben, Godse pushed her aside and shot Gandhi Ji three times, she saw smoke everywhere and Gandhi Ji's hands were folded and trying to say 'Hey Ram.' He was assassinated at 5:17 pm on that day. Gandhi Ji was taken to a nearby room and Col. Bhargava arrived and pronounced the death of Mahatma Gandhi.
American diplomat, Herbert Reiner Jr. standing beside Mahatma Gandhi during the incident, captured Godse. However, according to other reports, Godse surrendered himself.
The pistol used by Nathuram Godse to assassinate Mahatma Gandhi was "Beretta M1934." The pistol was manufactured in the Kingdom of Italy. The pistol was carried by an officer during Italy's invasion of Abyssinia and later, taken by a British officer as a war trophy. It is not known how the pistol reached India.
Apart from Nathuram Godse and Narayan Apte, seven others were also arrested who were behind the conspiracy. They were; Digambar Badge, Shankar Kistayya, Dattatraya Parchure, Vishnu Karkare, Madanlal Pahwa, Gopal Godse (Brother of Nathuram Godse), and Vinayak Damodar Savarkar.
The trial began on 27 May 1948. Eight out of nine were charged with murder conspiracy and Vinayak Damodar Savarkar was charged for violation of the Explosive Substances Act. He was acquitted and set free due to lack of evidence. On 10 February 1949, Nathuram Godse and Narayan Apte were sentenced to death by hanging and remaining six (including Nathuram Godse's brother, Gopal Godse) were sentenced to life imprisonment.
All except Nathuram Godse appealed for less severe punishment but their appealed were turned down. Nathuram Godse proudly accepted his death sentence. Even Gandhi's two sons, Manilal Gandhi and Ramdas Gandhi appealed for commutation but their appeal was also rejected by the then Prime Minister of India, Jawaharlal Nehru, Vallabhbhai Patel, and the Governor-General, Chakravarti Rajagopalachari.
In his statement, "Why I Killed Gandhi," he clarified that Gandhiji supported the idea of a separate State for Muslims. He was solely responsible for dividing India. Despite Pakistani aggression in Kashmir, Gandhi Ji fasted to compel the government of India to release the amount of Rs. 55 crores to Pakistan. The aggressive and war-like behaviour of Muslims was a result of Gandhiji's policy of appeasement.
When Nathuram Godse was explaining his motivation for murder in the Punjab High Court, Shimla, G.D. Khosla, one of the judges who heard the assassination proceedings, wrote –
"The audience was visibly and audibly moved. There was a deep silence when he ceased speaking. (…) I have, however, no doubt that had the audience of that day been constituted into a jury and entrusted with the task of deciding Godse's appeal, they would have brought a verdict of "not guilty" by an overwhelming majority."

— G.D. Khosla, Chief Justice of Punjab
Nathuram Godse and Narayan Apte were hanged in Ambala Jail on 15 November 1949.
Gopal Godse, a co-accused and the brother of Nathuram Godse, wrote a memoir "May It Please Your Honor" which was published in 1967 but was immediately banned by the government of India on the grounds of fear that it would promote hatred between Hindus and Muslims. However, in 1977, when the Indian National Congress lost the elections and the new government came to power, the ban was uplifted.
In 2014, when the Bharatiya Janata Party came to power, the Hindu Mahasabha made attempts to rehabilitate Nathuram Godse and portray him as a patriot. It requested Prime Minister, Narendra Modi to install the bust of Godse. It made a documentary film also titled "Desh Bhakt Nathuram Godse" (Patriot Nathuram Godse).
During the election campaign for the 2019 General Elections, the BJP candidate for the Bhopal Lok Sabha constituency, Sadhvi Pragya Thakur referred to him as a patriot.