Major Shaitan Singh Bhati Age, Death, Wife, Family, Biography & More
Quick Info→
Age: 37 Years
Wife: Shagun Kanwar
Death Date: 18/11/1962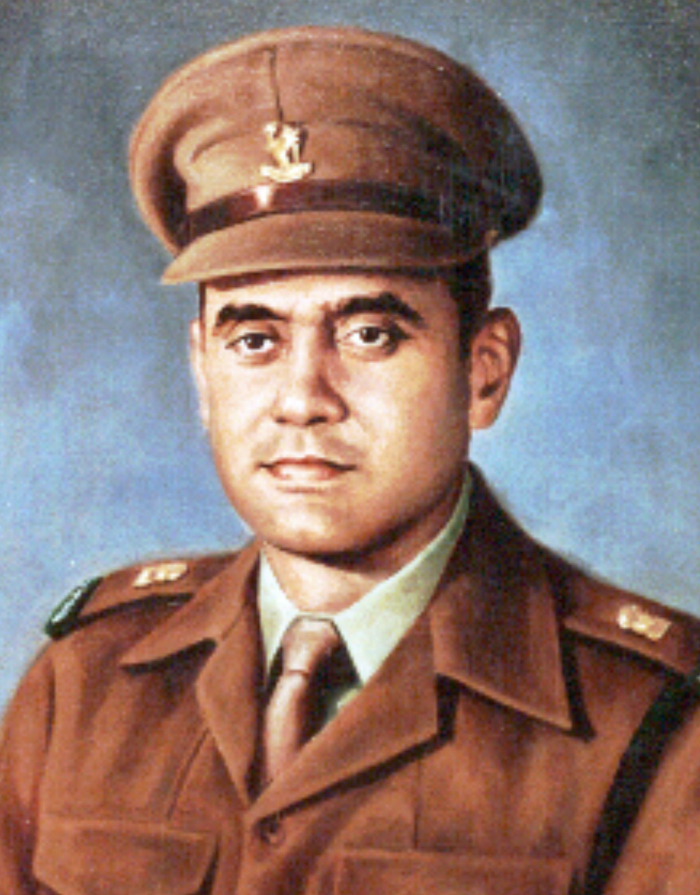 Bio/Wiki
Names earned
Saviour of Ladakh [1]

Medium
Profession
Army Personnel
Famous for
The Battle of Rezang La
Military Service
Service/Branch
Indian Army
Rank
Major

Service Years
31 July 1949 - 18 November 1962 (till his death)
Unit
13th Battalion of the Kumaon Regiment
Service Number
IC-6400
Command
Major Shaitan Singh was the Company Commander of the Charlie Company of 13 Kumaon
Career Ranks
Second Lieutenant (1 August 1949)
Captain (25 November 1955)
Major (11 June 1962)
Awards, Honours, Achievements
• Param Vir Chakra (Posthumous)


• A shipping tanker was named as MT Major Shaitan Singh PVC

• The native village of the martyred soldier has been named after him


• Indian of the year lifetime achievement award by CNN-IBN

• Army Postal Service Corps released a postal cover in his honour

Personal Life
Date of Birth
1 December 1924 (Monday)
Age (at the time of death)
37 Years
Birthplace
Jodhpur, Rajasthan, British India
Zodiac sign
Sagittarius
Nationality
Indian
Hometown
Jodhpur
School
Chopasni Senior Secondary School
College/University
Jaswant College
Caste
Rajput [2]

Stories of Heroism: PVC & MVC Winners by BC Chakravorty
Address
VPO Shaitan Singh Nagar, Tehsil Phalodi, Jodhpur, Rajasthan - 342301, India
Relationships & More
Marital Status
Married
Family
Wife/Spouse
Shagun Kanwar (died at the age of 86)

Children
He had a son named Narpat Singh Bhati.


Parents
Father- Lieutenant Colonel Hem Singh Bhati, OBE


Mother- Mother's name not known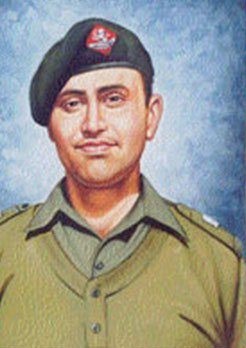 Some Lesser Known Facts About Major Shaitan Singh
Major Shaitan Singh Bhati is a recipient of the Param Vir Chakra, which is India's highest gallantry award. He was given this award posthumously for his role in the Battle of Rezang La, which was fought against the invading Chinese forces in 1962. Major Shaitan Singh Bhati is also referred to as the Hero of Rezang La.
Major Bhati was born in Jodhpur into a family, that has a rich history of military service.
Major Shaitan Singh Bhati's father, Lieutenant Colonel Hem Singh Bhati, was also an officer in the British Indian Army and was awarded the Order of the British Empire for his meritorious service during World War 1.
He was an excellent football player and was also the Captian of his school's football team.
Major Shaitan Singh Bhati, the Hero of Razang la standing 2 from right top row.

He was a very good footballer and was a Captain of Rajput Chopasni school football team.

The devil for enemies, Major Shaitan Singh Bhati was one of the bravest soldiers who died for his motherland. pic.twitter.com/ghltT2ey2g

— Suraj Pratap Singh (@SurajPrSingh) November 18, 2019
As an officer in the Jodhpur state military, he was a part of the Durga Horse, which is the present-day Indian Army's 61st Cavalry.
After India attained freedom from British rule, Jodhpur became a part of free India. Major Shaitan Singh Bhati was then transferred from the Jodhpur State military to the Indian Army's 13th Battalion of the Kumaon Regiment.
Major Shaitan Singh Bhati gained rich military operational experience in the army as he participated in the 1961 Liberation of Goa operations against the Portuguese and was also actively involved in the counter-insurgency operations in the state of Nagaland.
Shaitan Singh Bhati was promoted to the rank of Major just a few months prior to the beginning of the war.
Major Shaitan Singh decided to ignore the orders to retreat, and rather decided to stand his ground along with the 124 men of the company which he commanded.
Major Shaitan Singh and his men from Charlie Company are said to have killed more than 1300 of the enemy soldiers.
Major Bhati and his men were ordered by the army to retreat from Rezang La, but all of them refused to retreat and defied direct orders.
Major Bhati as the Company Commander decided not to retreat and leave his post, but he gave his men which were under his command, an equal opportunity to decide whether they wanted to leave or whether they wanted to stay and fight to the end.
During the entire course of the Battle of Rezang La, 114 men out of 120 men in his company died while fighting the enemy.
His company had absolutely zero support from the headquarters and were completely cut off from the rest of the Battalion.
Major Shaitan Singh was injured in the right hand and lower abdomen when he was moving from one position to another.
Ignoring all of his injuries, Major Shaitan Singh Bhati continued fighting the enemy in the bitter cold of November.
Major Bhati asked one of his men, Sepoy Ramchander (later retired as an Honorary Captain), to go back to safer lines and tell the world their story, that how a company of 120 men fought against the waves of Chinese assaults till their last breath.
While being evacuated due to the injuries he had received, the Chinese opened heavy artillery and machine-gun firing upon him, as a result of which he ordered his men to leave him to his fate and find some cover.
Major Shaitan Singh Bhati died because of bleeding caused by the gunshot wounds he had received during the battle of Rezang La.
Major Shaitan Singh Bahti's soldiers did not wanted the Chinese to find and capture his dead body, so they decided to hide his body near a big boulder and covered it with ice.
"कुछ भी हो जाए, मेजर साहब का मृत शरीर दुश्मन के हाथ नहीं लगना चाहिए".

With Honorary Capt Ram Chander Yadav and Honorary Naib Subedar Nihal Singh. They fought at Rezang La, shoulder to shoulder with Major Shaitan Singh Bhati, PVC. #18November1962

Coming soon. Only on #Patriot pic.twitter.com/bbQMpuPMGm

— Major Gaurav Arya (Retd) (@majorgauravarya) November 18, 2018
Major Shaitan Singh Bhati's body was discovered three months after the Battle of Rezang La, with his weapon still in his hands and his watch on his wrist.
Major Bhati used to jokingly say to his men, as his watch had a mechanism that worked only on the pulse of the wearer.


I will only die when this watch stops ticking."
S.S. Bhati
The West End Watch Co watch which witnessed Blood, Courage and Sacrifice. It witnessed The Battle of Rezang La. Wrist watch of Major Shaitan Singh, PVC which was recovered from his dead body.@adgpi @Maverickmusafir @37VManhas pic.twitter.com/U8rT2EzFoB

— Jai Samota (@jai_samota) December 25, 2021
Nobody believed Captain Ramchander when he told the headquarters that they had killed roughly about 1300 enemy soldiers during the Battle of Rezang La. [8]

The Indian Express
It was only after the bodies of the 114 dead troops were found, well preserved by mother nature at Rezang La, that the truth was of the battle of Rezang La was finally unearthed.
After the bodies of 114 brave soldiers who had died in the battle of Rezang La were found, they were cremated at the battlefield itself, whereas the body of Major Shaitan Singh was flown back to his ancestral village in Rajasthan.
Battle honour of Rezang La and Theatre Honour Ladakh (1962) was presented to 13 Kumaon; owing to the bravery of Major Shaitan Singh Bhati and his 120 men of Charlie Company.
The Chinese forces had to face a lot of casualties during the Battle of Rezang La, which made them believe that now the Indian Army was better positioned and would repulse any further invasion attempts of the Chinese Army, as a result of which, two days later, they declared a ceasefire on 21 November 1962 from their side.
After the Battle of Rezang La, the entire Charlie Company of the 13th Kumaon had to be raised once again. The government of India decided to rename this company as the Rezang La company to honour the brave men of Charlie Company who fought and died during the Battle of Rezang La. [10]

ADGPI- Indian Army Official Facebook Post
The place where the battle of Rezang La was fought is also called as the 'Ahir Dham' by the Indian Army, in honour of the 114 Ahirs of the Kumaon Regiment who had fought and were martyred in the battle of Rezang La alongside their company commander Major Shaitan Singh Bhati, PVC.