Nirmal Purja Height, Age, Wife, Children, Family, Biography & More
Quick Info→
Wife: Suchi Purja
Age: 38 Years
Hometown: Dana, Myagdi, Nepal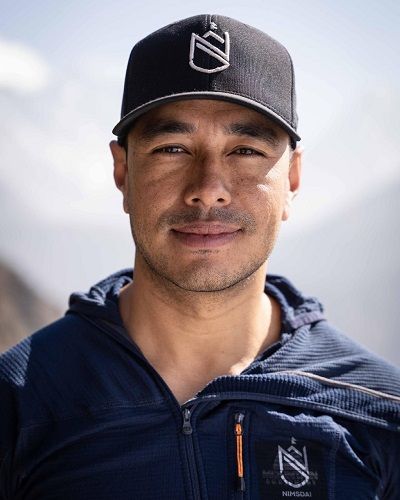 Bio/Wiki
Other name(s)
Nirmal "Nims" Purja [1]

Redbull.com and Nimsdai [2]

Nimsdai Official Website
Profession(s)
Mountaineer and Former Army Personnel
Physical Stats & More
Height (approx.)
in centimeters- 173 cm
in meters- 1.73 m
in feet & inches- 5' 8"
Eye Colour
Brown
Hair Colour
Black
Career
Record(s)
• Fastest ascent of fourteen eight-thousander mountains in a record time of six months and six days with supplemental oxygen (2019)
• Fastest ascent of Mount Everest, Lhotse, and Makalu in 48 hours (2019)
• First winter ascent of K2 (2019)
• Guinness World Record: First Person to summit Mt. Everest (twice), Lhotse (once), and Makalu (once) in one season in 17 days (2018)
• Climbing five fastest summits of the three highest mountains in the world, Everest, K2, and Kanchenjunga (2019)
• The fastest summit of the five highest mountains in the world, Everest, K2, Kanchenjunga, Lhotse, and Makalu (2019)
• Fastest lower eight-thousanders, Gasherbrum 1, 2, and Broad Peak (2019)
• Fastest higher eight-thousanders, consecutive summits of Everest, Lhotse, and Makalu in 48 hours (beats his previous record of 5 days) (2019)
• Guinness World Record: The fastest time from the Summit of Everest to the summit of Lhotse in 10 hours and 15 minutes (2019)
• Guinness World Record: Fastest consecutive summits of Everest, Lhotse, and Makalu taking a total of 5 days, 3 hours and 35 minutes (2019)

• Climbing 8000 m mountains in the spring season (2020)
• Climbing six 8000 m mountains in the summer season (2020) [3]

Manoj Bohara
Personal Life
Date of Birth
25 July 1983 (Monday)
Age (as of 2021)
38 Years
Birthplace
Dana, Myagdi, Nepal
Zodiac sign
Leo
Nationality
British
Hometown
Dana, Myagdi, Nepal
School
Small Heaven School, Bharatpur, Nepal
College/University
Loughborough University, Loughborough, England
Educational Qualification
A post-graduate diploma in Security and Risk Management (2012-2014) [4]

LinkedIn- Nirmal Purja
Religion
Hinduism [5]

Wikipedia- Nirmal Purja
Ethnicity
Magar [6]

Kathmandu Post
Tattoo
An Everence tattoo on his back

Relationships & More
Marital Status
Married
Marriage Date
Year 2006
Family
Wife/Spouse
Suchi Purja (dental therapist and director at Mountain Philantrophy Limited in Eastleigh, Hampshire)

Parents
Father- Name Not Known (served as soldier in the Gurkha army)
Mother- Name Not Known (farmer)

Siblings
Brother- He has three elder brothers who serve as soldiers in the Gurkha army.
Sister- He has one sister.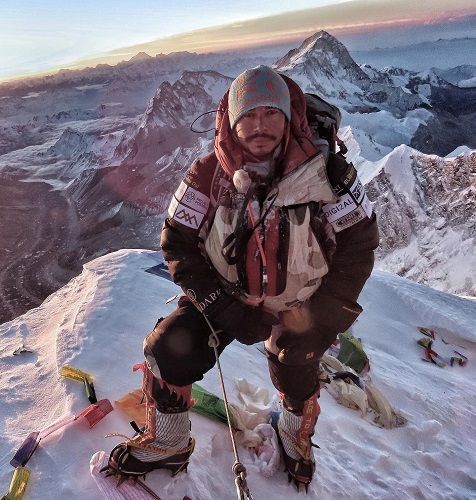 Some Lesser Known Facts About Nirmal Purja
Nirmal Purja is a British mountaineer and former Gurkha and British army personnel who was born in Nepal.
He was brought up in Chitwan, Kathmandu, Nepal.
In an interview, while talking about his journey, he said,


As a kid in Nepal, I went barefoot because my family had nothing. That's how I developed the resilience I needed for joining the Gurkhas, one of the most fearless forces in the British Army. Then against all odds, I became the first-ever Gurkha soldier in more than 200 years of history to join the Special Boat Service where I served in some of the world's most dangerous warzones, kicking down doors to capture enemy gunmen and terrorist bomb makers."

He added,

But elite combat wasn't enough. I wanted more of a test. That's where my next project came in, something nobody thought was possible – to climb all fourteen "death zone" mountains in seven months. The previous standard for conquering the world's most dangerous peaks was seven years, ten months and six days. I smashed through that achievement in six months, breaking several world records in the process. I'd have been even quicker had I not been called in to lead four perilous, high-altitude rescue missions. I knew that to quit on the mountain was to die. Even though I'd only started my climbing a few years earlier, as a hobby, I found I was able to adapt quickly to the deadly conditions. I was rarely phased by the lung-burning temperatures or brutal winds and fatigue seemed to pass me by. Fear became irrelevant because I had belief. In the death zone, I came alive."
He used to participate in various sports like boxing and basketball while he was in school.
When he was 18 years old, he fulfilled his childhood dream of joining the Gurkha army as a soldier. For almost six years, he served the Gurkha army, and then he joined the UK Special Boat Service (SBS) as a cold-weather warfare specialist. He is the first Gurkha to join the UK Special Boat Service (SBS).
He then resigned from his position in the UK Special Boat Service and joined the Special Air Services (SAS) unit in 2018.
During his services in the army, he started developing an interest in mountain climbing. In 2012, he completed his first trek to the Everest Base Camp. He then did a trek of 6119-metre to the Lobuche East Peak, Nepal.
After almost a year, he led 13 Gurkhas to Everest. Within 15 days, he climbed the Dhaulagiri mountains (8,167 metres) on 18 May 2014.
On 13 May 2016, he completed the Mount Everest summit. On 15 May 2017, he completed the Gurkha expedition "G200E" in which he led the 13 Gurkhas to Everest on the eve of completing 200 years of Gurkha services in the British Army.
On 9 June 2018, he was appointed as the Member of the Order of the British Empire (MBE) by Queen Elizabeth II for his achievements in high altitude mountaineering.
On 23 April 2019, he completed the first mountain summit during his expedition to the 14 mountains (of more than 8000 metres each).
On 24 May 2019, he finished his first six mountains (Annapurna, Dhaulagiri, Kanchenjunga, Mount Everest, Lhotse, and Makalu) summit and completed his "Project Possible 14/7" with all seven summits. Within 12 days, he completed his last five summits. In the "Project Possible 14/7," he travelled the mountains including Nanga Parbat (8126 m), Gasherbrum I (8080 m), Gasherbrum II (8034 m), K2 (8611 metres), and Broad Peak (8047 m) in Pakistan.
He finished the Shishapangma (8027 m) summit along with his team members (with the special permission of the Chinese government) on 1 October 2019.
He completed the K2 (8,611 m) expedition along with nine other Nepali mountaineers including Mingma David Sherpa, Mingma Tenzi Sherpa, Geljen Sherpa, Pem Chiri Sherpa, Dawa Temba Sherpa, Mingma Gyalje Sherpa (Mingma G), Dawa Tenjin Sherpa, Kilu Pemba Sherpa, and Sona Sherpa on 16 January 2021. Nirmal was the only member of the team to finish the expedition without taking supplemental oxygen.
On 27 December 2019, he shared an Instagram post about the tattoo which he got inked on his back. His tattoo signifies his summit to the world's tallest 14 mountains. While sharing the post on Instagram, he wrote the caption,


I always wanted to have a tattoo but i never knew what I really wanted until I came to know about @everence.life . .Everence is a revolutionary technology that transforms a tattoo or a piece of jewelry into a way to carry a loved one special experience with you forever. .I had the DNA of my whole family added into my Everence tattoo. I chose DNA because it's the most unique element of each of us. .It was a very easy process, all DNA was collected with a simple cheek swab kit. .For me there was 2 reasons why I got an @everence.life tattoo. One was to take my family into the journey that I was undertaking, the journey that no human being has ever taken before. I wanted to take them with me to places they would never see. And the second but most important: I knew I had to get back for my family at any costs. I knew I would push myself more then anything else but Equally I didn't wanted to break that thin line between being brave and being stupid. Having their Everence with me was a constant reminder that no matter what, I was making it home to my family. .It's a powerful product and recommend you check out what these guys are doing @everence.life for yourselves."
In an interview, while talking about Nirmal, his school's science teacher said,


While other students aspired to become doctors and engineers, he took sports very seriously."
He took a photo of the overcrowding on Mount Everest in May 2019, which went viral on the internet and was published in New York Times. In an interview, while talking about the photograph, he said,


I need to correct that one, the people's perception, because only I know. If you compare the number of people who climb Everest to the number who climb Mt. Blanc, it is like only 2 percent. But people don't talk about how crowded Mt. Blanc is. Also, the number who have climbed Everest is about the same per year since 2008. What happened in 2019 was the rope-fixing teams were slow, and there were only two good-weather days all season. Normally, you have the whole of May to climb. Now remember, all of the people on the mountain had sacrificed, worked hard and, in many cases, spent a lot of money to reach their dream of standing on top. So all of them went for the summit basically in one day. I got stuck in that traffic, too, and only took the picture as evidence to show how my own attempt at a world Everest/Lhotse speed record was impacted. The photo ended up sending the wrong message to the rest of the world. Hopefully that [kind of overcrowding] situation won't happen again."
In an interview, he shared that he had to sell his house in Britain to raise funds for the mountain expedition. He said,


When I told people about the project, they laughed. They said it wasn't possible. That's why I named it Project Possible. I asked help from everyone – from my friends and relatives. I also launched a crowd funding campaign. think the biggest thing is about discovering your body, your limitations, and what you can do and what you can't do," he says. "That's when you have the baseline and you operate from there. For me, as I said, I didn't climb mountains since I was a kid, I was only into this field for like four or five years at that point and I'm still discovering more stuff about my body. That's what I was investing in."
His autobiography titled "Beyond Possible: One Soldier, Fourteen Peaks- My Life in the Death Zone" was published in various languages in 2020.
A Netflix documentary titled "14 Peaks: Nothing Is Impossible" based on his mountain expedition was released on 29 November 2021.
He is spotted drinking alcohol at various parties and events.
During an interview, he shared his experience as a mountaineer. He said,


The biggest thing, what I said to you earlier, what the mountain teaches is humbleness. You're not bigger than a mountain at the end of the day. The mountains stand tall, doesn't matter how the weather is, how the storm is, whatever it is. It's so neutral. We are human, we have emotions, we have everything. We have a lot to learn from the mountains."

He continued,

For me, when there is a critical moment, should I go to the summit or should I not, I am always honest to myself. Can I really do this? Or is it just because of my ego? Or is it just because I want to prove to the world or just because I want to show it or it's just because I hope I can do it? The answer is, if you're hoping and if there's all that stuff, and if you're not honest to yourself, you pull out. That's the only reason you stay alive, being honest to yourself."
Fill & Win iPhone 14 Pro Max
Get a Chance to Win an iPhone 14 Pro Max*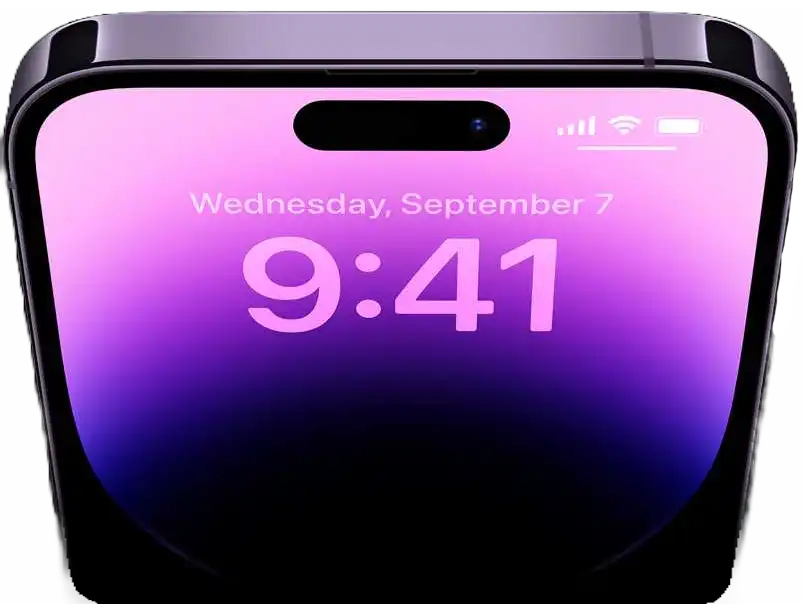 Last Month's Winners

Enter birthdays of your family & friends to win an
iPhone14 Pro Max.