Rambhadracharya Age, Wife, Family, Biography & More
Quick Info→
Marital Status: Unmarried
Hometown: Uttar Pradesh
Age: 73 Years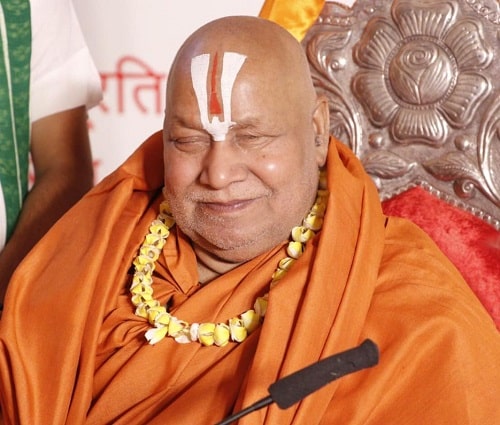 Bio/Wiki
Real name
Giridhar Mishra or Pandit Giridhar
Profession(s)
Spiritual Leader, Educator, Poet, Author, Philosopher, Composer, Singer, Playwright, Preacher of Religious Kathas
Known As
Jagadguru Ramanandacharya Swami Rambhadracharya
Physical Stats & More
Height (approx.)
in centimeters- 165 cm
in meters- 1.65 m
in feet & inches- 5' 5"
Eye Colour
N/A (blind)
Hair Colour
Bald (earlier black)
Career
Awards, Honours, Achievements
Awards
• 1974: Five gold medals at the Akhila Bharatiya Sanskrit Adhiveshan (All India Sanskrit Conference), New Delhi, presented by Indira Gandhi, then Prime Minister of India
• 1974: Gold Medal, Shastri (Bachelor of Arts) examination, awarded by the Sampurnanand Sanskrit University, Varanasi
• 1976: Gold medal for standing first in an all-India Sanskrit debate competition, presented by M. Channa Reddy, then Governor of Uttar Pradesh
• 1976: Chancellor's Gold Medal, awarded by the Sampurnanand Sanskrit University, Varanasi
• 1976: Seven gold medals, Acharya (Master of Arts) examination, awarded by the Sampurnanand Sanskrit University, Varanasi
• 1999: Kaviraj Vidya Narayan Shastri Archana-Samman Award, awarded by the Kaviraj Vidya Narayan Shastri Archana-Samman Committee, Bhagalpur, Bihar, for contributions to the Sanskrit language
• 2000: Vishishta Puraskar, awarded by the Uttar Pradesh Sanskrit Samsthana, Lucknow
• 2003: Rajshekhar Samman, awarded by the Madhya Pradesh Sanskrit Academy, Bhopal, for the Śrīrāghavakṛpābhāṣyam commentary on the Prasthanatrayi
• 2003: Bhaurao Deoras Award, awarded by the Bhaurao Deoras Seva Nyas, Lucknow
• 2003: Diwaliben Award for Progress in Religion, awarded by the Dewaliben Mehta Charitable Trust, Mumbai, presented by P. N. Bhagwati, former Chief Justice of India
• 2003: Ativishishta Puraskar, by the Uttar Pradesh Sanskrit Samsthana, Lucknow
• 2004: President's Certificate of Honour or Badarayana Puraskar, presented by A. P. J. Abdul Kalam, then President of India
• 2005: Sahitya Akademi Award in Sanskrit for the epic Śrībhārgavarāghavīyam
• 2006: Shreevani Alankaran, awarded by the Jaydayal Dalmiya Shri Vani Trust for the epic Śrībhārgavarāghavīyam, presented by Somnath Chatterjee, then Speaker of the Lok Sabha
• 2006: Banabhatta Award, awarded by Madhya Pradesh Sanskrit Board, Bhopal, for the epic Śrībhārgavarāghavīyam
• 2007: Goswami Tulsidas Samarchan Samman, awarded by the Tulsi Research Institute, Municipal Corporation, Allahabad, presented by Ramesh Chandra Lahoti, former Chief Justice of India
• 2007: Vachaspati Award, awarded by the K. K. Birla Foundation, New Delhi, for the epic Śrībhārgavarāghavīyam., presented by Shailendra Kumar Singh, then Governor of Rajasthan
• 2011: Tulsi Award 2011, awarded by Morari Bapu on the eve of Tulsi Jayanti
• 2011: Dev Bhumi Award, awarded by the Government of Himachal Pradesh, Shimla, presented by Joseph Kurien, then Chief Justice of Himachal Pradesh High Court

Honours
• 1998: Dharmachakravarti, awarded by the World Religious Parliament, New Delhi, in recognition of meritorious contribution to world development
• 1999: Mahakavi, awarded by the Akhil Bharatiya Hindi Bhasha Sammelan, Bhagalpur, Bihar, for invaluable contributions to the popularisation and enrichment of the Hindi language, literature, and culture
• 2000: Mahamahopadhyay, conferred by the Lal Bahadur Shastri Sanskrit Vidyapeeth, New Delhi. Presented by Maharaj Krishnakav, the then Education Secretary of the Ministry of Human Resource Development at the fourth convocation of the university on 11 February
• 2002: Kavikularatna, awarded by Sampurnanand Sanskrit University, Varanasi
• 2004: Awadh Ratna, by the Awadh Vikas Parishad, Allahabad
• 2006: Sanskrit Mahamahopadhyay, awarded by the Hindi Sahitya Sammelan, Prayag
• 2013: Purvanchal Ratna
• 2015: Padma Vibhushan, India's second highest civilian honour, awarded by the Government of India

• 2015: Yash Bharati awarded by the Government of Uttar Pradesh

• 2015: Vishva Bharati awarded by the Government of Uttar Pradesh
Personal Life
Date of Birth
14 January 1950 (Saturday)
Age (as of 2023)
73 Years
Birthplace
Shandikhurd, Jaunpur district, Uttar Pradesh, India
Zodiac sign
Capricorn
Signature
Nationality
Indian
Hometown
Uttar Pradesh
School
Shri Radha Krishna Gaurishankar Sanskrit Adarsh Mahavidyalaya (SRKGSAM), Pratapgarh Uttar Pradesh (started on 7 July 1967)
College/University
Sampurnanand Sanskrit University in Varanasi, Uttar Pradesh

Note: He pursued his BA, MA, and PhD at Sampurnanand Sanskrit University in Varanasi, Uttar Pradesh.
Educational Qualification(s)
• Bachelor of Arts (advanced studies in Vyakarana; in 1971)
• Master of Arts or Acharya
• PhD or Doctoral Vidyavaridhi (completed on 14 October 1981; under the guidance of Pandit Ramprasad Tripathi)
Religion
Hinduism
Caste
Saryupareen Brahmin (Vasishtha Gotra of the Ramanandi sect)
Controversies
• Criticised for Editing Ramcharitmanas
In November 2009, there was a big argument in Ayodhya about a book called the Tulsi Peeth. Some people were upset with Rambhadracharya because they believed he changed parts of the book. They accused him of doing something disrespectful to the original text. The president of Ram Janmabhoomi Nyas, Nritya Gopal Das, said that Rambhadracharya should admit his mistake. They claimed that he altered some verses, changed the order of certain lines, and even renamed some parts of the book. A media report mentioned that on page 59 of the edition, Rambhadracharya was called a Rishi, and this was questioned by the chairperson of Akhil Bharatiya Akhara Parishad, Mahant Gyan Das. He said that term "Rishi" should only be used for specific individuals, not for Rambhadracharya. Mahant Gyan Das and Nritya Gopal Das also said that Rambhadracharya removed certain verses and added new words without any proper reason. They said that a group of Saints and Dharmacharyas had a meeting and decided that Rambhadracharya should say sorry. If he didn't apologize, they might consider removing him from the position of Jagadguru in the upcoming meeting of the Parishad. Rambhadracharya's followers, however, denied these charges and said that he did not delete any verses or replace words. Rambhadracharya himself spoke to a media house and clarified that he only edited the Ramcharitmanas published by Geata Press, Gorakhpur. He expressed his frustration with the accusations against him and said,

"They have pronounced me guilty without even going through my book."

Rambhadracharya believed that the controversy surrounding the Tulsi Peeth edition was an attempt to damage his reputation and force him to pay money. When people called him a Rishi, he explained that he considered himself a Rishi because he had created a new Mantra for offering oblation to the Ramcharitmanas. In 2010, Rambhadracharya responded to the controversy by stating that he had only edited existing copies of the epic and had not changed the original epic itself. He compared his edits to what Nanda Dulare Vajpayee had done for the Gita Press edition published in 1949. The dispute was resolved on 8th November 2009 when Rambhadracharya wrote a letter to the Akhara Parishad, expressing regret for any annoyance or pain caused by the publication of the Tulsi Peeth edition. In the letter, he asked the Akhara Parishad to consider older printed editions of the Ramcharitmanas as the authentic ones, not the ones he edited. The saints in Ayodhya were satisfied with the letter's content, and they decided to end their protest against Rambhadracharya. In 2008, a writ petition was filed against Rambhadracharya by Shiv Asray Asthana, the publisher of the journal Prakhar Vichar. The petition sought the seizure and forfeiture of Rambhadracharya's critical edition, arguing that it hurt religious sentiments. In May 2011, the Lucknow Bench of the Allahabad High Court rejected the petition and fined Asthana Rs 20,000 (US$250). Rambhadracharya saw this court decision as a victory for fundamental rights and decided to celebrate this success for nine days.
Many experts in Hindi and Ramcharitmanas studied Rambhadracharya's critical edition. One of Rambhadracharya's students, Prem Bhushan, who is a Kathavachak, mentioned that the differences were mostly about grammar and spelling. Another person named Ram Sagar Shukla, who used to work for Prasar Bharti, said that the changes in the Tulsi Peeth edition mostly related to the language used in the epic and some specific episodes. Shukla had some doubts about Rambhadracharya's understanding of the word "Chaupai." He pointed out that according to Pingala's definition, a Chaupai should have 64 lines, and the title "Hanuman Chalisa" could also suggest 40 half-Chaupais.
Sunita Shastri, a scholar on Ramcharitmanas and advisor to Gita Press, spent two hours examining the book and shared her observations with a leading media house. She noticed that there were several missing verses in the Ayodhyakand of the Tulsi Peeth edition. She gave an example of the verse "dīpaśikhā sama juvati tana…" that was not included. On the other hand, Ravindra Agnihotri, who is an expert in Sanskrit, Hindi, and English, praised Rambhadracharya's work. He mentioned that Rambhadracharya identified over 3000 mistakes in the existing editions, including adding verses and changing words. Agnihotri believed that instead of criticizing Rambhadracharya, the Akhil Bharatiya Akhara Parishad and Ram Janmabhoomi Nyas should have appreciated his efforts in bringing attention to these issues. [1]

YouTube – Zee News

• Objection by UP Government Over his Yatra
On August 25, 2013, Rambhadracharya and VHP leader Ashok Singhal arrived at Lucknow's Chaudhary Charan Singh Airport. They were planning to go to Ayodhya for a 12-day religious yatra called the 84-kosi yatra. However, the state government decided to ban the yatra, citing concerns about law and order. Some people believe the ban was due to opposition from Muslim organizations or political reasons. Rambhadracharya's involvement in the yatra was kept secret, and as a result, he was placed under house arrest at the home of his disciple and friend R.C. Mishra. The next day, a local lawyer named Ranjana Agnihotri filed a habeas corpus petition in the Lucknow bench of the Allahabad High Court. Judges Imtiyaz Murtaza and D.K. Upadhayaya responded by ordering the release not only of Rambhadracharya but also of Singhal and Praveen Togadia. The petitioner's advocate, H.S. Jain, argued that while Rambhadracharya and other leaders were arrested under Section 151 of the Criminal Procedure Code, which allows arrests to prevent crimes, they should not be held in custody for more than 24 hours without other relevant sections of the code or other laws applying. After being released, Rambhadracharya expressed his belief that the government had misunderstood the purpose of the yatra. Due to reported security threats, the Uttar Pradesh government decided to provide Rambhadracharya with Y-category security cover just two days after the incident. Some believed this move was an attempt to "build bridges with the sadhus after the showdown." A high-powered committee would later decide if the security cover should continue. After the incident, Rambhadracharya met with the then Uttar Pradesh Chief Minister Akhilesh Yadav in Lucknow. He invited Yadav to be the chief guest at a university function, and Yadav accepted. However, due to difficult circumstances, Yadav couldn't attend the function in person. Instead, he sent politicians Vijay Mishra and Vijay Bahadur Pal as representatives. Despite Yadav's absence, Rambhadracharya expressed disappointment that Yadav couldn't spare even 15 minutes for disabled children during the event. He said that Yadav would need to make amends for this. [2]

Business Standard

• Disgraceful Comments on Mahatma Buddha
In 2022, there was a legal case against Rambhadracharya because of some remarks he made about Mahatma Buddha. Advocate Dr. Satya Prakash Gautam filed an application in the Karkardooma court, asking for an FIR (First Information Report) to be registered against Jagadguru Swami Rambhadracharya Maharaj. The advocate claimed that during the inauguration of the Happiness Center at Chhatrapati Shahuji Maharaj University in Kanpur in February 2021, Rambhadracharya Maharaj, who was also the Chancellor of JRD University in Chitrakoot, made objectionable remarks about Mahatma Buddha. The advocate had previously complained about this at the Farsh Bazar police station. The police transferred the complaint to Kalyanpur police station in Kanpur for further action. However, the application was dismissed by Metropolitan Magistrate Ajit Narayan because the necessary permission for the demand made in the application was not obtained. The Chief Metropolitan Magistrate stated in the order that the complainant did not receive permission from any competent authority for such a demand, which led to the rejection of the application. [3]

Jagran

• Controversial Remarks on Politicians
In 2023, the Samajwadi Party had a strong reaction to the slogans raised by Swami Rambhadracharya during a public event. They wanted to file a case against him at the Sadar police station. The party's state secretary, Ram Gopal Baghel, and other members felt that Swami Rambhadracharya had insulted their party's founder chief, Mulayam Singh Yadav, and the founder of Bahujan Samaj Party, Kanshi Ram. They claimed that the Swami made disrespectful remarks about Dalits and backward communities. The Samajwadi Party officials argued that Mulayam Singh had previously received the Padma Vibhushan award from the government, so they believed the respect given to Swami Rambhadracharya should be taken away, and his speeches should be banned. The controversy started when slogans were raised during the unveiling of a statue of Swami Prasad Maurya's Kanshi Ram. The slogans mentioned the names of both Mulayam Singh and Kanshi Ram along with the slogan "Jai Shri Ram." In response, Swami Rambhadracharya said, "Mulayam Kanshiram is dead, now say Jai Shri Ram with love." Amidst the dispute, the Samajwadi Student Assembly in Agra performed a Yagya (ritual) to express their protest against Swami's remarks and to purify their intellect. Swami Rambhadracharya defended himself against the allegations, stating that he had not said anything wrong. He clarified that he does not support any political party; he speaks in the name of Lord Ram. Additionally, he expressed his support for the implementation of population control laws and a uniform civil code in the country. Swami Rambhadracharya emphasized that his loyalty lies solely with Lord Ram. Furthermore, he supported the statement of Dhirendra Krishna Shastri from Bageshwar Dham, who referred to Sai Baba as a saint, not God. [4]

ABP Live
Relationships & More
Marital Status
Unmarried


Note: At a young age, he adopted celibacy and embraced a lifelong vow called Vīravrata.
Family
Wife/Spouse
N/A
Children
None
Parents
Father- Pandit Rajdev Mishra
Mother- Shachidevi Mishra

Siblings
Sister- Gita Devi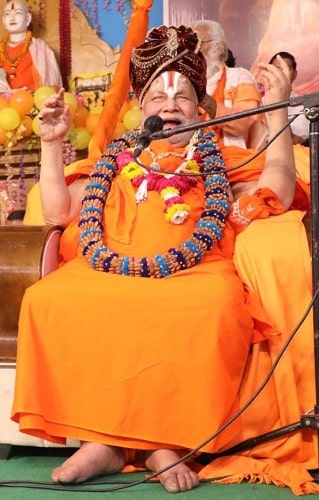 Some Lesser Known Facts About Rambhadracharya
Rambhadracharya is an Indian spiritual leader, educator, Sanskrit scholar, poet, author, philosopher, composer, singer, playwright, and storyteller of religious tales (Kathas). Since 1988, he has been one of the four Jagadguru Ramanandacharyas. He is famous for founding the Jagadguru Rambhadracharya Handicapped University and Tulsi Peeth.
When Rambhadracharya was just about two months old, he lost his eyesight due to an infection called trachoma. It happened on 24 March 1950. Since his village lacked advanced medical facilities, his family sought help from an elderly woman in a nearby village who was known for treating trachoma. She applied a special paste made from myrobalan to his eyes in an attempt to cure the infection, but his eyes started bleeding, and he became blind. His parents then took him to the King George Hospital in Lucknow, where he stayed for 21 days for treatment, but his eyesight couldn't be restored. His parents tried various Ayurvedic, Homeopathic, and Allopathic practitioners in places like Sitapur, Lucknow, and Bombay, but none could bring back his sight. Since then, Rambhadracharya has been blind. Unlike many blind individuals who read and write in Braille, he learns by listening to others and expresses his thoughts by speaking, while scribes write down his words for him.
Rambhadracharya got his name from his great aunt, who was a follower of the female saint Mirabai. During the Bhakti era in medieval India, Mirabai used this name to address the god Krishna in her writings.
Even though Rambhadracharya didn't go to regular school until he was seventeen, he learned many literary works as a child by listening. While his family wanted him to become a Kathavachak (a storyteller of religious tales), he strongly desired to continue his studies. His father explored educational opportunities for him in Varanasi and considered sending him to a special school for blind students. However, Rambhadracharya's mother disagreed, worrying about how blind children were treated in such schools.
When he was eleven, Rambhadracharya faced discrimination as he was not allowed to join his family in a wedding procession. They believed his presence would bring bad luck to the marriage. This event had a profound impact on him, and he mentioned it at the beginning of his autobiography. He fondly called this day the start of his "Golden Journey" in life.
Remarkably, he memorised scriptures after hearing it just once, so he has never needed to rely on Braille or other aids for his studies. In just three months, he memorized and fully mastered the entire Laghusiddhāntakaumudī of Varadaraja.
In June 1953, there was an entertaining monkey dance show performed by a juggler in Rambhadracharya's village. During the show, the monkey started touching the children, including Rambhadracharya, which scared them, and they all ran away. Unfortunately, Rambhadracharya fell into a small dry well and found himself trapped. It seemed like a difficult situation, but fortunately, a brave teenage girl came to his rescue and saved him from the well. After this incident, Rambhadracharya's grandfather explained to him that his life was saved because he had memorised a special line from a verse in the Ramcharitmanas (1.192.4) earlier that morning. The verse was from the story of the god Rama's manifestation. Despite the fall, Rambhadracharya remained confident that Lord Rama would somehow help him out of the predicament. From that day onwards, he made it a regular practice to recite that verse every time he drank water or ate food, as a way to express his gratitude and devotion to Lord Rama.
Rambhadracharya's early education in religious scriptures began at his home, under the guidance of his grandfather, Paṇḍita Sūryabalī Miśra. Even as a child, he had an exceptional memory. At the age of five, he had already memorized the entire Bhagavad Gita in Sanskrit, which contained about 800 verses, along with their chapter and verse numbers. His paternal grandfather taught him during his father's absence, as his father worked in Bombay. In the afternoons, his grandfather would share captivating stories from Hindu epics like Ramayana and Mahabharata, as well as devotional works like Vishramsagar, Sukhsagar, Premsagar, and Brajvilas. At that young age, Rambhadracharya composed his first poem in Awadhi, a dialect of Hindi. He recited the verse to his grandfather, and it depicted a playful altercation between Krishna's foster mother, Yashoda, and a Gopi (milkmaid) over an incident involving Krishna.
Later, Rambhadracharya attended Shri Radha Krishna Gaurishankar Sanskrit Adarsh Mahavidyalaya (SRKGSAM) in Pratapgarh, Uttar Pradesh. There, he studied various subjects such as Sanskrit Vyakarana (grammar), Hindi, English, Maths, History, and Geography. He excelled in his studies and topped his class for four consecutive years. In the higher secondary Sanskrit examination, known as Uttara Madhyama, he passed with a first-class distinction.
As Rambhadracharya continued his spiritual studies, he devoted himself to mastering various ancient texts. By the age of eight, he had memorized the complete Ramcharitmanas, a sacred text composed by Saint Tulasīdāsa, consisting of approximately 10,800 verses. He further dedicated himself to studying the Vedas, the Upanishads, the Bhagavata Purana, major works on Sanskrit grammar, and the entire collection of works by the poet-saint Tulsidas. His Upanayana Samskara, the sacred thread ceremony, took place on 24 June 1961, on the day of Nirjala Ekādaśī. During this ceremony, he received the Gāyatrī Mantra and was initiated into the mantra of Lord Rāma by Paṇḍita Īśvaradāsa Mahārāja of Ayodhyā.
As he attended the Adarsh Gaurishankar Sanskrit College, Rambhadracharya continued to expand his knowledge. He studied the eight Ganas of Sanskrit prosody while learning Chandaprabhā, a work focused on Sanskrit prosody. It was during this time that he composed his first Sanskrit verse, using the Bhujaṅgaprayāta meter.
In 1974, Rambhadracharya achieved the highest score in his final examination for his Shastri (Bachelor of Arts) degree. During his master's degree studies, he travelled to New Delhi to take part in various national competitions at the All-India Sanskrit Conference. There, he showcased his exceptional skills and won five out of eight gold medals in subjects like Vyakarana, Samkhya, Nyaya, Vedanta, and Sanskrit Antakshari. In 1976, he excelled in the final Acharya examinations in Vyakarana, securing seven gold medals and the Chancellor's gold medal. He was declared Acharya of all subjects taught at the university on 30 April 1976.
Afterwards, he pursued his Vidyavaridhi (PhD) degree at the same institution under the guidance of Pandit Ramprasad Tripathi, with a research fellowship from the University Grants Commission (UGC). Despite the assistance, he faced financial challenges for five years. His dissertation titled 'Adhyātmarāmāyaṇe'pāṇinīyaprayogānāṃ Vimarśaḥ' focused on examining non-Paninian usages in the Adhyatma Ramayana. Remarkably, he authored this thesis in just thirteen days in 1981. After obtaining his doctorate, the UGC offered him the position of head of the Vyakarana department at Sampurnanand Sanskrit University. However, he chose not to accept the offer and instead dedicated his life to serving religion, society, and individuals with disabilities.
In 1976, Rambhadracharya had the opportunity to share a Katha (religious narrative) on Ramcharitmanas with Swami Karpatri. Swami Karpatri was the one who advised him not to marry and to embrace a lifelong path of celibacy as a Brahmachari. He also encouraged Rambhadracharya to seek initiation in a Vaishnava Sampradaya, a religious sect dedicated to the worship of Lord Vishnu, Krishna, or Rama as the supreme God. Following this guidance, Rambhadracharya took the vairagi initiation, also known as Virakta Diksha, in the Ramananda Sampradaya. This significant event occurred on the full moon day of Kartika, and his spiritual initiation was conducted by Shri Ramcharandas Maharaj Phalahari. Inspired by the teachings of Tulsidas, Rambhadracharya diligently followed the path of devotion.
In 1979, Rambhadracharya observed a six-month spiritual practice called Payovrata. During this time, he followed a strict diet of only milk and fruits. He performed this practice in Chitrakoot, a sacred place where Lord Rama spent a significant part of his fourteen-year exile. Following the traditions of his spiritual sect, Rambhadracharya was given a Vaishnava name, Rāmabhadrādāsa, to signify his devoted service to Lord Rama.
In 1987, he established Tulasī Pīṭha, a revered spiritual centre dedicated to the worship of the sacred Tulasī plant, which holds great importance among Vaishnavas. This sacred place was founded in Citrakūṭa, in present-day Uttar Pradesh, the same location where Lord Rama spent a major part of his exile. Rambhadracharya's significant contribution as the founder of this spiritual seat earned him the title of Śrīcitrakūṭatulasīpīṭhādhīśvara, given by saints and intellectuals.
The title Jagadguru in Sanatana Dharma is bestowed upon individuals who possess complete knowledge and understanding of the Vedic scriptures. It is a revered title given to those who have deep wisdom in ancient teachings. In 1989, Rambhadracharya was chosen as the Jagadguru Ramanandacharya, recognizing his profound knowledge and spiritual insight. A ritual anointment ceremony took place in Ayodhya on 1 August 1995 to honour this appointment.
Through his contributions as Jagadguru, Swami Ramabhadracharya revived an important tradition that had been inactive for 500 years. He also provided the Ramananda Sampradaya with a fresh interpretation of Vedanta, following the footsteps of the original Anandabhashya interpretation.
His work greatly enriched the spiritual and philosophical traditions of the Ramananda Sampradaya. Moreover, as part of his contributions to knowledge, he wrote commentaries like Sri Raghavakripabhashya on important scriptures such as the Brahma Sutra, Bhagavad Gita, and Eleven Upanishads.
Jagadguru Rambhadracharya, who has faced the challenges of being disabled in our society, took the lead in creating a special educational institution for people with disabilities. He started with a school for differently-abled students and later established the Jagadguru Rambhadracharya Handicapped (Divyanga) University in Chitrakut in 2002. Rambhadracharya is the lifelong chancellor of this university, which offers various courses for visually impaired, hearing impaired, and mobility-impaired students at an affordable cost, as specified by the Disability Act of the Government of India in 1995. He is actively involved in overseeing the university's daily activities, guiding its functions, and taking care of the students' well-being.
In addition to his work in education, Rambhadracharya undertook the task of producing a critical edition of the Ramcharitmanas, known as the Tulsi Peeth edition. To ensure accuracy, he extensively relied on older manuscripts and addressed differences in spelling, grammar, and prosodic conventions compared to contemporary editions. He dedicated eight years to research and published the Tulsi Peeth edition in 2006. Although accusations of tampering with the epic arose in November 2009, the dispute subsided after he expressed regret for any annoyance or pain caused by the publication. A writ petition filed against him was dismissed, and the Rāghava Parivāra considers his edition to be the exact words of Tulsīdāsa.
Rambhadracharya has also established an organization named Jagadguru Rambhadracharya Viklang Seva Sangh, based in Satna, Madhya Pradesh. The organisation raises awareness within communities and initiates child development programs in rural India. Its primary objective is to support the education programs of Jagadguru Rambhadracharya Handicapped University and help disabled children in accessing quality education. This support often comes in the form of facilities that make education more accessible. Additionally, Rambhadracharya operates a hospital with a capacity of a hundred beds in Gujarat, further demonstrating his commitment to helping those in need.
Rambhadracharya displayed a natural talent for composing poetry in languages like Prakrit and Sanskrit from a young age. While learning from his grandfather, he would express his emotions and thoughts through self-created verses. Throughout his life, Jagadguru Rāmabhadrācārya has excelled in 22 languages and is a spontaneous poet in various Indian languages. He has written over 80 significant works and many smaller compositions. Among his notable achievements are four epic poems and commentaries on important texts like the Prasthanatrayi, Ashtadhyayi, and Ramcharitmanas. Additionally, he has created a critical edition of the Ramcharitmanas, which is highly regarded.
In 1994, he composed a Hindi poem called "Arundhatī" with 1279 verses. Later, in 2002, his Sanskrit poem "Śrībhārgavarāghavīyam" was published, containing 2121 verses. Another Hindi poem titled "Aṣṭāvakra" consisting of 864 verses was published in 2010. In 2011, his Sanskrit poem "Gītarāmāyaṇam" was also published. Additionally, Rambhadracharya has written minor poems like "Kākā Vidura" (1980), "Mukundasmaraṇam" (1980), "Ājādacandraśekharacaritam" (1996), "Sarayūlaharī" (2000), and "Bhṛṅgadūtam" (2004). He has also composed lyrical poems such as "Rāghavagītaguñjana" (1991) and "Bhaktigītasudhā" (1993).
Rambhadracharya has written several Sanskrit poems consisting of 100 verses each, including works like "Āryāśatakam," "Caṇḍīśatakam," "Rāghavendraśatakam," "Gaṇapatiśatakam," and "Śrīrāghavacaraṇacihnaśatakam." His poetic talents have allowed him to contribute significantly to the rich literary heritage of India. His other work as a poet are:
Stotrakāvyas
1987: Śrījānakīkṛpākaṭākṣastotram
1992: Śrīrāmavallabhāstotram
1994: Śrīgaṅgāmahimnastotram
1995: Śrīcitrakūṭavihāryaṣṭakam
2002: Śrīrāghavabhāvadarśanam
Some of his popular poems are:
2003: Kubjāpatram
2008: Śrīsītārāmakelikaumudī
2009: Śrīsītārāmasuprabhātam
He also wrote a few spiritual plays like Śrīrāghavābhyudayam and Utsāha. He has penned various critiques and discourses which include:
Critiques
1981: Adhyātmarāmāyaṇe Apāṇinīyaprayogānāṃ Vimarśaḥ
1982: Mānasa Me̐ Tāpasa Prasaṅga
1988: Sanātanadharma Kī Vigrahasvarūpa Gomātā
1990: Sīta Nirvāsana Nahī̐
2007: Śrīrāsapañcādhyāyīvimarśaḥ
Discourses
1980: Bharata Mahimā
1985: Sugrīva Kā Agha Aura Vibhīṣaṇa Kī Karatūti
1992: Prabhu Kari Kṛpā Pā̐varī Dīnhī
2001: Śrī Sītārāma Vivāha Darśana
2006: Ahalyoddhāra
2008: Hara Te Bhe Hanumāna
In 1991, Rambhadracharya composed Śrīrāghavakṛpābhāṣyam, a Sanskrit commentary on Narada Bhakti Sutra. This significant work marked the revival of the tradition of Sanskrit commentaries on the Prasthanatrayi after five hundred years. In addition to this, he also wrote Sanskrit commentaries titled Śrīrāghavakṛpābhāṣyam on the Prasthanatrayi, which includes the Brahma Sutra, the Bhagavad Gita, and eleven Upanishads. These commentaries were released on 10 April 1998 by the then Prime Minister of India, Atal Bihari Vajpayee.
Rambhadracharya's Sanskrit commentary on the Prasthanatrayi is significant as it became the first of its kind to be written in almost 600 years. This accomplishment is highly regarded within the Ramananda Sampradaya, where his commentary serves as the second on the Prasthanatrayi in Sanskrit, with the first being the Ānandabhāṣyam composed by Ramananda himself. This notable contribution to Sanskrit literature has further enriched the philosophical heritage of the Ramananda Sampradaya. Some of his other commentaries include:
1991: Śrīnāradabhaktisūtreṣu Śrīrāghavakṛpābhāṣyam
1997: Aṣṭādhyāyyāḥ Pratisūtraṃ Śābdabodhasamīkṣaṇam
1998: Śrībrahmasūtreṣu
1998: Kaṭhopaniṣadi Śrīrāghavakṛpābhāṣyam
1998: Māṇḍūkyopaniṣadi Śrīrāghavakṛpābhāṣyam
1998: Taittirīyopaniṣadi Śrīrāghavakṛpābhāṣyam
1998: Bṛhadāraṇyakopaniṣadi Śrīrāghavakṛpābhāṣyam
2001: Śrīrāmastavarājastotre Śrīrāghavakṛpābhāṣyam
2005: Bhāvārthabodhinī
Rambhadracharya is a prolific writer, having written more than 100 books and 50 papers. His literary works encompass a wide range of genres, including four epic poems and a Hindi commentary on Tulsidas' Ramcharitmanas. He has also written a Sanskrit commentary in verse on the Ashtadhyayi, as well as Sanskrit commentaries on the Prasthanatrayi scriptures. In India, he is highly regarded as one of the foremost experts on Tulsidas, and he holds the esteemed position of editor of a critical edition of the Ramcharitmanas.
Apart from his expertise in Sanskrit commentaries on the Prasthanatrayi, Rambhadracharya is also skilled in the art of Katha, specializing in recitations of the Ramayana and the Bhagavata. His Katha programs are regularly conducted in different cities in India and other countries, and they are even broadcasted on various television channels like Shubh TV, Sanskar, and Sanatan. In addition to his literary and oratory talents, Rambhadracharya holds a leadership position in the Vishva Hindu Parishad (VHP), showcasing his involvement in various religious and cultural organizations.
Moreover, Rambhadracharya is also known for lending his melodious voice to various bhajans like 'Bhajana Sarayū' (2001), 'Bhajana Yamunā' (2001), 'Śrī Hanumat Bhakti' (2009), 'Śrīsītārāmasuprabhātam' (2009), and 'Sundara Kāṇḍa' (2009). These devotional songs are released in music videos, further enriching the spiritual culture.
In the dispute over Ram Janmabhoomi Babri Masjid, Rambhadracharya played a crucial role as an expert witness in the Allahabad High Court during July 2003. The court's final judgment included parts of his written statement and answers given during the trial. To emphasize the sacredness of Ayodhya as Lord Rama's birthplace, cherished by Hindus, Rambhadracharya cited various ancient Hindu scriptures such as the Ramayana, Rāmatāpanīya Upaniṣad, Skanda Purana, Yajurveda, Atharvaveda, and others. He also used verses from the works of Tulsidas, a renowned Hindu poet, to support his testimony.
One set of verses mentioned the destruction of a Rama temple by Mughal ruler Babur in 1528 CE and the subsequent construction of a mosque at the disputed site. This temple held immense significance for followers of Sanatana Dharma. The second citation was from a work named Kavitāvalī, which mentioned a mosque. During cross-examination, Rambhadracharya provided detailed explanations about the history of the Ramananda sect, its spiritual centers called Mathas, the rules for religious leaders known as Mahants, and the functioning of ascetic orders known as Akharas. He also discussed Tulsidas' works.
Contrary to the claims made by pro-mosque parties about the original temple's location, Rambhadracharya presented evidence from the Ayodhya Mahatmya section of the Skanda Purana, which described the boundaries of the Janmabhoomi. These boundaries exactly matched the present location of the disputed area, as acknowledged by Justice Sudhir Agarwal during the proceedings. However, Rambhadracharya clarified that he had no knowledge of the existence of a Ram Chabootra ("Platform of Rama") outside the locked area between 1950 and 1985. This platform also served as the Chati Poojan Sthal. Additionally, he was unaware of the installation of the idols of Rama, Lakshmana, and Sita at Ram Chabootra, which was outside the Janmabhoomi temple. [5]

BBC News
Once Atal Bihari Vajpayee praised Rambhadracharya as an immensely knowledgeable individual, well-versed in Vedic and Puranic literature, as well as grammar. He admired his intelligence and remarkable memory.
Dr. Murli Manohar Joshi has expressed great admiration for Rambhadracharya's profound knowledge and considered him truly praiseworthy.
Nanaji Deshmukh described Rambhadracharya as an astonishing gem of the country, acknowledging his exceptional qualities.
Swami Kalyandev recognized Rambhadracharya as an unparalleled intellectual, speaker, and devoted Acharya. Somnath Chatterjee referred to him as a celebrated Sanskrit scholar and educationist with remarkable achievements and merit.
Rambhadracharya is widely regarded as one of India's greatest scholars on Tulsidas and Ramcharitmanas, and this is often cited.
Ram Prakash Gupta and Keshari Nath Tripathi acknowledged Rambhadracharya's significant contributions to society, believing that he will continue to enrich it with his work.
Baba Ramdev considers Rambhadracharya the most learned person in the world presently.
In July 2005, Rambhadracharya joined a delegation of saints and Dharmacharyas in meeting with then-president A.P.J. Abdul Kalam and then-union Home Minister Shivraj Patil. They handed over a memorandum, urging stronger security arrangements for important religious places in the country.
Abhiraj Rajendra Mishra praised Rambhadracharya, acknowledging his high-mindedness and exceptional grasp of Indian literature. He also highlighted Rambhadracharya's genuine joy in serving oppressed disabled people.
Mata Prasad Pandey, the Speaker of the Uttar Pradesh Legislative Assembly, commended Rambhadracharya for opening doors of development for people with disabilities in India. He believed that Rambhadracharya achieved what even eminent industrialists and the government could not.
In November 2014, Rambhadracharya was nominated by Indian Prime Minister Narendra Modi as one of the nine people for the Clean India Campaign.
In September 2014, Rambhadracharya took the initiative to adopt five villages in Chitrakoot with the aim of constructing toilets in every household.
Rambhadracharya was invited as one of the guests at the inaugural International Yoga Day event in New Delhi.
Indira Gandhi once impressed by his abilities offered to send him to the United States for treatment for his eyes at her own expense. However, Rambhadracharya graciously declined the offer and replied with an extemporaneous Sanskrit verse.
In 1992, Rambhadracharya led the Indian delegation at the Ninth World Conference on Ramayana, held in Indonesia.
He has travelled to various nations, including England, Mauritius, Singapore, and the United States, where he delivered talks on the Hindu religion and promoted peace.
His accomplishments have earned him recognition and a place in the prestigious International Who's Who of Intellectuals.
Additionally, he played a crucial role as one of the prominent figures in the Dharma Prachar Yatra held in Detroit.
Rambhadracharya represented India as one of the spiritual and religious Gurus at the Millennium World Peace Summit, organized by the United Nations in New York City from 28 to 31 August 2000. During his address to the gathering, he provided Sanskrit explanations for the terms Bharata (the ancient name of India) and Hindu, and he also discussed the aspects of God – Nirguna and Saguna. In his speech on Peace, he emphasized the importance of developed and developing nations joining hands to combat poverty, terrorism, and nuclear armament. He concluded his speech by reciting the Shanti Mantra, symbolizing a prayer for peace.
He can speak approximately 22 languages.
His followers created a YouTube channel called "Jagadguru Rambhadracharya" where they upload his bhajans and religious speeches. The channel has around 536k subscribers.
On 30 November 2007, Rambhadracharya released the first Braille version of the scripture, which includes the original Sanskrit text and a Hindi commentary. This remarkable accomplishment came 52 years after he had memorized the Gita.
In November 2007, Rambhadracharya received a threatening letter, supposedly from a member of al-Qaeda, demanding that he and his followers convert to Islam or face severe consequences. The letter was believed to be sent from Haridwar, leading the authorities to increase security measures for Rambhadracharya and launch a thorough investigation. Gita Devi, the secretary of JRHU, mentioned that Rambhadracharya was targeted by al-Qaeda, similar to the previous threats faced by Ram Janmabhoomi Nyas president Nrityagopal.
In November 2014, Rambhadracharya received another assassination threat, along with a demand for a "terror tax" regarding JRHU's activities.
He received spiritual education from various gurus including Ishvardas (Mantra), Ramprasad Tripathi (Sanskrit), and Ramcharandas (Sampradaya).