Taslima Nasrin Age, Boyfriend, Husband, Children, Family, Biography & More
Quick Info→
Profession: Author, Secular Humanist, Feminist, Physician
Age: 59 Years
Nationality: Bangladeshi, Swedish, Indian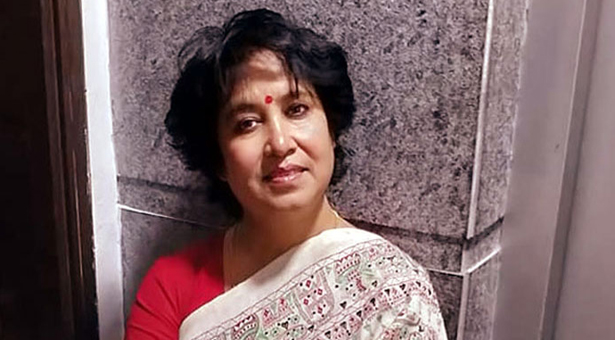 Bio/Wiki
Other Name
Talisma Nasrin [1]

Taslima Nasrin's Twitter Account
Profession(s)
Author, Secular Humanist, Feminist, Physician
Movements
The movements in which Taslima often contributed were related to Eugenics, Women's Equality, Human Rights, Freedom of Speech, Atheist, Scientism, Tolerance.
Member
Reporters Without Borders (RWB), an international non-profit and non-governmental organization)
Physical Stats & More
Eye Colour
Black
Hair Colour
Black
Career
Literary works
• At college in Mymensingh, Nasrin published and edited a literary magazine, Senjuti ("Light in the dark"), from 1978 to 1983.
• She published her first collection of poems in 1986.
• Her second collection, Nirbashito Bahire Ontore ("Banished within and without"), was published in 1989.
• She succeeded in attracting a wider readership when she started writing columns in the late 1980s and in the early 1990s.
• She cites that Virginia Woolf, Simone de Beauvoir, Begum Rokeya, who lived during the time of undivided Bengal, were Taslima's inspirations to be an author.
• In all, she has written more than thirty books of poetry, essays, novels, short stories, and memoirs, and her books have been translated into 20 different languages.
Columns and essays
• In 1989, Nasrin began to contribute to the weekly political magazine Khaborer Kagoj, edited by Nayeemul Islam Khan, and published from Dhaka.
• She wrote columns in a volume titled Nirbachita Column, which, in 1992, won her first Ananda Purashkar award, a prestigious award for Bengali writers.
• Later, she contributed a weekly essay to the Bengali version of The Statesman, called Dainik Statesman.
• Taslima has always advocated for an Indian Uniform civil code during her contribution as a social activist and said that criticism of Islam is the only way to establish secularism in Islamic countries.
• Taslima said that Triple talaq is despicable and the All India Muslim Personal Law Board should be abolished in her writings
• Taslima has also written articles for online media venture 'The Print in India.'
Novels
• Taslima's breakthrough novel Lajja (Shame) was published in 1993 (In six months' time, it sold 50,000 copies in Bangladesh before being banned by the government in the same year, and it attracted wide attention because of its controversial subject matter)
• Her other famous novel is French Lover, published in 2002.
Autobiography(s)
• Amar Meyebela (My Girlhood, 2002), the first volume of her memoir, was banned by the Bangladeshi government in 1999 for "reckless comments" against Islam and the prophet Mohammad.
• Utal Hawa (Wild Wind), the second part of her memoir, was banned by the Bangladesh government in 2002.
• Ka (Speak up), the third part of her memoir, was banned by the Bangladeshi High Court in 2003.
• The book Dwikhandita was published in West Bengal.
• Sei Sob Ondhokar (Those Dark Days), the fourth part of her memoir, was banned by the Bangladesh government in 2004.
• A total of seven parts of her autobiography have been published. "Ami bhalo nei tumi bhalo theko priyo desh", " Nei kichu nei" and "Nirbashito."
• She received her second Ananda Purashkar award in 2000 for her memoir Amar Meyebela (My Girlhood, published in English in 2002).
Poetry(s)
• Shikore Bipul Khudha (Hunger in the Roots), 1982
• Nirbashito Bahire Ontore (Banished Without and Within), 1989
• Amar Kichu Jay Ashe Ne (I Couldn't Care Less), 1990
• Atole Ontorin (Captive in the Abyss), 1991
• Balikar Gollachut (Game of the Girls), 1992
• Behula Eka Bhashiyechilo Bhela (Behula Floated the Raft Alone), 1993
• Ay Kosto Jhepe, Jibon Debo Mepe (Pain Come Roaring Down, I'll Measure Out My Life for You), 1996
• Nirbashito Narir Kobita (Poems From Exile), 1996
• Jolpodyo (Waterlilies), 2000
• Khali Khali Lage (Feeling Empty), 2004
• Kicchukhan Thako (Stay for a While), 2005
• Bhalobaso? Cchai baso (It's your love! or a heap of trash!), 2007
• Bondini (Prisoner), 2008
• Golpo(stories), 2018
Nasrin's works in adaptation
• In 1994, the Swedish singer Magoria sang "Goddess in you, Taslima."
• In 2003, the French band Zebda composed "Don't worry, Taslima" as a homage to her.
• Jhumur was a 2006 TV serial, the story of which was written by Taslima.
• Bengali singers like Fakir Alamgir, Samina Nabi, Rakhi Sen sang her songs to support her motive.
• Steve Lacy, the jazz soprano saxophonist, met Nasrin and collaborated with her on an adaptation of her poetry to music and a "controversial" and "compelling" work called The Cry, was performed in Europe and North America in 1988.
Awards, Honours, Achievements
• Ananda Award or Ananda Puraskar from West Bengal, Indiain 1992, and in 2000, for "Nirbachita Kolam" and "Amar Meyebela"
• Sakharov Prize for freedom of thoughts from European Parliament in 1994
• Simone de Beauvoir Prize in 2008
• Human Rights Award from the Government of France, 1994
• Edict of Nantes Prize from France, 1994
• Kurt Tucholsky Prize, Swedish PEN, Sweden, 1994
• Feminist of the Year from Feminist Majority Foundation,US, 1994
• Scholarship from the German Academic Exchange Service,Germany, 1995
• Distinguished Humanist Award from International Humanist and Ethical Union, Great Britain, 1996
• Erwin Fischer Award, International League of non-religious and atheists (IBKA), Germany, 2002
• Freethought Heroine Award, Freedom From Religion Foundation, US, 2002
• Fellowship at Carr Centre for Human Rights Policy,John F. Kennedy School of Government, Harvard University, US, 2003
• UNESCO-Madanjeet Singh Prize for the promotion of tolerance and non-violence, 2004
• Honorary doctorate from American University of Paris, 2005
• Grand Prix International Condorcet-Aron, 2005
• Woodrow Wilson Fellowship, US, 2009
• Feminist Press award, US, 2009
• Honorary doctorate from Universite Catholique de Louvain, Belgium, 2011
• Honorary citizenship from Esch, Luxembourg, 2011
• Honorary citizenship from Metz, France, 2011
• Honorary citizenship from Thionville, France, 2011
• Honorary doctorate from Paris Diderot University, Paris, France, 2011
• Universal Citizenship Passport. From Paris, France, 2013
• Academy Award from the Royal Academy of Arts, Science and Literature, Belgium, 2013
• Honorary Associate of the National Secular Society
Personal Life
Date of Birth
25 August 1962 (Saturday)
Age (as of 2021)
59 Years
Birthplace
Mymensingh, East Pakistan (now Bangladesh)
Signature
Zodiac sign
Virgo
Nationality
• Bangladeshi
• Swedish [2]

The Wire
• In January 2020, she was granted Indian citizenship. [3]

NENOW
College/University
Mymensingh Medical College, Dhaka, Bangladesh
Educational Qualification(s)
• She completed high school studies in 1976 (SSC) and higher secondary studies in college (HSC) in 1978.
• She studied medicine at the Mymensingh Medical College, an affiliated medical college of the University of Dhaka.
• She graduated in 1984 with an MBBS degree. [4]

India TV News
Food Habit
Non-Vegetarian [5]

Twitter - Taslima Nasrin
Religion
Nasrin was born into a Muslim family; however, she became an atheist over time.[6]

The Hindu
Hobbies
Watching films (According to Taslima, she has a good collection of about 2,500 films) in theatre and at home.
Controversies
• Tweet on cricketer Moeen Ali: On 14th April 2021, Taslima posted a comment on her Twitter account and created controversy all around the world. She targeted and commented on cricketer Moeen Ali. She Tweeted,
"If Moeen Ali were not stuck with cricket, he would have gone to Syria to join ISIS."
Taslima's tweet on Cricketer Moeen Ali in 2021.

Later, Moeen's England teammates re-tweeted Taslima's tweet, and in one of the comments, the cricketer Archer took the side of Moeen and said, "Are you okay? I don't think you're okay. Sarcastic? No one is laughing, not even yourself, the least you can do is delete the tweet."

England's fast bowler, Saqib Mahmood also tweeted, "Can't believe this. Disgusting tweet. Disgusting individual."
[7]

Indian Express

• Relationhips with an Anglo-Indian: Taslima Nasreen landed in controversies several times in her life. She never hid her sexual relations outside her three marriages; but, there was a lot of controversies regarding her sexual partners. Taslima Nasreen had a relationship with George Baker. George belongs to a Greek family in Assam, India, and he also worked in several Bengali and Hindi films in theatres and television. He joined Indian politics in 2014 and fought from the Howrah constituency but lost the chance. Later, he became a member of the Lok Sabha as an Anglo-Indian after getting permission from the then President of India. In October 2019, Ankita Bhattacharya, daughter of George, who is now a resident of Burdwan's Narayanpur village under the Bhatar police station claimed that Talisma Nasrin is her mother and showed photographs as proof and also presented the related information about her birth. [8]

English Kolkata 27x7

• Tweets on surrogacy: In January 2022, in a series of tweets, Taslima expressed her views on surrogacy. In her tweets, she slammed the process of surrogacy and questioned the feelings of women who become the mother of readymade babies. She tweeted, "How do those mothers feel when they get their readymade babies through surrogacy? Do they have the same feelings for the babies like the mothers who give birth to the babies?" In another tweet, she said that going for surrogacy is a selfish narcissistic ego. She wrote, "Surrogacy is possible because there are poor women. Rich people always want the existence of poverty in the society for their own interests. If you badly need to raise a child, adopt a homeless one. Children must inherit your traits---it is just a selfish narcissistic ego." Some social media users criticised her views and said that it an individual is at libverty to to go for surrogacy and sometimes it's because of meadical reasons. Taslima's tweets on surrogacy came soon after Priyanka Chopra and Nick Jonas welcomed their first baby via surrogacy. [9]

Hindusatn Times
Relationships & More
Marital Status
Divorced
Family
Husband(s) and Marriage duration
• Rudra Mohammad Shahidullah ​( m. 1982-1986)​ is a Bangladeshi poet.

• Nayeemul Islam Khan (m. 1990-1991)​ is a media personality in Bangladesh who has been active in Bangladeshi journalism since 1982.

• Minar Mahmud (m. 1991-1992)

Parents
Father- Dr. Rajab Ali (He was a physician, and a professor of Medical Jurisprudence in Mymensingh Medical College and at Sir Salimullah Medical College, Dhaka, Bangladesh)
Mother- Edul Ara


Siblings
Favourites
Food
Fish, 'muri' (puffed rice) and 'mishti' (sweets)
Game
She likes to play chess and watch cricket.
Cricketer
Shakib Al Hasan
Poet
Rabindranath Tagore
Singer(s)
Britney Spears & Michael Jackson
Destination(s)
United States, Coxbazar (Bangladesh), and India
Perfume
JAR Bolt of Lightning
Colour(s)
Black, White, Red
Author
Humayun Ahmed
Painter
Zainul Abedin
Book
The Da Vinci Code by Dan Brown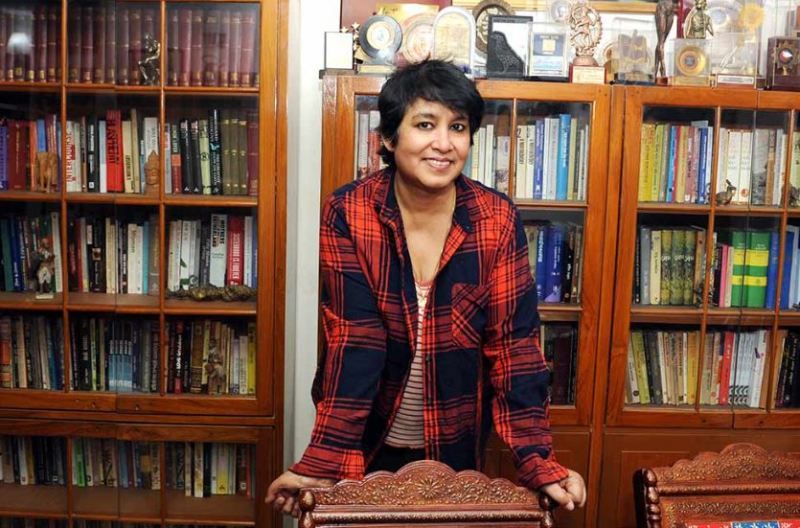 Some Lesser Known Facts About Taslima Nasrin
Taslima Nasrin is a Bangladeshi-Swedish feminist, author, and physician who was forced out of her country, Bangladesh, and she has been blacklisted and banished from the Bengal region of West Bengal, India because of the controversial writing content that many Muslims felt were disgraced by her. [10]

The Times of India She is a self-proclaimed secular humanist and activist. Her writings and activism are often compared to that of Salman Rushdie (an Indian-born British American novelist and essayist) for disputable interests. Taslima extensively writes in support of religious segregation, women's oppression, and forced exile. [11]

Britannica Bangladesh and India have banned some of her books like Dwikhandito in 2003, Lajja (Shame) 1993, Amar Meyebela (My Girlhood) 1999, Utal Hawa (Gusty Wind) 2002 for their controversial content. [12]

Times of India
At the beginning of 1990, she gained global attention by writing essays and novels on feminism; however, later, she also faced criticism when she characterized feminism as a preconception against women.
In 1984, Nasrin became a doctor after completing her studies as a physician, and initially, she worked in a family-planned clinic in Mymensingh, and in 1990, she was relocated to a government clinic in Dhaka to practice at the gynaecology department of Mitford hospital and at the Anaesthesia Department of Dhaka Medical College and Hospital; however, in 1993, she left her medical practice. [13]

Britannica
Taslima's novel 'Lajja' disturbed her life since she wrote, published, and released it all over the world in 1993. This paved the way towards protest, unrest situations, and violent campaigns against her in Bangladesh and India. This led to a controversy between Muslims and Hindus in Bangladesh that led to the section violence. Lajja, translated as Shame in English, was a literary protest against the rising fight between the different religious sections of Bangladesh. This novel 'Lajja' was also dedicated to the people of India. This novel mainly focussed on the slaughter of Hindus, following the demolition of Babri Masjid in India, and stressed the split of religious, social, and economic lines in Bangladeshi society as a whole. [14]

ARC Journals
Since 1994, Nasrin has been living in eviction. She lived in many European countries and the United States for more than a decade and moved to India in 2004. To get an Indian visa, Nasrin had to wait for six years (1994–1999). In Hyderabad, Nasrin was assaulted by opposers, and consequently, she was forced to live under house arrest in Kolkata. However, on 22 November 2007, she was forced to leave West Bengal by the local government and was compelled by the Indian government to live under house arrest in Delhi for 3 months, but in 2008, she was finally deported from India. Apparently, she has been staying in Kolkata, India on a long-term residence permit, multiple-entry, or 'X' visa, as she was unable to return either to her adopted home in West Bengal or to her home in Bangladesh. [15]

Hindustan Times
In 1994, Taslima met French President Francois Mitterrand, and he said, in an interview, that he respected Nasrin's work. Reportedly, Nasrin lived in Paris for some time during her exile.
Taslima Nasrin's novel Shame was a book that outraged many Muslim groups in Bangladesh and India. Shame was translated into the English language from the Bangladeshi language in 1997. Shame described the fate of a family in Bangladesh that belonged to a small Hindu community. This novel angered the Muslim community leaders in the two countries, Bangladesh and India. The writings of this novel were so critical that it led to announce fatwa against her by the Islamic extremists that would offer thousands of dollars to anyone who would kill Nasrin for writing such a novel against Islamic rules. The writing in the novel made the Muslims think that it was a conspiracy against Islam. The Bengali government charged her that it was a sin to say anything against the Quran. [16]

Scroll
In 1998, Nasrin wrote 'Meyebela, My Bengali Girlhood,' her biographical account from her birth to adolescence.
In 2000, Nasrin's novel 'Shodh' was translated by Marathi author Ashok Shahane. Around the same year, she visited Mumbai to promote this book. This translated book was called 'Phitam Phat.' Reportedly, some secular atheist groups in India celebrated the book's inauguration and called it freedom of expression, whereas the fundamental groups threatened to burn her alive. [17]

Wayback Machine
In 2004, Nasrin was provided with a temporary residence permit by the Indian government that was renewable, and she moved to Kolkata, West Bengal. In 2007, in an interview, Nasrin said that she was forced to flee from Bangladesh; therefore, she called Kolkata her home as the language and heritage of Kolkata and Bangladesh share common features and culture. Later, the Indian government refused to grant her permanent citizenship; however, she was allowed to live in India on a periodic basis. During her stay in India in the late 2000s, Nasrin regularly wrote for Indian newspapers and renowned magazines including 'Anandbazar Patrika' and 'Desh.' Reportedly, she contributed her column writings for the Bengali version of 'The Statesman.' [18]

The Times of India
The Indian religious fundamentalists opposed Nasrin in June 2006 when she criticized Islam. Syed Mohammad Noor ur Rahman Barkati, the imam of Kolkata's Tipu Sultan Mosque, offered a reward to anyone from the general public who would "blacken" Ms Nasrin's face. In 2007, the president of "All India Muslim Personal Board (Jadeed)," Tauqueer Raza Khan, offered INR 5 Lakh for Nasrin's beheading, and he stated that this reward would be lifted only if Nasrin would apologize and burn her books and writings. [19]

PGURUS
Hasmat Jalal, a West Bengali poet, filed a case against Nasrin in West Bengal High Court to ban the book 'Dwikhondito.' Soon, he demanded 4 million dollars from Nasrin as the defamation charges as she wrote about the complicated relationships of Jalal in her book Dwikhondito. In 2003, the Calcutta High Court was appealed by 24 literary intellectuals from India to ban Nasrin's book named Dwikhondito. Later, Nasrin defended herself against all allegations and blames and said that she wrote about the people who were related to her. She further stated that these people commented after the release of the book that Nasrin wrote an autobiography to gain publicity and fame. She said that she wrote her life story, not others, to reveal her sexual activities in Dwikhondito. However, Nasrin was fully supported by various Bengali writers and intellectuals like Annada Shankar Ray, Sibnarayan Ray, and Amlan Dutta. [20]

Frontline The Hindu
In 2005, while staying in the United States, Nasrin was critically bashed by the audience, when she read an anti-war poem titled 'America' in front of a large Bengali crowd in New York City at Madison Square Garden, and in the fit of rage, she was blown out of the stage.
In 2005, Nasrin claimed that "her soul lived in India," and she pledged her body to India and awarded it for posthumous medical use to a Kolkata-based NGO, Gana Darpan. [21]

The Times of India
On 17 August 2007, a fatwa against Nasrin and Salman Rushdie was pledged by the elected and serving members of the All India Majlis-e-Ittehadul Muslimeen. They threatened Taslima with death. In Hyderabad, Taslima was attacked by three MLAs and party – members of the ruling party – Mohammed Muqtada Khan, Mohammed Moazzam Khan, and Syed Ahmed Pasha Quadri, when she released her book that was translated from her Telugu writings. Later, these MLAs were charged and arrested.
On 21 November 2007, a protest against Nasrin was organized by the All India Minority Forum in Kolkata that caused huge chaos in the state. Consequently, it led to the deployment of the Indian Army personnel to restore order. After the riots ended, Nasrin was ordered and forced to leave Kolkata. After that, she moved to Jaipur, and then to New Delhi the following day.

In an interview with media persons, while talking about these riots, Taslima narrated,

I was seeing and observing everything. Hindus were being targeted. Their shops were being broken down by mad crowds of people and so many Hindu patients were in hospitals telling their horror stories. I visited many places to see what was happening. I gave shelter to some of the Hindus. I just thought that nobody should be oppressed or tortured because of some buildings being destroyed. It was not the fault of Bangladeshi Hindus."
Reportedly, Mahasweta Devi (an Indian writer and activist) supported and defended Nasrin. Indian theatre director Bibhas Chakrabarty, Indian poet Joy Goswami, Indian artist Prakash Karmakar, and Paritosh Sen (a leading Indian artist) supported Talisma for her writings. In 2007, in India, renowned and prominent writers Arundhati Roy and Girish Karnad defended Nasrin, when she was under house arrest in Delhi. Arundhati Roy and Girish Karnad appealed to the Indian Government through a written and signed letter to provide Nasrin permanent residency and citizenship in India. [22]

Mainstream Kabir Chowdhury, a Bangladeshi writer-philosopher, also supported her.
In New Delhi, Nasrin was kept at a safe and undisclosed place by the Indian government. In January 2008, She was selected to receive the Simone de Beauvoir prize for her writings on women's rights; however, she denied going to Paris to receive the award. In an interview, she said that she wanted to fight for rights and freedom while living in India, and she further added that she did not want to leave India. Later on, Nasrin was hospitalized for three days due to various body complaints.
In 2008, India's former foreign secretary Muchkund Dubey, in a written letter, appealed to Amnesty International (a London-based human rights organization) to request the government of India to return Nasrin safely to Kolkata after her house arrest in New Delhi came to international limelight.
During Taslima's house arrest in New Delhi in 2008, Nasrin wrote that she was writing a lot but not about Islam. She said,


I'm writing a lot, but not about Islam, It's not my subject now. This is about politics. In the last three months, I have been put under severe pressure to leave [West] Bengal by the police."
In 2008, in an email interview, while Nasrin was house arrested in New Delhi, she narrated the stress she was going through while living in loneliness, uncertainty, and deathly silence. She said the under pressure, she deleted some paragraphs from 'Dwikhandito,' a book that raised controversy in Kolkata and created riots issues in the state. She further revealed that she cancelled publishing the sixth edition of her autobiography 'Nei Kichu Nei' ("No Entity"). In March 2008, Nasrin was ordered and forced to leave India.
Reportedly, Nasrin received a one-year extension in 2016 on her Indian visa; however, Nasreen is still seeking permanent residency in India but no decision has been taken on it by the Home Ministry of India. [23]

Indian Express
While studying medicine in Dhaka, a poetry journal called Shenjuti was written and edited by Nasrin. In the course of writing, she took a feminist approach when she saw girls who had been raped and heard the crying voices of the women who delivered baby girls in the operation theatres of the hospital in which she was working.
In 2008, Nasrin worked as a research scholar at New York University.
Al-Qaeda-linked extremists, in 2015, supposedly threatened Nasrin with death. She lived in the U.S.A. where the Center for Inquiry (a US nonprofit organization) assisted her in travelling. The Center for Inquiry (CFI) claimed that this assistance was only temporary, and if she could not remain in the U.S., they would provide her food, housing, and safety, anywhere she would live in the future. The Center for Inquiry helped to shift her to the U.S.A on 27 May 2015.
In an interview, in 2012, Nasrin said that Islam was not compatible with women's rights, human rights, secularism, and democracy. She added that all Muslim fundamentalists around the world hated her. She stated that the Muslim fundamentals did not like that she was fighting for women's rights all over the world.
In 2001, Taslima Nasrin's memoir 'My Girlhood' was published and released. The content of the book depicted that what happened when her brother married a Hindu woman. This book included the real-life events faced by Nasrin from her birth to the dawn of womanhood. This book designed the scenes of violence she faced in childhood, the rise of religious fundamentalism in Bangladesh, the memories of her pious mother, the trauma she went through because of molestation she faced in girlhood, and the beginning of a journey that redefined and changed her world.
Taslima Nasrin actively participated in the protest against violence against women during the 2012 Nirbhaya Delhi Gang rape case.
Nasrin has been criticized for targeted scandalisation by writers and intellectuals in both Bangladesh and West Bengal. In 2013, Syed Shamsul Haq, the Bangladeshi poet-novelist filed a defamation suit against Nasrin for "obnoxious, false and ludicrous" comments in Ka (A novel written by Taslima). Syed said that this novel was written with the intention to harm his reputation. In the book, Nasrin mentioned that Syed revealed to Nasrin that he had a relationship with his sister-in-law.
In 2014, Nasrin's book 'Nirbasan' was cancelled at the Kolkata Book Fair, and it happened after a year of its launch. However, Nasrin felt that the situation in West Bengal was exactly like Bangladesh. [24]

The Hindu She stated,


The situation in West Bengal is exactly like Bangladesh. Bengal government has also made me a persona non grata as they are not allowing me to enter, banning my books besides the TV drama series scripted by me. They are not allowing me to participate in the ongoing Kolkata Book Fair. It happened during the CPM regime and I thought the situation would change when Mamata Banerjee comes to power but that did not happen."

She further added that,

I am so apprehensive about it that I tweeted that those who want to buy it, buy early. They are banning my books or release of my books which is the real death of a writer. They have done it in 2012 and can again do it. If it continues like this, then Bengal will be like another Bangladesh or Pakistan where there is almost no freedom of expression for those who have different opinions."

She concluded her statement and said,

It is strange that I have been writing on women issues for the last three decades but three women (Sheikh) Hasina, Khalida (Zia) and Mamata (Banerjee) have made my life difficult. There is no hope for Bangladesh. And I miss Kolkata because culturally I connect with the city. But I have now given up all hopes of returning to the city."

In an interview with a newspaper in India, in 2014, Nasrin said that there should be an 'Aam Aurat Party' to fight for women-related issues. She said,


It will be good if Aam Aadmi Party can bring changes but I think there should be an Aam Aurat Party also to fight against issues like rape, domestic violence, hatred against women and men can also be a part of it."

She further added that she was a victim of vote bank politics in India. [25]The Hindu She narrated,

Fundamentalists are after me but the West Bengal government did not support me either. They did all this to woo Muslim voters. This vote bank politics is not good for a society or country. There should be healthy democracy."

In 2015, Bangladeshi writer Taslima Nasrin stated in a media conference that she would continue to fight against fundamentalists and evil forces until her death. [26]

The New Indian Express She said,


I think fundamentalists may want to kill me, but I want to protest against them. If I stop writing, it means they will win and I will be defeated. I don't want to do that. I won't be silenced. I will continue to fight against fundamentalists, evil forces until my death."
On 8 July 2016, Taslima Nasrin was invited to a debate show on NDTV where Tariq Bukhari, General Secretary of the Muslim Majlis-e-Amal organization, walked out of the show as he refused to share the podium with Taslima Nasrin.
Taslima often shares pictures of her young age, when she was in Dhaka on her social media accounts.
Taslima is an animal lover. She loves her pet cat and often posts pictures of the cat on her social media account.
In 2017, Taslima gave an interview to an Indian News channel and said that women should fight for their rights, and she was always standing against the cruelty of patriarchy and the triple talaq system in Islam.
On 11 October 2018, in an exclusive interview with Indian News Channel, News Nation, famous Bangladeshi-Swedish author Taslima Nasreen revealed her life experiences and incidents of sexual harassment and misconduct. She was seen supporting the #MeToo India Movement.
On 9 July 2019, the 'French Lover' author Taslima Nasrin took to Twitter to share her excitement about completing 25 years of exile.
On Shushant Singh Rajput's death in 2020, Nasrin claimed that nepotism existed in everyone's blood, and she further stated that nepotism was not the reason behind the suicide of Shushant. She wrote,


I don't think nepotism was the reason for Sushant's suicide. He was a talented actor, &  signed many movies. He should not have discontinued prescribed medicines for his clinical depression."
In May 2021, Taslima fell ill due to COVID-19 and posted it on her social media account. She said,


Misfortune had always found its way with me. If I start listing everything that has happened with me, all those things which weren't supposed to, then the list would be so long no one would find an end to it! For now, let Covid-19 be the only tragedy."