Veerappan Age, Death, Wife, Children, Family, Biography & More
Quick Info→
Wife: Muthulakshmi
Age: 52 Years
Death Cause: Ballistic Trauma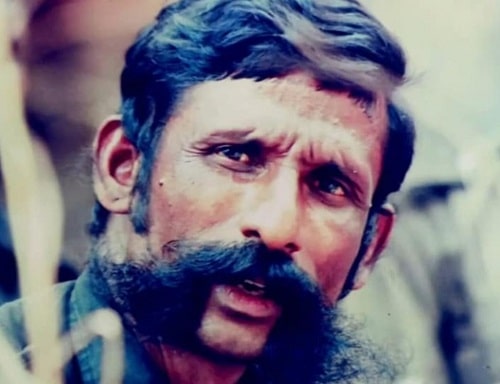 Bio/Wiki
Other name
Eerappa [1]

The Times of India
Full name
Koose Munisamy Veerappan [2]

The Times of India
Profession(s)
Domestic Terrorist, Sandalwood Smuggler, Poacher
Physical Stats & More
Height (approx.)
in centimeters- 170 cm
in meters- 1.70 m
in feet & inches- 5' 7"
Eye Colour
Dark Brown
Hair Colour
Black
Personal Life
Date of Birth
18 January 1952 (Friday)
Birthplace
Papparapatti, Dharmapuri, Tamil Nadu, India
Date of Death
18 October 2004
Place of Death
Near Papparappatti, Tamil Nadu
Age (at the time of death)
52 Years
Death Cause
Ballistic Trauma [3]

Hindustan Times
Zodiac sign
Capricorn
Nationality
Indian
Hometown
Tamil Nadu, India
Educational Qualification
He had no formal education. [4]

India Today
Religion
Hinduism [5]

India Today
Caste
Tamil Vanniyar (backward caste) [6]

The Times of India
Food Habit
Non-vegetarian [7]

Rediff
Relationships & More
Marital Status (at the time of death)
Married
Marriage Date
January 1990

Family
Wife/Spouse
Muthulakshmi (politician)

Children
Daughter(s)- 3
• Vidya Rani or Vijayalakshmi (born in 1990) (actor & BJP leader; joined in 2020)

• Prabha (born in 1992)

• His third daughter was strangled to death. [8]

The News Minute
Parents
Father- Koose Muniswamy (cattle grazer and poacher)
Mother- Name Not Known
Siblings
Brother(s)- 2
• Koosa Matheyan or Madhaiyan (elder) (criminal, arrested in the murder of a forest ranger Chidambaram in 1987; died of a cardiac arrest in 2022 at Salem Government Hospital, Tamil Nadu)

• Arjunan (younger) (Veerappan's gang member; surrendered to the police in 1987)

Sister- Mala (depressed by the rumours of her affair with the forest officer Srinivas Reddy, she committed suicide)
Favourites
Weapon
.303 bolt action police rifle
Food
Fried Pork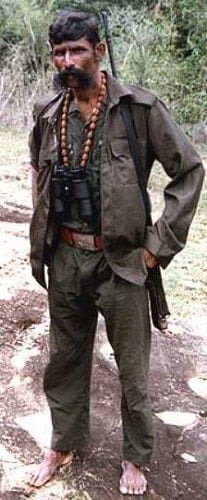 Some Lesser Known Facts About Veerappan
Veerappan was an infamous Indian bandit who later turned into a domestic terrorist. He established his base camp in the dense Sathyamangalam Forest in Tamil Nadu, India. Throughout his criminal career, he engaged in a wide range of illegal activities including kidnapping, murder, extortion, sandalwood smuggling, and elephant poaching. His ruthless actions led to the deaths of 184 individuals, of which 97 were police officials and forest officers. Moreover, he was responsible for the killing of around 900 elephants, primarily for their ivory. Despite his notoriety, some people considered him a modern-day 'Robinhood of India,' as it was believed that he helped various sections of society. [9]

The Indian Express
Veerappan's background was rooted in poverty, leading him to feel that there was no justice for the underprivileged. He endured a traumatic encounter with a forest official, which fostered a deep-seated hatred towards all government officials. Later on, he started assisting his uncle, Saalvai Gounder, who was infamous for poaching and sandalwood smuggling. Initially, Veerappan engaged in the smuggling of sandalwood and ivory, resorting to killing elephants to obtain their tusks.
At the young age of 17, Veerappan committed his first murder and subsequently targeted those who opposed his illicit activities, often singling out police officers, forest officials, and informants. As time went on, he distanced himself from his uncle and, along with other poachers, was responsible for the deaths of an estimated 2,000 to 3,000 elephants over a span of twenty-five years. In 1972, he faced was arrested for the first time. During an interview, he revealed that people started getting jealous of him, and the forest officials even hired hunters to kill him.
According to Veerappan, the district forester had promised the hunters that if they succeeded in killing him, all their cases would be dropped. Driven by rage, he vowed to seek revenge against those men. Waiting with his men, he shot them down, and in a fit of fury, he dismembered their bodies, packing the pieces into sacks and disposing of them in the Cauvery River as food for the fishes.
From a young age, Veerappan made a firm decision to abstain from intoxicants and romantic involvements with women, as he considered it distracting and harmful elements in his life. However, fate seemed to have other plans as he found himself irresistibly drawn to a girl named Muthulakshmi. Despite his best efforts to resist, Veerappan couldn't help but become a frequent visitor to her village.
Muthulakshmi noticed Veerappan's regular presence and was captivated by his striking features including his bristling moustache, intense gaze, and an air of authority that both commanded respect and instilled fear among the villagers. His demeanour left a profound impression on her. However, Muthulakshmi's parents were not supportive of her relationship with Veerappan. In fact, her father informed Veerappan that she was already engaged to one of her cousins, hoping to discourage any further involvement between them. Despite this rejection, Veerappan remained determined and refused to give up.
Undeterred by the obstacles, Veerappan and Muthulakshmi decided to elope and got married in a forest temple in January 1990. For some time, they lived together in the forest, with Muthulakshmi even spending the entire eight months of her pregnancy there. However, as her delivery approached, she made the decision to return to her parents' house.
Muthulakshmi's father, fearing the possibility of her getting arrested, took her to Chennai, where she decided to surrender to the police. As a result, she was admitted to a women's hostel, where she later gave birth to a baby girl. An officer named Sylendra Babu from the Special Task Force (STF) gave the child the name Vidya Rani or Vijayalakshmi. Despite being allowed to return to her parents' home in Neruppur, her movements were closely monitored by the authorities.
One day, a man pretending to be a relative visited Muthulakshmi's house, but he was actually one of Veerappan's associates, sent to deliver a message from the infamous bandit himself. Veerappan implored Muthulakshmi to leave the infant with her parents and return to the jungle because he missed her. However, Muthulakshmi found it emotionally difficult to part with her baby.
Although she resisted Veerappan's command for a couple of months, she eventually came to the realisation that her child would have a better future in the village than in the harsh and unforgiving forest. Taking a bold step, one night, she discreetly left Neruppur and courageously reunited with Veerappan in the jungle.
The first confrontation between Veerappan and the Karnataka police occurred on 27 August 1983 in the Mavukal forest area, within the Ponnampet police station limits of Kodagu district. During this encounter, which happened while the gang was attempting to trap elephants, a forest guard named K.M. Prithvi tragically lost his life. This marked the first instance of Veerappan's attack on police and forest officials.
Subsequently, another deadly encounter took place on 26 August 1986, at Alegowdana Katte, within the Gundlupet police station area in the Mysore district. During this incident, Veerappan and his associates shot and killed another forest guard named Siddarama Naik.
In 1986, while he was in Bangalore to purchase ammunition, the local police captured him. He was then handed over to the superintendent of police, Forest Cell, in Mysore. However, Veerappan managed to escape soon after, and a police inquiry implicated senior officials guarding him for accepting bribes. Veerappan, on his part, accused the officials of subjecting him to torture while in custody and credited his release to God's grace. Nevertheless, this experience significantly altered his perspective towards state authority, leaving an irreversible impact on him. In an interview, while talking about his escape, he said,


I rushed back to the jungle. It was a place I had often hunted in. I knew it like the back of my hand. I rushed in, picking up a couple of rocks on the way. Anybody pursues me and I would simply knock the jelly out of his brain. I reached a mountain and then thought, are you chaps going to catch me any more? just see how I settle scores with you. Nightfall came but there was moonlight to guide me. It was a terrible forest, populated by tigers, bears, wild buffaloes and elephants, but I was confident. Dogged by fatigue, hunger, sleep, thorns and leeches I kept on, with only my instincts for my compass and wild berries for food. At last, the meaning of my captivity and my escape dawned on me. It was then that I really understood the oppression of the officials. It was after that my guns, which had been trained on elephants, turned towards the officials. Beware you fellows, here I come, I thought. It gave me great peace."
Soon, the alarming decline in the number of wild tuskers raised concern among conservationists, leading to protests. In response, the Karnataka Government intensified forest patrolling efforts. Moreover, international regulations on the ivory trade compelled India to impose a domestic ban, preventing Veerappan from selling his stock of ivory. As a result, he and his associates found themselves in a state of penury, surviving on forest tubers and roots for months. His clothing bore numerous patches, and he took great care to avoid people's gazes to hide his destitute condition.
Despite his past wealth and countless acts of assistance to others, Veerappan couldn't bear the thought of being perceived as a beggar. He lived this way for a year until he eventually resumed illegal elephant poaching, making substantial profits and recruiting numerous men for the task. With the money flowing in, he began offering hefty bribes to officials who frequented his area, seeking favours and financial gains. This influx of wealth further empowered Veerappan, making him influential even among politicians who sought his favour.
However, he showed no mercy towards those who dared to oppose him. He continued with the same ruthlessness which he used to hunt elephants in stalking his targets. Carefully observing their movements, he devised intricate traps and executed his attacks with brutal precision. From 1987 to 1989, he planned numerous murders of forest officials and rivals. Throughout this spree of murders, he consistently portrayed his enemies as oppressors of the poor, presenting himself as their saviour. However, he strongly believed that supporting politicians would do little to benefit ordinary people like him. [10]

The Guardian
In an interview, Veerappan revealed some of his tactics to evade the Special Task Force (STF). He recounted how the STF surrounded Bodhimalai for 15 days, continually claiming they would capture him, but they only managed to arrest the trees on Bodhimalai. However, he faced a unique dilemma. Veerappan realised that if his wife gave birth to a child while they were living in the forest, the baby's cries might disclose their location, jeopardizing their safety. To mitigate this risk, he instructed his wife to surrender to the police through a lawyer.
Veerappan devised a plan for his wife's surrender after she got pregnant. She was to inform the police that Veerappan had kidnapped her and then abandoned her. This strategy ensured that the authorities would not take any action against her, and she would be admitted to a hospital for protection.
Furthermore, Veerappan made a promise to his wife. He assured her that after seven or eight months, he would arrange for her to be brought back to him. In the event that he couldn't fulfill this promise, he threatened to kidnap the wives of some policemen, coercing them to promptly return his wife to him. He intended to release the abducted policemen's wives afterwards.
After the specified time had passed, Veerappan's wife was brought back to her parents. Following this, she rejoined Veerappan, showcasing the calculated nature of his plan.
In 1987, Veerappan made headlines by kidnapping and murdering Chidambaram, a forest officer from Sathyamangalam Taluka in Tamil Nadu. This heinous act brought his criminal activities into the limelight and caught the attention of the Indian Government. Veerappan further escalated his actions by abducting Chidambaranathan's relatives, keeping them as hostages and demanding a staggering ransom of Rs 1000 crore in cash. In 1987, after being transferred as DCF to Chickmangalur, a forest official named Srinivas played a crucial role in assisting the local administration in investigating the murder of Chidambaram, the Range Forest Officer in Satyamangalam Range. Srinivas took bold steps to develop a network of informers in Veerappan's native village, Gopinatham. Tragically, Veerappan responded with ruthless brutality, silencing the informers and displaying their severed heads as a gruesome warning to the village.
Under the coercion of his gang, Veerappan commenced negotiations with the then Tamil Nadu STF SP Sanjay Arora. Nevertheless, he abruptly terminated the talks and went back into hiding.
Even though Veerappan showed a willingness to surrender, he insisted on obtaining general amnesty as a condition. The hostage situation concluded when the DSP and his relatives successfully escaped during a collaborative STF operation involving Tamil Nadu and Karnataka.
During an interview discussing the incident, Veerappan recounted how he inquired about Chidambaram from the local people, who depicted him as a demon constantly causing harm. They provided specific details about Chidambaram's appearance, describing him as somewhat resembling a wild buffalo with a dark complexion. By a twist of fate, Chidambaram crossed Veerappan's path, leading the bandit to feel that Yama, the god of death, had brought him to face justice for his committed sins. Enraged, Veerappan cursed Chidambaram, but the officer remained steadfast like a log. Still consumed by anger, Veerappan delivered a forceful blow to Chidambaram's face, causing him to collapse. He then instructed his comrades to kill Chidambaram by crushing him with stones, and they relentlessly attacked his head and chest. After confirming Chidambaram's demise, Veerappan ordered them to halt the beating.
In November 1991, Veerappan committed another crime by murdering a senior IFS officer named Pandillapalli Srinivas. Notably, Srinivas was the first and only person to successfully arrest Veerappan back in 1986 during the SAARC Summit in Bengaluru. Following the arrest, Veerappan was taken for interrogation to the Budipadaga Forest Rest House in Chamarajanagar Division, where valuable information obtained led Srinivas to conduct numerous raids on the gang's hideouts across Karnataka, Kerala, and Tamil Nadu.
Despite Srinivas's dedicated efforts, Veerappan managed to escape custody while Srinivas was away conducting one of his raids. Although it wasn't Srinivas's fault, he couldn't help but feel responsible for the escape. This deep sense of responsibility fueled his unwavering determination to relentlessly pursue Veerappan, even when he had the option of choosing less risky postings elsewhere.
Additionally, Veerappan further tightened his hold on the area by distributing a portion of his ill-gotten wealth among the villagers. In a tragic turn of events, Srinivas fell victim to Veerappan's violence and was murdered in November 1991. In recognition of his exceptional bravery and service, the President of India posthumously honoured Srinivas by conferring the Kirti Chakra to his grieving mother in 1992. [11]

Rediff
Earlier, two officials who had accompanied Chidambaram faced a similar fate of being beaten by Veerappan's men with stones. However, surprisingly, he decided to spare their lives. When his men proposed burning Chidambaram and the other two officials along with the seized sandalwood, he laughed and rejected the idea, questioning why they would use the sandalwood to supposedly lead them to heaven. [12]

The Times of India
In 1993, Veerappan and his wife Muthulakshmi became parents of their third daughter. However, Veerappan reportedly did not consider the birth of his third daughter as auspicious. Around the same time, the Special Task Force (STF) initiated invasions into the jungle, where Veerappan had established his base. The cries of his newborn daughter posed a problem for him, as they could potentially aid the STF in locating his hideout. To eliminate this risk, he asked a woman from his base, who had assisted in the delivery of his daughter, to feed Erukkampoo (Calotropis) to the infant, causing her death. The woman followed his instructions, and the baby girl was strangled to death, and she was buried near the base camp. Subsequently, when the medical examiner searched the area, they discovered the buried body. [13]

The News Minute
Veerappan's ruthless disregard for civilian lives was evident when he murdered a man from his own native village who was innocently travelling in a police jeep. His frequent targeting and killing of suspected police informers further complicated the task of capturing him. The region's political instability provided Veerappan with opportunities to escape from one state to another, and the jurisdictional issues among states hindered police efforts to pursue him across borders. After a temporary lull in major attacks against the police and Forest Department staff following a second encounter, Veerappan struck again near Hogenakkal on 9 April 1990, ambushing and killing several sub-inspectors, including Dinesh, Jagganath, and Ramalingu.
On 14 August 1992, Veerappan orchestrated one of his most horrifying attacks, ambushing law enforcement officers between Ramapura and Meenyam. This brutal incident resulted in the merciless killing of several officers, including the then Mysore district Superintendent of Police, T. Harikrishna, sub-inspector Shakeel Ahmed, and four other policemen, namely Benagonda, C.M. Kalappa, Sundara, and M.P. Appachu. [14]

The Quint
In early 1992, the courageous Karnataka superintendent, Harikrishna, was assigned the task of apprehending Veerappan. Working alongside Inspector Shakeel Ahmed, Harikrishna made significant progress in penetrating Veerappan's criminal network, even successfully eliminating one of his key lieutenants in a previous encounter. However, Veerappan struck back with deadly force, displaying his unwavering ability to meticulously plan and use surprise to outmanoeuvre his adversaries as Harikrishna believed he was closing in on him.
Veerappan skillfully devised a cunning plan to trap Harikrishna, one of his main adversaries, by sending a man posing as an ivory buyer. Harikrishna, assuming the role of a merchant, fell into the trap and drove himself to meet the gang, unknowingly making a fatal mistake. Veerappan and his accomplices strategically blocked the road with stones, patiently awaiting Harikrishna's arrival. As soon as Harikrishna approached the ambush site in a taxi, Veerappan and his gang ruthlessly killed him and the other police officers present.
In response to Veerappan's reign of terror, the Karnataka and Tamil Nadu Governments established a Special Task Force in 1992 to capture the notorious criminal. The Tamil Nadu team was led by Sanjay Arora, while Shankar Bidri, along with Walter Devaram, headed the Karnataka team.
In February 1992, the Karnataka task force succeeded in capturing Veerappan's lieutenant, Gurunathan, with SI Shakeel Ahmed playing a crucial role in the capture. However, Veerappan retaliated three months later by attacking the Ramapura police station in Kollegal, resulting in the deaths of several policemen and the seizure of arms and ammunition. In the same year, Veerappan set a deadly trap for SI Shakeel Ahmed, leading to the officer's death along with five other law enforcement personnel.
Subsequently, the Karnataka and Tamil Nadu Special Task Forces intensified combing operations in the border areas of the two states and around Gopinatham village, Veerappan's birthplace. Under the leadership of Sanjay Arora and Shankar Bidari, these operations led to a significant reduction in Veerappan's gang, leaving only five members remaining.
During the pursuit of Veerappan, authorities held meetings with the villagers of Gopinatham and announced a reward of Rs 5 crores for any information that could lead to his capture. In 1993, the task force managed to apprehend Veerappan's wife, Muthulakshmi, on charges of aiding him. However, she was subsequently acquitted of all charges.
Veerappan once criticised the lack of coordination between the two states involved in the extensive combing operations. He believed that the policemen engaged in the search were not adequately trained in jungle warfare, posing a significant challenge to their efforts in capturing him. This lack of specialized training further complicated the task of apprehending the elusive criminal.
Furthermore, during the pursuit of Veerappan, various issues emerged between the Forest Department and the police in Karnataka. This division had grave consequences and ultimately led to the death of P. Srinivas, a deputy conservator of forests who had played a crucial role in hindering Veerappan's growth.
Srinivas approached his work systematically and diligently, and in August 1993, the Special Task Force (STF) engaged in a firefight with the Veerappan gang in the Sankaramalai forests near Eshwara, Ganapathi Nandi Bandekallu. This encounter resulted in the death of nine of Veerappan's associates due to police gunfire. Subsequent confrontations between the police and the Veerappan gang occurred at various locations including Garkekindi, Karikallu Gudda, Changadi, Chinnarihalla, Gindikadu, Kurimandhe, and Kumbaragundi, between October 1993 and May 1996, leading to the death of 11 more gang members.
In another deadly ambush near Rangaswamy Voddu, between Thalabetta and M.M. Hills Road, on 24 May 1993, the Veerappan gang ruthlessly shot dead six policemen including K.M. Uthappa, Prabhakara, Poovaiah, Machaiah, Swamy, and Narasappa. During this encounter, the then STF Commander, Gopal B. Hosur, sustained serious injuries, but the police managed to kill eight members of the Veerappan gang. [15]

The Quint
During the two-decade-long anti-Veerappan operations, both the Karnataka and Tamil Nadu governments formed special task forces to capture the notorious bandit, Veerappan. This action deeply angered him, leading to a devastating incident known as the "Palar Blast" in 1993. Veerappan's gang triggered landmines during this incident, resulting in the loss of 22 lives, making it the deadliest attack during the pursuit of Veerappan. The escalating death toll from the Palar blast compelled the governments to reconstitute the Special Task Force (STF), which eventually weakened the gang's strength and ultimately led to the death of Veerappan in 2004.
The sequence of events leading to the Palar blast began with the killing of a civilian suspected to be a police informer at Govindapadi in Mettur on 8 April 1993. In response to this incident and in defiance of the police, Veerappan's gang openly challenged the authorities to capture him. In reaction, a team of 41 policemen and forest staff, led by IPS officer K. Gopalakrishnan, set out from their base at Palar in M M Hills, located around 100 km from Kollegal.
Unbeknownst to the team, Veerappan had strategically laid landmines along their route. The team split into two groups and travelled in two vehicles. As their bus passed over the landmines near Surakkamaduvu, Simon Madaiah, a member of Veerappan's gang, detonated the gelatin sticks, causing a powerful explosion that violently flung the bus several feet away. Tragically, this blast resulted in the deaths of 22 people, including five policemen from Tamil Nadu, 17 forest officials, and informers. Thirteen other members of the team, including Karnataka police, sustained injuries during the devastating blast.
In the aftermath of the explosion, members of Veerappan's gang launched a subsequent attack on the team from a strategic location within the forest. In self-defence and to prevent the outlaws from stealing their weapons and ammunition, the police returned fire. During this chaos, Tamil Nadu IPS officer K. Gopalakrishnan, who had been on the footboard of the jeep during the blast, was thrown out and suffered severe injuries to his head and legs. To recover from his critical injuries, he underwent nine surgeries.
The Palar blast left a significant impact on the law enforcement personnel and forest staff involved, resulting in loss of lives and injuries, and it intensified the authorities' determination to capture the elusive Veerappan.
After a span of 18 months recovering from severe injuries, K. Gopalakrishnan returned to duty and later retired as DIG (Deputy Inspector General) in 2008. During the investigation of the Palar blast case, Gopalakrishnan's crucial eyewitness testimony played a significant role in prosecuting those responsible for the deadly explosion. The accused in the case included Veerappan, Muthulakshmi (Veerappan's wife), Kolathur Mani (a Tamil activist), and reporter S. Sivasubramaniam. Following the trial, Muthulakshmi and Kolathur Mani were acquitted, while seven members of Veerappan's gang were convicted and sentenced to life imprisonment.
Subsequently, four of the convicts appealed to the Supreme Court, resulting in their life sentences being changed to the death penalty. The four convicts, namely Jnanaprakash (Veerappan's elder brother), Bilavendran, Simon, and Meesekar Madaiah, then filed petitions against the execution of their death sentences at the Karnataka High Court. [16]

Deccan Herald
On 30 July 2000, Veerappan executed an armed attack on the farmhouse of Kannada film actor Rajkumar in Gajanur, Tamil Nadu, India. The attack occurred around 9:30 pm when Veerappan, along with a group of 10 or 12 armed men, stormed Rajkumar's farmhouse. The actor had been in Gajanur since 27 July 2000, for a housewarming ceremony at his newly constructed house. The attack took place just after Rajkumar had finished dinner, and Veerappan and his gang forcefully entered the farmhouse, leading to a tense and dangerous situation. The abduction occurred while the Rajkumar family was watching television at their farmhouse in Gajanur, Tamil Nadu, according to Parvathamma Rajkumar, the wife of actor Rajkumar. Veerappan entered the house and demanded Rajkumar by uttering "We want sir!" in Kannada. Subsequently, they took Rajkumar outside into the pouring rain and interrogated him about the other individuals present in the house.
Following the incident, Veerappan returned to the house and kidnapped Rajkumar's son-in-law S.A. Govindaraj, another relative named Nagesh, and Nagappa, an assistant film director. Rajkumar endured 108 days of captivity before finally being released.
During the abduction, the Inspector-General of Police, Tamil Nadu, M. Balachandran, and the Commander of the Special Task Force (STF), Harshavardhan Raju, were attending a meeting in Dimbum, which was approximately 55 kilometres away from Rajkumar's farmhouse in Gajanur. After receiving a tip-off about Veerappan's potential visit to a Hindu temple in Dimbum, they organized a trap in an attempt to capture him.
Ultimately, on 15 November 2000, after spending 108 days in captivity, Rajkumar was finally released by Veerappan, marking the end of a harrowing ordeal for the esteemed actor and his family. The release of Rajkumar came at a significant cost, and the payments made to secure his freedom were as follows:
Rs. 5 crore was sent by S.M. Krishna, the then Chief Minister of Karnataka, through his son-in-law V.G. Siddhartha on two occasions, and an additional Rs. 5 crore was sent through DIG Jayaprakash.
Rs. 1 crore sent by Parvathamma Rajkumar, wife of Rajkumar, to Chennai and handed over at Karunanidhi's house.
Rs. 2 crore personally handed over by Parvathamma Rajkumar to Bhanu, presumably at her house in Indiranagar, Bangalore.
The kidnapping of Rajkumar further strained the already tense relations between the Indian states of Tamil Nadu and Karnataka, creating a sensitive situation in both regions. According to Rajkumar's son, Raghavendra Rajkumar, the Special Task Force (STF) responsible for capturing Veerappan had warned his father about the possibility of an abduction a year before it actually happened. However, Rajkumar had dismissed the warnings humorously, joking that if Veerappan kidnapped him, he would get nothing more than "a shirt and a dhoti."
In 2001, both the Karnataka and Tamil Nadu governments announced a reward of Rs 2 crore for any information leading to Veerappan's capture, which was later increased to Rs 5 crore in 2003. [17]

The Times of India
On 25 August 2002, Veerappan kidnapped H. Nagappa, a former Karnataka minister who had served as the Minister for Agricultural Marketing from 1996 to 1999, from his residence in Kamagere, Chamarajanagar district.
According to police sources, Veerappan and his associates visited Nagappa's farmhouse in the late evening. Upon noticing people in the backyard, Nagappa's gunman reacted quickly and locked himself in a room. Despite this, Veerappan and his men managed to break into the house by smashing the window grill.
During the abduction of H. Nagappa on August 25, 2002, Veerappan and his gang overpowered Nagappa's gunman, broke open the lock and took Nagappa, the bodyguard, and another individual as hostages. Despite Nagappa's wife, Parimala, pleading with Veerappan to release him, her pleas went unanswered, and Nagappa remained in captivity.
Nagappa, who had previously served as the minister for agricultural marketing in the Janata Dal government led by J H Patel, was known to be a fierce rival of Rajugowda, the present MLA from Hanur. He accused Rajugowda of having sought Veerappan's support during elections, with historical accounts indicating that Veerappan had campaigned for Rajugowda in the 1980s. Interestingly, despite joining the S M Krishna government, Rajugowda never spoke out against Veerappan, even during the abduction of Kannada film star Rajkumar. [18]

Hindustan Times
Furthermore, Rajugowda was advocating for the resumption of granite quarrying in the taluk, despite allegations that Veerappan had connections with quarry owners who provided him with explosives.
The search for Veerappan by the special task forces of Karnataka and Tamil Nadu intensified, leading to the recovery of a substantial amount of cash, believed to be the ransom paid for Rajakumar's release. The news of H. Nagappa's abduction sparked public unrest, resulting in an attack on the Hanur police station, prompting the deployment of additional forces from Chamarajanagar to manage the situation. During this period, a Tamil Nadu state transport bus was also attacked while en route to Kollegal, fortunately resulting in no casualties. [19]

Outlook
Throughout the relentless pursuit of Veerappan, the Karnataka police filed a total of 62 cases against him and his associates, submitting chargesheets in 60 of these cases. The majority of these cases were registered in Ramapura and M.M. Hills police stations. The Special Task Force (STF) displayed remarkable efficiency, managing to seize or destroy five tonnes of explosives and 120 firearms belonging to the gang.
The operation against Veerappan commenced in June 1985, and it was led by various senior police officials, including D.N. Munikrishna, P. Kodandaramaiah, K.U. Shetty, T. Madiyal, Shankar Mahadev Bidari, M.K. Srivatsava, Dharam Pal Negi, Harshavardhana Raju, Kempaiah, and Rajveer Prathap Sharma. During Bidari's tenure as the head of the STF from February 1993 to June 1996, the operations intensified, and the Veerappan gang's strength was reduced to only six members. Bidari, serving as the first full-time commander of the STF during this crucial phase, played a pivotal role in the ongoing efforts to capture Veerappan. [20]

India Today
In the jungles alongside Veerappan, the Tamil Nadu-based TNRT (Tamil Nadu Retrieval Troops) and TNLA (Tamil Nadu Liberation Army), which had ties to the LTTE (Liberation Tigers of Tamil Eelam), sought refuge. Despite his primary motivation being kidnapping for ransom, Veerappan utilized ideological connections with TNRT and TNLA to pursue political demands. These demands encompassed seeking justice for Tamil Nadu in the Cauvery water dispute, advocating Tamil as the medium of instruction, and urging measures to uplift the underprivileged. Furthermore, the release of Tamil extremists imprisoned in India was also demanded. [21]

The Statesman
T.S. Mani, an LTTE supporter from Tamil Nadu, played a significant role in linking Veerappan with the Tamil extremists. Driven by his sympathies towards the TNRT's cause and their past shared experiences as poachers, Mr Mani played a vital role in appointing P. Nedumaran, a pro-LTTE leader of the Tamil Nationalist Movement, as the emissary for negotiating Rajkumar's release. During this period, other pro-LTTE elements from Karnataka also visited Veerappan.
Later, when Tamil Nadu and Karnataka reinitiated the Special Task Force's operations against Veerappan, the Tamil extremists withdrew from the forest, leading to the subsequent apprehension of many of them by the police. This phase highlighted the intricate political dimensions surrounding Veerappan's activities and the convergence of his actions with the aspirations of certain Tamil extremist groups. In 1997, Veerappan's gang abducted wildlife photographers Senani and Krupakar. Tragically, during this incident, Veerappan reportedly killed a gang member known as 'Baby Veerappan,' who had aspirations to take over Veerappan's position. The gang also kidnapped and subsequently released other photographers, Senani and Krupakar. In another shocking incident, Veerappan's gang abducted and executed nine forest officials from Karnataka in the Burude forests.
In 1997, Veerappan orchestrated the kidnapping of nine forest officials at Marapala in the Burude forests of Kollegala taluk, demanding an official apology from the government as a condition for their release. Despite the tense situation, after seven weeks in captivity, the hostages were eventually freed without any concessions being granted to Veerappan's demands.
Continuing their spree of kidnappings in 1998, Veerappan's gang abducted several individuals, including Prof. Krishnasamy, A. S. Mani (editor of "Netikan"), Payumpuli (reporter), and Richard Mohan (photographer). However, through a combing operation executed by the Special Task Force, they were eventually released. These events exemplify the formidable challenges and dangers faced by the task forces in their pursuit of Veerappan and his gang.
Reportedly, Veerappan had offered a deal with ten conditions to the Indian government, indicating his willingness to surrender. The conditions were as follows:
He would surrender only before the President of India while laying down his arms.
Immediate police protection must be provided, and an inquiry into police atrocities should be conducted. He claimed that hundreds of women were raped, and several men were unnecessarily killed by the police. He promised to bring forward hundreds of women to stand as witnesses in such an inquiry.
The families of men killed by the police should be compensated, and victims of rape by policemen should also receive compensation. The compensation should be substantial, not meagre amounts like Rs 10,000, but over Rs 100,000 since the family members could not survive once the head of the household had died.
Due to his traditional hunting family background, he requested three types of gun licenses for himself – one for a revolver, a .375 rifle, and another for a double-barrel gun. He emphasized that the licenses were solely for his protection and swore upon God that he would not use the weapons against people. Additionally, he asked for gambling and hunting licenses to ward off forest officials seeking to harass him when he visited the forest to worship his family deities. He also sought an annual quota of 300 to 400 bullets or cartridges.
He demanded Rs 5 billion as compensation for properties seized from his family members and associates by the police, including the destruction of the Perumal temple he constructed. He also wanted restitution for the millions of rupees looted from the temple hundi, the theft of a silver spear, and gold ornaments worth millions of rupees. Additionally, he sought compensation for the destruction of his house, agricultural land, well, and pump set.
Veerappan claimed that all pending criminal cases against him were false and demanded clemency in all of them. He further insisted that clemency be extended to hundreds of his men imprisoned in Tamil Nadu and Karnataka.
He requested the immediate removal of police forces deployed in the forest to capture him to avoid unnecessary problems in case of a clash. He pledged that until negotiations were complete, he would not even harm a dog.
These conditions presented Veerappan's expectations and grievances, portraying his desire for justice and assurance of safety in the event of surrender.
Veerappan put forth ten conditions to the Indian government as part of his offer to surrender. These conditions included a demand for the return of six sets of elephant tusks kept for a special religious purpose. Additionally, he urged the Chief Minister to take the lead in obtaining public clemency for himself and his men.
Bringing up the case of his brother Arjunan and associates Lyandhurai and Rangaswamy, who he claimed were forced to consume cyanide by the police while in custody, Veerappan accused former Chief Minister Jayalalitha and then Karnataka Chief Minister Deve Gowda of being complicit in this criminal conspiracy. He called for a Central Bureau of Investigation inquiry to expose and punish the responsible police officers. Veerappan also expressed his desire to produce a biographical film about him, asserting that it should not be banned, even if it portrayed politicians, officials, and police in a derogatory manner. [22]

Down To Earth
Despite committing heinous crimes, Veerappan garnered some support as a modern-day Robin Hood figure due to certain actions that earned him goodwill among some sections of society. He set up a school and dispensary in his village, renovated a temple, and provided monetary assistance to villagers in exchange for food supplies. During the 1991 violent clashes over the Cauvery River water sharing, he gained support from Tamil-dominated villages by offering protection to those facing danger in border districts of Karnataka. Veerappan also sought revenge for atrocities committed by some STF personnel by raiding a police station and brutally killing five sleeping policemen. While his image as a Robin Hood figure was partly due to the monetary aid he offered to villagers, it was also influenced by the contrast with the mistreatment of villagers by certain STF personnel during their search for information. As Veerappan engaged more with the outside world, this narrative of him being a saviour to the villagers gained traction.
On 18 October 2004, Veerappan met his end through Ballistic trauma during the STF operation called 'Operation Cocoon.'
'Operation Cocoon' was a major covert mission carried out by the Tamil Nadu Special Task Force (STF) with the objective of capturing Veerappan. The operation was a response to the escalating criminal activities and atrocities committed by Veerappan and his gang, including high-profile kidnappings and killings of government officials, police officers, and civilians. To put an end to his reign of terror, the STF deployed hundreds of police personnel, including special forces and commandos, in the forest areas where Veerappan operated.
The success of 'Operation Cocoon' hinged on meticulous intelligence gathering and the capture of Veerappan's close associates, such as his chief lieutenant, Sethukuli Govindan, and another prominent member, Captain Mariappan. These captures provided vital information about Veerappan's hideouts, supply chains, and support networks. Additionally, the STF employed innovative techniques like informants and electronic surveillance to track Veerappan's movements and intercept his communications.
In a decisive turn, Veerappan's wife, Muthulakshmi, and their daughter were captured in 2004. Muthulakshmi played a crucial role in leading the STF to Veerappan's secret locations in the forests. Finally, on 18 October 2004, 'Operation Cocoon' reached its climax as the STF, led by then-STF chief K. Vijay Kumar, stormed Veerappan's hideout in Padi forest near Dharmapuri district, Tamil Nadu. A fierce gunbattle ensued, resulting in the death of Veerappan and three of his associates. This marked the end of Veerappan's reign of terror, which had spanned over two decades.
Operation Cocoon was a meticulously planned and executed mission that involved the coordination of various intelligence agencies, police forces, and specialized units. It successfully brought down one of India's most notorious criminals, providing justice for the victims of his crimes and relief to the people of the region who had lived in fear for many years. The operation's success is considered a significant achievement in India's fight against organized crime and insurgency.
However, the operation that led to Veerappan's death sparked several controversies. Some individuals alleged that the person killed in the encounter was not Veerappan, pointing to differences in his appearance, particularly his moustache. Nevertheless, the police confirmed his identity through fingerprints and verified it with his relatives. Despite these claims, the post-mortem and ballistic expert reports supported the police's account of the incident.
Certain media outlets suggested that Veerappan could have been captured alive, and his killing might have been politically motivated to prevent potential revelations. They argued that keeping him alive for trial could have shed light on various truths. However, the police clarified that they had to defend themselves as they were fired upon during the encounter, resulting in injuries to four officers. The police maintained that the operation was carried out in self-defense, and the use of force was necessary to neutralize the threat posed by Veerappan and his gang.
Despite the controversies, Operation Cocoon is recognized as a pivotal moment in India's fight against organized crime and insurgency. It stands as a testament to the determination and capabilities of the country's security forces in dealing with high-profile criminals and restoring peace in troubled regions.
Human rights activists strongly protested, contending that Veerappan was denied a fair chance to defend himself, and they believed he should have been given the opportunity to justify his actions properly. Following Veerappan's death, many saw it as the downfall of a formidable foe, bringing relief to the villagers of Gopinatham who celebrated the event with firecrackers. However, amidst the celebrations, human rights activists associated with the Centre for Protection of Civil Liberties (CPCL) expressed concerns.
They argued that the available evidence pointed to the possibility of Veerappan being subjected to police torture before his death, raising suspicions of extrajudicial killing. In the wake of Veerappan's death, Gopinatham gained prominence as an ecotourism destination, promoted by the Karnataka State Department of Forest and Tourism, aiming to showcase the natural beauty of the region.
For Veerappan's final resting place, Moolakkadu near Mettur in Tamil Nadu was chosen, holding sentimental value for his family, as many of his relatives in Gopinatham had already relocated elsewhere.
The police initially planned a cremation, but due to objections from Veerappan's family, they ultimately decided on a burial. The burial ceremony attracted a large gathering, and stringent security measures were put in place to maintain order and safety.
He was a deeply religious and highly superstitious individual, firmly believing that his survival was a result of divine favour. Each morning, under the watchful eyes of two guards, he would bathe in a stream and dedicate at least 15 minutes to fervent prayers. Despite maintaining friendly relationships with gang members, he adhered to a strict code of conduct, prohibiting any drinking in his presence and ensuring no harm came to women or innocent people through robbery or killing. However, he showed no hesitation in killing anyone who posed a threat, even those who betrayed him to the authorities. [23]

India Today
Veerappan was considered a good leader, with his younger brother, Arjunan, serving as his most trusted lieutenant. The gang members spanned a wide range of ages, from the eldest, around 60, to the youngest, a mere six years old. Veerappan proudly introduced the youngest member as his nephew and demonstrated the child's shooting prowess. The camps where they resided resembled large makeshift villages, housing women and children, but Veerappan strictly forbade any photography of these areas. His wife, Muthulakshmi, also lived with him but remained mostly out of public view. [24]

India Today
Veerappan had a remarkable ability to imitate the chirping of birds and even replicate animals' mating calls, showcasing his skills as an exceptional marksman.
He diligently trained his gang members, emphasising the importance of precision in shooting and discouraging unnecessary gunfire to conserve bullets.
During his leisure time, he enjoyed reading magazines and newspapers.
His moustache style became quite popular. He used to take extra care of it.
Veerappan had decided to stay away from intoxicants, maintaining a sober lifestyle. [25]

The News Minute
A psychiatrist from Bangalore once conducted a thorough psycho-profile on Veerappan, classifying him as an extremely angry man with uncontrollable aggression towards society, law, and authority. He was regarded as a criminal in a league of his own. The psychiatrist concluded that Veerappan would never surrender to the police and would fiercely resist until the very end, ultimately meeting his fate in the midst of battle. [26]

India Today
Veerappan's life has been the subject of various TV serials, films, and web series. In 1991, a Kannada film titled 'Veerappan' portrayed him, with Devaraj playing the role of Veerappan.
A Tamil TV series named 'Sandhanakaadu' aired on Makkal TV in 2007, with Karate Raja portraying Veerappan.
In 2012, another Kannada film named 'Attahasa' depicted Veerappan, with Kishore playing the lead role. The film was also dubbed in Telugu and Malayalam.
On 25 April 2013, during the Vanniyar Youth Cultural Festival, the Pattali Makkal Katchi and the Vanniyar Sangam presented Veerappan as a youth icon, drawing condemnation from then Chief Minister of Tamil Nadu, Jayalalithaa.
The jungle where Veerappan made his base camp has been converted into a nature camp and some of his guns are displayed at the Tamil Nadu Police Museum.
Additionally, a statue of Veerappan is placed at the Wax World Museum in Ooty, Tamil Nadu.
In 2016, the Kannada film 'Killing Veerappan,' directed by Ram Gopal Verma, depicted the events surrounding Operation Cocoon. Later, the film was released in Tamil, Telugu, and Malayalam languages. Sandeep Bharadwaj portrayed Veerappan in the film.
In the same year, a Hindi film titled 'Veerappan,' also directed by Ram Gopal Varma, featured Sandeep Bharadwaj in the lead role.
On 10 February 2017, Indian author K. Vijay Kumar penned a book titled "Veerappan – Chasing The Brigand," focusing on the life and pursuit of Veerappan.
On 27 July 2023, the OTT platform Netflix released the trailer of the documentary 'The Hunt for Veerappan,' which was streamed on 4 August 2023.