Paan Singh Tomar Age, Death, Wife, Children, Family, Biography & More
Quick Info→
Age: 49 Years
Wife: Indira Singh
Height: 6' 1"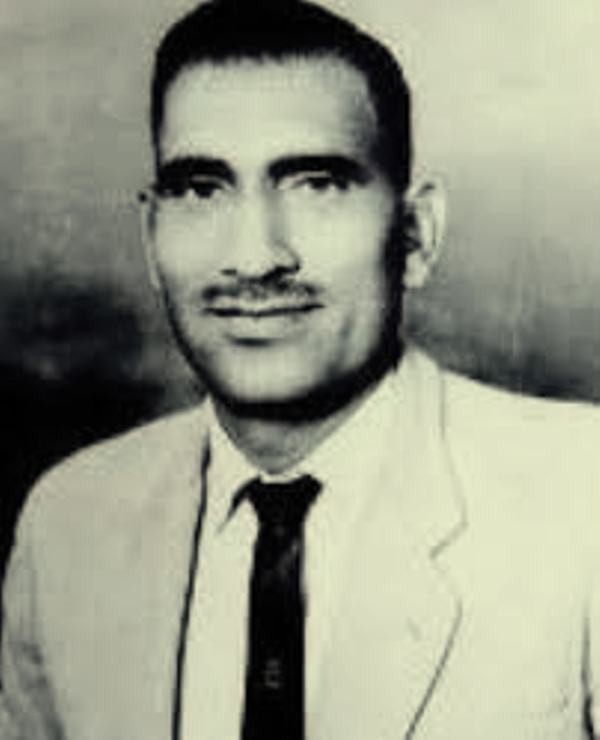 Bio/Wiki
Profession(s)
• Military Personnel (Subedar in the Indian Army)
• Athlete
Famous For
• Being the 7-time national champion in the Steeplechase
• His biopic Bollywood film "Paan Singh Tomar" (2012)
Physical Stats & More
Height [1]

The Times of India
in centimeters- 185 cm
in meters- 1.85 m
in feet & inches- 6' 1"
Military Service
Service/Branch
Indian Army
Rank
Subedar (Warrant Officer)
Unit/Regiment
Bengal Engineers Regiment, Roorkee
Years of Service
1949-1977
Sports
Field
Athletics
Event
3000 Metre Steeplechase
Record
His 9 minutes and 2 seconds record in 3000-metre steeplechase remained unbroken for ten years.
Personal Life
Date of Birth
1 January 1932 (Friday)
Birthplace
Village Bhidosa, near Porsa city of Tonwarghar District, Northern Gwalior Division, Gwalior State, British Indian Empire (now Morena District, Madhya Pradesh, India)
Date of Death
1 October 1981 (Thursday)
Place of Death
Rathiankapura Village, Madhya Pradesh
Age (at the time of death)
49 Years
Death Cause
Police Encounter
Zodiac sign
Capricorn
Nationality
Indian
Hometown
Morena, Madhya Pradesh
Religion
Hinduism
Caste
Kshatriya (Thakur) [2]

OPEN
Relationships & More
Marital Status (at the time of death)
Married
Affairs/Girlfriends
He had an affair with a woman from Rathiankapura Village in Madhya Pradesh. [3]

The Times of India
Family
Wife/Spouse
Indira Singh

Children
Son- 2
• Hanumant Singh Tomar (served the Indian Army and died in a road accident in 1985)
• Souram Singh Tomar (born in 1959); retired Indian Army subedar (captain)
Daughter- 4
• Attakali
• Name of the rest of the three daughters is not known

Parents
Father- Eashwari Singh Tomar
Mother- Name Not Known
Siblings
Brother- Maatadeen (elder)
Sister- Not Known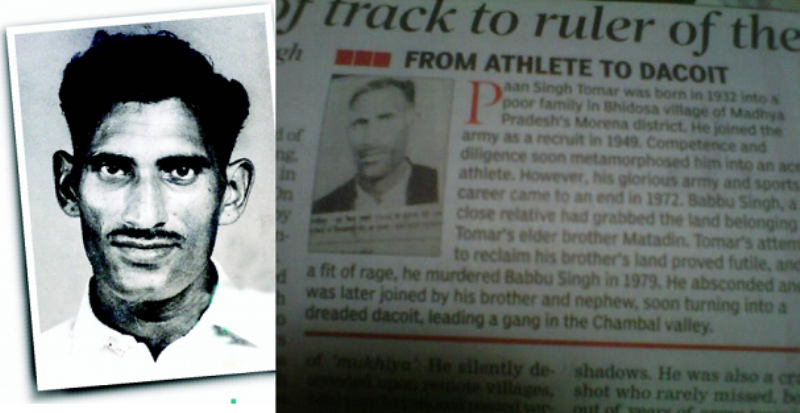 Some Lesser Known Facts About Paan Singh Tomar
Paan Singh Tomar was an Indian athlete and military personnel who turned Baaghi (rebel). He is best known for being the seven-time national champion in the steeplechase and representing India in the 1958 Asian Games; held in Tokyo, Japan.
He became a household name after the noted Bollywood actor, Irrfan Khan essayed his role in Tigmanshu Dhulia's eponymous film "Paan Singh Tomar" (2012).
Paan Singh belonged to Morena district, near the ravines of Chambal, which is notorious for nurturing various rebels and dacoits, back in the 1950s and '60s. He grew up in the area where looting and killing were normal things, which can be understood from the fact that once when a judge asked a Chambal dacoit named Laxman Dixit, alias Lukka Daaku that how many persons he had killed, the dacoit replied –


आपको याद रहता है आप महीने में कितनी चपाती खाते हो ?"
The paternal grandfather of Paan Singh had two wives; the older one gave birth to Eshwari Singh (Pan Singh's father) while the younger one gave birth to Dayaram (Paan Singh's uncle). Dayaram went on to have five sons, including Jandel, Havaldar, and Babbu (Paan Singh's cousin brothers) and nearly a dozen grandchildren. Later, Babbu became an influential landlord who commanded an extended family of nearly 200 members in Bhidosa village.
Since his childhood, Paan Singh was known for his running skills and after getting inducted into the Indian Army, he showed his running prowess.
He joined the Indian Army in 1949 as a subedar (Warrant Officer) under the Bengal Engineers Regiment at Roorkee. It is said that on the very first day, he had an argument with an instructor who commanded him to run numerous laps of the parade ground as a punishment, and the punishment was turned out to be bliss in disguise; like his running skills caught the eye of officers, and they shifted Paan Singh to the sports wing where he was put on a special diet. Thereafter, Paan Singh went on to become one of the most bankable athletes in the Indian Army, and apart from becoming a seven-time national champion in the steeplechase, he also represented India at the 1958 Tokyo Asian Games.
For his sports career, the Indian Army officials didn't let him take part in the 1962 Sino-Indian War and Indo-Pakistani War of 1965.
In 1972, Paan Singh's sports career came to an end; a career that was full of remarkable achievements and records, including his 2,000 strides (as compared to the 2,500) for the challenging 3,000-metre run, which is still a benchmark in the steeplechase in India.
While serving the Indian Army as an athlete, he had become a running icon in his regiment, and the hostel warden would often awake the new inductees by saying –


जागो, जागो पान सिंह साहब तो सहारनपुर से दौड़कर भी आ गए।"
It is said that he loved running so much that he would often visit his village by running.

In an interview, his son, Souram Singh Tomar, shared an instance when he was sitting with his father, Paan Singh, on the banks of a canal in Roorkee, and he asked his father 'How do you run? Saans nahin phoolti?' And Paan Singh replied –


साँस कहाँ फूलती है, भागने से साँस पक्की हो जाती है।"
In 1977, Paan Singh took premature retirement from the Indian Army and returned to his native Bhidosa Village in Morena, Madhya Pradesh where a land dispute was awaiting him; a dispute that would lead the king of the track to become the ruler of the ravines.
The land dispute was about two and a half bigha of land that Paan Singh's older brother, Maatadeen, who was a ganja-lover and was just like the black sheep in the family, had mortgaged to his uncle Dayaram's scion for a sum of Rs. 3, 000. Later, Dayaram's sons; especially Babbu, made a stronghold over the land.
By the time Paan Singh returned to his native village, Babbu had become a strongman in Bhidosa. While talking about Babbu and his menfolk's dominance in the village, Sahab Singh, the childhood friend of Paan Singh Tomar, once said,


बहुमत उनका था, चलती इनकी थी।"
When Paan Singh returned to his village and tried to get his land back from Babbu, a dispute ensued between Paan Singh and Babbu's scion. A Panchayat was held under the supervision of Morena district collector who tried to make arbitration between the two parties; however, the decision didn't go in Paan Singh's favour. It's said that from then onwards, Paan Singh never tried to approach police; instead, he became an outlaw and made the ravines of Chambal as the epicentre of his operations. Reportedly, at that time Paan Singh said,


थाने में हाज़िर नहीं होंगे। गाँव में नहीं रह सकते। अब तो मरना और मारना है"
During the active years of Paan Singh as a rebel in the ravines of Chambal, many other gangs were also active in the area, including the Mausi Gang, Putali Gang, and the band of Gabbar Singh Gurjar who is said to have inspired the cult movie Sholay.
The rivalry between Paan Singh and Babbu's gang became so intense that often they would get themselves engulfed in a fight or two. On 16 March 1979, when Paan Singh's elder son, Hanumant was getting himself relieved in a field, Jandel (Babbu's brother) and his men beat him. The enraged Hanumant took his family's 12-bore and fired at a person called Jagannath. Sensing the coming threat, Paan Singh decided to flee along with his menfolk; leaving behind the harvested crops of Arhar, Sarson, and Bajra, the cattle, and even the womenfolk in the village.
Next day, Babbu and his menfolk attacked Paan Singh's house where they injured his 95-year-old mother who was alone at that time in the house. When Paan Singh returned to his home, his mother told him that if he was her true son, he must take the revenge by the next morning.
Paan Singh swore by his mother and within the next few months, he killed three of his cousins dead – Havaldar, Jandel Singh, and Babbu Singh.
Birender Singh Tomar, son of Jandel Singh, described in an interview how his father had been killed by Paan Singh, He said,


My father Jandel Singh was tending to his fields on his tractor. Paan Singh pumped four bullets into him. He was using by a. 303, probably stolen from the police. Within an hour, his older brother Havaldar Singh in the nearby field was shot when he was with his bullocks. This time it was with a. 315. Paan Singh gave us no time."
While killing Babbu Singh, Paan Singh had to chase him for long. Narrating the incident, Paan Singh's son, Souram Singh says –


Pitaji caught Babbu in Lohri Ka Pura, a neighbouring village after chasing him for nearly a couple of kilometres. He easily outpaced him. "
However, on Babbu's killing, Jandel Singh's son, Birender Singh gives another theory, he says,


बब्बू को दौड़ाकर गोली मारी पान सिंह ने, पीछे से। बब्बू निहत्था था।"
After shooting Babbu, Paan Singh became a self-declared Baaghi. He started kidnapping influential people for ransom. Reportedly, he would often sign his ransom notes as –


दस्युराज पान सिंह तोमर, चंबल का शेर"
In 1977, his elder brother, Maatadeen was killed in the police encounter; an incident that had enraged Paan Singh so much that he challenged the then Chief Minister of Madhya Pradesh, Arjun Singh and killed nine Gujjar men in Pawa Paota village. According to Paan Singh, the Gujjars were the informers who had given a tip-off to the police about Maatadeen's whereabouts. The incident was so bewildering for Arjun Singh that he vowed –


I will not light a lamp on Diwali until Paan Singh is caught." [4]OPEN
On 1 October 1981, Paan Singh Tomar and his ten menfolks were killed in a twelve-hour long police encounter at the Rathiankapura village; after a tip-off given by a villager named Motiram Jatav to the police. Motiram Jatav says –


उस घटना के बाद किसी ठाकुर ने हमसे कभी बात नहीं की"
It was the Circle Inspector Mahendra Pratap Singh Chauhan of Gohad Police Station (50 km north of Gwalior) who led the team of policemen that encountered Paan Singh Tomar and his men. Reportedly, it was Chauhan's bullet that proved to be fatal for Paan Singh. Chauhan later received the President's Police Medal for Gallantry by the then Madhya Pradesh Governor KM Chandy on the occasion of the Republic Day of India in 1984. After the release of Tigmanshu Dhulia's eponymous Bollywood film, Paan Singh Tomar in 2012, when Chauhan was asked if he would like to watch the film, he said,


It's a movie about a criminal, and I am sure it glorifies a killer. Why would I go to the theatre to watch such a movie?" he asks indignantly, "Paan Singh had a criminal bent of mind right from the beginning. I don't care if he served the Army or won medals for the country. He was a killer and deserved a violent end." [5]OPEN
Legend has it that the day when Paan Singh was killed, he had been staying at Sarpanch's house in Rathiankapur village and was unusually sluggish compared to other days. In the afternoon, when he was lying on a "chataai" on the floor with a megaphone (used by him to alert the villagers about his arrival) on his right and a loaded .303 gun on his left, Balwant (Paan Singh's nephew) rushed to him around 5 pm and said,


The dogs are here, must be six or seven of them."
Paan Singh decided to flee from the village, and he made a plan, he asked the villagers to let their cows loose in the field, he said,


They won't fire at cows if they are Hindu policemen."
Paan Singh and his menfolk were surrounded by the police. At last, Paan Singh decided to flee through the canal side of the village; however, Inspector Mahendra Pratap Singh Chauhan was vigilant in that area too. After periodic rounds of gunfire from both sides, Paan Singh committed a mistake by using his megaphone to threaten the police, he said,


ये सूबेदार पान सिंह तोमर का गैंग है। तुम सब मारे जाओगे।"
According to police, in the last hours, Paan Singh was asking for water, he said,


My brother policemen, can someone give me some water? Is there any Thakur among you? Can you please give me some water?"
When a policeman named Tribhuvan tried to offer him the water, Inspector Chauhan restrained him and said,


Where are you going? Are you crazy? You'll be shot. Like the police, dacoits have no caste."
Reportedly, the reason why Motiram Jatav, a lower caste villager, turned out to become an informer, was Paan Singh Tomar's casteist approach towards the lower caste people. Motiram Jatav says that even after Paan Singh's death, the upper caste Thakurs termed the village as –


गद्दारों का गाँव"
Reportedly, Paan Singh loved alcoholic beverages; however, he was not a binge drinker; rather, he preferred only one or two pegs daily. Some sources claim that he used to keep a small bottle of liquor in his pocket. [9]

The Times of India
Ram Prasad Bismil, an Indian patriot belonged to Rugar Barbai village in Morena, near Paan Singh's village.
the noted Bollywood actor, Irrfan Khan, after essaying the role of Paan Singh in the 2012 Bollywood film "Paan Singh Tomar," said,


Thousands of stories live and die every day in India, unnoticed. And these stories are complex, fascinating, moving, heart wrenching and engaging. I feel they should be brought to light in whatever form possible." 
Tigmanshu Dhulia who made the biopic on Paan Singh Tomar, first heard about Paan Singh Tomar's story when he was working as the casting director for Shekhar Kapur's film, "Bandit Queen" (1994). Dhulia says,


I think it will always be remembered as the first which brought faith in biopics."
According to his childhood friend, Sahab Singh, he was a short-tempered person and could hardly control his anger. Sahab Singh says,


आदमी हीरा था, गुस्सा आ गया और बागी बन गया। निशाना तो ऐसा बांधता था, गोली खाली नहीं जाती थी।"
There's a popular ballad about Paan Singh in the Bhind area of Madhya Pradesh –


Like a mythical demigod emerging from the scarred earth, with his enormous stamina and steeplechase leap, Subedar Paan Singh Tomar of Bhidosa lives on in the Chambal, his strange legend as a champion athlete and dreaded killer within the same lifetime refusing to sleep."