Aafia Siddiqui Age, Husband, Children, Family, Biography & More
Quick Info→
Age: 50 Years
Education: PhD In Neuroscience
Hometown: Karachi, Pakistan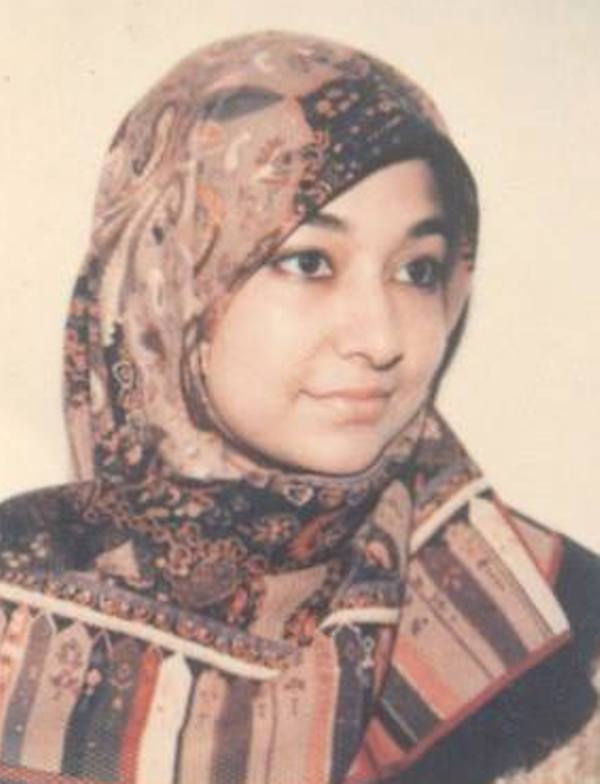 Bio/Wiki
Other name(s) [1]

The Strategic Logic of Women in Jihadi Organizations: From Operation to ...By Hamoon Khelghat-Doost
• Fahrem
• Feriel Shahin
Profession
Neuroscientist
Known for
Serving an 86 year sentence at the Federal Medical Center, Carswell in Fort Worth, Texas, after she was convicted of multiple felonies
Physical Stats & More
[2]

The Guardian Height
in centimeters- 161 cm
in meters- 1.61 m
in feet & inches- 5' 3"
[3]

Spiegel International Weight
in kilograms- 40 kg
in pounds- 90 lbs
Eye Colour
Dark Brown
Hair Colour
Black
Scientific Career
Field
Neuroscience
Thesis
'Separating the components of imitation'
Doctoral advisor
Robert Sekuler
Personal Life
Date of Birth
2 March 1972 (Thursday)
Age (as of 2022)
50 Years
Birthplace
Karachi, Sindh, Pakistan
Zodiac sign
Pisces
Nationality
Pakistani [4]

Jihad Oncorporated by Steven Emerson
Hometown
Karachi, Sindh, Pakistan
School
She did her schooling in Zambia and Karachi.
College/University
• Houston University
• Massachusetts Institute of Technology
• Brandeis University, Waltham, Massachusetts
Educational Qualification(s) [5]

Spiegel International
• Studied biology at the Massachusetts Institute of Technology
• PhD in Neuroscience from Brandeis University in 2001

Note: She graduated with a BS degree from MIT in 1995; initially, she had a triple major in biology, anthropology, and archaeology.
Religion
Islam [6]

The Guardian
Caste/Sect
Sunni
Relationships & More
Marital Status
Married
Marriage Date
• First Marriage: Year, 1995
• Second Marriage: February 2003
Family
Husband/Spouse
• First Husband: Amjad Mohammed Khan (a former anesthesiologist at Boston's Brigham and Women's Hospital) ​(m. 1995; div. 2002)

• Second Husband: Ali Abd al-Aziz Ali aka Ammar al-Baluchi (a Pakistani citizen who is in U.S. custody at Guantanamo Bay detention camp) (February 2003 – present) [7]

The New York Times


Note: She got married to her second husband, Ammar al-Baluchi, at a small ceremony near Karachi. [8]

The Guardian
Parents
Father- Muhammad Salay Siddiqui (a British-trained neurosurgeon)
Mother- Ismet aka Faroochi (an Islamic teacher, social worker and charity volunteer)

Children
Son- 2
• Mohammad Ahmed

• Suleman
Daughter- 1
• Mariam


Note: Aafia's son Ahmed was recovered in 2008, while her daughter Mariam was found outside the house of Dr Fauzia in Gulshan-i-Iqbal in Karachi left by unknown persons. Mariam's identity was confirmed by DNA test; her third child, Suleman, is still missing. [9]

The Express Tribune
Siblings
Brother- 1
• Muhammad (an architect in Houston, Texas)
Sister- 1
• Fowzia Siddiqui (a Harvard-educated neurologist) [10]

The Guardian


Note: Aafia is the youngest of three siblings. [11]

Vogue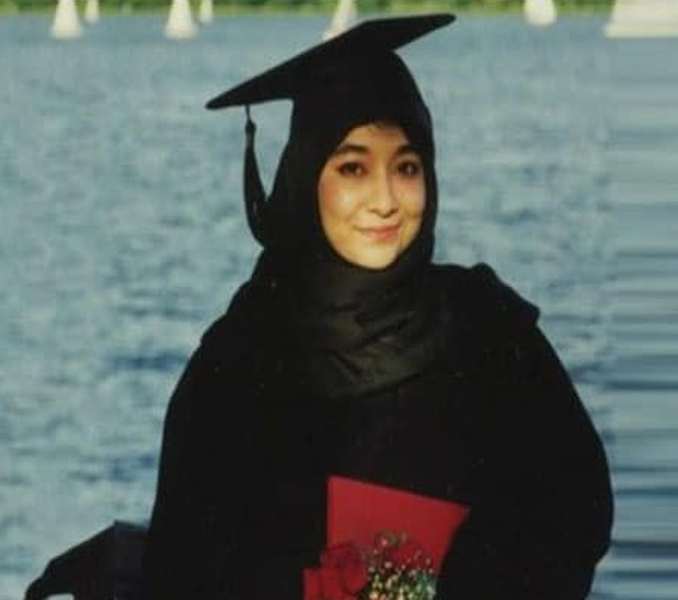 Some Lesser Known Facts About Aafia Siddiqui
Who is Aafia Siddiqui?:

Aafia Siddiqui is an MIT-educated Pakistani neuroscientist. Her alleged links to Al Qaeda led to her disappearing for several years before she was eventually caught and convicted, in a New York courtroom, of attempted murder. On 26 May 2004, 33 years old Aafia Siddiqui and the mother of three young children became the world's most wanted woman. [12]Vogue
Upbringing:

Aafia grew up in an affluent Urdu-speaking Muhajir, Deobandi family in Karachi. Although she was raised in a religious Muslim household, her parents also emphasized knowledge of and utilisation of scientific advances in their daily lives. Her parents hoped that the Muslim umma would be reunited under a truly Islamic government one day. Specifically, Aafia's mother believed that colonialism had degraded the status of women in Islam throughout centuries. Her mother was of the belief that Muslim women should assert their right to education and control their money as stipulated by the Quran, and to ensure her daughters could back up any assertion with quotations from the Quran and from the traditions of the Prophet Mohammed, she taught them to memorize the Quran and the traditions of the Prophet Mohammed. [13]Vogue
Happy Childhood:

Her father, Mohammed Siddiqui, a physician, after completing his training in Britain, brought his family back to Karachi, where they moved into a large, white, bougainvillea-draped bungalow in the exclusive "E" section of the Gulshan-e-Iqbal neighborhood. In all likelihood, Aafia had a happy childhood full of pets and dolls. In an interview, Aafia's elder sister Fowzia recalled Aafia's childhood and said that "Aafia couldn't stand to be yelled at," so she was obedient and eager to please. [14]Vogue
Relation with General Zia ul-Haq:

General Zia ul-Haq, who was a close family friend, seized power in a coup in 1977, boosting the Siddiquis' hopes. Zia ul-Haq, with the intent on turning Pakistan into a truly Islamic state, set up a new court system to enforce sharia, or Islamic law, and when the Soviet Union invaded Afghanistan in 1979, Zia ul-Haq established hundreds of hard-line Islamic schools, or madrassas, including some in Aafia's neighborhood, and as a sign of special favor, Ismat, the mother of Aafia, was given a seat on a council overseeing two special Islamic taxes intended for the poor. [15]Vogue
Higher Studies in the United States:

Aafia and her siblings were gifted students, and their parents encouraged all three children to study in the United States. First, her brother, Muhammed, went to the States, where he became an architect in Houston, and then her sister, Fowzia, graduated from Harvard Medical School and became a neurologist. Aafia arrived in the States in 1990, where she earned a full scholarship to the Massachusetts Institute of Technology after studying at the University of Houston for a year. In an interview, Aafia's sister, Fowzia, recalled this and said,

We all thought it was an honor and she deserved it."

Reportedly, while she was studying at the University of Houston, her interests were limited, and she avoided movies, novels, and television, except for the news.
A Bright Scholar:

In 1992, Aafia spent six weeks in Pakistan as the recipient of a $5,000 Carrol L. Wilson traveling fellowship for outstanding students for her research proposal "Islamization in Pakistan and its Effects on Women," and in 1993, she earned a $1,200 "City Days" fellowship to clean up Cambridge elementary school playgrounds. [17]Vogue
MIT Days and Charity Work:

While studying at MIT, Aafia lived in the all-female McCormick Hall. At MIT, proselytizing and charity work remained an important part of her life. As described by her fellow MIT students, she was religious, which was not unusual at the time, but she was not a fundamentalist, one of them stating that she was "just nice and soft-spoken.' At MIT, Aafia joined Muslim Students' Association and started volunteering for the Al Kifah Refugee Center. Among al Kifah's members were those who assassinated Jewish ultranationalist Meir Kahane and helped Ramzi Yousef blow up the World Trade Center in 1993.
Connection with Al-Kifah:

The only woman known to have raised money for Al-Kifah regularly, Aafia was known for her ability to shame audiences into contributing to jihad. Several committed Islamists met her through the student association, including Suheil Laher, the imam, who publicly advocated Islamization and jihad before 9/11.
An Effective Speaker:

According to Evan F. Kohlmann, the author of the book Al-Qaida's Jihad in Europe, Aafia was an effective speaker.

He says, he used to encourage Muslim men to be Muslim. She used to say that you should take care of your families and be the best Muslim you can. She used to say, Where are the Muslim men? Why do I have to be the one to get up here and talk?' She wanted us to take a more proactive part in advancing the cause of Islam. Her voice was real sweet, but piercingly high. Some of the brothers used to say, Man, that sister's tough!' "
Pistol Training and FBI Search:

Even after the Jersey City branch's ties to the World Trade Center bombing came to the light, Aafia's commitment to al-Kifah showed no signs of waning. In addition, she attended a 12-hour pistol training course at the Braintree Rifle and Pistol Club, mailed US military manuals to Pakistan, and relocated from her apartment after FBI agents had visited the university in search of her.
An Arranged Marriage:

In 1995, her mother arranged for her to marry Karachi-born anesthesiologist Amjad Mohammed Khan, who had just graduated medical school, and whom she had never met before. Reportedly, the marriage ceremony was conducted over the telephone. [18]The Guardian The couple subsequently moved to the US, where they first lived in Lexington, Massachusetts, and then they moved to Boston, where Khan worked as an anesthesiologist at Brigham and Women's Hospital.
Troubled Marriage:

Amjad did not always agree with Aafia's activism, especially after they had their second child, a girl named Miriam. Soon, their marriage started witnessing tensions, and Siddiqui temporarily separated from her husband after he threw a bottle at her, causing her to go to the emergency room to be stitched up. [19]The Guardian Aafia told one of her advisers she planned to focus on her family instead of a career after she received her Ph.D. in 2001. After the 9/11 attacks, Aafia, along with her husband and children, returned to Pakistan, and she insisted that the family should relocate to the Pakistan-Afghanistan border, where her husband should provide medical help to help in Taliban mujahideen's fight against America; however, her husband was reluctant, and the Khan family claims that during their sojourn in Karachi, they noticed friction between Amjad and Aafia for the first time. Aafia told her family that she wanted to stay in Pakistan, but Amjad was unable to find a job there that he liked, and the couple returned to the United States on 5 January 2002. [20]Vogue
FBI Questioning Over Suspicious Purchase:

As they returned to the United States, the FBI had already started investigating Suheil Laher and several other friends Aafia knew from al-Kifah, and auditors at Fleet Bank also reported the December 21, 2001 transfer of $8,000 from Amjad and Aafia's account to Habib Bank in Pakistan as suspicious activity. Investigators found that someone ordering night goggles, body armor, and military manuals from the Internet and having them delivered to Pakistan used Aafia's e-mail and the couple's bank card. FBI agents questioned the couple about these purchases in the spring of 2002. [21]Vogue
Third Pregnancy and Divorce:

Amid all this, Aafia became pregnant again, and she decided to visit her home in Karachi along with her children, where her father had fallen sick. Amjad also decided to accompany them, and on 26 June 2002, they left for Karachi. After reaching Karachi, Amjad and Aafia would often fight each other, and these fights set the foundation of their divorce, and on 21 October 2002, their divorce became final. A month before the divorce, i.e., in September 2002, Aafia gave birth to her third child, a boy she named Sulieman. Earlier, in August 2002, Khan accused Siddiqui of abusive and manipulative behavior during their seven years of marriage; he suspected she had involvement in extremist activities. In an argument with her father, Khan announced he wanted to divorce Siddiqui following which Siddiqui's father died of a heart attack.
Al Qaeda Connection:

The FBI claims that this was the point, i.e., after her divorce, when Al Qaeda first came into contact with her in earnest. On 25 December 2002, Aafia left for the United States after telling her ex-husband Amjad that she was going there to look for a job; however, within a week she returned to Karachi on 2 January 2003. Reportedly, Aafia's trip was intended to assist Majid Khan, a Pakistani detainee who is the only known legal resident of the United States held in the Guantanamo Bay Detainment Camp, with opening a post office box so that he could appear to be living in the US when he submitted his application for an INS travel document. Majid was later found to be the co-owner of the box. According to the FBI, Majid was an al-Qaeda operative who worked for an Al-Qaeda cell led by Khalid Sheikh Mohammad; the cell planned to attack targets in the US, in the UK (on Heathrow airport), and inside Pakistan. When the FBI questioned her, Siddiqui said she agreed to open the post box and mail the application because he was a friend of the family. The key to the PO box was found later in the possession of Uzair Paracha, who was convicted of providing material support to al-Qaeda. [22]Spiegel International
Second Marriage:

Aafia married Ammar al-Baluchi, a member of al Qaeda and a nephew of its leader Khalid Sheikh Mohammed (KSM) in February 2003 in Karachi. Although her family says that the marriage never happened, Intelligence sources from Pakistan and the United States, a psychologist for her defense during the 2009 trial, and Khalid Sheikh Mohammed's family all confirmed that the marriage took place. [23]The Guardian
Blood Diamond or Money Laundering?:

In 2004, a dossier prepared by U.N. investigators for the 9/11 Commission revealed that in the weeks before the 11 September 2001 attacks, Siddiqui, using the alias Fahrem or Feriel Shahin, was one of six alleged al-Qaeda members who purchased $19 million worth of blood diamonds in Monrovia, Liberia; these diamonds were to be used for funding al-Qaeda operations. However, Dennis Lormel, an FBI agent, who investigated terrorism financing, said the agency rejected a specific claim that Aafia was involved in diamond operations in Liberia, though she remained under suspicion of money laundering. [24]Spiegel International
Disappearance:

Aafia fled her parents' house in Karachi with her three children in a minicab on 30 March 2003, knowing that the FBI wanted to question her. [25]The New York Times According to her mother, Ismat, Aafia told her that they were going to Islamabad to meet Ismat's brother. Reportedly, Aafia, along with her three children, six-year-old Ahmed, four-year-old Mariam, and six-month-old Suleman, headed for Karachi airport in a taxi; however, they never made it to the airport. [26]The Guardian
Where was She Between March 2003 and July 2008?:

The whereabouts and activities of Siddiqui and her children from March 2003 to July 2008 are still disputed. The Pakistan government and her supporters claim she was imprisoned by the U.S. but the United States government and others (such as Siddiqui in her FBI statements after her arrest) claim she went into hiding with KSM's al-Baluchi family.
Al-Qaida Mom – World's Most Wanted Woman:

Aafia Siddiqui was still at large in 2003-2004, according to the FBI and the Pakistani government. The US Attorney General John Ashcroft described her in a press conference on 26 May 2004 as one of the "most wanted" al-Qaeda fugitives and a "clear and present danger to the United States." His words characterized Aafia as an armed and dangerous terrorist facilitator willing to use her education against the United States. In the New York Post, a headline read, "Al-Qaida Mom." [27]The Guardian
Grey Lady of Bagram:

According to Aafia's family, as opposed to plotting attacks, she spent the last five years at Bagram, north of Kabul, where she suffered unspeakable horrors. The British journalist turned Muslim campaigner Yvonne Ridley claims Aafia is the "Grey Lady of Bagram" – a shrouded female detainee who frightened prisoners "with her haunting sobs and piercing screams." Campaigners like Ridley see Siddiqui as emblematic of dark American practices such as abduction, rendition, and torture, but every US security agency, including the army, FBI, and CIA, has denied that they held Aafia in their captivity. In an interview given to a journalist in Karachi, Aafia's sister Fowzia accused the US government of abusing Aafia in Bagram. [28]The Guardian She said,

As far as I'm concerned this trial [in New York] is just a great drama. They write the script as they go. I've stopped asking questions."

Amnesty International is one of six human rights groups that list her as a possible ghost prisoner being held by the United States.
Reappearance:

Aafia and her son, Ahmed, reappeared in 2008. Siddiqui, when she reappeared and was arrested in 2008, told the FBI that she had at first gone into hiding with KSM's al Baluchi clan (her lawyer later recanted that statement) and worked at the Karachi Institute of Technology in 2005, was in Afghanistan in 2007, and spent time with various people in Quetta, Pakistan. In September 2008, Afghan authorities handed the boy over to his aunt Fowzia in Pakistan, who has prohibited the press from speaking to him. [29]The Guardian
Arrest:

On 17 July 2008, Aafia was arrested in Ghazni Province, Afghanistan. The officers approached her after they found her suspicious. According to officers, at the time of her arrest, Aafia was with her son, Ahmed, carrying two small bags. Among the documents found in a bag she was carrying were descriptions of how to make explosives, chemical weapons, Ebola, dirty bombs, and radiological agents in English and Urdu. The officers also claim that, in the bag, they found handwritten notes referring to a "mass casualty attack" that listed various U.S. locations and landmarks (including the Plum Island Animal Disease Center, the Empire State Building, the Statue of Liberty, Wall Street, the Brooklyn Bridge, and the New York City subway system). According to a later complaint, she was also in possession of "numerous chemical substances, both in gel or liquid form, enclosed in bottles and jars", as well as about two pounds of sodium cyanide, a highly poisonous substance. According to Abdul Ghani, the deputy police chief in Ghazni, Aafia later confessed that she had planned a suicide attack against the governor of Ghazni. [30]Spiegel International
Shooting at Officers in Ghazni:

The circumstances surrounding her arrest in Ghazni are disputed. Reportedly, on 18 July 2008, two FBI agents, a US Army warrant officer, a US Army captain, and their US military interpreters arrived in Ghazni to question Aafia at the Afghan National Police facility, where she was being kept following her arrest. According to sources, Aafia grabbed the loaded M4 carbine of the warrant officer and pointed at the US Army captain, and threatened them loudly in English. She yelled,

Get the fuck out of here"

While shouting "Allah Akbar" Aafia fired reportedly two shots at them, missing both. Meanwhile, the warrant officer with a 9-millimeter pistol fired at Aafia that hit her in the torso, and during the ensuing struggle, Aafia lost consciousness. Later, she was treated at the U.S. military base Bagram Airfield in Afghanistan, where she recovered over the next two weeks.
Charges and Extradition:

On 31 July 2008, while she was still under treatment of bullet injuries in Afghanistan, the United States District Court for the Southern District of New York charged her on two counts of attempted murder of US nationals, officers, and employees, assault with a deadly weapon, carrying and using a firearm, and three counts of assault on US officers and employees. On 4 August 2008, the Afghanistan government extradited Aafia to the United States for trial. On 6 August 2008, she appeared before a judge for the first time in a Manhattan courtroom, and then she was remanded into custody.
Trial and Conviction:

On 19 January 2010, Aafia's trial began in New York City after 18 months of detention. Prior to the jury entering the courtroom, Siddiqui announced to onlookers that she would not cooperate with her attorneys. When Army Captain Robert Snyder testified that Aafia was arrested with a handwritten note outlining plans to attack various US sites, Aafia intervened and said,

Since I'll never get a chance to speak … If you were in a secret prison … or your children were tortured … give me a little credit, this is not a list of targets against New York. I was never planning to bomb it. You're lying."

When  Aafia testified, she accepted that she tried to escape, but she denied picking up the rifle and firing any shot at the officers. On several occasions during the trial, Siddiqui was removed from the courtroom for repeatedly interrupting the proceedings with shouts. After being ejected, she was told she could observe the proceedings on closed-circuit television in an adjacent holding cell. After deliberating for three days, the jury reached a verdict at the end of a 14-day trial. On 3 February 2010, Siddiqui was found guilty of three counts of assault on US officers and employees, two counts of attempted murder, an armed assault, the use and possession of a firearm. After hearing the verdict, Aafia exclaimed,

This is a verdict coming from Israel, not America. That's where the anger belongs."

Sentencing and Imprisonment:

On 23 September 2010, Judge Berman sentenced Aafia Siddiqui to 86 years in prison. At the time of sentencing, Siddiqui showed no interest in an appealing, rather she said,

I appeal to God and he hears me."

As she was sentenced, she asked for forgiveness and asked the public not to retaliate in any way. She said,

forgive everybody in my case, please … Don't get angry. If I'm not angry, why should anyone else be?"

It was a remarkably gracious exchange between the giver and the recipient of a sentence of over 80 years. The judge wished her "the very best going forward", and both the judge and Siddiqui thanked each other. Initially, Aafia was held at Metropolitan Detention Center, Brooklyn, and later, she was shifted to Federal Medical Center, Carswell in Fort Worth, Texas.

Protests to Free Aafia Siddiqui:

After her sentencing in the United States, several students, social and political activists started protesting in Pakistan. Aafia's elder sister, Fowzia, has spoken often and passionately on her behalf at rallies. Pakistani Prime Minister Yusuf Raza Gilani assured Siddiqui's sister at his residence in August 2009 that Pakistan would seek Aafia's release from the US. Gilani also described Aafia Siddiqui as a "daughter of the nation." Throughout the country, graffiti "Free Dr. Aafia" appeared even in remote locations.

Cause célèbre and Exchange Offers:

In the eyes of al-Qaeda and Pakistani jihadi groups, Aafia's case became a cause célèbre, and they accused the Pakistani government and military of failing to protect and avenge her. She has sometimes been called "Lady al Qaeda." [31]Al Jazeera Based on a video released at the time by Hakimullah Mehsud, the TTP (Tehreek e Taliban Pakistan) leader, the 2009 Camp Chapman attack in Afghanistan that killed seven CIA agents was partly retribution for Aafia's imprisonment. In 2010, Mehsud released a second video promising revenge for Siddiqui the day before the Times Square bombing attempt. The Pakistani newspaper The News International reported in February 2010 that the Taliban threatened to execute U.S. soldier Bowe Bergdahl, who they had captured on 30 June 2009 in retaliation for Siddiqui's conviction. Linda Norgrove, an aid worker from Scotland in Afghanistan, was kidnapped by the Taliban in September 2010, and Taliban commanders insisted Norgrove would only be handed over in exchange for Siddiqui. Former Tehrik-i-Taliban Pakistan deputy Waliur Rehman announced in July 2011 that they were willing to swap Siddiqui for two Swiss citizens taken in Balochistan. Siddiqui's release was requested by al-Qaeda leader Ayman al-Zawahiri in exchange for the release of American aid worker Warren Weinstein, who was abducted in Pakistan on 13 August 2011. One of the demands of al-Qaeda-linked terrorists involved in the Algerian hostage crisis in In Amenas in January 2013 was for the release of Siddiqui. For the release of two Czech women captured in Pakistan in June 2013, Siddiqui was demanded in exchange for the captives. In an email sent to James Foley's family, the terrorist who claimed responsibility for Foley's beheading mentioned Siddiqui; James Foley was a U.S. photojournalist. According to Qasim al-Raymi, leader of Al-Qaeda in the Arabian Peninsula, in March 2017 Siddiqui's release was being sought in exchange for Luke Somers, an American journalist abducted in Yemen in September 2013.

Texas Hostage – Another Exchange Offer:

Assaulting a synagogue in Colleyville, Texas, near where Aafia is being held, 44-year-old Malik Faisal Akram, a British national, held hostages there in January 2022 and demanded her release. Law enforcement authorities killed the man and released the hostages unharmed on 15 January 2022. [32]NBC News After the Texas incident, Marwa Elbially, a Plano, Texas, lawyer specializing in Muslim civil rights and immigration, said,

She's always said, and I'm sure maintains, she does not support it — she does not support violence."