Osama bin Laden Age, Death, Wife, Children, Family, Biography & More
Quick Info→
Death Date: 02/05/2011
Hometown: Riyadh, Saudi Arabia
Age: 54 Years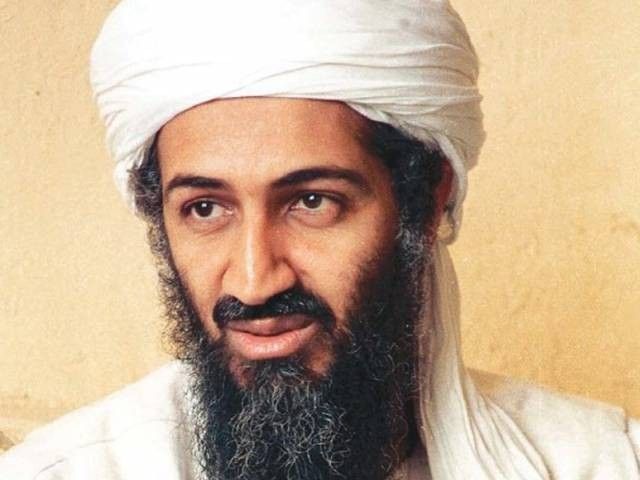 Bio/Wiki
Full Name
Usama ibn Mohammed ibn Awad ibn Ladin
Nickname(s)
The Emir, Laden, The Prince, The Sheik, The Jihadist Sheik, Sheik al-Mujahid, Hajj, Lion Sheik
Professions
Terrorist and Founder of Al-Qaeda
Known For
Being the mastermind of the 9/11 attack in September 2001 on the World Trade Center in New York, USA
Physical Stats & More
Height (approx.)
in centimeters- 195 cm
in meters- 1.95 m
in feet inches- 6' 5"
Eye Colour
Black
Hair Colour
Black
Personal Life
Date of Birth
10 March 1957
Age (at the time of Death)
54 Years
Birthplace
Riyadh, Riyadh Mintaqah, Saudi Arabia
Date of Death
2 May 2011
Place of Death
Abbottabad, Khyber Pakhtunkhwa, Pakistan
Death Cause
Shot by the United States Forces
Zodiac sign
Pisces
Nationality
Saudi Arabian (1957–1994)
Stateless (1994–2011)
Hometown
Riyadh, Saudi Arabia
School
Brummana High School, Lebanon
Al-Thager Model School, Jeddah, Saudi Arabia
College/University
King Abdulaziz University, Jeddah, Saudi Arabia
Educational Qualification(s)
A degree in Economics and Business Administration
A degree in Civil Engineering
A degree in Public Administration
Religion
Islam
Caste/Sect
Sunni
Food Habit
Non-Vegetarian
Hobbies
Writing Poetry, Reading, Playing Football, Horse-riding
Controversies
• On 29 December 1992, his organization, Al-Qaeda attacked the Gold Mohur hotel in Aden, Yemen, where U.S. troops had been staying while they were heading to Somalia. The Bomb went off prematurely, killing one Austrian and one Yemen citizen.
• On February 26, 1993, the World Trade Center in New York was attacked for the first time. A bomb was driven into an underground garage of the World Trade Center. Six people died and 1,500 others got injured.
• In 1995, Laden joined EJI (Egyptian Islamic Jihad) and tried to assassinate the then Egyptian President Hosni Mubarak. However, the attempt failed.
• On March 16, 1998, the first official Interpol arrest warrant was issued by the Libyan government against Laden and three other people. They were charged for killing Silvan Becker, Germany's domestic intelligence service agent.
• In August 1998, Al-Qaeda conducted attacks on the U.S. embassies in Nairobi, Tanzania, and Dar es Salaam, Kenya, killing more than 200 people and injuring more than 5,000 others.
• The deadliest act of terrorism done by Al-Qaeda took place on September 11, 2001, on the World Trade Center in New York. It was a series of attacks in the United States. Four commercial airliners were hijacked. Two of these got crashed into the Twin Towers which later knocked down, devastating the rest of the World Trade Center building complex. The third was crashed into the Pentagon and the fourth in a field during a struggle between the passengers and hijackers to control the aeroplane. The attacks killed nearly 3000 people and injuring 6000 others. Initially, Al-Qaeda did not claim the attack but later in 2004, it claimed.
• Al-Qaeda operatives targeted four trucks on November 15, 2003, and November 20, 2003, in Istanbul, Turkey. 57 people were killed, and more than 700 were wounded.
• The 2004 Madrid train bombings took place on March 11, 2004, in Spain in which 190 people were killed and several others got injured. The bombing occurred just 3 days before the 2004 general election.
• Al-Qaeda claimed 2005 London bombings, happened on 7 July 2005 in London, England. 52 people died, and over 700 were wounded in the attack.
• On 3 February 2007, a truck bomb exploded at a busy market in Baghdad, Iraq. The Attack killed around 135 people and injured 339 others. The same year in April month, Baghdad suffered another attack in which more than 200 people were killed.
• The 2007 Tal Afar bombings and massacre occurred on March 27, 2007, in Iraq, when two truck bombs exploded in the Shia areas of the town of Tal Afar, killing 152 and injuring 347 people.
• Al-Qaeda's commander, Mustafa Abu al-Yazid claimed the responsibility for the assassination of Benazir Bhutto on 27 December 2007.
• Al-Qaeda operatives carried out the bombings at the Marriott Hotel in Pakistan on September 20, 2008. A truck bomb killed around 54 people and wounded 266 people.
• In 2009, another bombing took place in the capital city of Iraq, Baghdad, in which around 155 people died and over 721 were injured.
• Throughout the year 2010, Iraq suffered a series of attacks in which thousands of people died and many got injured.
• On June 15, 2010, a German bakery in Pune, India, was targeted by the Al-Qaeda operatives. 17 people died in the blast, and more than 60 wounded.
Girls, Affairs and More
Marital Status
Married
Family
Wives/Spouses
Najwa Ghanem (1974-2001)
Khadijah Sharif (1983-1990s)
Khairiah Sabar (married 1985)
Siham Sabar (married 1987)
Amal al-Sadah (married 2000)

Children
With Najwa Ghanem (First Wife)
Abdallah bin Laden (born 1976)

Abdul Rahman bin Laden (born 1978)
Saad bin Laden (1979–2009) (died in a drone strike in Pakistan's tribal region in 2009)

Omar bin Laden (born 1981) (Businessman)

Osman bin Laden (born 1983)
Mohammed bin Osama bin Laden (born 1983)
Fatima bin Laden (born 1987)
Zulki bin Laden (born 1990)
Laden "Bakr" bin Laden (born 1993)
Zakaria bin Laden (born 1997)
Nour bin Laden (born 1999)
With Khadijah Sharif (Second Wife)
Ali bin Laden (born 1986)
Amer bin Laden (born 1990)
Aisha bin Laden (born 1992)
With Khairiah Sabar (Third Wife)
Hamza bin Laden (born 1989)

With Siham Sabar (Fourth Wife)
Khalid bin Laden (1988–2011) (Died in the Navy SEAL operation in Abbottabad, Pakistan)
Kadhija bin Laden (1988-2007)
Miriam bin Laden (born 1990)
Sumaiya bin Laden (born 1992)
Note- According to some intelligence sources, he had 22 to 26 children.
Parents
Father- Mohammed bin Awad bin Laden (Yemini Business Tycoon)

Mother- Hamida al-Attas
Siblings
51 siblings
Favourite Things
Favourite Army Personnels
Bernard Montgomery and Charles de Gaulle
Favourite Football Club
Arsenal
Style Quotient
Assets/Properties
He inherited $29 million of his father's business [1]

NPR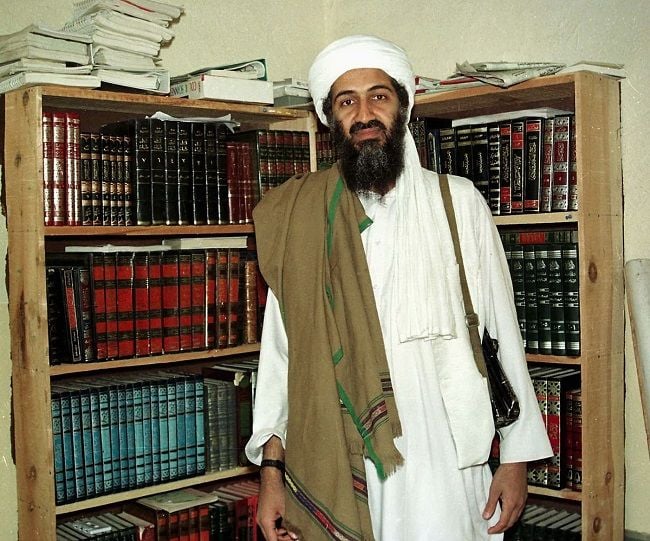 Some Lesser Known Facts About Osama bin Laden
Did Osama bin Laden smoke?: No
Did Osama bin Laden drink alcohol?: No
Laden's mother, Hamida al-Attas was the tenth wife of his father, Mohammed bin Laden.
He was the 17th of 52 children born to Mohammed bin Laden.
Soon after, Laden was born, his father divorced his mother and recommended Hamida to Mohammed al-Attas, a close associate.
His father, Mohammed bin Laden was a millionaire and had a construction business in the Middle East.
Mohammed bin Laden was very close and had a very good rapport with the Saudi royal family.
His father, Mohammed died in 1967 in an airplane crash in Saudi Arabia.
When he was studying at a University in Saudi Arabia, his main interest was religious studies but obtained degrees in other fields.
Laden had an olive complexion, used to work with his left hand and walked with the help of a walking stick.
In 1979, he went to Afghanistan and western Pakistan to resist the Soviet invasion. He supplied money and other needs from his father's company to support the jihadist movement against the Soviet Union's invasion.
Central Intelligence Agency (CIA) supported the extremist Islamic groups in the 1980s including bin Laden's and sent them weapons and over $1 billion when they were fighting the Soviet Union in Afghanistan.
According to the former CIA analyst, Michael Scheuer, Laden used to hate western ideology: immoral acts of fornication, intoxicants, communism, socialism, democracy, homosexuality, gambling, usury, and their secular forms of the government.
He believed that injustices against Muslims and Muslim countries had been perpetrated by the United States and other non-Muslim states.
He wanted the U.S. to withdraw its forces from the Middle East.
According to Laden, Sharia law was the ultimate solution to set things right in the Muslim World.
Apart from the Soviet Union invasion, his hatred towards westernization also caused him to lay the foundation of Al-Qaeda in 1988.
During the late 1990s, he became very hostile to Americans and announced to kill Americans including civilians.
As per many sources, he was anti-semitic (Anti-Jew). According to him, Israel should not have existed. In May 1998, in an interview with ABC's John Miller, Laden stated that the Israeli state's ultimate goal was to annex the Arabian Peninsula and the Middle East into its territory and enslave its peoples, as part of what he called a "Greater Israel."
Laden opposed the music for the Muslims.
In his first interview in the late 1990s, he publicly criticized Saudi Arabia for its dependence on the U.S. military, arguing that the two holiest shrines of Islam; Mecca and Medina, the places in which the Prophet Mohamed received and recited Allah's message, should only be protected by the Muslims.
Laden had many bodyguards and his arsenal included SAM-7 and Stinger missiles, RPGs, AK-47s, and PK machine guns.
He continued to denounce Saudi Arabia and its king, Fahd. In 1994, Fahd stripped Laden of his Saudi citizenship in response.
Laden claimed that he got inspiration to knock down the World Trade Center after watching the ruins of the towers in Lebanon by Israel during the 1982 Lebanon War.
19 al-Qaeda terrorists hijacked four passenger airlines which departed from the northeastern part of the United States to California. At 8:45 a.m. on a clear Tuesday morning, two of the planes, United Airlines Flight 175 and American Airlines Flight 11 were crashed into the North and South towers of the World Trade Center complex in Lower Manhattan, New York. Within an hour and 42 minutes, both 110-story towers collapsed. A third plane got crashed into the Pentagon (Headquarter of the United States Department of Defense) in Arlington County, Virginia.
The attack on the World Trade Center killed around 3000 people and injured thousands of others. It caused at least $10 billion in damages.
Since 2001, Laden had been the most-wanted for America. FBI put a $25 million bounty on him in their search for him.
According to one of his wives, after the 9/11 attack, Laden took his wives and children to an Al-Qaeda safehouse in Peshawar, Pakistan in 2002. In June 2005, Laden, along with his family moved to Abbottabad.
Laden evaded the arrest and attack by the U.S. Forces for the next 10 years. In August 2010, CIA cast doubt on a compound in Abbottabad in Pakistan and identified it as the likely location of Laden. The compound was situated only 1.3 km (0.8 mi.) southwest to the Pakistan Military Academy.
In 2011, CIA became sure that Laden was residing in the Abbottabad compound. To find and kill him, Operation Neptune's Spear was permitted by the then U.S. President Barack Obama.
President Obama along with his national security team watched the operation live.
On May 2, 2011, shortly after 1:00 am PKT (Pakistan Standard Time) (20:00 UTC, May 1), the members of the United States special operations forces and Navy Seals entered in his safe house and shot on his upper part of left the eye and chest.
Apart from Osama bin Laden, some others were killed by the U.S. Navy SEALs members on 2 May; Laden's son Khalid bin Laden (23), Abu Ahmed al-Kuwaiti (Messenger of Laden), Abu Ahmed al-Kuwaiti's brother Abrar and Bushra, and Abrar's wife.
After the 40 minutes raid, the U.S. forces took Laden's body to Afghanistan for identification, then buried him at North Arabian Sea within 24 hours.
On May 1, 2011, President Barack Obama addressed the country and the World at 11:35 pm EST that Laden had been killed in Pakistan by the United States Navy Seals.
Death was confirmed by Al-Qaeda on May 6, vowing to avenge the kill on its website.
Robert O'Neill, a U.S. Navy SEAL who later claimed to have shot Osama bin Laden.
A retired senior U.S. intelligence official later disclosed that a former ISI officer approached the U.S. embassy station chief in Islamabad and agreed to reveal Laden's location, in return for the $25 million rewards.