Balwant Singh Rajoana Age, Wife, Family, Biography & More
Quick Info→
Marital Status: Unmarried
Hometown: Rajoana Kalan, Punjab
Age: 55 Years

Bio/Wiki
Profession
Punjab Police Officer
Known for
Conviction in the assassination of former Chief Minister of Punjab Beant Singh
Beant Singh's Assassination
Date of Assassination
31 August 1995
Place of Assassination
Secretariat Complex, Chandigarh

Partners in Crime
Dilawar Singh Babbar (Assassin)
The Punjab Police officer Dilawar Singh acted as the suicide bomber in the assassination of Beant Singh. He was a member of Babbar of Babbar Khalsa International (BKI), a Sikh organisation whose main objective is to create an independent Sikh country Khalistan.


Jagtar Singh Tara (Mastermind)
Tara was arrested in September 1995 in Delhi. In 2004, Tara managed a sensational escape through a 110-foot-long tunnel dug from the Burail Jail in Chandigarh, along with two other convicts, Hawara and Bheora. Tara was on the run for 11 years and rearrested in Thailand in 2015. He was sentenced to life imprisonment in 2018.


Jagtar Singh Hawara (Mastermind)
One of the masterminds behind the assassination, Hawara arranged the explosives and finances to purchase the Ambassador car used for entering the secretariat complex. He was arrested in 1995 after Tara. In 2004, Hawara escaped from the Burail Jail along with Tara and Bheora. In 2005, Hawara was rearrested from Dehli. Thereafter, his death penalty was commuted to life imprisonment.


Paramjit Singh Bheora
A resident of Delhi, Paramjit Singh was Tara's friend and another active member of BKI, who assisted Tara in purchasing the car and bringing it to Chandigarh. In 2004, he escaped along with Hawara and Tara, but later, he was rearrested.

Lakhwinder Singh
A Punjab Police constable, Lakhwinder Singh was posted at the MT section of the Punjab Civil Secretariat in 1995. The MT section dealt with repairing, fuelling, and maintaining official vehicles. A few days before the assassination, he was posted as the driver of a former MP. He was given life imprisonment by the court of R K Sondhi in the makeshift courtroom of Burail Jail on 31 July 2007.

Shamsher Singh
Hawara and other conspirators used to take shelter at Shamsher Singh's house, where they hid their explosives. He was given a life sentence by the court of R K Sondhi in the makeshift courtroom of Burail Jail. He was given life imprisonment by the court of R K Sondhi in the makeshift courtroom of Burail Jail on 31 July 2007.

Gurmeet Singh
An engineer working with BPL, he was given the task of designing the explosive belt. He was given life imprisonment by the court of R K Sondhi in the makeshift courtroom of Burail Jail on 31 July 2007. 

Naseeb Singh
He was sentenced to imprisonment for ten years, which he had already undergone during the trial spanning over 11 years.

Navjot Singh
He was acquitted by the special court on 27 July 2007.
Physical Stats & More
Height (approx.)
in centimeters- 180 cm
in meters- 1.80 m
in feet & inches- 5' 11"
Eye Colour
Black
Hair Colour
Salt & Pepper
Personal Life
Date of Birth
23 August 1967 (Wednesday)
Age (as of 2022)
55 Years
Birthplace
Rajoana Kalan, Ludhiana, Punjab
Zodiac sign
Virgo
Nationality
Indian
Hometown
Rajoana Kalan, Ludhiana, Punjab
College/University
G.H.G. Khalsa College, Gurusar Sadhar, Ludhiana [1]

Dayandnightnews Chd
Religion
Rajoana is a staunch follower of Sikhism. He became an Amritdhari after he was baptized (Amrit Sanchar) in Patiala central jail in the presence of Akal Takht Jathedar while he was on death row in Beant Singh's assassination case. [2]

The Times of India

Political Inclination
Shiromani Akali Dal (SAD) [3]

The Indian Express


Note: On 31 January 2022, he was escorted by the Police to attend his foster father Jaswant Singh's funeral in Ludhiana after he was granted permission by the Punjab and Haryana High Court. While attending his father's last rites, he addressed the Sangat present at Gurdwara Baba Deep Singh of Ludhiana and encouraged them to support the SAD-BJP alliance in Punjab for the 2022 Legislative Assembly elections. He said,
"Meri rooh akali, mera dal akali, main akali.. iss dharti tey sarkaar akali…"
(My soul is Akali, my heart is Akali, I am Akali.. there should be an Akali government on this earth)
He also added,
"Akali Dal is our own party and it is representative of our panth. End Congress' rule."
Address
Present Address
H.N0.68-A, Rattan Nagar, Patiala, Punjab

Permanent Address
Village Rajoana Kalan, P.S. Sudhar, Distt . Ludhiana, Punjab
Relationships & More
Marital Status
Unmarried
Family
Wife/Spouse
N/A
Parents
Father- Malkeet Singh (deceased) (army official and sarpanch of Rajoana Kalan)

Mother- Gurmeet Kaur

Siblings
Elder Brother-Kulwant Singh

Some Lesser Known Facts About Balwant Singh Rajoana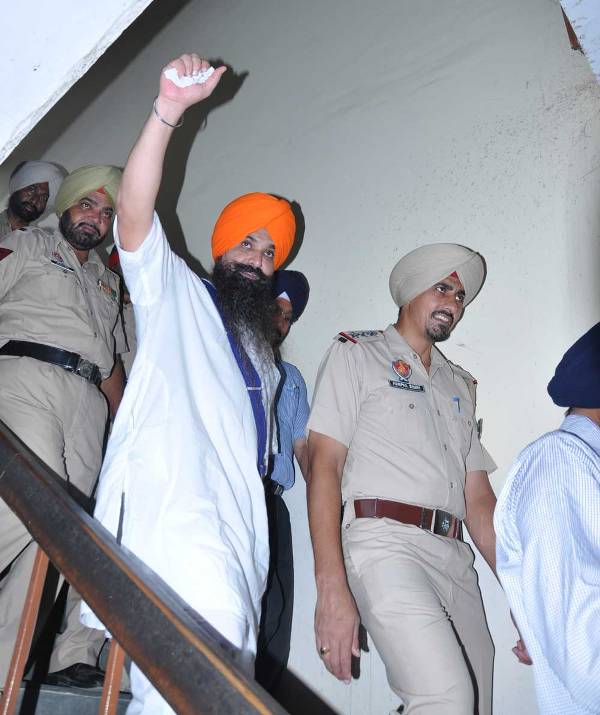 Balwant Singh is a former Punjab police constable, who was convicted for his involvement in the explosion outside the Punjab Civil Secretariat that killed the former Chief Minister of Punjab Beant Singh on 31 August 1995.
Growing up in Rajoana Kalan, he studied in the neighbouring village Heran till the eleventh standard.
After completing his formal education in 1987, Balwant Singh was given a job in the Punjab Police as a constable under the government's welfare scheme following his father's death.
Rajoana's father, Malkeet Singh, was killed by terrorists. Apparently, the terrorists had come to kill Malkeet's brother. However, while resisting the terrorists, Malkeet Singh was shot dead.
During the insurgency in Punjab, Balwant Singh's friend Harpinder Singh Goldy was shot dead by the Punjab Police as they suspected that he was a militant. Goldy had two sisters, Amandeep Kaur and Kamaldeep Kaur. After Goldy came under suspicion of Punjab Police, his sister Amandeep Kaur was abducted, tortured, raped, and then killed by the Punjab Police in 1992.
In 1993, Balwant Singh Rajoana was legally adopted by Goldy's parents, Jaswant Singh and Surjit Kaur. While Surjit Kaur died in 2013 after being electrocuted by a defective electric fan, Jaswant Singh died on 22 January 2022. Rajoana's foster sister Kamaldeep Kaur is a politician, who contested the Sangrur Lok Sabha seat in Punjab as the joint candidate of the SAD-BSP when a bypoll was declared on the seat in 2022.
Rajoana was deputed as a private security officer with a journalist of a vernacular daily in Patiala in 1993.
On 31 August 1995, Dilawar Singh slipped into his uniform and strapped 1.5 kg of explosives in a bandolier-shaped belt around his waist and reached the secretariat complex in a freshly painted white Ambassador bearing Delhi licence plates, along with Balwant Singh Rajoana (the backup bomber). Reportedly, Dilawar and Balwant had tossed a coin to decide who would become the suicide bomber. After a while when Balwant left, Dilawar scribbled on a piece of paper,


Je mein shaheedan di yaad wich geet na gaaye, teh ohna diyan ruhan Kuralun giyan."
(If I don't recite rhymes in memory of the martyrs their souls would be tormented)

At 5.10 p.m., three white Ambassadors pulled up near the VIP portico at the Secretariat Complex, to pick up Beant Singh. Just when Beant Singh was about to step into the car, Dilawar walked toward his bullet-proof car and pressed the button of the bomb. At the secretariat, Apparently, no one suspected anything as Dilawar Singh approached the CM's car in the police uniform with files in his hand.  The blast claimed the lives of 17 others including 3 Indian commandos. Beant Singh was accompanied by his close friend Ranjodh Singh Mann on the day of the assassination.

In September 1995, Chandigarh Police recovered an abandoned Ambassador car with a Delhi number which led to the arrest of the first convict Lakhwinder Singh. In February 1996, charges were framed against Gurmeet Singh, Naseeb Singh, Lakhwinder Singh, Navjot Singh, Jagtar Singh Tara, Shamsher Singh, Jagtar Singh Hawara, Balwant Singh Rajoana, and Paramjit Singh Bheora.
Rajoana confessed his crimes in the makeshift courtroom of Burail Jail, Chandigarh, on 25 December 1997. Before being silenced, Rajoana raised pro-Khalistan slogans,


Khalistan zindabad, Bhai Dilawar Singh zindabad!"

Prison authorities and journalists were awestruck by Rajoana's confession. They asked Rajoana, "Why would someone at such a time want to give up his life?" to which Rajoana replied,


Tusi key jano dosti kinj nebhai jandi hai.
(How do you know the way of living up to friendship)?"

Reportedly, when Dilawar Singh won the fatal toss which chose him as the suicide bomber, he asked Balwant Singh to confess his hand in the crime.
In his testimony, Balwant Singh revealed that he had purchased nuts & bolts and ball bearings from a Patiala scrap market to stuff into the bomb for the maximum capacity. Balwant said that Beant Singh became the Chief Minister of a terrorism-ridden Punjab in 1992 in the aftermath of Operation Blue Star, the assassination of Indira Gandhi, and the 1984 anti-Sikh riots. He accused Beant Singh of approving fake encounter killings, abductions, and secret cremations by the Punjab Police during the insurgency in the state. While expressing the deep wounds on the Sikh psyche caused by the events, Balwant Singh, during his trial, asked the Chief Justice,


Who were the terrorists: those who did these acts or those who defended the victims?…Human beings can fight such injustice and oppression only by becoming human bombs and sacrificing themselves."

During one of the hearings before the then-District and Sessions Judge Amar Dutt, standby human bomb Balwant Singh Rajoana, in memory of  Dilawar said,


It was nothing but divine intervention. Just as Bhai Dilawar Singh was approaching the Chief Minister, everyone around was momentarily blinded. That's the reason why there are no eyewitnesses".
On 1 August 2007, he was given a death sentence by a special CBI. A death warrant was issued to the Patiala jail authorities for the execution of Rajoana to be held on 31 March 2012. Thereafter, Sikh communities all around the world, who believed that Rajoana's actions were the need of the hour, heavily protested against the death warrant.
Balwant Singh was the only one who confessed his guilt out of all those who were convicted in the Beant Singh case. Additionally, he also refused to contest the prosecution's charges, challenge its evidence, engage a lawyer, or accept a court-appointed lawyer. He did not even file a mercy petition on his own.
On 28 March 2012, President Pratibha Patil stayed the execution following clemency appeals filed by Punjab CM Parkash Singh Badal and the SGPC, a Sikh organisation. Rajoana immensely criticised Shiromani Akali Dal (SAD) for making attempts to save his life, stating that the party leaders were cheaters who did not fight for justice for the Sikhs who were killed in the 1984 riots.
Till 2022, the SC was hearing Rajoana's plea seeking commutation of the death sentence to life term on the ground that he had been in jail for 26 years.
Before his death, Dilawar Singh handed over his picture to Balwant Singh. The backside of the picture read,


Sada tah ek duniya ander jogi wala fera hai,
Naa hi eh jagg tera sajna, na hi eh jag mera hai,
Es sohni nu doban lyi tah kacha ghara bathera hai."

(My visit to this world is that of a saint,
Neither is this world yours, nor is it mine,
To sink this 'Sohni,' this raw pot is enough.)
On 23 March 2012, the title of "Living Martyr" was bestowed upon Balwant Singh Rajoana by Akal Takht (the highest temporal seat of the Khalsa), meanwhile, Dilawar was awarded the title of "National Martyr."
Balwant Singh has made a will in which he has stated his intention to donate his eyes to Lakhwinder Singh (Ragi at Golden Temple Amritsar) and his kidneys, heart, and various other body parts to needy patients.
A voracious reader of Punjabi literature, Rajoana is fond of the Punjabi writers Surjit Patar and Jaswant Singh Kanwal.
Attacking Journalist Sandhu In Jail: In 2015, Rajoana manhandled senior journalist Kanwar Sandhu on the jail premises after Sandhu, along with the controversially dismissed cop Gurmeet Singh Pinky, gained access to the Patiala central jail to "interview" Rajoana. The heated argument took place as Sandhu had levelled baseless allegations against Rajoana at Pinky's behest. Apparently, Sandhu, who runs the Free Media Initiative, had once interviewed Pinky during which Pinky had alleged that Rajoana had called him to the Burail jail in Chandigarh and confessed that Jagtar Singh Hawara and the others involved in the Beant Singh assassination were planning to blast out of the jail for which RDX had been procured. He said that on the information provided by Rajoana, the RDX was recovered and the jailbreak plan foiled. On contrary, Rajoana claimed that he met never met Pinky, as claimed by the latter in the interview. [4]

Hindustan Times