Beant Singh (politician) Age, Death, Caste, Wife, Family, Biography & More
Quick Info→
Wife: Jaswant Kaur Toor
Age: 73 Years
Death Date: 31/08/1995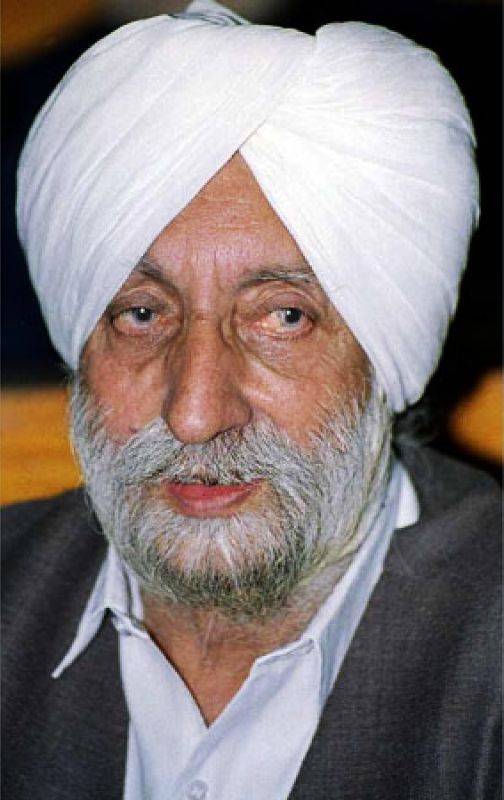 Bio/Wiki
Profession
Politician
Height (approx.)
in centimeters- 180 cm
in meters- 1.80 m
in feet & inches- 5' 11"
Eye Colour
Black
Hair Colour
Grey
Politics
Political Party
Indian National Congress (INC) (1970-till his death in 1995)

Political Journey
• Became Sarpanch of Bilaspur in 1959
• Became the Chairman of the Block Samiti (also called Panchayat Samiti)
• Contested 1967 Punjab Assembly elections from Payal Assembly constituency as a candidate of Shiromani Akali Dal (SAD), but lost the elections to Congress candidate Gian Singh Rarewala
• Elected as MLA (as an independent candidate) from Payal Assembly constituency in 1969, defeating SAD candidate Gian Singh Rarewala by 5024 votes
• Joined the Congress party in 1970
• Re-elected as MLA from Payal Assembly constituency in 1972, defeating the SAD candidate Ramdayal Singh by 5808 votes
• Re-elected as MLA from Payal Assembly constituency in 1977, defeating the SAD candidate Jarnail Singh by 5260 votes
• Re-elected as MLA from Payal Assembly constituency in 1980, defeating SAD candidate Nirlep Kaur by 2936 votes
• Appointed as the Public Works Department (PWD) Minister and Revenue Minister (1980 -1983)
• Elected as MLA from the Jalandhar Cantonment Assembly constituency in 1992, defeating Gulzara Ram of the Bahujan Samaj Party (BSP) by 10,113 votes
• Became the Chief Minister of Punjab in 1992
Awards, Honours, Achievements
• Sun of India Award

• Protector of Punjab award from the Ferozepur District authorities

• Yashwantrao Chavan National Award (Posthumously)
• Indira Gandhi Award for National Integration (2012) (Posthumously)
Personal Life
Date of Birth
Year, 1922
Birthplace
Bilaspur, Ludhiana, Punjab
Date of Death
31 August 1995
Place of Death
Secretariat Complex, Chandigarh
Age (at the time of death)
73 Years
Death Cause
Assassinated via car bombing by a suicide bomber
Convicts
Dilawar Singh Babbar (Assassin)
Beant Singh was assassinated by the suicide bomber Dilawar Singh Babbar of Babbar Khalsa International (BKI), a Sikh organisation whose main objective is to create an independent Sikh country Khalistan. A former Punjab Police officer, Dilawar slipped into his uniform and strapped 1.5 kg of explosives in a bandolier-shaped belt around his waist and reached the secretariat complex in a freshly painted white Ambassador bearing Delhi licence plates, along with Balwant Singh Rajoana (the backup bomber). Reportedly, Dilawar and Balwant had tossed a coin to decide who would become the suicide bomber. After a while when Balwant left, Dilawar scribbled on a piece of paper,
"Je mein shaheedan di yaad wich geet na gage, te ruhan diyan Kuralun giyan."
(If I don't recite rhymes in memory of the martyrs their souls would be tormented).
At 5.10 p.m., three white Ambassadors pulled up near the VIP portico at the secretariat complex, to pick up Beant Singh. Just when Beant Singh was about to step into the car, Dilawar walked toward his bullet-proof car and pressed the button of bomb.


Balwant Singh Rajoana (Backup Bomber)
Balwant Singh Rajoana confessed his crimes in the makeshift courtroom of Burail Jail, Chandigarh, on 25 December 1997 after which he was arrested and jailed in Patiala Central Jail. On 1 August 2007, he was given a death sentence by a special CBI. A death warrant was issued to the Patiala jail authorities for the execution of Rajoana to be held on 31 March 2012. However, on 28 March 2012, India's Home Ministry stayed the execution following clemency appeals filed by Punjab CM Parkash Singh Badal and the SGPC, a Sikh organization. As of 2022, the SC is hearing Rajoana's plea seeking commutation of the death sentence to life term on the ground that he has been in jail for 26 years.


Jagtar Singh Tara (Mastermind)
Tara was arrested in September 1995 in Delhi. In 2004, Tara managed a sensational escape through a 110-foot-long tunnel dug from the Burail Jail in Chandigarh, along with two other convicts, Hawara and Bheora. Tara was on the run for 11 years and rearrested in Thailand in 2015. He was sentenced to life imprisonment in 2018.


Jagtar Singh Hawara (Mastermind)
One of the masterminds behind the assassination, Hawara arranged the explosives and finances to purchase the Ambassador car used for entering the secretariat complex. He was arrested in 1995 after Tara. In 2004, Hawara escaped from the Burail Jail along with Tara and Bheora. In 2005, Hawara was rearrested from Dehli. Thereafter, his death penalty was commuted to life imprisonment.


Paramjit Singh Bheora
A resident of Delhi, Paramjit Singh was Tara's friend and another active member of BKI, who assisted Tara in purchasing the car and bringing it to Chandigarh. In 2004, he escaped along with Hawara and Tara, but later, he was rearrested.

Lakhwinder Singh
A Punjab Police constable, Lakhwinder Singh was posted at the MT section of the Punjab Civil Secretariat in 1995. The MT section dealt with repairing, fuelling, and maintaining official vehicles. A few days before the assassination, he was posted as the driver of a former MP. He was given life imprisonment by the court of R K Sondhi in the makeshift courtroom of Burail Jail on 31 July 2007.

Shamsher Singh
Hawara and other conspirators used to take shelter at Shamsher Singh's house, where they hid their explosives. He was given a life sentence by the court of R K Sondhi in the makeshift courtroom of Burail Jail. He was given life imprisonment by the court of R K Sondhi in the makeshift courtroom of Burail Jail on 31 July 2007.

Gurmeet Singh
An engineer working with BPL, he was given the task of designing the explosive belt. He was given life imprisonment by the court of R K Sondhi in the makeshift courtroom of Burail Jail on 31 July 2007. 

Naseeb Singh
He was sentenced to imprisonment for ten years, which he had already undergone during the trial spanning over 11 years.

Navjot Singh
He was acquitted by the special court on 27 July 2007.
Nationality
Indian
Hometown
Lahore, British India (now in Pakistan)
Educational Qualification
He studied English and Persian at Government College University, Lahore. [1]

Beant Singh
Religion
Sikhism [2]

Independent
Caste
Jat [3]

Independent
Food Habit
Vegetarian [4]

The Print
Controversy
In 1983, Darbara Singh, who then served as the Chief Minister of Punjab, lodged a murder case against Beant Singh at Payal police station, Ludhiana. At that time, Beant Singh held the position of Public Works Minister. In the FIR, Darbara Singh claimed that Beant Singh was been involved in the killings of four young Sikh boys, who were shot by the police in Rara Sahib. Consequently, Beant Singh resigned from his position in the government, meanwhile claiming that he had been framed by his opponents. Soon after, he brought the false allegations to PM Indira Gandhi's notice and was proven innocent. [5]

India Today
Relationships & More
Marital Status (at the time of death)
Married
Marriage Date
Year, 1944
Family
Wife/Spouse
Jaswant Kaur Toor

Note: In 2010, Jaswant Kaur died at the age of 85 due to cardiac arrest at the Postgraduate Institute of Medical Education and Research (PGIMER), Chandigarh.
Children
Son- 3
• Tej Parkash Singh (politician, who served as the MLA from Payal Assembly constituency (2002-2012))

• Swaranjit Singh
• Sukhwant Singh Kotli

Daughter-2
• Gurkanwal Kaur (politician, who served as the MLA from Jalandhar Cantt Assembly Constituency (2002-2007))

• Manjit Kaur
Note: Swaranjit Singh died in a car accident in 1985 and Sukhwant Singh Kotli died in 2016.
Grandchildren
• Harkirat Singh (Tej Parkash Singh's son; served as the sarpanch of Kotli)

• Gurkirat Singh Kotli (Tej Parkash Singh's son; was elected to the Punjab Vidhan Sabha in 2012 and then again in 2017)
• Ravneet Singh Bittu (Swaranjit Singh's son; elected as MP from the Anandpur Sahib constituency in Punjab in 2014 and 2019)


Note: Harkirat Singh shot himself to death with his licenced revolver in 2016.
Parents
Father- Hazura Singh Jhaj (Captain in the British army)

Mother- Sahib Kaur Deol
Siblings
Beant Singh had six siblings, three sisters and three brothers. He was the youngest of four brother. One of his brothers passed away when he was young due to an accident while playing. His other two brothers had a long distinguished career in the British Indian army. His eldest brother was a Captain. An OBE was bestowed upon his other brother Colonel Bhajan Singh for his services in the army.





Some Lesser Known Facts About Beant Singh
Beant Singh was an Indian politician and member of the Indian National Congress (INC) who served as the Chief Minister of Punjab from 1992 to 1995.
His family settled in Montgomery district, Lahore, British India (now in Pakistan) when he was young.
After doing his schooling in Okara, British India (now in Pakistan), he attended Government College University, Lahore.It was during his college days that he first got interested in politics.
Belonging to a family with an army background, Beant Singh served in the British Indian Army for two years after his graduation.
Thereafter, his family moved to the Canal colonies in the Western districts of Punjab.
During the partition of India and Pakistan in 1947, Beant Singh's family was uprooted from its home in Lahore. Thereafter, they temporarily relocated to their ancestral village, Bilaspur.
In the chaotic partition passageways, Beant Singh aided numerous people in securing a safe path at the border crossing. For about 20 days, Singh's family was clueless about his whereabouts and whether he was dead or alive.
After his marriage in 1944, his three eldest children were born in pre-partition Lahore and the youngest two were born in post-partition Ludhiana, India.
Soon after, they moved to the village Kotli (Kotla Afgana) near Payal in the Ludhiana district, where Singh started his political career.
In the aftermath of Operation Blue Star, the assassination of Indira Gandhi, and the 1984 anti-Sikh riots, Beant Singh became the Chief Minister of a terrorism-ridden Punjab. At that time, well-armed Khalistan militants had been demanding an independent country, Khalistan, for nearly 12 years. While assuming the office, Beant Singh said,


I see my job as enforcing law and order…Too many dangerous persons are carrying too many weapons. I have told the police to finish them and my government is with them."
Although Beant Singh successfully minimized terrorism in Punjab and changed the then-prevailing public perception that all Sikhs were terrorists, he became a target of Khalistani militants who accused him of approving fake encounter killings, abductions, and secret cremations during the insurgency in Punjab. Beant Singh resurrected the overall respect for Sikhs in the country, which had been lost after Indira Gandhi's assassination, but he was criticized by the Sikhs for the government's illegal and cruel actions to get rid of Khalistani militants, which had cost many innocent lives.
While remembering his grandfather in an interview, Beant Singh's grandson Gurkirat said,


He loved chai a lot. So much that he drank 10-15 cups a day."
To pay a tribute to Beant Singh, a postage stamp featuring his portrait was published. Prime Minister Manmohan Singh talked about Beant Singh on the release of the stamp, and said,


A great son of India and of Punjab – Sardar Beant Singh ji …. If our society is largely peaceful and secular today, it is only because of the courage and patriotism of people like Sardar Beant Singh ji. Our freedoms are built on the foundation of their hard work and sacrifices-Prime Minister of India, Dr Manmohan Singh."

In his memory, Beant Singh Memorial & Chandigarh Centre for Performing and Visual Arts was established in Sector 42, Chandigarh.