Dilawar Singh Babbar Age, Death, Girlfriend, Wife, Family, Biography & More
Quick Info→
Marital Status: Unmarried
Age: 25 Years
Hometown: Patiala, Punjab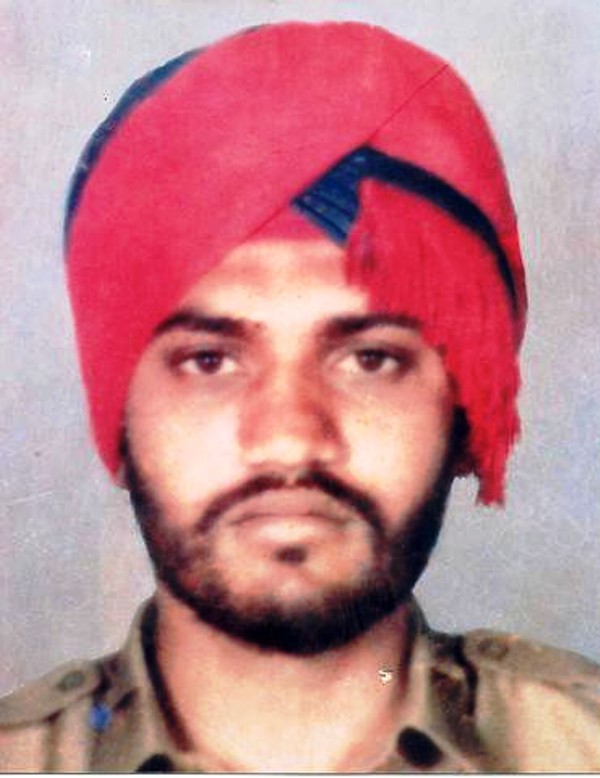 Bio/Wiki
Other Name
Dilawar Singh Jai Singh Wala [1]

Sikh Channel- YouTube

Note: Jai Singh Wala is the native village of Dilawar Singh's father in Punjab.
Profession
Punjab Police Officer
Known for
Assassinating former Chief Minister of Punjab Beant Singh as a suicide bomber
Beant Singh's Assassination
Date of Assassination
31 August 1995
Place of Assassination
Secretariat Complex, Chandigarh
Partners in Crime
Balwant Singh Rajoana (Backup Bomber)
Rajoana confessed his crimes in the makeshift courtroom of Burail Jail, Chandigarh, on 25 December 1997 after which he was arrested and jailed in Patiala Central Jail. On 1 August 2007, he was given a death sentence by a special CBI. A death warrant was issued to the Patiala jail authorities for the execution of Rajoana to be held on 31 March 2012. However, on 28 March 2012, India's Home Ministry stayed the execution following clemency appeals filed by Punjab CM Parkash Singh Badal and the SGPC, a Sikh organization. As of 2022, the SC is hearing Rajoana's plea seeking commutation of the death sentence to life term on the ground that he has been in jail for 26 years.


Jagtar Singh Tara (Mastermind)
Tara was arrested in September 1995 in Delhi. In 2004, Tara managed a sensational escape through a 110-foot-long tunnel dug from the Burail Jail in Chandigarh, along with two other convicts, Hawara and Bheora. Tara was on the run for 11 years and rearrested in Thailand in 2015. He was sentenced to life imprisonment in 2018.


Jagtar Singh Hawara (Mastermind)
One of the masterminds behind the assassination, Hawara arranged the explosives and finances to purchase the Ambassador car used for entering the secretariat complex. He was arrested in 1995 after Tara. In 2004, Hawara escaped from the Burail Jail along with Tara and Bheora. In 2005, Hawara was rearrested from Dehli. Thereafter, his death penalty was commuted to life imprisonment.


Paramjit Singh Bheora
A resident of Delhi, Paramjit Singh was Tara's friend and another active member of BKI, who assisted Tara in purchasing the car and bringing it to Chandigarh. In 2004, he escaped along with Hawara and Tara, but later, he was rearrested.

Lakhwinder Singh
A Punjab Police constable, Lakhwinder Singh was posted at the MT section of the Punjab Civil Secretariat in 1995. The MT section dealt with repairing, fuelling, and maintaining official vehicles. A few days before the assassination, he was posted as the driver of a former MP. He was given life imprisonment by the court of R K Sondhi in the makeshift courtroom of Burail Jail on 31 July 2007.

Shamsher Singh
Hawara and other conspirators used to take shelter at Shamsher Singh's house, where they hid their explosives. He was given a life sentence by the court of R K Sondhi in the makeshift courtroom of Burail Jail. He was given life imprisonment by the court of R K Sondhi in the makeshift courtroom of Burail Jail on 31 July 2007.

Gurmeet Singh
An engineer working with BPL, he was given the task of designing the explosive belt. He was given life imprisonment by the court of R K Sondhi in the makeshift courtroom of Burail Jail on 31 July 2007. 

Naseeb Singh
He was sentenced to imprisonment for ten years, which he had already undergone during the trial spanning over 11 years.

Navjot Singh
He was acquitted by the special court on 27 July 2007.
Physical Stats & More
Height (approx.)
in centimeters- 175 cm
in meters- 1.75 m
in feet & inches- 5' 9"
Eye Colour
Black
Hair Colour
Black
Date of Birth
18 August 1970 (Tuesday)
Birthplace
Panjgrain, Punjab

Note: Panjgrain is Dilawar Singh's maternal village.
Date of Death
31 August 1995
Place of Death
Secretariat Complex, Chandigarh
Age (at the time of death)
25 Years
Death Cause
Suicide Bombing [2]

The Indian Express
Zodiac sign
Leo
Nationality
Indian
Hometown
Patiala, Punjab
Religion
Sikhism
Address
House No. 23, Street No. 12, Guru Nanak Nagar, Patiala, Punjab
Marital Status (at the time of death)
Unmarried
Family
Wife/Spouse
N/A
Parents
Father- Harnek Singh (government employee, Youth Welfare Officer at Punjabi University)

Mother- Surjit Kaur

Siblings
Brother(s)- Chamkaur Singh (a senior financial analyst and revenue official in the Department of Youth Service, Government of India), Harvinder Singh

Some Lesser Known Facts About Dilawar Singh Babbar
Dilawar Singh Babbar was a Punjab Police officer and member of Babbar Khalsa International (BKI) who is notorious for being the assassin of the former Chief Minister of Punjab Beant Singh.
His father, Harnek Singh, moved from his birth village of Jai Singh Wala near Bathinda to Patiala, where Dilawar spent his childhood.
Growing up in Patiala's Guru Nanak Nagar, Dilawar made acquaintance with Lakhwinder Singh Lakha and Gurmeet Singh, both accused in Beant Singh's assassination. Lakha lived where streets 9 and 13 intersected, while Gurmeet Singh resided on street no. 14. Gurmeet, Dilawar, Lakhwinder, and Balwant Singh were good friends.
In the aftermath of Operation Blue Star, the assassination of Indira Gandhi, and the 1984 anti-Sikh riots, Beant Singh became the Chief Minister of a terrorism-ridden Punjab in 1992. While serving for Punjab Police, Dilawar Singh Babbar joined Babbar Khalsa International (BKI), a Sikh organisation whose main objective was to create an independent Sikh country Khalistan.
As a Punjab Police officer, he was assigned the duty of gunman in Special Operations, Patiala. He worked as a Special Ops Officer in Fatehgarh Sahib from 9 June 1993 to 18 September 1994. During his service, he came across the extra-judicial killings in fake encounters and enforced disappearances of young Sikhs in the name of counter-terror operations by the police, approved by the government.
By November 1994, the Punjab government dismissed many Special Ops officers throughout Punjab, including Dilawar Singh, citing that there was no more need for SPOs in the state. Thereafter, Dilawar Singh realised that SPOs were hired by the government only to massacre innocent Sikh youths.
Although Beant Singh successfully minimized terrorism in Punjab and changed the then-prevailing public perception that all Sikhs were terrorists, he was accused of approving fake encounter killings, abductions, and secret cremations by the Punjab Police during the insurgency in the state. Outraged by the events, members of BKI, which included Dilawar Singh, decided to assassinate Beant Singh.
In the month of May or June 1995, Dilawar Singh rented a one-room accommodation at a secluded place in Village Ratoli, Tehsil Rajgarh, Distt. Sirmour, where the meeting regarding the assassination was held.
On 31 August 1995, Dilawar slipped into his uniform and strapped 1.5 kg of explosives in a bandolier-shaped belt around his waist and reached the secretariat complex in a freshly painted white Ambassador bearing Delhi licence plates, along with Balwant Singh Rajoana (the backup bomber). Reportedly, Dilawar and Balwant had tossed a coin to decide who would become the suicide bomber. After a while when Balwant left, Balwant scribbled on a piece of paper,


Je mein shaheedan di yaad wich geet na gaaye, teh ohna diyan ruhan Kuralun giyan."(If I don't recite rhymes in memory of the martyrs their souls would be tormented)

At 5.10 p.m., three white Ambassadors pulled up near the VIP portico at the Secretariat Complex, to pick up Beant Singh. Just when Beant Singh was about to step into the car, Dilawar walked toward his bullet-proof car and pressed the button of the bomb. At the secretariat, Apparently, no one suspected anything as Dilawar Singh approached the CM's car in the police uniform with files in his hand.  The blast claimed the lives of 17 others including 3 Indian commandos. Beant Singh was accompanied by his close friend Ranjodh Singh Mann on the day of the assassination.

In September 1995, Chandigarh Police recovered the abandoned Ambassador car with a Delhi number which led to the arrest of the first convict Lakhwinder Singh. In February 1996, charges were framed against Gurmeet Singh, Naseeb Singh, Lakhwinder Singh, Navjot Singh, Jagtar Singh Tara, Shamsher Singh, Jagtar Singh Hawara, Balwant Singh Rajoana, and Paramjit Singh Bheora.
Rajoana confessed his crimes in the makeshift courtroom of Burail Jail, Chandigarh, on 25 December 1997. Before being silenced, Rajoana raised pro-Khalistan slogans,


Khalistan zindabad, Bhai Dilawar Singh zindabad!"

Prison authorities and journalists were awestruck by Rajoana's confession. They asked Rajoana, "Why would someone at such a time want to give up his life?" to which Rajoana replied,


Tusi key jano dosti kinj nebhai jandi hai.
(How do you know the way of living up to friendship)?"

Reportedly, when Dilawar Singh won the fatal toss which chose him as the suicide bomber, he asked Balwant Singh to confess his hand in the crime.

During one of the hearings before the then District and Sessions Judge Amar Dutt, standby human bomb Balwant Singh Rajoana, in memory of  Dilawar said,


It was nothing but divine intervention. Just as Bhai Dilawar Singh was approaching the Chief Minister, everyone around was momentarily blinded. That's the reason why there are no eyewitnesses".

On 15 June 2022, Shiromani Gurudwara Prabandhak Committee (SGPC) installed a portrait of Dilawar Singh at the Central Sikh Museum inside the Golden Temple complex. At the ceremony, SGPC President praised Dilawar Singh and said,


Shaheed Bhai Dilawar Singh had put an end to the atrocities and gross human rights violations committed against the Sikhs then. The decision of sacrificing self is not possible without the Guru's blessing, and whenever atrocities were committed on the Qaum (community/nation), Sikhs have always made history by making sacrifices."

Dilawar Singh's house was searched on 5 September 1995 during which a small booklet on Shaheed Bhagat Singh was recovered. On one side of the last title page, a pen sketch is drawn which purports to be a belt bomb with a detonator device.
On 31 August 2007,  the Sikh organization Khalsa Action Committee (KAC) honoured the parents of Dilawar Singh, Harnek Singh and Surjit Kaur, with the Shaheed Baba Deep Singh gold medal at a function in Amritsar, where the title of 'pride of the nation' was bestowed upon Dilawar.
On March 23, 2012, Dilawar was awarded the title of 'National Martyr' by Akal Takht (the highest temporal seat of the Khalsa), meanwhile title of "Living Martyr" was bestowed upon Rajoana.
Before his death, Dilawar Singh handed over his picture to Balwant Singh. The backside of the picture read,


Sada tah ek duniya ander jogi wala fera hai,
Naa hi eh jagg tera sajna, na hi eh jag mera hai,
Es sohni nu doban lyi tah kacha ghara bathera hai."

(My visit to this world is that of a saint,
Neither is this world yours, nor is it mine,
To sink this 'Sohni,' this raw pot is enough.)