Basil Rajapaksa Age, Wife, Children, Family, Biography & More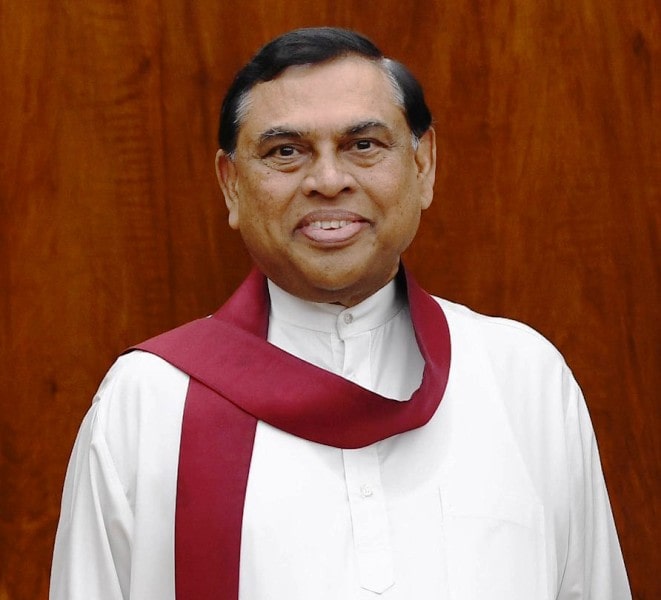 Bio/Wiki
Names earned
Mr 10 Percent [1]

Tamil Guardian
Profession
Politician
Famous for
• Being the younger brother of Mahinda Rajapaksa and Gotabaya Rajapaksa.
• Being the Finance Minister of Sri Lanka during the 2022 Sri Lankan crisis.
Physical Stats & More
Height (approx.)
in centimeters- 175 cm
in meters- 1.75 m
in feet & inches- 5' 9"
Eye Colour
Dark Brown
Hair Colour
Salt and Pepper
Politics
Political Party
• Sri Lanka Freedom Party (early 1970s-1977), (2010-2016)

• United National Party (1977-1997)

• Sri Lanka Podujana Peramuna (2016-present)

Political Journey
• Contested the 1977 general elections in Sri Lanka from the Mulkirigala Electorate
• Became a member of the parliament from the national list in 2007
• Advisor for the President (2005)
• Contested the parliamentary elections in 2010 from the Gampaha district in Sri Lanka
• Contested the Sri Lankan general elections in 2021
• Minister of Finance (2021)
Personal Life
Date of Birth
27 April 1951 (Friday)
Age (as of 2022)
71 Years
Birthplace
Giruwapaththuwa, Hambantota district, Ceylon (now Sri Lanka)
Zodiac sign
Taurus
Nationality
• Ceylonese (1951-1972)
• Sri Lankan (1972-1997)
• Sri Lankan - American (1997-present)
Hometown
Giruwapaththuwa, Hambantota district, Sri Lanka
School
• Isipathana College
• Ananda College
Religion
Buddhism [2]

Basil Rajapaksa's profile on Sri Lankan Parliament's website
Caste
Sinhalese [3]

Mahinda Rajapaksa's official website
Address
• House number 1316, Jayanthipura, Nelum Mawatha, Battaramulla, Sri Lanka
• 15067 Preston Dr, Fontana, CA 92336, the United States of America
Controversies
• Involvement in corruption: Several sources have claimed that Basil as a Minister of Finance was involved in several corrupt practices. In 2015, the Sri Lankan Financial Crimes Investigation Division (FCID), which was established by the then Prime Minister of Sri Lanka Ranil Wickremesinghe, arrested Basil on the charges of indulging in financial crimes. [4]

BBC Talking to the media after his arrest, Basil said,
"They have no evidence. They are making wild allegations. This is a witch hunt. Neither I nor any member of my family has ill-gotten money."
Following his arrest, a close associate of Basil, Muditha Jayakody, wrote a letter to the FCID stating that Basil, in 2016, had transferred $240 million of public funds into his bank account and had asked him to purchase a 16-acre land situated on the banks of the Kelani river. In his letter, Muditha also claimed that Basil used the remainder of the amount to construct the Malwana mansion on the land. [5]

Colombo Telegraph In his letter, Muditha told the FCID,
"That money is not earned by me at all, nor did it belong to me or my company in any sense. It belonged to another person, and based on his instructions, I purchased a land to build a house at 111/3, Mahawatta, Gangabada Road, Mapitigama, Malwana."
In the same year, Basil filed a petition in the Poguda Magistrate in which he claimed the accusations by Muditha were false and baseless, and the land and the property on the land did not belong to him. The Poguda Magistrate ordered the FCID in 2017 to auction the land since Basil was not accepting the ownership of the land and the property on it. Later, the court changed its decision and put a hold on the selling of the land. [6]

Daily Mirror In 2015, after Mahinda Rajapaksa lost the Presidential elections, a complaint was filed against Basil Rajapaksa by the Attorney General of the FCID. In his complaint, the Attorney General claimed that Basil had siphoned off nearly Rs 24.9 million from the funds allocated to the Divi Neguma Development Department (DNDD) and had used it for printing merchandise, which was distributed among the Sri Lankan public during Mahinda Rajapaksa's 2015 Presidential election campaign; however, the case against Basil was dismissed in 2022 by a Sri Lankan court as the Attorney General of the FCID could not present adequate evidence against Basil. In its judgement, the court said,
"The prosecution had failed to prove beyond a reasonable doubt that there had been an abuse or a violation of the provisions of the Presidential Election Act through the process of printing and distributing these almanacs. According to the testimony of Dilan Kaluarachchi of the Divineguma Department who testified in this case, it has been revealed that the process of printing the almanacs had taken place in 2011. The witness had stated that since the inception of the Divineguma Department, it has been carried out in accordance with the objectives of the department. The witness stated that the printing of the almanacs for the year 2015 which is the basis of this case, took place in the latter half of the 2014 according to the same process."

• Claims of the Colombo International Container Terminals (CICT) of giving donations: According to a statement issued by the Chinese-owned Colombo International Container Terminals (CICT) in 2018, the CICT donated roughly Rs 20 million in 2015 to Basil Rajapaksa's wife's NGO named Pushpa Rajapaksa Foundation as the foundation had asked for the donation from the CICT for the construction of houses for those living below the poverty line; however, several sources claimed that the money received by Pushpa Rajapaksa Foundation was used for the Presidential election campaigning of Mahinda Rajapaksa. [7]

India Today The CICT, in its official statement, said,
"Once funding is allocated, CICT believes that the funding so allocated would be utilised for the said projects by the receiving agencies without CICT having to play a supervisory role into it."


• Not attending the parliamentary session as a Minister of Finance: According to several Sri Lankan parliamentarians, when the Sri Lankan economy began to fall in 2021, Basil remained absent from the parliament for months at a time because of which they were unable to discuss the economic situation developing in Sri Lanka. They also claimed that when the members of the parliament tried to give recommendations to Basil for improving the economic situation of Sri Lanka, he not only refused to accept their recommendations but also refused to accept that there was anything wrong with his economic policies in Sri Lanka. [8]

The New York Times During an interview, talking about it, a Sri Lankan parliamentarian said,
"The Rajapaksas — especially Basil, a shadowy power broker before becoming the finance minister — should have seen the disaster coming. Basil was not willing to accept the fact that this financial crisis will lead to an economic crisis, and unless we are going to solve it, that will lead to a political crisis. He controlled everything. A sentiment repeated by other officials and diplomats, and he knew nothing of it."
Relationships & More
Marital Status
Married
Family
Wife/Spouse
Pushpa Rajapaksa (founder of the Pushpa Rajapaksa Foundation)

Children
Son- 1
• Asanka Rajapaksa

Daughter(s)- 3
• Thejani

• Bimalka
• Ashantha
Parents
Father- D. A. Rajapaksa (politician, freedom fighter)

Mother- Dandina Rajapaksa

Siblings
Brother(s)- 5
• Chamal Rajapaksa (former speaker of the Sri Lankan parliament, lawyer)

• Mahinda Rajapaksa (former President and Prime Minister of Sri Lanka)
• Gotabaya Rajapaksa (former President of Sri Lanka, retired Sri Lankan Army officer)

• Dudley Rajapaksa (vice president of QA/RA/Technical Service at Berlin Heart GmbH)

• Chandra Tudor Rajapaksa

Sister(s)- 3
• Jayanthi Rajapaksa (former member of parliament, former deputy minister of water supply and drainage)
• Preethi Rajapaksa (teacher)
• Gandini Rajapaksa
Money Factor
Assets/Properties
Basil Rajapaksa owns a mansion worth $240 million. The mansion is said to have spread across 16 acres of land along the banks of river Kelani.

Net Worth (as of 2015)
The net worth of the Rajapaksa family was approximately $18 billion (Rs 3.2 trillion). [9]

Newsfirst.lk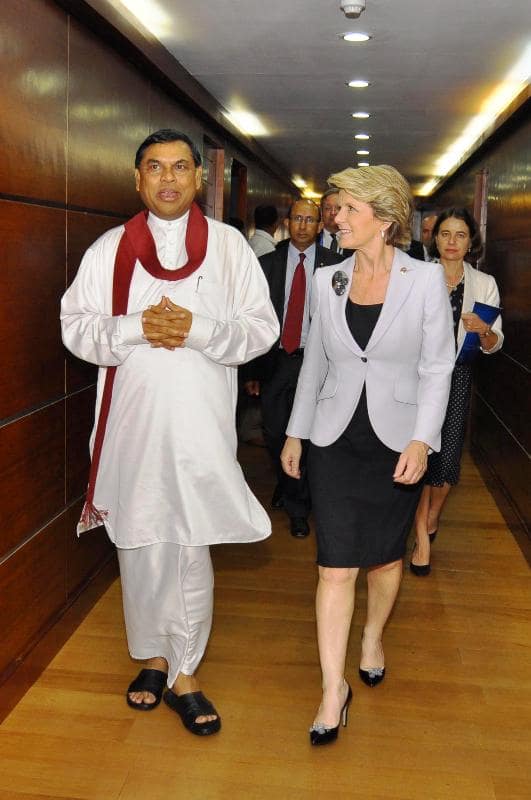 Some Lesser Known Facts About Basil Rajapaksa
Basil Rajapaksa is a Sri Lankan-American politician who is not only known for being Sri Lanka's Finance Minister during the 2022 Sri Lankan economic crisis but also for being the younger brother of the former Sri Lankan Presidents Mahinda Rajapaksa and Gotabaya Rajapaksa.
According to several sources, Basil Rajapaksa's political career began in the late 1960s when he helped his elder brother Mahinda Rajapaksa, a member of the Sri Lankan Freedom Party (SLFP), during the 1970 parliamentary elections in Sri Lanka following which Basil became a member of the Sri Lankan Freedom Party (SLFP).
Basil Rajapaksa contested his first general elections in Sri Lanka from the Mulkirigala Electorate in 1977, where he lost the elections to a United National Party (UNP) candidate.
In 1977, Basil left the SLFP and joined the UNP, where, reportedly, Basil cultivated a close relationship with J. R. Jayewardene, who served as the President of Sri Lanka from 1978 to 1989.
In 1994, despite being a member of the UNP, Basil Rajapaksa openly campaigned for Mahinda Rajapaksa.
After leaving the United National Party (UNP) in 1997, Basil Rajapaksa left Sri Lanka along with his wife and children to settle down in the US.
To campaign for Mahinda Rajapaksa's 2005 Presidential elections, Basil Rajapaksa left the US and came back to Sri Lanka, and after Mahinda secured a victory in the Presidential elections, he appointed Basil as his advisor.
In 2007, Basil Rajapaksa became a member of the Sri Lankan parliament from the National List.
In 2010, Basil Rajapaksa secured a total of 4,00,000 votes in the Sri Lankan parliamentary elections. He contested the elections from the Gampaha district. Since the Sri Lankan constitution did not allow dual citizenship holders to contest the Sri Lankan general elections, the then President of Sri Lanka Mahinda Rajapaksa amended the constitution to allow Basil to contest the elections.
In 2016, he left SLFP and joined Mahinda's party Sri Lanka Podujana Peramuna (SLPP).
In 2021, Basil Rajapaksa contested the Sri Lankan general election in which he defeated his United National Party (UNP) rival. Later, his elder brother Gotabaya Rajapaksa, who back then was the President of Sri Lanka, gave him the charge of The Ministry of Finance, Economic Stabilization, and National Policies; however, in 2022, Gotabaya Rajapaksa removed him after he failed to contain the economical downfall of Sri Lanka.
Basil Rajapaksa resigned from his post as a Sri Lankan parliamentarian on 10 June 2022. During an interview, while talking about his resignation, Basil said,


I resigned from my seat to allow Sri Lanka Podujana Peramuna (SLPP) to nominate someone more suitable. I think I did all that I could do. But I could not do everything the people wanted. From today I will not be involved in any government activities but I cannot and will not step away from politics."
In June 2022, following the eruption of violent agitation in Sri Lanka, Basil Rajapaksa tried to escape Sri Lanka; however, he could not succeed as his departure was blocked by Sri Lankan authorities following which he filed a petition in the Supreme Court of Sri Lanka in which he requested to be allowed to leave the country due to medical and family issues. On 9 September 2022, Basil Rajapaksa was allowed by the Sri Lankan Supreme Court to leave the country. [10]

Newsfirst.lk
Reportedly, when Basil Rajapaksa was Sri Lanka's Minister of Finance, he used President Gotabaya Rajapaksa's Range Rover, which was his official car, for personal use.