Harmilan Kaur Bains Height, Age, Family, Biography & More
Quick Info→
Age: 23 Years
Height: 5' 5"
Profession: Athlete (Sprinter)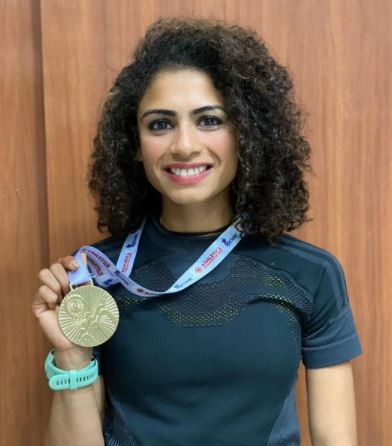 Bio/Wiki
Profession
Athlete (Sprinter)
Famous for
Breaking the national record of 4:06.03 set by Sunita Rani in 1500m title at the 2002 Asian Games. She completed the race in 4:05.39 seconds on 16 September 2021 at the 60th National Open Athletics Championships in Warangal.
Physical Stats & More
Height (approx.)
in centimeters- 168 cm
in meters- 1.68 m
in feet & inches- 5' 5"
Eye Colour
Hazel
Hair Colour
Dark Brown
Track and field
Coach/Mentor
Suresh Saini
Medals
Gold
• 2017 Coimbatore All India Inter University Championships in 1500m category
• 2018 Inter-University Championship (Moodbidri) in 1500m category
• 2020 Indian University Championship (Moodbidri) in 1500m category (H1)
• 2020 Indian University Championship (Moodbidri) in 1500m category (F)
• 2020 Khelo India University Games (Bhubaneshwar) in 1500m category
• 2020 Khelo India University Games (Bhubaneshwar) in 800m category
• 2021 World University Games Athletics Trials (Bhubaneshwar) in 1500m category
• 2021 World University Games Athletics Trials (Bhubaneshwar) in 800m category
• 2021 Federation Cup (Patiala) in 1500m category
• 2021 National Inter State Senior Athletics Championships (Patiala) in 800m category
• 2021 National Inter State Senior Athletics Championships (Patiala) in 1500m category
• 2021 Indian Grand Prix 4 (Patiala) in 1500m category
• 2021 National Open Championships at Hanamkonda in Warangal (H1) in 1500m category
• 2021 National Open Championships at Hanamkonda in Warangal (F) in 1500m category

Silver
• 2015 Ranchi Indian U18 Championship (Ranchi) in 1500m category
• 2015 Ranchi Indian U18 Championship (Ranchi) in 800m category
• 2016 Indian Grand Prix 4 (Bengaluru) in 800m category
• 2017 Coimbatore All India Inter-university Championship in 800m category
• 2017 Coimbatore All India Inter-university Championship in 1500m category
• 2017 Mangalagiri in 800m category

Bronze
• 2016 Ho Chi-Minh Asian Junior Championships (Vietnam) in 1500m category
• 2017 Coimbatore All India Inter University Championships in 1500m category
• 2018 Federation Cup (Patiala) in 1500m category
• 2018 Inter-University Championships (Moodbidri) in 800m category
• 2020 Indian University Championships in 800m category
Personal Life
Date of Birth
23 July 1998 (Thursday)
Age (as of 2021)
23 Years
Birthplace
Mahilpur, Hoshiarpur (Punjab)
Zodiac sign
Leo
Nationality
Indian
Hometown
Patiala (Punjab)
School
St Soldier School, Mahilpur (Hoshiarpur)
College/University
Punjabi University, Patiala
Relationships & More
Marital Status
Unmarried
Family
Parents
Father- Amandeep Singh Bains from Punjab (Former Indian Sprinter)

Mother- Madhuri Saxena from Uttar Pradesh (Former Indian Sprinter)

Favourites
Athlete
P.T. Usha
Restaurant
Starbucks
Food
Pizza and Ice-cream
Style Quotient
Cars Collection
Kia Sonet


Maruti Swift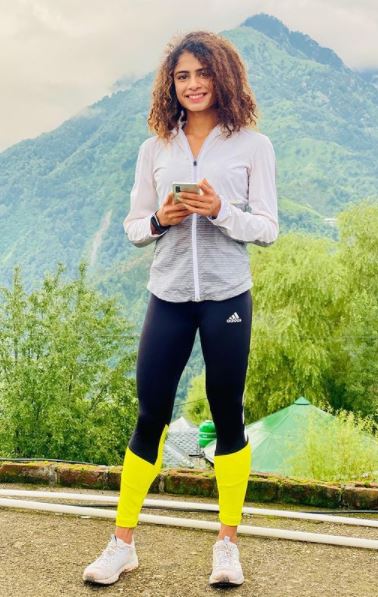 Some Lesser Known Facts About Harmilan Kaur Bains
Harmilan Kaur Bains is a second-generation Middle Distance Athlete (Sprinter) who competes in the 800m and 1500m categories.
The record speed which she achieved during the 60th National Open Athletics Championship at the Jawaharlal Nehru Stadium in Hanamkonda (Warangal) on 16 September 2021, was not enough for her to qualify for the World Athletics Championships 2022 to be held in Oregon (United States).
While she was running in the 1500m race where she broke the national record, it was in the last 20 to 30 meters, she realized that she can break the national record. Two days later after she broke the national record in 1500m, she also grabbed the top spot in 800m.
Her father is a former 1500m runner who won many international medals in this game while her mother won a silver medal in 800m at the Asian Games 2002 and has been honored with the Arjuna Award by the Government of India.
Her mother's dream was to put her in Lawn Tennis rather than athletics as the latter requires intensive hard work and determination. On the other hand, Lawn Tennis is a glamorous sport. But there was no coaching available for Lawn Tennis in their village. So, Harmilan's father suggested her mother to put her in Athletics.
During her childhood, she would seldom hear fairytale tales and more sports stories. As a result, she lost interest in sports. Her father wanted her to compete in games. He would leave her on the ground and asked her to run. She would stop running a minute after her father left.
During her practice, she use to saw boys playing dodgeball, and then one day she told her mother that she also wants to play Dodgeball. Her mother then agrees on a condition that only after she runs one full round of the ground, she would allow her to play that game. She agreed. Her interest in dodgeball started increasing. At that time, her father used to organize football in their village. He also included athletics alongside football. Harmilan once took part in that athletics game and came second. So annoyed with her second position that she decided to quit athletics. But soon her mother convinced her to continue her athletics game. The next time when she competed, she came first. From thereon, her interest in games rosed and soon she started gaining proficiency in this sport. She recalled that incident by saying,


"The sprint which helped me beat that boy when I was only seven infused interest for running in me."

At an age of ten, she ran in the 600m event where she got success. As time passed by, she competed in the CBSE cluster games in her school and came first. She then competed in the national CBSE cluster event but unfortunately lost the game. In 2013, she failed a dope test and couldn't participate in Under-14 tournaments losing precious two years.
In 2015, her father approached the Himachal Pradesh Government to allow her to train at the synthetic tracks of the Sports Authority of India (SAI) in Dharamshala for which they agreed. She told in an interview that


"It was a big emotional for both of us. My father couldn't hide his tears, but I started enjoying my stint there gradually. That was the start, not planned but that's how it was destined to be."

Since then at an age of 18, she has been working with the professional coach along with the guidance of her parents.
Soon, she started winning gold and silver medals in the 1500m and 800m events at the national level. In 2017, she suffered from a knee injury but returned a few months later with the university silver in the 1500m event. Recalling that time she said,


"When I picked up that injury in the inter-university games of Coimbatore, It felt like the end of my career. The support of parents and coaches bought me back. I lost six months and couldn't compete in any major tournament."
Next year, she won the gold at the national-level competition in all the categories she competed. Soon, people started recognizing her. She was gaining more interest in this sport and her hunger for success kept on increasing.
In 2018, She took part in the 2018 Federation Cup National Senior Athletics Championships and won the gold medal in the 1500m event. On 10 October 2019, she came fourth in the 59th National Open Athletics Championships held in Ranchi with timing of 4:22.04.
In February 2020, she took part in the Khelo India University Games held in Odisha and scored 4:14.68 in the 800m category. After the performance, she said,


"Most of the coaches didn't expect me to win 800m, as my medals came in the other category mostly. Being an underdog helped but I also was surprised at the lack of preparation of competitors. My mother was overjoyed at 800m gold, although the pressure of doing well in the other category didn't let me sleep."
Next year on March 16 she improved that score with 4:08.70 during the 24th National Federation Cup Senior Athletics Championships in Patiala. A few months later on 21 June at the same venue, she scored 4:08.27 in the Indian Grand Prix 4 event. This score was enough to raise expectations from the people that she would qualify for the 2020 Tokyo Olympics. But in her next competition, she only managed a score of 4:15.52. The reason she revealed in an interview was that


"Her menstrual cycle upset her rhythm."
Next 1.5 years she was been on a consistent winning streak. She has won nine 1500m races since the beginning of 2020. Following that, she worked on her fitness and reduced her body fat from 26% to 15%. On the instructions of her coach, She cuts her carbs and fats due to her bulky physique in the initial stages of her career. Her workout routine remains the same for both 800m and 1500m. Fifteen days prior to the event, she completely stop taking carbs, and then five days before, she includes few carbs in her diet. Before the workout, she eats soaked dry fruits, a little bit of coffee, and a few carb diets. She consumes around 2300 calories every day. As the competition approaches closer, her calories intake gets reduced to 1500 to 1900.
At the time when Javelin Thrower Neeraj Chopra was making headlines after winning the Gold at the 2020 Tokyo Olympics in August 2021, Harmilan completed the double by winning the 800m race event with the timing of 2:03.82.
During the initial days of her career, she would face constant advice from her parents and expectations which proved detrimental for her career later on. So for the Athletics Championships 2021, she traveled on her own to Warangal. However, her father came to see her a few days later. He saw her while sitting on a spectator's stand. Soon her coach convinced her parents to stop the constant monitoring.
Recalling that time, Harmilan said


"They are very involved and put not just me but my coach also under pressure. They would want to know every little detail. They would give advice like 'If you train so much your time will be this' or ask questions to the coach like 'why is endurance not happening? How will you run with this workout? I needed to travel on my own."

After the race, her father clicked a selfie with his daughter with the medal. But she didn't listen to his lousy pieces of advice.
She once told that she never had thought to become like her parents. She further revealed that she has no idols. Indeed, she has targets that are way much bigger than what her parents had achieved in their careers. She wants to create history. She also said that her college professors were very supportive. They even didn't force her to come to the college to study. She utilized that time practicing the game and attend the camps on a regular basis. Only for the examinations, she went to college.
She is very particular about her routine workout. She once said that she never feels that she had done enough workouts on that particular day. She further remarked,


"I am tired but not tired enough."
Talking about her success, her coach Suresh said,


"Running without expectations is only part of the reason why Harmilan could become a national champion. From a personal best of 4:14.68 at the start of last year, Harliman has improved by nearly 10 seconds. Shedding weight, focusing on intense speed workouts and improving biomechanics has helped."

Further, he added

"Last year her body fat percentage was 26. Now it is 15 per cent. She had disturbed running mechanics. We also worked on improving bio-mechanical movements which makes her a more efficient runner. Also because of lower muscle mass her speed was not the best. That is why I made her do a lot of uphill running like 60 metres, 80 metres in Dharamshala where we trained."

Her next target is to compete in the World University Games 2022, Asian Games 2022,  and the 2024 Paris Olympics. Her goal is to become the first Indian woman to win the medal in Athletics. Her mother couldn't qualify for the Olympics so she wants to fulfill her wish.
She gave a message to all the upcoming enthusiasts through an interview that


"Whatever you want to do, just do with a free mind and full interest. If you don't have an interest in sports or academics, then you can't perform neither you can achieve success. Give your 100% in whatever sports you play."