Kanak Rele Age, Death, Husband, Family, Biography & More
Quick Info→
Religion: Hinduism
Age: 85 Years
Husband: Yatindra Rele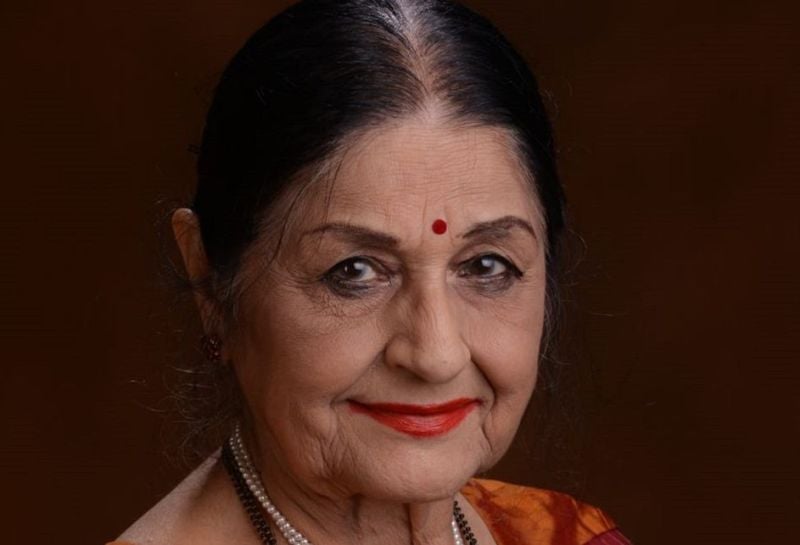 Bio/Wiki
Profession(s)
• Classical dancer
• Choreographer
Known for
Mohiniyattam (Indian classical dance form)
Career
Field
Dancing
Speciality
Mohiniyattam
Teacher
'Panchali' Karunakara Panicker
Founder of
Nalanda Dance Academy (now known as Nalanda Dance Research Centre)
Awards, Honours
1978: Nritya Choodamani award in Madras
1989: Sahitya Gaurav Puraskar by the Government of Gujarat
1990: Padma Shri, India's fourth-highest civilian award
1994: Sangeet Natak Akademi Award
1995: 'Vice President's Citation' for one of the best choreographers and 'Sarangdev Fellowship'
2005: Honoured with the title 'Kala Vipanchee' by the dance and music institution 'Vipanchee'
2006: 'Kalidas Samman' by the Government of Madhya Pradesh for her contribution and excellence in the field of classical dance
2013: Padma Bhushan, India's third-highest civilian award


Note: Kanak Rele was accoladed with several other awards including 'Kala Ratna' (for contribution to Mohiniyattam) and 'Suvarna Kankanam' from Keli (for contribution to Mohiniyattam).
Personal Life
Date of Birth
11 June 1937 (Friday)
Birthplace
Gujarat, British India
Date of Death
22 February 2023
Place of Death
Mumbai

Note: She died in a private hospital in Mumbai.
Age (at the time of death)
85 Years
Death Cause
Cardiac arrest [1]

The Economic Times

Note: Some sources claim that she was undergoing treatment for age-related ailments.
Zodiac sign
Gemini
Signature


Nationality
• British Indian (1937-1947)
• Indian (1947-2023)
College/University
• Government Law College, Mumbai
• Manchester University, United Kingdom
• University of Mumbai
Educational Qualification(s)
• LLB from Government Law College, Mumbai
• Masters in International Law with a civil aviation major from Manchester University
• PhD in dance from the University of Mumbai [2]

Deccan Herald
Religion
Hinduism
Controversy
Protest Against Phony Academic Credentials
Kanak Rele faced allegations from a group of skeptics who claimed that her PhD degree was not genuine. Doordarshan, which had planned to feature her on the 'Prathibha ani Pratima' programme, decided to cancel the telecast of the programme due to the ongoing protest against Rele; however, when Rele's research guide, Kapila Vatsyayan, intervened into the matter, the show was telecasted while a group was protesting outside the Doordarshan Kendra in Mumbai. According to sources, some protestors sent an anonymous letter to the Vice Chancellor of the University of Mumbai, accusing Kanak Rele of having relationships with famous personalities. The vice chancellor, however, burnt down the letter and did not pay any attention to the allegations made against Rele. [3]

The Hindu

Relationships & More
Marital Status (at the time of death)
Married
Marriage Date
10 November 1957

Family
Husband/Spouse
Yatindra Rele (cricketer)
Children
Son- 1
• Rahul Rele

Daughter- None
Parents
Father- Shivdas
Mother- Madhuri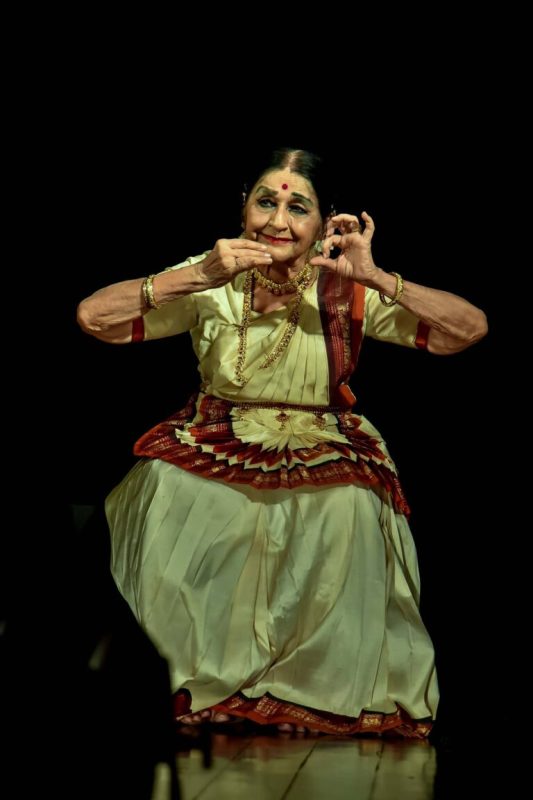 Some Lesser Known Facts About Kanak Rele
Kanak Rele was an Indian classical dancer, academician, and choreographer. She is known for developing and promoting Mohiniyattam, a traditional dance form from Kerala. She has received many awards and honours for her contributions to the field of dance. She died on 22 February 2023, aged 85, in Mumbai.
She was merely 10 months old when she lost her father. At the age of 5, Kanak moved to Shantiniketan in West Bengal with her mother and uncle. There, she learned music and dance and attended Patha Bhavan, an independent school, where classes were held under a tree.
At the age of 10, Rele was diagnosed with polio, but she recovered by practising dance regularly.
While growing up in Shantiniketan, Kanak Rele would often see Rabindranath Tagore, but she never interacted with him.
In an interview, Kanak Rele, while recounting her childhood spent in Shantiniketan, said that she used to play with Haripado da, who used to take care of her and her family. Rele added that whenever she ran away from home to collect palas flowers, Haripado da would chase after her. After spending a few years of her childhood in Shantiniketan, Rele moved back to Bombay (now Mumbai). While talking about this in an interview, Kanak Rele said,

There was a person who took care of me from my family, his name was Haripado da. Haripado da used to run behind me when I used to run away from the house to collect palas flower. After that when I finished with my flower collection we used to come back home. We stayed for very few years in Shantiniketan and from there we had to come back to Bombay, but the memories of Shantiniketan are visually sketched like a painting in my mine."
She learnt various Indian classical dance forms including Bharatanatyam and Kathakali. She learned Bharatanatyam from her guru Nanna Kasar and guru Kittapa Pillai.
In an interview, she said that since her family wanted her to become a doctor, she enrolled at a medical college; however, she left it later as she was unable to practise dance due to her studies. She further mentioned that JRD Tata had once offered her a well-paid job in his airline company; however, she refused the offer to continue working as a dancer.
In 1967, she established Nalanda Dance Academy, now known as Nalanda Dance Research Centre, in Bombay (now Mumbai).
In 1972, she set the foundation of Nalanda Nritya Kala Mahavidyalaya, which was the first college for dancing affiliated with a premier university, the Mumbai University, in India. The documentary "Nritya Bharati", which showcases the seven Indian classical dances and was produced by Nalanda Nritya Kala Mahavidyalaya, has been acquired by the Ministry of External Affairs as the official capsule for all Indian missions abroad. The other choreographic piece produced by the institute includes 'The Enlightened One — Gautama Buddha,' which premiered in 2011; it was based on the 2008 Mumbai attacks.
In an interview, Kanak Rele shared some of her unforgettable performances. She recalled receiving appreciation from Rukmini Devi, an Indian theosophist, dancer, and choreographer of the Bharatanatyam dance form, after performing at the December festival in Chennai, Tamil Nadu. Additionally, after a performance at the Kamani Auditorium in New Delhi, Indira Gandhi approached her backstage and asked if she was from South India. When Rele replied with a 'no,' Indira Gandhi smiled and said 'Keep it up.'"
In 1977, she earned a PhD in dance, making her the first in India to do so; however, she faced criticism from a group of individuals, claiming it to be a fake degree. Kanak Rele's doctoral thesis was titled 'Mohini Attam: All aspects and Spheres of Influence.'
In an interview, Kanak talked about experimenting with different genres, whether it be dance or any artwork, and said that she once combined Bharatanatyam and Mohiniyattam to portray 'Kalyani,' a character from Rabindranath Tagore's story 'Aparichita,' at Kamani Auditorium in Delhi. Although the performance was well-received by some, it attracted controversy due to some reasons.
Although she has extensively discussed the 'prayoga,' a combination of dance, vocal music, and instrumental music, of the Mohiniyattam dance form in the first edition of her book 'Mohini Attam – The Lyrical Dance' (1992). In 2013, she published the revised edition of her book 'Mohini Attam – The Lyrical Dance' and wrote about 'sastra,' a Mohiniyattam dance form.
In 1996, she wrote a book about Mohiniyattam, an Indian classical dance form, titled 'Bhaava Niroopanna.'
On 7 May 2022, she published her biography titled 'Me & My Mohini Attam.'
Rele became well-known for her modernization of mythological stories in her performances and her depiction of powerful female characters, which was a significant deviation from the conventional Mohiniyattam theme of the nayika longing for love.
Some of her major works and choreographies include Kubja, Kalyani, Silappadikaaram, and Swapnavasavadattam.
Through her association with the Malayalam poet and scholar Kavalam Narayana Panicker, Rele was introduced to Sopana Sangeetham, a form of Indian classical music that developed in the temples of Kerala, which inspired her to create choreographic pieces for the same. Kavalam's compositions inspired several of Rele's choreographies that highlight the societal trauma experienced by women, drawing from women characters in mythology.
She was associated with many organisations including the University of Mumbai (dean of faculty of fine arts and member of executive council), Prince of Wales Museum (trustee), University Grants Commission (U. G. C.) (member of the panel of experts in fine arts), Indian Council for Cultural Relations (I. C. C. R.) (member of experts committee), and the Government of India (advisor of dance in the planning commission).
She once received an invitation from the world-renowned Kerala Kalamandalam in June to deliver lecture-cum-demonstrations on the classical dance form of abhinaya and its suitability for Mohini Attam.
Rele once received a challenge to choreograph an old padam (a slow form of dancing) called 'Taaraaviraham' that she had never heard before, with only 30 minutes to study it. Surprisingly, she successfully created an abhinaya (performance) piece that showcased different emotions with rare skill and deep understanding, which earned her a standing ovation.
Kanak Rele died of cardiac arrest on 22 February 2023 in a private hospital in Mumbai.