Kanhaiya Lal Tailor (Udaipur Murder Case) Age, Wife, Family, Biography & More

Kanhaiya Lal, a tailor from Udaipur, Rajasthan, was brutally killed in broad daylight by two Muslim men On 28 June 2022. The incident shocked the nation to its core. Reportedly, they killed Kanhaiya Lal for sharing a social media post in support of suspended BJP leader Nupur Sharma who was expelled from the primary membership of the Bharatiya Janata Party after she made derogatory remarks against Prophet Muhammad and the Muslim community during a TV debate in June 2022. Kanhaiya Lal Teli was born in 1974 (age 48 years; at the time of death) in Maldas Street, Udaipur, Rajasthan.
Kanhaiya Lal Family, Wife & Children
Kanhaiya Lal's father's name was Roopji Teli. His wife's name is Jasoda Sahu. Kanhaiya Lal is survived by his two sons, Yash and Tarun.
Why Kanhaiya Lal was Killed?
On 10 June 2022, a neighbour of Kanhaiya Lal named Nazim filed an FIR against Kanhaiya Lal for using the suspended BJP spokesperson Nupur Sharma's photo as the DP on his mobile phone. Nupur Sharma was in the news for her controversial statements about Prophet Muhammad in a television debate. Later, Nazim confessed that he filed the FIR under the pressure of the Muslim community as he was aware that Kanhaiya Lal didn't know how to use a mobile phone. Following the FIR, the police arrested Kanhaiya Lal; however, he was released on bail on the same day. Reportedly, it was Kanhaiya Lal's 8-year-old son who had accidentally used Nupur Sharma's photo as DP on the mobile phone. Later, two persons came to Kanhaiya Lal's shop and told him that someone had shared a controversial post on his mobile phone following which he deleted that post. and after the FIR, they deleted the post. Following his release on bail, Kanhaiya Lal filed an FIR against Nazim and five others who had been planning to kill him since his mobile post went viral on social media. In his complaint, Kanhaiya Lal said that he was being threatened by these people to open his shop. Later, the SHO called a meeting between the two communities and made a settlement between them, and the two parties also gave a written statement that they had resolved the issues between them.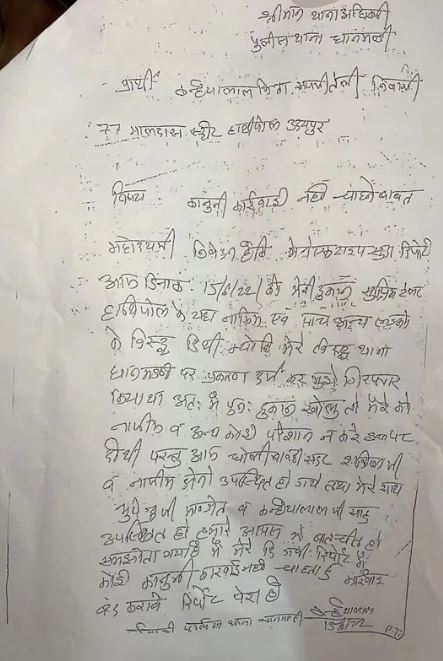 On 28 June 2022, at around 2:30 pm, two accused identified as Ghouse Mohammad and Mohammad Riaz arrived at Kanhaiya Lal's shop, Supreme Tailors, located in Dhanmandi, near Bhootmahal in Udaipur. Reportedly, one accused attacked Kanhaiya Lal with a sharp weapon while Kanhaiya Lal was taking his measurement to stitch a pair of trousers, while another accused filmed the incident on a mobile phone. Reportedly, they tried to behead Kanhaiya Lal.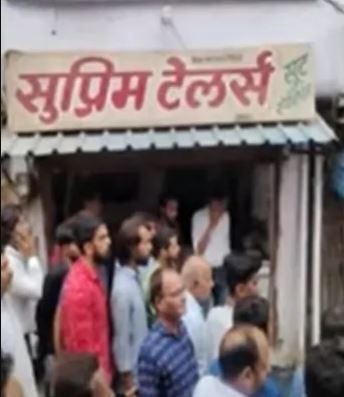 The Accused and their Videos
Eleven days before Kanhaiya Lal was killed, the accused filmed a video in which they pledged to take revenge for derogatory remarks on Paigambar Muhammad. Reportedly, the video was filmed on 17 June 2022 in which the accused were spotted displaying sharp weapons. Following the brutal killing of Kanhaiya Lal on 28 June 2022, the accused shared this video on social media.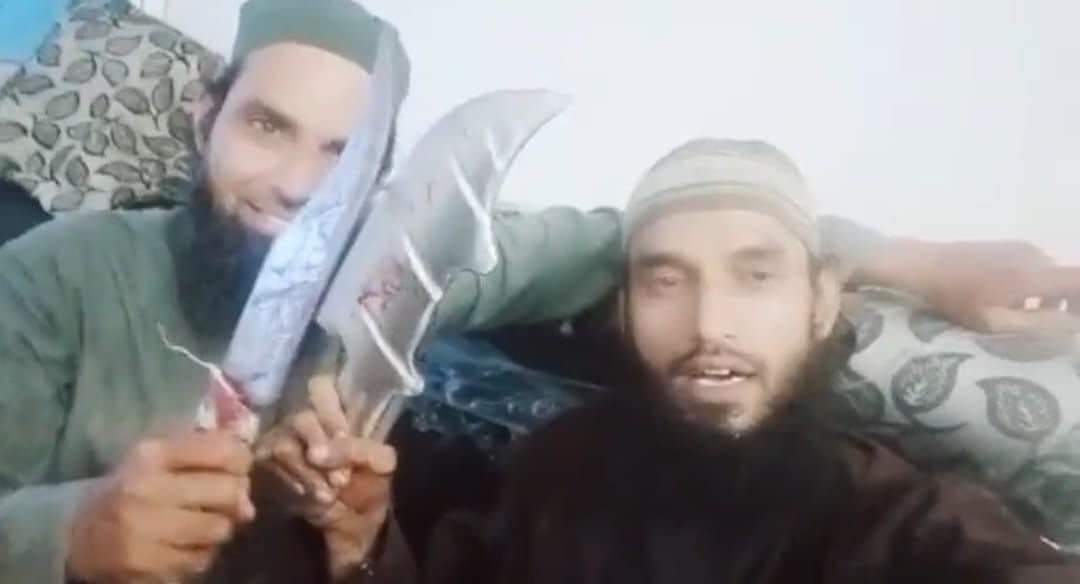 Later, they shared another video in which they threatened to behead Prime Minister Narendra Modi.
The Arrest of the Accused
Followng the gruesome murder of Kanhaiya Lal, both the accused were arrested by the Rajasthan police from Bhim, a small town in the Rajsamand district, around 158 km from Udaipur.
राजस्थान पुलिस ने उदयपुर हत्याकांड के दोनों हत्यारों को पकड़ लिया हैं ।

राजस्थान पुलिस ने मौक़े पर ही खातिरदारी की है। अभी और भी ख़ातिरदारी होनी है।

यह कांग्रेस शासित राजस्थान हैं यहाँ असामाजिक तत्व बिल्कुल भी बर्दाश्त नहीं किये जायेगे।#Udaipur pic.twitter.com/kBflQ0qzdB

— Nitin Agarwal (@nitinagarwalINC) June 28, 2022
Following the arrest of the accused, Chief Minister Ashok Gehlot said,
Both the accused of murder of youth in Udaipur have been arrested from Rajsamand. The investigation in this case will be done under the Case Officer Scheme and by ensuring speedy investigation, the criminals will be punished severely in the court. I again appeal to all to maintain peace." [1]Business Today
Aftermath
The gruesome murder of Kanhaiya Lal triggered outrage and stray incidents of violence in the state, where prohibitory orders were clamped for a month, and section 144 was imposed in Rajasthan for one month. Curfew was also imposed till further orders in seven police station areas of Udaipur city. After receiving Kanhaiya Lal's body on 29 June 2022, the family members demanded a similar punishment to the accused.
The Centre directed NIA to take over the probe
Amid uproar over the brutal killing of Kanhaiya Lal, the Centre, on 29 June 2022, directed the National Investigation Agency (NIA) to take over the probe and "thoroughly investigate" the involvement of any organisation or international linkages in connection with the incident. Union home minister Amit Shah took to Twitter to announce the decision. He said,
MHA has directed the NIA to take over the investigation of the brutal murder of Kanhaiya Lal Teli (the tailor) committed at Udaipur, Rajasthan. The involvement of any organisation and international linkages will be thoroughly investigated."
Reportedly, a key reason behind the Centre roping in the NIA was that the accused directly threatened Prime Minister Narendra Modi in a video claiming responsibility for the attack. [2]Hindustan Times
The accused went to Dawat-e-Islami in Karachi in 2014
Addressing a press conference, Rajasthan DGP said that one of the accused named Ghouse Mohammad went to Karachi in 2014 for Dawat-e-Islami. The DGP also said that Kanhaiya Lal's murder was being considered a terror act, and they registered a case under UAPA. [3]India Today