Sachal Jazz Ensemble Story, Founder, Members & More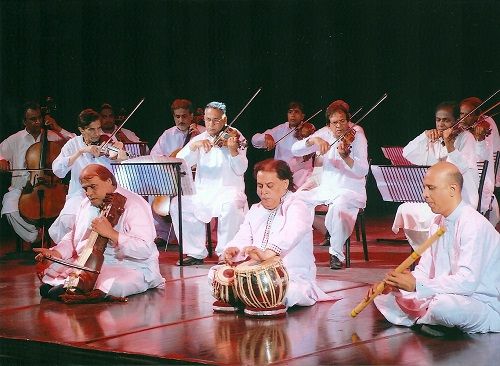 Some Lesser Known Facts About Sachal Jazz Ensemble
Sachal Jazz Ensemble is a group of Pakistani musicians who lost their jobs after a law was passed in Pakistan in the 1960s. Later, the Pakistani businessman and philanthropist Izzat Majeed formed a music group of such musicians with the name 'Sachal Jazz Ensemble' also known as 'Lahore Jazz Ensemble.'
In 1958, when Izzat was a teenager, he went to watch the live performance of the American Jazz artist Brubeck in Lahore, Pakistan. After watching the live performance, he developed an interest in jazz music.
By the 1960s, the film and music industry was established in Pakistan, but the music industry in Pakistan faced a huge setback after the introduction of the Islamic regime and Sharia law in Pakistan in the 1960s. Soon after the law was introduced, non-religious music started facing discouragement in Pakistan, and the well-known Pakistani singers stopped getting work and they had to settle with the small jobs.
Considering the condition of the musicians, Majeed decided to start a music group to encourage them and provide them with work. During an interview, while talking about the musicians in that era, Majeed said,


We were just losing our instruments, we were losing our musicians, we were losing our culture. Something had to be done about it."
Majeed then started a music studio in Pakistan with the name 'Sachal Studio' where the musicians rehearsed and recorded folk songs.
He then formed the group of musicians and named the group 'The Sachal Ensemble or The Lahore Jazz Ensemble.' Initially, the group was not welcomed in Pakistan, so they started making music for the international audience.
Majeed then thought of merging American jazz music with Pakistani folk music and uploaded a video "Take Five" (song of the American jazz artist Dave Brubeck) on YouTube. The song gained immense popularity, and the song was praised by Brubeck also. In an interview, Brubeck said,


It's the most interesting and different recording of 'Take Five' that I've ever heard."
Soon, the music group started gaining popularity among international audiences. They performed with the Lincoln Center Orchestra in the New York City in collaboration with the American jazz artist Wynton Marsalis in 2014.
Sachal Jazz Ensemble performed in Lahore, Pakistan, for the first time on 23 April 2016.
A documentary based on the struggle of the Sachal Jazz Ensemble group was showcased in an American documentary 'Song of Lahore,' on 20 May 2016.
The music group was invited to perform at the reception event of the duke and duchess of Cambridge, UK, in 2019.
The group has been invited to perform at various concerts and stage shows.
View this post on Instagram
In 2022, the music group performed in the 14th season of the Pakistani TV programme 'Coke Studio'.
They have also performed at various social events for raising funds for social causes.
Some of the members of the group are:
Baqar Abbas – bansuri (flute)
Nadeem Abbas – bass
Rafiq Ahmad – daff (frame drum)
Asad Ali – guitar
Danish Ali – piano
Najaf Ali – dholak (hand drum);
Zohaib Hassan – sarangi (bowed string instrument)
Ijaz Hussain – tabla (hand drum);
Ali Shaiba – drums
Nijat Ali – conductor
In an interview, while talking about selecting a few members of the group, Majeed said,


For musicians like the young Pappu, the orchestra's cello player, Majeed is a saviour who has given him a new lease on life. "Pappu was working at a roadside tea-stall and the cello that he had was so beat up that the strings had been replaced by plastic wire. When I presented him with a brand new instrument, he started crying. 'Can you give it to me to take it home so I can play it?' he asked longingly, not realizing that was my intention to begin with."

He further said,

Others, such as Sabir Ali, were not so hard up but craved a consistent source of income. The middle-aged Ali, whose henna-dyed hair provide a striking contrast to the emerald drop studded in his ear, recalls an impressive career composing for the likes of Ataullah Eesa Khelvi and Hadiqa Kiyani. But with record labels fast putting a stop to releasing new albums, such opportunities were drying up. "Since Sachal came into being, it means that we're never out of work."