Tarun Tahiliani Age, Wife, Family, Biography & More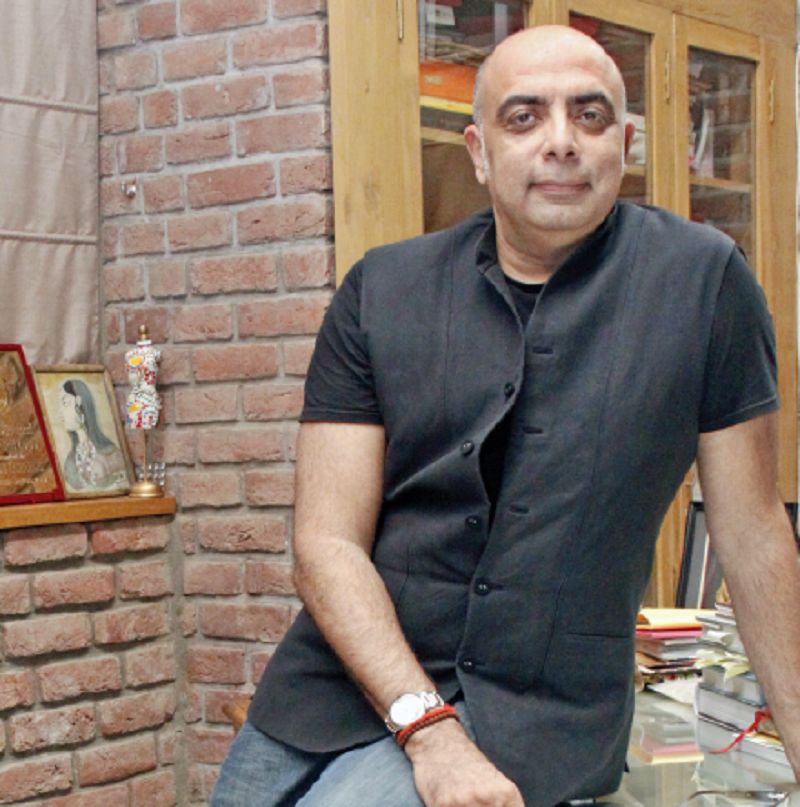 Bio/Wiki
Name(s) Earned
Karl Lagerfeld of India [1]

VOGUE
Profession(s)
Fashion Designing, Interior Designing
Physical Stats & More
Height (approx.)
in centimeters- 173 cm
in meters- 1.73 m
in feet & inches- 5' 8"
Eye Colour
Black
Hair Colour
Black (semi-bald)
Career
Awards, Honours, Achievements
2004 : The Moet and Chandon Fashion Tribute Award for Designer of the Year for India
2004 : The F Award for Best Women's Designer for Couture
Personal Life
Date of Birth
In the year 1963
Age (as of 2022)
59 Years
Birthplace
Mumbai
Nationality
Indian
Hometown
New Delhi
School
• Campion School in Mumbai
• The Doon School in Dehradun
College/University
• St.Stephens college in New Delhi
• Vassar College at US
• Wharton Business School at university of Pennsylvania
Educational Qualification
• 1-year course in Economics
• Degree in business management [2]

The Times Of India
Religion/Religious Views
Sindhi- Hindu [3]

India Times
Controversies
• Tarun Tahilani landed in a controversy after designing a skirt that featured Panj Pyare(The five Holy Sikhs). A notice was issued by DSGMC ordering him to withdraw back all the skirts from the market within 15 days. Later, he apologised to the committee members and withdrew the designed skirts from the stores
• Dr Tanya, a social influencer, accused Tarun Tahilani officials of body-shaming her when she went to the store for buying her wedding outfit. However, Tahilani denied all the accusations and the controversy ended after a big argument through Instagram posts.[4]

India Today
Relationships & More
Marital Status
Married
Family
Wife/Spouse
Sailaja (Sal) Tahilani (a model and co-founder of Ensemble)
Children
Son- • Anand Tahilani (the head of operations at Tahiliani Design)
• Jahan Tahilani (the CEO of Ahilia Homes)

Parents
Father- Admiral R H Tahilani ( Flag officer in Indian navy)
Mother- Jaswanti Tahilani (First female engineer in Mumbai)
Siblings
Sister- Tina Parikh Tahilani (Executive director of Ensemble)
Money Factor
Net Worth (approx.)
A turnover of Rs.67 crores as per financial year 2020[5]

The Economic Times

Some Lesser Known Facts About Tarun Tahilani
Tarun Tahilani is a veteran Indian fashion and interior designer, who is co-founder of India's first multi-designer luxury studio, Ensemble. He is also among one of the founding members of the Fashion Design Council Of India (FDCI).
After completing school, Tahilani went to St. Stephens college, New Delhi. [6]

The Times Of India However, he dropped the college after some time. In an interview, Tarun said,


My one year at St. Stephen's college was very disappointing. With just one honours subject there wasn't enough of a challenge. So, I went to the US."
From his childhood days, Tarun always wanted to participate in sports, but he couldn't because he had a knock knee problem.
His mother died of cancer when he was at Doon school. [7]

The Times Of IndiaRecalling that day, he shared in an interview,


I received a call from Bombay and my headmaster told me that my mother is not feeling well. She was in a coma when I arrived. Two days later, everything was over. For four years, I could still smell her perfume in the cupboard. "
After some time, his father remarried Meera and he calls her stepmother to be a wonderful lady.
Tarun is very close to his sister Tina Parikh Tahilani. He is very protective of his sister Tina. She joined Ensemble in 1990 and is now the executive director of Ensemble.
While Tarun was studying at the University of Pennsylvania, he met Sailaja (now his wife) through a common friend. He calls his first meeting with Sailaja to be love at first sight. [8]

The Times Of India He said in an interview,


Sal was an economics student at the University of Pennsylvania. Luckily, for me, my best friend, Sanjana, happened to be in the same university. I used to visit Sanjana off and on and through her, I got introduced to Sal. We hit it off immediately. When we returned to India, we didn't waste time and we tied the knot."
After returning to India, Tarun joined his family business of manufacturing oil exploration equipment. Soon, he realised that he wanted to do something of his own. Tarun accompanied his wife Salaija in her fashion shows and then decided to choose fashion designing as his career. [9]

The Times Of India In an interview, Tarun shared his experience of the first fashion show he attended and said,


It was the first fashion show I attended. But when I saw it, I was completely blown away! When I returned home, I started sketching."
Tarun considers Rohit Khosla (Fashion designer) as an inspiring force, who guided him to establish Ensemble. He met Rohit Khosla in Jaipur, where his wife Sal was modelling for Vimal. Tarun shared in an interview that how Rohit helped him and Sal in exploring fashion those days. He said,


Rohit was very much a part of the beginning of Ensemble. Fashion-wise, I was a Bholaram! Rohit took Sal and me to the best fashion stores abroad. I didn't anything about fashion and was like a bholaram at those stores. The western influence is very much there at Ensemble with high ceilings, open settings, and an unhurried display of clothes. But people were not used to this and a common question was, Why your store is so empty?" [10]The Times Of India
Tarun Tahilani co-founded Ensemble with his wife Sal and Rohit Khosla in 1987.
In 1991, when his sister Tina returned from California to Bombay, he handed her the keys of Ensemble and went to FIT in New York. There he did a few courses on fashion designing and after returning to India, he shifted his workplace to Delhi.
In an interview, Tarun shared that why he wanted to establish Ensemble in India. [11]

Forbes He said,


Even after 40 years of independence, we were sending our best products abroad. We discussed the need for a design house that acknowledged quality, promoted Indian designers, gave them a voice and the freedom to express themselves. There was no dearth of talent but a majority of Indian designers then were working for international labels. We wanted to rectify that. In December 1987, we started Ensemble's flagship store at Lion Gate in the heritage quarter of south Mumbai."
When Ensemble was established, the store featured the designs of Abu Jani Sandeep Khosla, Rohit Khosla, Anuradha Mafatlal, Neil Bieff, Anita Shivdasani and Sunita Kapoor's label Anaya as well as Tarun Tahiliani's own label, Ahilian. Now the store features the couture by Tarun Tahiliani, Sabyasachi, Manish Malhotra and other coveted labels along with some South Asian designers. [12]

Forbes
Tarun Tahilani was first noticed when a costume designed by him was worn by Jemima Khan, wife of Imran Khan (PM of Pakistan). He designed a custard chiffon handpainted kurta for Jemima's sister, who lived in India as a painter and Jemima wore the same outfit at her wedding with Imran Khan.
Tarun Tahilani owns several stores PAN India. In 1995, Tarun established his design studio in New Delhi. In January 2017, he launched his flagship store in Mehrauli, New Delhi. [13]

Tarun Tahilani Describing his store, Tarun said,


When you walk into my space, I want you to know you're entering my mind.

His other flagship store at Hyderabad showcase ready to wear and occasion wear couture. He considered Hyderabad to be a huge market for him and calls it 'Punjab of South.'
All the stores owned by Tarun Tahilani follows the principle of Indian Modern, i.e., costumes having Indian essence and international style.
There are several stores all over the world that displays the designs of Tarun Tahilani. The stores include Eickhoff (Germany), Bijenkorf (Amsterdam), Elenora (Rome), Gio Moretti, Via Della Spiga (Milan), Eleven Monte Carlo (Monaco), Podium (Moscow), Scoop and Gus Mayer (New York), and Josephs (London). [15]

The Hindu
He is mostly known for his bridal collections. The main feature of his bridal collection is that the outfits are very comfortable, light and beautiful. He shared in an interview the incident of an Indian bride when the zipper of her lehnga came undone due to its sheer weight. Keeping in mind the difficulties faced by Indian brides due to heavy lehengas, he said,


I love the traditional, stiff kanjivarams but young brides want something lighter and structured. They want to dance. The coolest brides are the ones who can dance all night in the same bridal sari and leave the venue at 6 am!" He adds after a pause, "Oh, these days even grandmothers like to wear fun creations." [16]The Hindu
In 1989, the festival of France in India decided to take back a designer, model and photographer from India through a contest held at a national level. Because of local politics, one more model was taken to Paris instead of a designer. As a finalist, this moment marked a shift in Tahiliani's career and made him rely on the route of education to achieve this exposure. [17]

The Telegraph
In October 2004, he was invited to Hong Kong to represent India and he also showcased his collection in Karachi, Pakistan.
In 2005, Tarun Tahilani was invited to Durban to showcase his collection at the first-ever Durban Fashion Week 2005, and also to Johannesburg Fashion Week in July 2005 along with Malini Ramani and Rohit Bal.
In 2009, he designed the bridal outfit and wedding trousseau for Shilpa Shetty Kundra.
Tarun had designed for both Bollywood and Hollywood stars including Duchess of Kent, Aamir Khan, Aishwarya Rai, Isabella Blow, actor Kabir Bedi, and Fern Mallis. Celebrities such as Naomi Campbell, Goldie Hawn and Elizabeth Hurley have also been known to shop at the Ensemble stores in Mumbai.
He loves to spend his leisure time with friends and family. Tarun once shared that he loves to travel and believe in living life to the hilt. He said,


I don't want to die with a billion dollars in my bank. I have my own interests. Certain relationships are important to me. At the end of the day, it is my family and friends who help make my life full." [19]The Times of India
Tarun Tahilani believes that people who create style, do not follow a style and he is one of them.
In an interview, Tarun said that embroidery is something that can't be learnt outside India. He further added that craftsmen in India are often regarded as Karigars because if you don't speak English, you are a 'Kaarigar'. [20]

The Telegraph
I had always asked my craftsmen to talk in Hindi, says Tarun Tahilani in an interview. He further added,


I have always stopped people from speaking English in the factory because most speak horrible English but they think that's how you get ahead. And I say, 'Rather than screwing my English, why don't you improve my Hindi instead because I am from South Bombay!" [21]The Telegraph
Kumbhback is one of the most famous works of Tarun Tahilani. This work was inspired by the traditional Kumbh Mela with the beautiful designs and colours of sunset tones like amber, subtle rust, saffron, deep red with hues of aubergine, pink, blue and black.
Tahilani said in an interview that I'm nothing without my craftsmen. I can only sketch the design but the rest of everything has to be done by the craftsmen. He said,


I'm not the kaarigar. I'm the mind, I sketch, I do some drapery, I visualise, but I'm nothing without all these hands — the pattern-makers, the embroiderers, the drapers, the finishers."
In his opinion, he would fail as a designer if he is not able to design a comfortable outfit for his customer. He always wanted to design Indian outfits that are easy to carry and Indians can wear them in their daily routine. He said in an interview,


Fashion is a serious thing, and it is my mission is to keep our heritage alive in a modern way. In today's style people are running around in stilettos, they want to dance, they jump around, and I think it's our job to give them clothes that they can wear and have fun in and be beautiful. If someone wants to run up and change at 11pm because she can't bear to be in her outfit then I've failed as a designer. [22]The Telegraph
I want my fashion to be timeless, says Tarun Tahilani. He wants that his costume should look different every time it is draped. He said in an interview,


Costumes from Prada will look similar even if you drape them in a different way. But, when you drape a sari it takes the shape of your body and your wrap caresses you, falling differently. [23]Indian Express Also, You can't wear clothes once, you must break up the clothes, wear them in different ways. So I've always been in that respect a modernist." [24]The Telegraph
Tarun Tahilani is also a renowned interior designer. He had designed several hotels and holiday homes in Goa. He recently launched an interior and architecture division, Ahilian Homes that will work closely with several HNIs, institutions, and builders.
He is also a member of Save the Children India NGO that urge the Indian government to raise the health budget up to three per cent before the announcement of the budget.
He attended CAA protests in Delhi and was also involved in the #Metoo campaign.
Recently, Aditya Birla Fashion Group acquired a 33.3% stake worth Rs.67 crore in Tarun Tahilani's company, with a hope to increase the stake to 51%. Aditya Birla and Tarun Tahilani together launched a men's ethnic wear brand at affordable prices. In the men's wear brand, ABFRL will hold an 80% stake and the rest will be held by Tarun Tahilani. [26]

The Economic Times
On completion of his 25 years in the fashion industry, he organised a show 'Infinite' and presented 25 models representing his equal number of years in the industry. [27]

Indian Express