Yoshihide Suga Age, Wife, Children, Family, Biography & More
Quick Info→
Age: 71 Years
Wife: Mariko Suga
Hometown: Yuzawa, Akita, Japan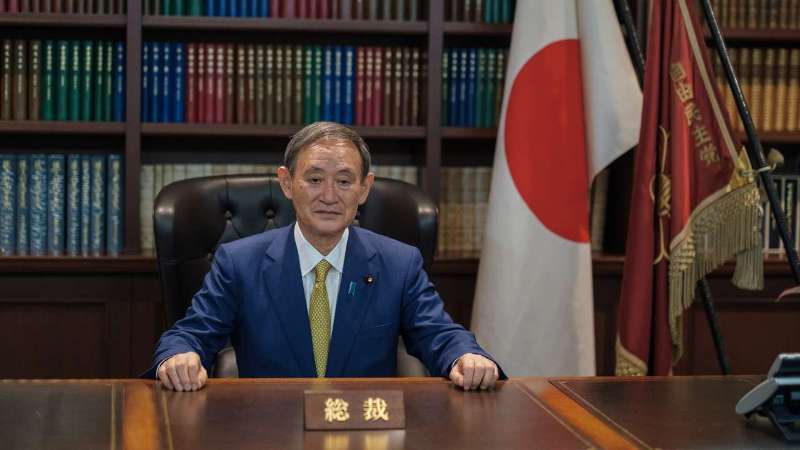 Bio/Wiki
Nickname(s)
• "Uncle Reiwa" [1]

Reuters
• "Iron Wall" [2]

BBC
Profession
Politician
Famous For
Succeeding Shinzo Abe as the Prime Minister of Japan
Physical Stats & More
Height (approx.)
in centimeters- 168 cm
in meters- 1.68 m
in feet & inches- 5' 6"
Eye Colour
Black
Hair Colour
Salt & Pepper
Politics
Political Party
Liberal Democratic

Political Journey
• 1975: Suga became a secretary to Okonogi Hikosaburō, an LDP Diet member from Yokohama; he worked there for eleven years.
• 1986: He resigned as a secretary to Okonogi Hikosabur in October to pursue his own career in politics.
• 1987: Suga was elected to the Yokohama City Council in April.
• 1996: He was elected to the Diet of Japan in the general election from the Kanagawa 2nd district.
• 1999: Suga shifted his support from Prime Minister Keizo Obuchi to former LDP Secretary-General Seiroku Kajiyama.
• 2000: He was re-elected in the general election, and he went to get re-elected in the 2003 general election, and 2005 general election.
• 2005: Suga was appointed Senior Vice Minister for Internal Affairs and Communications under Prime Minister Junichiro Koizumi in November.
• 2006: He became the Minister of Internal Affairs and Communications and Minister for Privatization of the Postal Services in the first Shinzo Abe cabinet in September, and in December, he was given the additional portfolio of Minister of State for Decentralization Reform.
• 2007: Suga was replaced by Hiroya Masuda in a cabinet reshuffle in August.
• 2009: He secured his seat in the general election.
• 2011: He became the Chairman of the LDP Party Organization and Campaign Headquarters in October.
• 2012: Suga was appointed Executive Acting Secretary-General of the LDP.
• December 2012: He was appointed Chief Cabinet Secretary in the second Abe cabinet, where he served till 2020.
• 2020: Suga was elected president of the Liberal Democratic Party on 14 September, and on 16 September, he was formally elected Prime Minister by the National Diet.
Personal Life
Date of Birth
6 December 1948 (Monday)
Age (as in 2019)
71 Years
Birthplace
Ogachi (now Yuzawa), a rural area in Akita Prefecture, Japan
Zodiac sign
Sagittarius
Nationality
Japanese
Hometown
Yuzawa, Akita, Japan
School
Yuzawa High School, Japan
College/University
Hosei University, Tokyo, Japan
Educational Qualification
Bachelor of Laws from Hosei University in 1973 [3]

nippon.com
Hobbies
Travelling, Reading newspapers, Doing situps, and having a long walk [4]

Nikkei Asian Review
Controversy
In 2015, Suga received heavy criticism when he publicly encouraged Japanese women to "contribute to their country" by having more children. [5]

The Guardian
Relationships & More
Marital Status
Married
Family
Wife/Spouse
Mariko Suga (a native of Shizuoka Prefecture, central Japan)

Children
He has three adult sons with his wife Mariko. [6]

Kyodo News
Parents
Father- Wasaburo (Strawberry farmer)
Mother- Tatsu (school teacher)
Favourite Things
Food
Soup Curry, Soba Noodles, Pancakes, Ricotta Hotcakes
Sports
Karate, Baseball
Money Factor
Salary (as a Diet member)
21,878,000 yen ($201,800) [7]

The Diplomat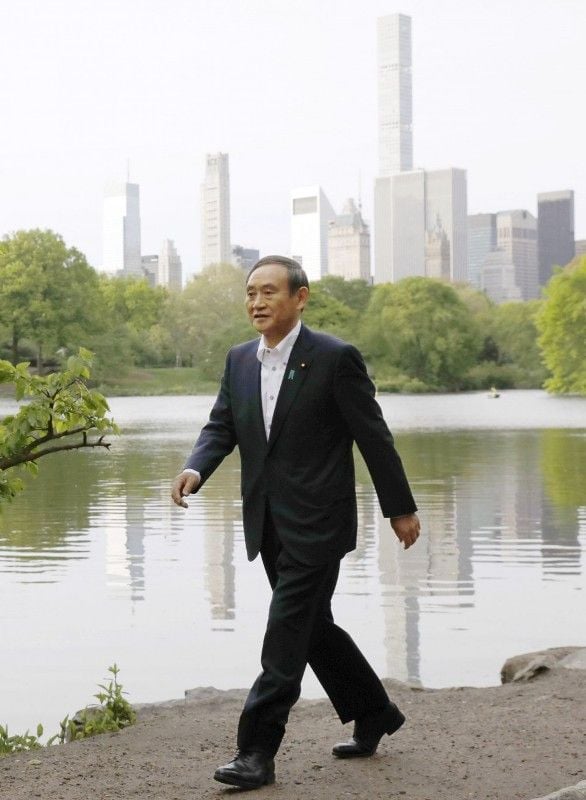 Some Lesser Known Facts About Yoshihide Suga
Does Yoshihide Suga drink alcohol?: No (he is a teetotaler) [8]

Kyodo News
Yoshihide Suga is a Japanese politician who succeeded Shinzo Abe as the Prime Minister of Japan on 16 September 2020. He is considered the most prominent Abe loyalist who has held many key posts, including the post of Chief Cabinet Secretary.
Suga's rise to the top post is all the more notable in a country where the top political posts have a history to be ruled by dynasties. Shinzo Abe, for instance, is the son of a foreign minister and the grandson of a prime minister.
Suga has paved his way to the top post in Japan from the scratches as he comes from a farm in the snowy, northwestern prefecture of Akita. While talking about the hardships of living in a snowy region, he says,


This feeling can be understood only by people who live in snowy regions in rural areas. My patience was fostered by the countryside before I realized it."
He was born as the eldest son to a strawberry farmer, Wasaburo, and a schoolteacher, Tatsu. His father also worked for South Manchuria Railway Co. during World War II. Following the country's surrender in World War II, Wasaburo returned to Japan where he developed a late-harvest variety of strawberry. While talking about his parents, Suga says,


My parents were hard workers. They returned home from fields around the time I got up. People in the countryside are all like that."
After Suga landed in Tokyo, he got a job in a cardboard factory. Later, disillusioned by the nature of the job, he quit that cardboard factory job and got himself enrolled at Hosei University in 1969. It was the time when the wave of student protests against the Japan-U.S. security alliance and the Vietnam War had gripped the entire country; however, according to Suga, he had no interest in such student protests. [10]

Kyodo News
While studying at Hosei University, Suga got himself busy with various jobs, such as working as a security guard and low-level newsroom assistant to pay the university fee. [11]

Kyodo News
During his student life, Suga was a sports enthusiast, and he was the vice-captain of the University Karate team. [12]

Kyodo News
In high school, Suga was also a member of the school's baseball team.
After graduating from Hosei University with a law degree in 1973, Suga joined an electrical maintenance company, and it was during this time that he developed an interest in politics. In an interview, Suga said,


I began to think that it was politics that was moving this world."

With no political connections, Suga went to Hosei University's career center and asked –

Can you introduce me to politicians who have graduated from this school?"

According to Suga, the career center introduced him to the head of the alumni association secretariat, and the 26-year old Suga got a job as secretary to Hikosaburo Okonogi who was a House of Representatives member elected from Yokohama in 1975. In an interview, Suga said nostalgically of the time when he experienced the first important turning point of his life –

In retrospect, I think I did well."
While working as a Diet member's secretary, he spent more than a decade; learning the nuances of the trade. In October 1986, he resigned from this position to run for the Yokohama city assembly in 1987. Reportedly, he visited as many as 30,000 houses while campaigning door-to-door on foot, and during the process, he wore six pairs of shoes. The 38-year-old Suga, who was a father of three sons at that time, won the election with no network of relatives or friends to speak of in Yokohama. While reminiscing that victory, Suga says,


At that time, I had the most difficult time as I lacked name recognition and ran in the election while having three children aged 6, 3 and 1."
Reportedly, during his election campaigns, Suga would greet morning commuters and hand out questionnaires to them, listing policy agendas of the time. While cherishing the memories of those election campaigns, Suga says,


I asked people to circle matters of interest on questionnaires. Some people from the then-Democratic Party who learned about it came to my office to borrow copies." [13]Nikkei Asian Review
After serving two four-year terms as a Yokohama Municipal Assembly member, Suga got the opportunity to enter national politics in 1996 when the son of an aging member of the House of Representatives unexpectedly passed away, leaving a spot vacant to run on the Liberal Democratic Party ticket. Suga contested and won the seat at the age of 47.
Reportedly, when Suga was still a political novice, he pioneered soapbox speeches in Japan called "tsujidachi," a form of street speeches by members of the Diet in front of train stations. These street speeches have now become commonplace in Japan. [14]

Nikkei Asian Review
By the 1998 leadership race of the Liberal Democratic Party, Yoshihide Suga's name had become widely known in Tokyo's Nagatacho district, Japan's political nerve center, where the Diet building and the prime minister's office are located.
During the 1998 leadership race of the Liberal Democratic Party (LDP), Suga, who belonged to an LDP faction headed by future Prime Minister Keizo Obuchi, didn't back Obuchi, but he supported veteran Seiroku Kajiyama whom Suga considered his mentor.
It was Shinzo Abe's first stint in power (from 2006 to 2007) when Suga received his first Cabinet position. Reportedly, Abe and Suga became close to each other after their shared passion to secure the return of Japanese nationals abducted by North Korea in the 1970s and 1980s.
While working in Shinzo Abe's cabinet, Suga became instrumental in the development of Japan's "hometown donation" system. According to this system, the taxpayers were allowed to obtain deductions by donating money to local governments.
On 1 April 2019, when Suga announced the name of the new imperial era, Reiwa, it gained him international fame, and since then, he was considered as a viable candidate for party leadership. With this, he earned the nickname "Uncle Reiwa."
Suga worked closely with Shinzo Abe during the response to the COVID-19 pandemic in 2020. Suga also criticized the functioning of the Japanese bureaucracy in tackling the spread of the virus.
After Shinzo Abe resigned as the Prime Minister of Japan for health reasons on 28 August 2020, the media had started speculating the possible heirs of Abe; however, very few had predicted Suga's name for the post.
Amid his political fraternity, Suga is not considered very eloquent, which is evident from the victory speech that he delivered after he was elected president of the Liberal Democratic Party on 14 September 2020; the speech was in ponderous tones with long pregnant pauses. In the speech, he said,


I want to break down bureaucratic sectionalism, vested interests, and the blind adherence to precedent."
Reportedly, Suga is considered highly demanding of bureaucrats who work under him. During a live-streamed debate with the two other LDP leadership candidates, Suga said,


People think I'm scary but I'm very nice to those who do their job properly."
Although Suga is a teetotaler, he is known for his sweet tooth. He finds pancakes so irresistible that once he waited in line to enter Australia's Bills restaurant along with his wife, to eat ricotta hotcakes. In an interview, he said,


I can't drink alcohol. I have a sweet tooth instead." [16]Nikkei Asian Review
In an interview, Suga expressed his desire to learn English, he said,


In due course of time, I want to go to Cebu in the Philippines and attend a language school there for about three months so that I can speak a bit of English."
Suga loves travelling, and while speaking about this hobby, he says,


I want to make a leisurely travel around the world for one or two years. An intern at my office also went. It is apparently pretty cheap."
According to Suga, his day begins by reading all major newspapers followed by 100 situps. Then, he goes out on a 40-minute morning walk. At night, he returns to his room and again does 100 situps. Reportedly, he has been doing these situps after a doctor's advice to reduce his weight, and in a four-month period, he lost 14 kg.
Suga is considered a hardcore workaholic who follows a strict routine. While talking about it, Suga says,


It's because I want to properly do what are the right things or ordinary things in the eyes of citizens and the people. I see and decide what are the right things. To that end, I meet with as many people as possible and hear various stories."
In his parliamentary office, there's a framed work of Japanese calligraphy that reads,


Where there's a will, there's a way."