Zac Efron: Diet, Workout, Body Transformation for Baywatch
Baywatch returns as a movie in 2017 and we couldn't be happier. It has Dwayne Johnson, Zac Efron, Alexandra Daddario and Kelly Rohrbach as the lead lifeguards while Priyanka Chopra will be playing the villain. The trailer looks promising but what has caught everyone's attention is Zac Efron's transformation. Zac has always been fit, in good shape and flaunting his 6 pack but in the Trailer of Baywatch, he looks better than ever! From a thin teenager Troy in High School Musical to the hot muscular man in Baywatch, it is quite a transformation.

But as nothing worth having comes easy, Zac had to follow an insane diet and workout routine. Well, anybody starring with Dwayne Johnson would be motivated to get into shape like The Rock. The Rock is proud of his boy Zac Efron's transformation too. Here is Zec Efron's diet & workout plan which he followed for "Baywatch."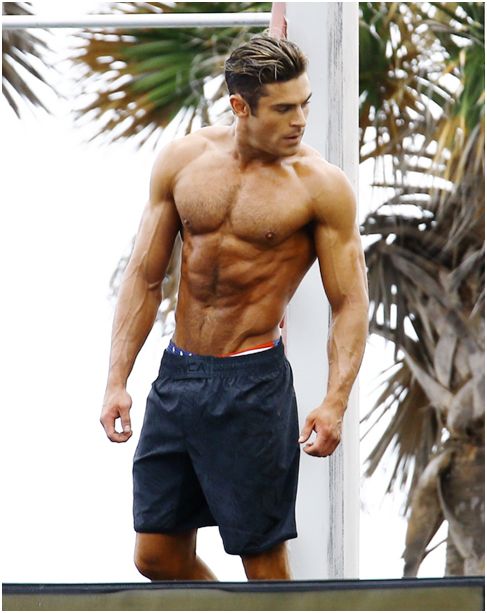 Zac Efron's Diet Plan



The secret to abs is a well thought balanced diet. All the junk and fats have to be thrown out of your routine. If you eat like crap, you'll look like crap. "Lately, the most important thing I've learned in terms of diet is to stay away from processed foods and stick to organic as much as you can, I am a firm believer in not eating chemicals and really try to isolate where your food is coming from. Try to keep it healthy, organic and unprocessed," he told a magazine.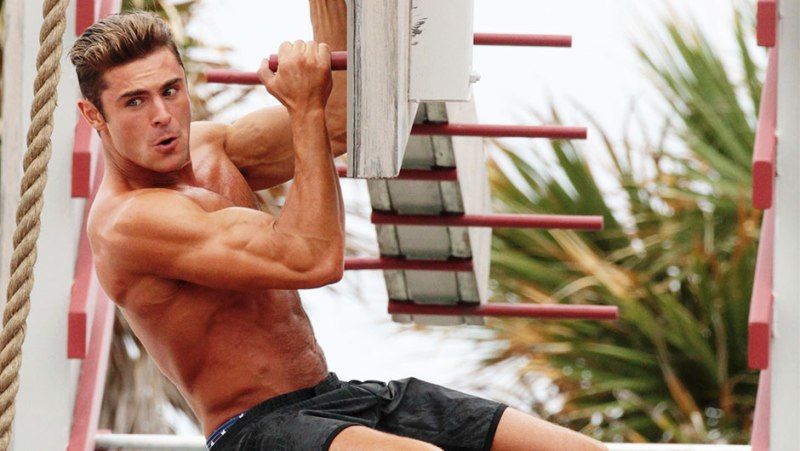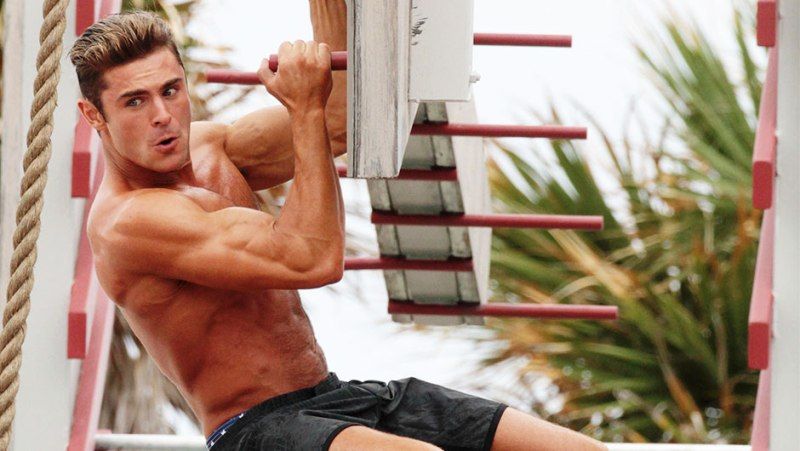 According to Men's Fitness, Zac managed to come down to only 5% fat in a matter of just 12 weeks. Zac has been sharing his diet and workout on social media, that's a good thing about him. His trainer Patrick Murphy had Zac implement whole foods, completely organic diet for 12 weeks. According to him, Zac had to drink a minimum of 3 liters of water in a day, supplemented with unflavored whey protein with no additives.
Zac tweeted regularly…


Of course, he had some occasional cheat days too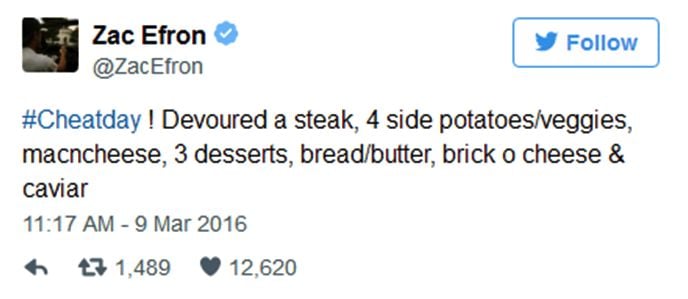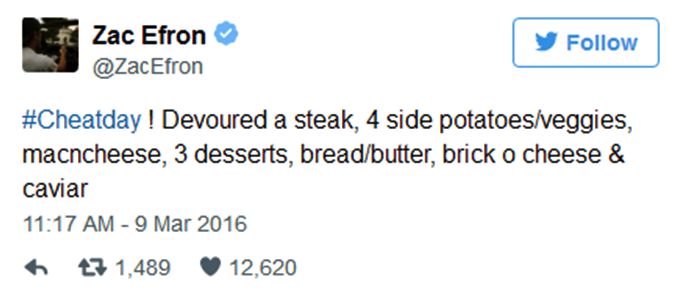 Zac Efron's Workout Routine



In an interview with Men's Fitness, Zac shared his workout routine.
Day 1: Straight arm pull down, abs wheel roll-out, seated cable row, suspended row, neutral grip pull up, lat pull down from knees, chin up, dumbbell biceps curl.
Day 2: Leg press, suspension squat jump, Swiss ball hip extension, Swiss ball leg curl, reverse walking lunge, mountain climbers on sliders, dumbbell Romanian deadlift, kick butts, unstable single-leg calf raise, suspension trainer single-leg squat hop.
Day 3: Dumbbell front raise, cross body cable raise, dumbbell floor press, push up, incline dumbbell press, dumbbell overhead press, cable chest press, bosu plyo push up, single-arm pushdown, single-arm curl.
Each workout (Day 1, 2 & 3) is to be performed once a week, having a rest of one day in between.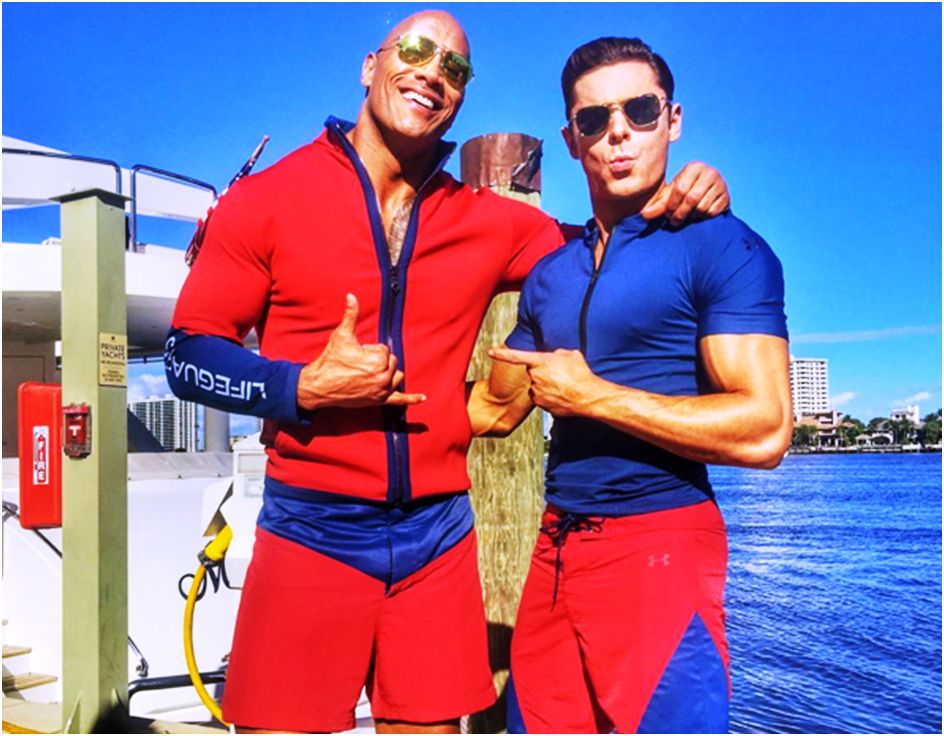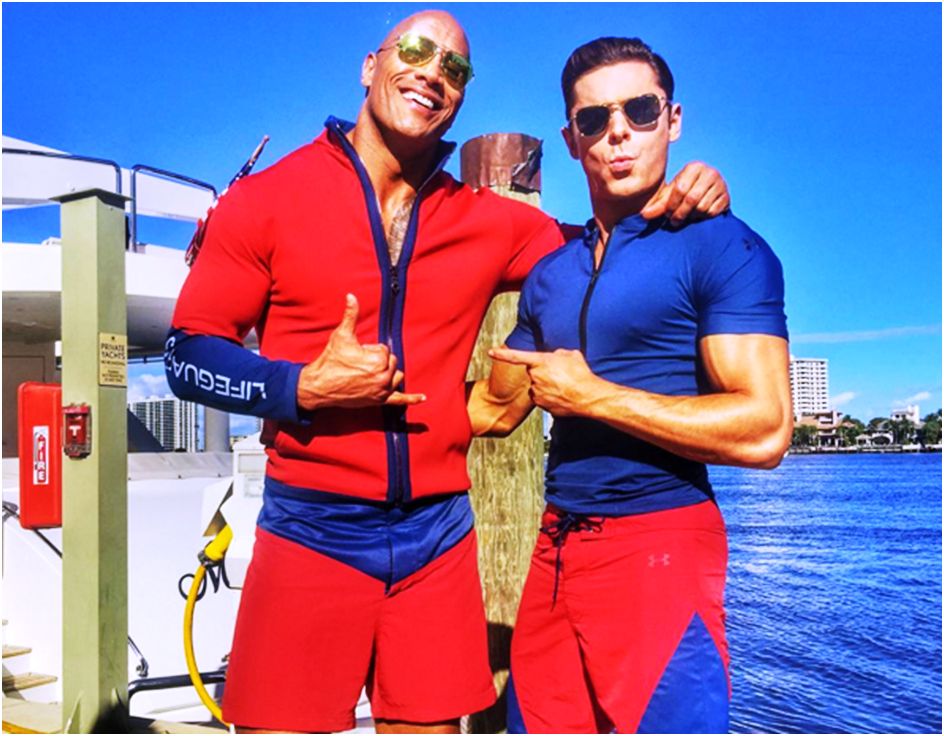 Zac earned a whole bunch of compliments. Though, his co-star Dwayne Johnson's compliments meant the most to him. Zac thanked him for saying it was him (The Rock) that inspired him the most to work out to this extent and develop a perfectly fit body.