Aayush Sharma's Diet & Workout Plan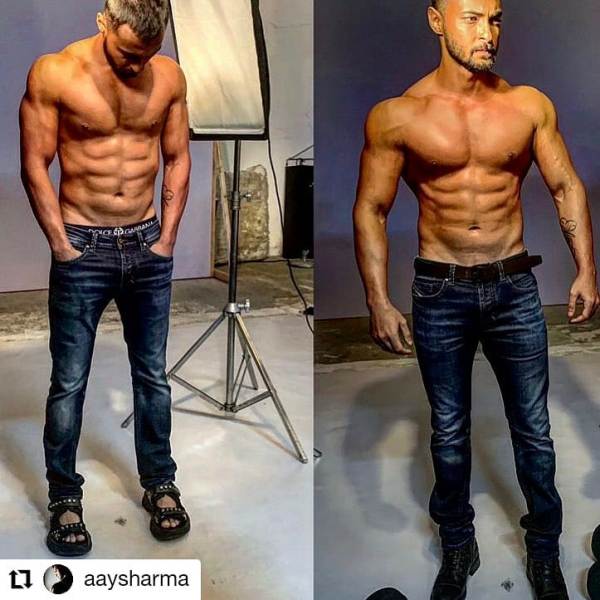 Aayush Sharma is an Indian actor who came into the limelight after he married to Bollywood superstar Salman Khan's sister Arpita Khan in 2014. Salman helped Aayush by launching him in the 2018 Bollywood musical film 'Loveyatri.' He played the role of a Gujju Romeo, which is a typical boy-next-door character with a lean physique and boyish charm. He made headlines after the teaser of his 2021 film 'Antim: The Final Truth' went viral in which he was seen flaunting his chiselled physique. Aayush surprised everyone with his bulky transformation for the role of a gangster opposite Salman Khan. Reportedly, he gained 15 kgs of lean muscle to fit in the character of the dreaded gangster, inspiring and motivating his fans and fitness enthusiasts. Let's delve into the details of the diet plan and the workout regime he followed.
Aayush Sharma's Diet Plan
To gain 15 kgs, Aayush followed a strict diet consisting of foods rich in protein, such as eggs, chicken, tuna, cottage cheese, as well as high-fibre foods like whole-grain and cereals. He also consumed regular servings of fruits and salads, which provided him with his daily dose of vitamins.
He believes that the key element of every diet is to stay hydrated. Aayush increased the number of meals in a day and reduced the portion of each meal. He also supplemented his diet with protein shakes, which helped him in gaining the muscle.
According to him, he is a big foodie, which made it difficult for him to stick to his diet. During the COVID-19 lockdown, he posted pictures of the delicacies made by his wife Arpita and often blamed (in a light-hearted manner) her for not letting him follow his diet plan. He also managed to sneak in some cheat meals during the holiday season; Aayush was seen devouring laddoos on Makar Sankranti.
In an interview, talking about his training mantra, he said,


Train hard and eat everything. Don't diet too much."
Aayush Sharma's Workout Routine
Aayush might cheat on his diet once a while, but he never misses a workout session. His journey from a lean guy-next-door in 'Loveyatri' to a bulky gangster in 'Antim' has been nothing short of torture. Aayush had to endure 2-3 workout sessions every day to don the role of a badass villain.
To get himself prepared for the role, Aayush had to undergo a strict workout regime that consisted of weight training 6 days a week and HIIT (High-Intensity Interval Training) cardio. While the weights allowed him to have a bulky body, the cardio exercises boosted his stamina. His workout regime included deadlifts, squats, bench press, bear crawls, pull-ups, and other bodyweight movements.
Apart from weight training, Aayush also attended crossfit and boxing classes. In an interview, he mentioned that he loves to train his back.
Aayush considers his brother-in-law Salman Khan as his fitness icon.
Aayush Sharma's Message For His Followers:
While shooting for the cover of the FHM Fit Magazine, when he was asked about a fitness tip, he said,
"Fitness for me is all about what makes you feel good and confident. So be it gym, be it swimming, be it gymnastics, be it mixed martial arts, whatever is the method you choose to stay fit, please do it. But also don't overdo it. It's all about staying fit. It's all about eating healthy and not stop living. So just enjoy your meals, enjoy your workouts and once it becomes a part of your lifestyle, then it comes naturally to you."
Aayush has also revealed that his source of motivation comes from looking at his bad pictures; whenever he needs a dose of motivation, he goes through his phone's gallery and looks at the pictures in which he is in bad shape, and it gives him a jolt of motivation.