Abdel Fattah el-Sisi Age, Caste, Wife, Children, Family, Biography & More
Quick Info→
Hometown: El-Gamaleya, Cairo Governorate, Republic Of Egypt
Wife: Entissar Amer
Age: 68 Years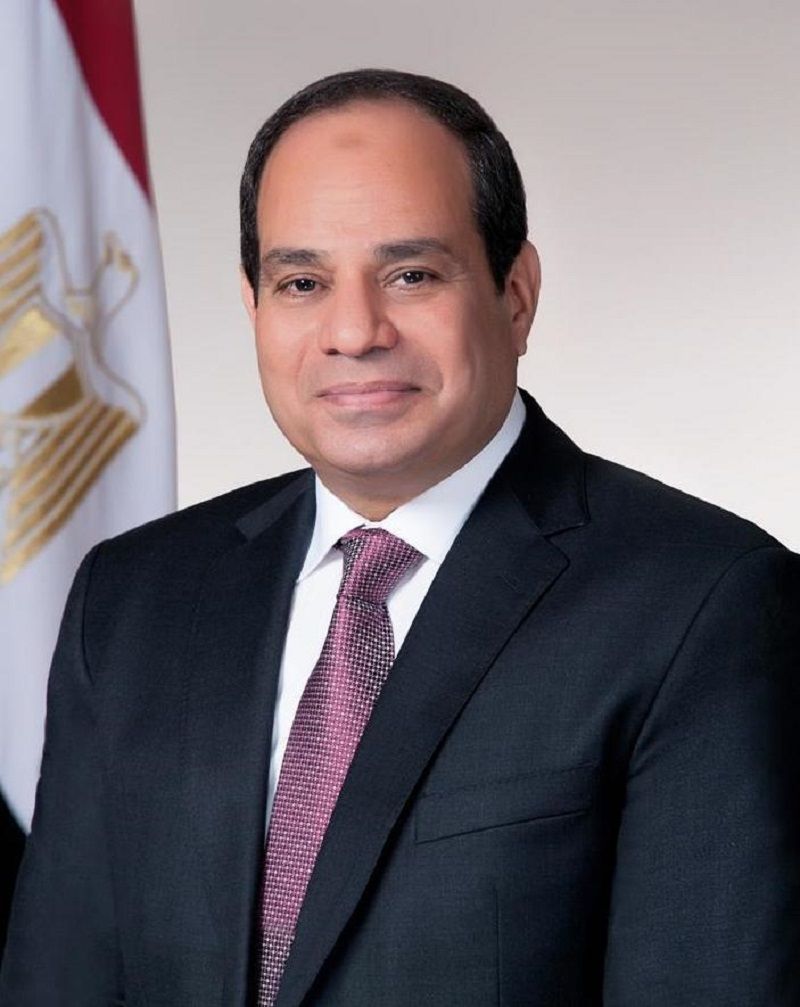 Bio/Wiki
Full name
Abdel Fattah Saeed Hussein Khalil el-Sisi [1]

Presidency.eg
Profession
Politician
Famous for
Being the President of Egypt
Physical Stats & More
Height (approx.)
in centimeters- 183 cm
in meters- 1.83 m
in feet & inches- 6' 0"
Eye Colour
Black
Hair Colour
Black
Politics
Political Party
Independent
Political Journey
• 16 July 2013: Elected as the Deputy Prime Minister of Egypt and served till 26 March 2014
• 8 June 2014: Elected as the 6th President of Egypt
Military Career
Positions held
• 3 January 2010- 12 August 2012: Director of Military Intelligence
• 12 August 2012 – 26 March 2014: Commander-in-Chief of the Armed Forces and Minister of Defense
Awards, Honours, Achievements
• Long Service and Good Exemplary Medal
• 2014: King Abdulaziz Medal
• 2020: The National Legion of Honor
• 2020: The "Leader" Medal
• 2021: Medal of merit of the Association of National Olympic Committees of Africa (ANOCA)
Personal Life
Date of Birth
19 November 1954 (Friday)
Age (as of 2022)
68 Years
Birthplace
El-Gamaleya, Cairo Governorate, Republic of Egypt
Zodiac sign
Scorpio
Signature
Nationality
Egyptian
Hometown
El-Gamaleya, Cairo Governorate, Republic of Egypt
School
• Al Bakri Primary School, Ajman, United Arab Emirates (1962-1968)
• El Selehdar Preparatory School, El Gamaleya, Cairo, Egypt (1968-1971)
• Military Air Force High School (1971-1974)
College/University
• Egyptian Military Academy, Cairo, Egypt (1977)
• Egyptian Command and Staff College (1987)
• British Command and Staff College (1992)
• United States Army War College in Carlisle, Pennsylvania (2006)
Educational Qualification(s) [2]

Sis.gov
• Graduation from Military Academy
• Master's degree in military science at Egyptian Command and Staff College
• Master's degree in military science at Joint Command and Staff College, United Kingdom
Religion
Islam [3]

The Economist
Relationships & More
Marital Status
Married
Marriage Date
Year, 1977
Family
Wife/Spouse
Entissar Amer (First Lady of Egypt)

Children
Son(s)- 3
• Mahmoud (deputy head of the Egyptian General Intelligence Directorate)

• Mostafa
• Hassan
Daughter- Aya

Parents
Father- Said Hussein Khalili al-Sisi
Mother- Soad Mohamed

Note: Both his parents worked in Monufia Governorate.
Siblings
He has seven siblings, one of whom is a senior judge and another a civil servant.

Note: He has six other siblings from his stepmother.
Money Factor
Salary (approx.)
$63,000 per year [4]

ahramOnline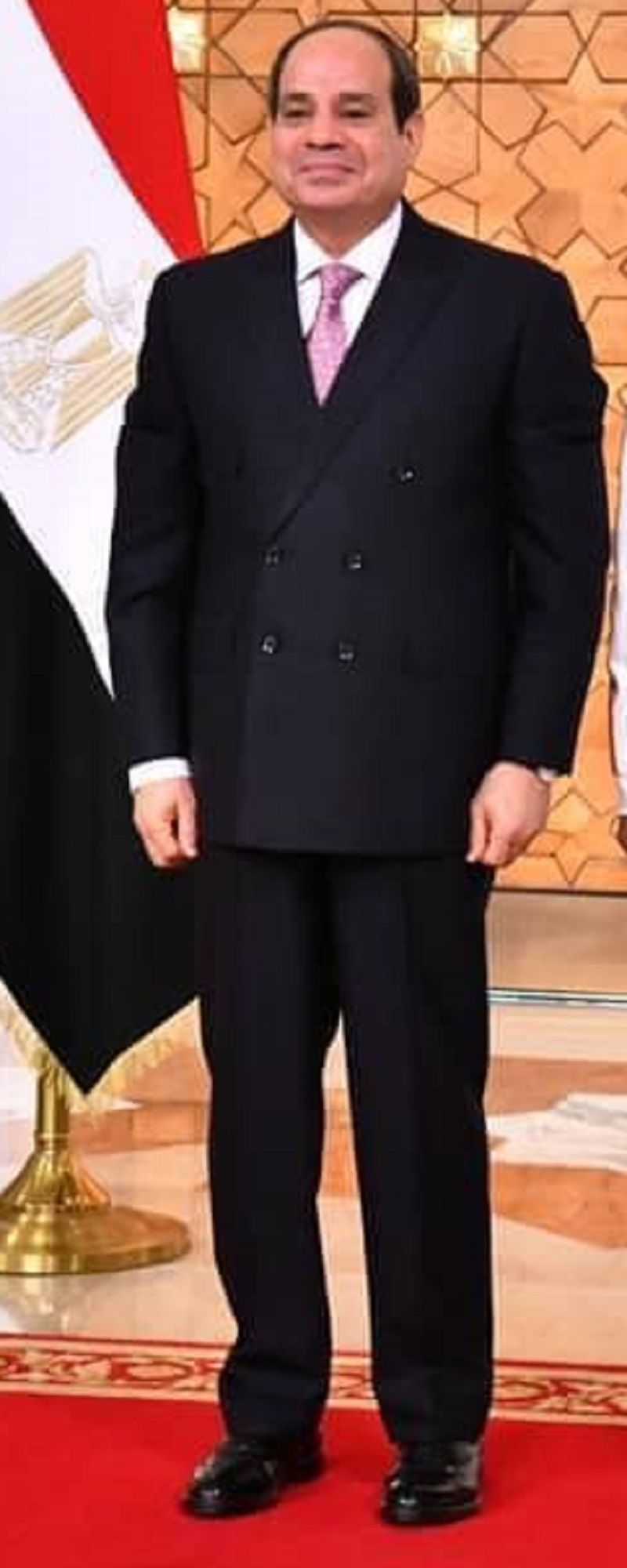 Some Lesser Known Facts About Abdel Fattah el-Sisi
Abdel Fattah el-Sisi is an Egyptian politician who is known for being the President of Egypt. He is a retired military officer who has served as Egypt's sixth and current president since 2014.
He grew up in a house in Gamaleya, near al-Azhar Mosque where Muslims, Jews and Christians also resided. In an interview, he stated that he heard the church bells and watched Jews flock taken to synagogue unhindered (a Jewish worship house) when he was a child.
His father owned an antique shop for tourists in the historic bazaar of Khan el-Khalili.
Sisi and his siblings used to study in a library at al-Azhar University.
When he was in high school, he fell in love with Entissar Amer, who was also his maternal cousin.
In 1977, he received his commission as a military officer, he started serving as the mechanised infantry, specialising in anti-tank warfare and mortar warfare.
In 2003, he received a fellowship from the Higher War College, Nasser Higher Military Academy (NHMA), Egypt and in 2006, from US Army War College, United States.
In 2008, he became the Commander of the Northern Military Region-Alexandria and Director of Military Intelligence and Reconnaissance.
After his graduation from the Egyptian Military Academy, he joined the Egyptian Armed Forces and held various positions including Egypt's military attaché in Riyadh.
He became a mechanized infantry commander. In 2010, he became director of military intelligence. During his military service, he was never active in a war. The main command position held by him in the military includes Commander, 509th Mechanized Infantry Battalion, Chief of Staff, 134th Mechanized Infantry Brigade, Commander, 16th Mechanized Infantry Brigade, Chief of Staff, 2nd Mechanized Infantry Division, Chief of Staff, Northern Military Zone, Deputy, Director, Military Intelligence and Reconnaissance Department, Director, Military Intelligence and Reconnaissance Department, and Commander of the 23rd Mechanized Division, Third Field Army.
In 2011, he was the youngest member of the Supreme Council of the Armed Forces (SCAF) during the Egyptian Revolution and served as the director of the military intelligence and reconnaissance department. When he was a member of the Supreme Council, he made controversial statements about the Egyptian soldiers who were alleged of conducting forced virginity tests on detained female demonstrators. He gave the statement that "the virginity-test procedure was done to protect the girls from rape as well as to protect the soldiers and officers from rape accusations."
On 12 August 2012, the then Egyptian President Mohamed Morsi chose Sisi to replace Mohamed Hussein Tantawi, the head of the Egyptian Armed Forces. El-Sisi was appointed as Minister of Defense on 12 August 2012 and started serving as the commander-in-chief and Minister of Defense and Military Production in the Qandil Cabinet. He remained part of office even after Morsi was removed and Hazem al-Beblawi was appointed as the Prime Minister of Egypt. Sisi served as the deputy prime minister from 2013 to 2014, minister of defence from 2012 to 2013, and director of military intelligence from 2010 to 2012 before retiring as a general in the Egyptian military in 2014. In January 2014, he was promoted to the rank of Field Marshal.
On 30 June 2013, many Egyptians took to the streets for mass demonstrations to denounce Mohamed Morsi. After many clashes occurred, the Egyptian army announced on television giving a 48-hour ultimatum till 3 July to the political parties to fulfil the demands of the anti-Morsi demonstrators. The political parties also received a threat from the Egyptian military if the demands were not fulfilled. On 3 July, it was announced by the Egyptian Armed Forces that the political parties failed to fulfil the demands of the demonstrators so, they had to overthrow Morsi in a coup d'état. Mohamed Morsi was replaced by an interim president, Adly Mansour, who was serving as the Chief Justice of the Supreme Constitutional Court. The army also ordered the arrest of Muslims who were accused of "inciting violence and disturbing general security and peace." Later, Sisi took to television to announce that due to the denouncement of Morsi, the constitution would be temporarily suspended. The statement came after anti-Morsi demonstrations and condemnation from pro-Morsi supporters in Rabaa al-Adawiya.
On 24 July 2013, he called for mass demonstrations during a speech at a military parade to grant a mandate to the Egyptian military and police to investigate terrorism. The supporters said that the statement given by Sisi was to prove to the world that it was not a coup but a popular will, whereas, the opponents said that it was contradicting the military's pledge to hand over power to the civilians and that Sisi was against Islamists. The statement given by Sisi was openly supported by the Egyptian presidency and the Tamarod movement, but it was opposed by Muslims and the Salafi Nour Party, the Islamist Strong Egypt Party, the liberal Youth Movement and some western-backed human rights groups.
In August 2012, the Egyptian military under el-Sisi's command helped in removing sit-ins in Cairo. It also helped the police to disperse two sit-ins by Morsi supporters and sit-ins in Rabaa el-Adaweya and Nahda squares. This led to an increase in the violence which led to 3,994 injured from both sides and 638 deaths out of which 595 were protesters and 43 were security forces. It also led to the Kerdasa massacre which included violent clashes in cities like Menya and Kerdasa against security forces. After the violence caused by his statement, he received backlash from the media that stated "Egypt's new leader is unfit to rule."
According to a file published by the State Information Services, the government stated that to remove the sit-ins on 14 August 2013, the police used force which did not cause much damage. During the action, hundreds of civilians and police officers were hurt because the Muslims imposed a blockade for 46 days against the people in al-Nahda and Rabaa al-Adawiya squares.
On 3 August 2013, Sisi gave his first interview after the removal of Morsi in which he criticised the US response and accusations about the Egyptian's popular will that led to threats of a civil war. In the interview, he said,


You left the Egyptians. You turned your back on the Egyptians and they won't forget that."

To thank those who helped him during the coup, he called the Emirati, Iraqi, Bahraini, Moroccan and Jordanian defence ministers to celebrate the anniversary with him. During the speech, he said,

The Egyptian people will never forget who stood with them or against them."

He also thanked Egypt's Arab brothers, who stood by its side. In the speech, he talked about the relationship between the Egyptian army and the Egyptian people and said,

We would die before you [the Egyptian people] would feel pain."
Later, the government started imposing different laws on th army. In September 2013, interim president Adly Mansour ordered that ministers could award contracts without a request for tender. In the following month, the Egyptian army was given building contracts worth approximately one billion dollars. In April 2014, appeals against government contracts were banned due to the government's Investment Law. In September 2013, the government also removed pre-trial detention limits for various crimes to avoid unconvicted political dissidents from detaining for a long time. In November 2013, the government banned protests to stop the problems caused by them after which many Egyptians were arrested using the law. On 24 March 2014, 529 members of the Muslim Brotherhood were sentenced to death by an Egyptian court for an attack 0n a police station in 2013. According to a report, approximately 40,000 people from the Muslim brotherhood were imprisoned in 2016.
After the Morsi overthrow, many anti-Morsi demonstrators supported Sisi by carrying posters of him on the streets and chanting 'The Army and the People are one hand.' Thousands of people in Egypt changed their social media profile pictures to pictures of el-Sisi and started a campaign to promote him to the rank of field marshal. Many people also suggested his nomination in the next presidential elections. He became so popular that there were cupcakes, chocolates and necklaces created with his initials and restaurants in Egypt named sandwiches after him. His pictures were used in many blogs, columns and op-eds. On many television shows and interviews, he was referred to as the new idol of the Nile valley.
On 6 December 2013, el-Sisi was named "Time Person of the Year" in Time magazine's annual reader poll. The letter with the picture stated, 'Sisi's success reflected the genuine popularity of a man who led what was essentially a military coup in July against the democratically elected government of then President Mohammed Morsi.'
There were campaigns like "Kamel Gemilak" (Finish Your Favor) and "El-Sisi for President" that started to get signatures from him, but he said he did not want to contest in elections. Many Egyptian and non-Egyptian politicians and political parties including National Salvation Front, Tamarod, Amr Moussa, a previous candidate for the presidency, Abdel-Hakim Abdel-Nasser, son of late President Gamal Abdel Nasser, presidential candidate Ahmed Shafik, Prime Minister Hazem Al Beblawi, Naguib Sawiris, the Free Egyptians Party, the Revolutionary Forces Bloc, and the Russian president Vladimir Putin supported Sisi to contest the Presidential elections. He was to contest the elections against Hamdeen Sabahi, but before that Sabahi criticized Sisi saying that he was responsible for the human rights violations during the period of the interim government. He also talked about the behaviour of the interim government towards the goals of the revolution.
On 21 January 2014, Kamel Gemilak organized a conference call at Cairo International Stadium to persuade him to contest in the elections. On 6 February 2014, it was confirmed by the Kuwaiti newspaper al-Seyassah that he would contest the election. On 26 March 2014, he confirmed that he would run for president in the presidential election. After the announcement, many hashtags for and against him were started. On 26 March 2014, when he was serving as the field marshal, he retired from his military career and announced that he would run as a candidate in the 2014 presidential election. The election was held between 26 and 28 May, where his opponent Hamdeen Sabahi got only 47% of the votes, but Sisi won the elections with 97% of the vote. On 8 June 2014, he was elected as the President of Egypt.
On 8 June 2014, he was sworn in as the President of Egypt. This event was marked as a holiday in Egypt. When he won, there were huge celebrations at Tahrir Square and the police and soldiers gathered to barricade the place and used electronic portals for detecting any explosives in the place. His oath-taking ceremony was held at Egypt's Supreme constitutional court in presence of the deputy head of the constitutional court, Maher Sami, ex-president Adly Mansour and other constitutional court members. Sami described him as a "rebel soldier" and a "revolutionary hero." In the ceremony, no representatives of Turkey, Tunisia or Qatar were invited due to their interference in Egypt's issues. He gave a speech at the Palace, which was attended by 1,200 Egyptian people from various provinces of Egypt. In the speech, he described the problems faced by Egypt and plans to solve them. In the speech, he said,


In its next phase, Egypt will witness a total rise on both internal and external fronts, to compensate for what we have missed and correct the mistakes of the past."
After becoming the President, he took measures on the issue of sexual assault in the country. Once, he was seen visiting a woman in the hospital who was receiving treatment for assault during the celebrations in Cairo's Tahrir Square. He ordered the army, police and media to look into the matter. He also worked on making reforms and modernisation in Islam. Some of the steps taken by him in Egypt include regulation talks in mosques and changing school textbooks (including the removal of some content on Saladin and Uqba ibn Nafi inciting or glorifying hatred and violence). He also talked about putting an end to the Islamic verbal divorce, but the matter was rejected by a council of scholars from Al-Azhar University.
In January 2015, he became the first Egyptian president in the country to attend Christmas Mass and give a speech at the Coptic Orthodox Christmas service in Cairo where he talked about unity and wished Christmas to the Christians.
According to a report by Human Rights Watch, Sisi used to torture and enforced disappearances against his political opponents and criminal suspects. An ISIS affiliate in North Sinai, Wilayah Sayna was killed by the military in its campaign. Many human rights defenders were persecuted, their travel was banned and their assets were frozen. New legislation was made against those who threatened to cause any harm. The government also used to arbitrarily arrests and torture children as young as twelve.
On 20 September 2019, mass protests against his government started alleging corruption, repression and lack of freedom. Sisi said that the protests were taken out by Islamists. In an interview, he said,


As long as we have political Islam movements that aspire for power, our region will remain in a state of instability."

In the interview, he further said that the public would not accept political Islam to return to government and referred to the coup d'état in 2013 against Muslim Brotherhood rule.
In the Sisi government, many economic reforms took place including a rise in fuel prices by 78% which was made to cut the subsidies on basic food and energy because it consumed nearly a quarter of the state budget. These subsidies were not taken away from the poor because he was afraid of ruling out the government. They spent $96 billion on energy subsidies in 10 years which led to a decrease in the price of petrol in Egypt. He also raised taxes on alcohol and cigarettes, a flat tax on local and imported cigarettes between 25 and 40 cents per pack, new property taxes, and a new scheme for value-added taxes. The price of chicken was raised by 25% because of the transportation costs. Fares of the minibus and taxi were raised by 13%.
According to a media report, before Sisi's government, a change in subsidies was suggested to the other governments by international financial institutions, but only he could do it because others feared unrest in the country where nearly 30 per cent of the population live in poverty and rely on government aid.
In an interview, Sisi talked about the rise in fuel prices and said that it was necessary for the people and it was already 50 years late for this reform due to fear of the Bread Riots of 1977. He ensured the Egyptians that they should be ready for more reforms in the coming years to solve the economic problems that occurred in four decades. He also asked the people to make some sacrifices.
During his rule, Egypt also paid more than $6 billion it owed to foreign oil companies within two months. Egypt's external debt fell by 13.5 per cent after 8 months of Sisi's rule. In November 2013, because of the economic reforms he made, Moody's raised Egypt's credit ratings outlook to stable from negative and Fitch Ratings upgraded Egypt's credit rating one step to "B" from "B−". Standard and Poor's rated Egypt B-minus with a stable outlook and upgraded Egypt's credit rating.
On 7 April 2015, Moody's upgraded Egypt's outlook from Caa1 to B3 with a stable outlook expecting real GDP growth in Egypt to recover to 4.5% year-on-year for the fiscal year 2015, and then to rise to around 5%–6% compared to 2.5% in 2014.
In May 2015, after a gap of five years, Egypt returned the international bond market to banks which depicted that there was economic and political stability in the country after the revolution of 2011. However, in 2016, there was a devaluation in the Egyptian pound from £E7.83 per US dollar to £E8.95 per dollar in February, which led to an increase in the prices of daily use goods.
When he was serving as the President, the problem of Egypt's energy crisis caused trouble for him in the same way which led to protests against former president Mohamed Morsi. The problems like shortage in energy production in Egypt, growing consumption, terrorist attacks on Egypt's energy infrastructure, debts to foreign oil companies and the absence of the needed periodic maintenance of the power plants, there was six power cuts a day for up to two hours each in some parts of the country. In August 2014, the daily electricity consumption went up to 27.7 gigawatts, which was 20% more than the station could provide. In the next month, Egypt went out of power which led to the switching of the television stations and the grounding of people in the country due to a 50 per cent loss of the country's power generation. Looking at the problem, Sisi stated that he would solve the problem by August 2015 and people who sat idle would be held responsible for the crisis.
In the short-term goal, Egypt signed a contract with General Electric (GE) to provide the country with 2.6 gigawatts by the summer of 2015. GE considered Egypt's energy transferring operation as the fastest operation because the first phase entered service in June and the final phase was expected to be completed by the end of August. In June, the government stated that the power generating capacity surpassed 2.9 gigawatts for the first time under his government. Between January and March, Egypt paid more than $6 billion it owed to foreign oil companies.
In March 2015, at the Egypt Economic Development Conference, energy contracts were given the most priority. This resulted in a $9 billion contract with Siemens to supply gas and wind power plants which would increase the country's electricity generation by 50 per cent. An energy deal worth $12 billion (£E91.5 billion) was signed with BP to provide the country with an extra quarter of local energy production. After the measures taken by Sisi, he said that this was not only to solve the energy crisis but for Egypt to become a global hub for energy trading.
On 21 November 2017, he met the President of Cyprus Nicos Anastasiades and the Prime Minister of Greece Alexis Tsipras in Nicosia who encouraged the initiatives like the energy infrastructure projects, important for the energy security of all three countries such as the EuroAfrica Interconnector, interconnector between Greek, Cypriot, and Egypt power grids via submarine power cable of length around 1,619-kilometre (1,006 mi) taken by the private sector.
In August 2014, he started a new Suez Canal, a canal which was about one-third the length of the existing waterway and would help in doubling the capacity of the existing canal from 49 to 97 ships a day. The new canal was expected to increase the Suez Canal's revenues by 259% from annual revenues of $5 billion. Around 60 billion Egyptian pounds ($8.4 billion) were spent on the project for which funding was given by the Egyptians. The new canal was inaugurated on 6 August 2015. He also started the Suez Canal Area Development Project to develop five new seaports in the three provinces around the canal- a new industrial zone west of the Gulf of Suez, economic zones around the waterway, seven new tunnels between Sinai and the Egyptian homeland, building a new Ismailia city, huge fish farms, and a technology valley within Ismailia.
Sisi started the National Roads Project claiming that it would reduce the unemployment rate and increase the poor's income. The project included building a road network of more than 4,400 kilometres and using 104 acres of land.
A plan to build a new city near Cairo was also laid during the Egypt Economic Development Conference. This new city was to serve as the new capital and was located east of Cairo approximately midway between Cairo and Suez.
He also made a goal to remove all the unsafe slums from Egypt. On 30 May 2016, 11,000 housing units built at a cost of £E1.56 billion (US$177.8 Million) were integrated. The funding for this project was provided by the "Long Live Egypt" economic development fund and civilian charitable organizations. The goal was set to construct 850,000 housing units.
New Delta Project, an agricultural plan was made to expand the Egyptian Delta and construct housing and farmlands to benefit food sufficiency and general agricultural production in Egypt.
According to a report by Egypt's Baseera, Public Opinion Research in August 2014, only 8% of the sample was not happy with Sisi's performance as the President, and 10% said that there were no steps taken for their development. In the report, it was mentioned that 78% of the sample said that they would vote for Sisi in the next Presidential elections, whereas 11% said that they would not. 89% of the sample said that they witnessed an improvement in the security system and 73% said that fuel was regularly available to them. 35% of the sample said that price controls had improved whereas 32% said that it was not. Out of the sample, 29% of people said that they did not see any change. In October 2016, in the same report, it was stated that 68% of respondents would support Sisi and 14% said they would not because of the rise in price.
In 2015, he made an international tour to Africa, where he participated in the 23rd ordinary session of the African Union summit. During the speech at the summit, he announced the establishment of an Egyptian partnership agency for Africa's development. In 2021, there was a dispute between Egypt and Ethiopia over the Grand Ethiopian Renaissance Dam.
Sisi's administration supported the two-state solution by making a Palestinian state on the lands occupied in 1967 and making Eastern Jerusalem its capital. This led to fulfilling the Palestinian's needs and granted Israel the security it wanted. When he was the President, he witnessed the 2014 Israel–Gaza conflict. He condemned the IDF operation which led to the making of policies that were not stopping the Israelis to occupy Palestinian territory. There was an unnecessary use of military force which cause the death of many innocent civilians. He further stated that Israel should keep in mind that it was its moral duty to protect its people.
Later, Egypt proposed that it would ceasefire Israel, but the proposal was not accepted by Hamas. Sisi's administration requested the world to help and stop the crisis. There were many meetings held between Israeli and Palestinian officials in Cairo to intervene in the ceasefire. Sisi ordered to give 500 tons of aid, consisting of food and medical supplies to Palestinians. The conflict ended when Egypt ceasefire on 26 August 2014.
In October 2014, he asked Israel to make a peace deal with Palestinians. He also made sure that the peace treaty would not be violated by Palestine. In an interview, he said,


I call on the Israeli people and the government: now is the time to end the conflict … so that prosperity prevails, so that we all can have peace and security."
In 2014, the relationship between Egypt and Turkey deteriorated because Recep Tayyip Erdoğan, then Prime Minister called Morsi's removal a coup and asked for his release. Turkish Minister for European Affairs Egemen Bagis also asked the UN Security Council to take some action. Erdoğan called Sisi an illegitimate tyrant and supported Israel in the war against Hamas. After his statement, Egypt's foreign ministry accused Erdogan of provocation and interfering in Egypt's internal affairs. In November 2013, the Turkish ambassador to Egypt was asked to leave and Egypt also cancelled joint naval drills with Turkey because of Turkey's interference in Egypt's domestic affairs. In September 2014, Egypt's foreign minister cancelled a meeting with now-President Erdoğan after he made critical comments on Egypt in the UN General Assembly. Under Sisi's administration, the "Roll-on/roll-off" agreement with Turkey was also cancelled and transportation of Turkish containers to the Gulf via Egyptian ports was stopped. In 2014, Turkey lost its membership in the United Nations Security Council after a campaign started by Egypt and Saudi Arabia against Turkey. In March 2021, Turkey said that it wanted to strengthen relations with Egypt and even ordered Muslim Brotherhood channels to step criticism of Egypt and its president. In March 2023, Turkish Foreign Minister Mevlut Cavusoglu and Egyptian Foreign Minister Sameh Shoukry met each other and discussed matters about energy, shipping, transportation and investments.
In June 2014, a news report by Al Jazeera stated that Saudi Arabia, Kuwait and UAE gave more than $20 billion to help Egypt. In 2015, Egypt participated in the military intervention in Yemen. In April 2016, Egypt signed economic agreements worth approximately $25 billion with Saudi Arabia. Egypt also agreed to return two Egyptian-administered islands in the Gulf of Aqaba, Tiran and Sanafir to Saudi. The return was not well received by the people who supported Sisi. The matter went to court and in January 2017, the Supreme Constitutional Court allowed Sisi to make the two islands part of  Mohammed Bin Salman's NEOM megacity. In June 2022, Sisi met with Qatar's Emir Tamim bin Hamad Al Thani on his visit to Egypt and discussed diplomatic and economic relations after which Qatar and Egypt signed investments worth more than US$5 billion in March 2022.
When Morsi was overthrown, the military and political relations between Egypt and Russia were improved but the relationship between the United States and Egypt deteriorated. Russia was totally in support of Sisi when he became the President, but the US was not. Russia provided Egypt with a huge military weapons deal after the US had suspended some military aid and postponed weapons delivery to Egypt. When Sisi was promoted to the rank of Field Marshal, he made his first abroad visit to Russia where he met with the Russian President Vladimir Putin and the Russian Minister of Defense General Sergey Shoygu to talk about arms deals with Russia instead of the US.
When Sisi was the President, he made another visit to Russia. During this visit, he saw Russian-made military vehicles and weapons in the airport. According to a media report, Russia and Egypt signed a $3 billion (2.2 billion euro) weapons agreement. After their meeting, President Putin announced an agreement with Egypt to supply agricultural goods to Russia by 30 per cent while Russia would provide Egypt with 5 to 5.5 million tons of wheat. On the other hand, Sisi announced there was a new plan of "renewing and developing" a giant project by Russia.
On 11 December 2017, when Putin visited Cairo, an agreement to build Egypt's first nuclear reactor and supply nuclear fuel for the same was signed by Russia. During his visit, it was also agreed that a "Russian Industrial Zone" would be built along the Suez Canal.
When Sisi was the President, the United States strongly opposed his administration. The US cancelled the Bright Star joint military exercise with the Egyptian Armed Forces. When US Secretary of State John Kerry met Sisi, he was checked through a stationary metal detector as well as with a handheld wand by Egyptian security, which was considered an unusual screening for a senior State Department official. Sisi did not attend the American-African summit even after an invitation from Barak Obama. In 2014, a news story by BBC reported that the US released $575m in military aid to Egypt that was frozen due to the ousting of President Mohammed Morsi.
When Donald Trump was elected as the President of the United States, there were some improvements in Egyptian-American relations. In September 2016, Sisi and Trump met during the opening of the seventy-first session of the United Nations General Assembly. On 3 April 2017, when Sisi travelled to Washington to meet Trump, he praised his work during his Presidential rule in Egypt. On 26 August 2019, Trump and Sisi met again at the 45th G7 summit in Biarritz, France. Sisi criticized Trump's decision to support Israel during Israel–Gaza conflict.
In 2019, many people called for Sisi to resign from his post as President. In September 2019, building contractor Mohamed Ali, who was in exile in Spain, published videos on social media and criticised Sisi for corruption and ineffectiveness. In September 2019, due to his videos, there were protests in Egypt for Sisi to resign in which 4300 protestors and non-protestors were arrested. In November 2019, a member of the House of Representatives Ahmed Tantawi submitted a formal parliamentary proposal and a YouTube video where he mentioned that Sisi should leave office in 2022 rather than 2024.
Sisi is called by the name Quiet General because of his calm and composed behaviour.
Sisi described himself as "a doctor whose diagnoses are sought after by top philosophers and prominent world leaders."
When he was in war college, he wrote his term paper on democracy in the Middle East to prove his opinion on Sherifa Zuhur, a professor at the War College's thoughts who said that Muslims could not be democratic.
In 2023, it was reported that Egypt went through many economic problems including the rise in the price of the raw materials used in koshary, which is a local food of Egypt. The health services in the country are also facing problems because 4,300 doctors in the public sector submitted requests to resign, and 11,500 doctors quit from 2019 through 2022 because they were not paid enough salary. The value of the Egyptian pound has increased from 15 pounds a dollar to 30 pounds.