Harshad Mehta Age, Death, Wife, Children, Family, Biography & More
Quick Info→
Education: B.Com
Death Date: 31/12/2001
Age: 47 Years

Bio/Wiki
Full Name
Harshad Shantilal Mehta [1]

The Quint
Names Earned
The Big Bull & The Amitabh Bachchan of Stock Market [2]

The Quint
Profession
Stockbroker
Famous For
Masterminding the 1992 Stock Market Scam of over INR 4000 crore rupees
Personal Life
Date of Birth
29 July 1954 (Thursday)
Birthplace
Paneli Moti, Rajkot District, Gujarat
Date of Death
31 December 2001 (Monday)
Place of Death
Thane Civil Hospital, Mumbai
Age (at the time of death)
47 Years
Death Cause
Heart Ailment [3]

The Times of India
Zodiac sign
Leo
Nationality
Indian
Hometown
Paneli Moti, Rajkot District, Gujarat
School
Holy Cross Senior Secondary School, Raipur, Chhattisgarh
College/University
Lala Lajpat Rai College of Commerce and Economics, Mumbai (1976)
Educational Qualification
B.Com [4]

The Quint
Relationships & More
Marital Status (at the time of death)
Married
Family
Wife/Spouse
Jyoti Mehta

Children
Son- Atur Mehta
Daughter- None
Parents
Father- Shantilal Mehta (Businessman)
Mother- Rasilaben Mehta
Siblings
Brother- Sudhir Mehta, Hitesh Mehta & Ashwin Mehta (Advocate)
Sister- None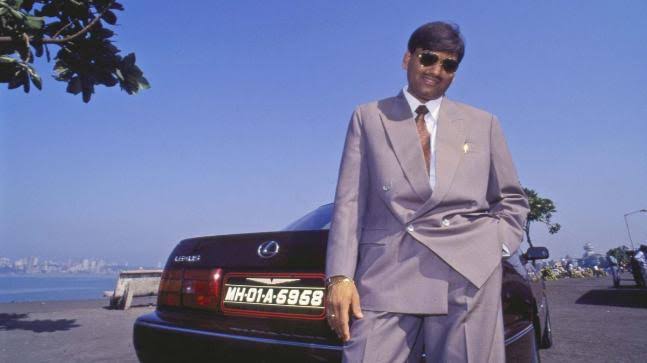 Some Lesser Known Facts About Harshad Mehta
Born into a Gujarati Jain family, Harshad Mehta was a stockbroker who carried out the 1992 stock market scam, apparently, the biggest ever stock market scam in India.
Harshad spent his early childhood years in Mumbai's Kandivali, where his father, Shantilal, used to run a small textile business. Later, the Mehta family moved to Chhattisgarh's Raipur, where Harshad did his schooling and then came back to Bombay (now Mumbai) for his graduation in 1973.
After completing his graduation in 1976, Harshad did odd jobs for the next eight years. He became a cement contractor, sold hosiery, sorted diamonds, worked as an insurance clerk, and did many other sales-related jobs.
In the meantime, while Harshad was working as an insurance agent in the Bombay office of New India Assurance Company Limited (NIACL), he became interested in the stock market. In 1981, he quit his job at NIACL and started working as a jobber (a person who brings clients to the stock market brokers) for a stockbroker, Prasann Pranjivandas, whom he considered as his guru in the share market business.
Eventually, in 1984, Harshad Mehta became a member of the Bombay Stock Exchange (BSE) and established his own stock brokerage firm under the name "GrowMore Research and Asset Management."
Harshad's style of doing business was simple. He would secretively siphon off an enormous sum of money from government security markets for a brief period and then invest this money in a few selected securities. The amount that he used to invest in buying the shares was so high that the price of that share would rise exponentially and then fall back when he would sell those shares. When the price of a particular security would rise, people would get excited and invest in that security, causing the share to rise more. Thereafter, Harshad Mehta would slowly liquidate his shares, pay off the siphoned off money to the banks and pocket the enormous difference caused by rising security prices. Harshad took advantage of the loopholes in the banking system and continued this practice on an incredible scale. In one year, he had elevated the Sensex, i.e., the index of the Bombay Stock Exchange from 1000 to 4500.
He invested in different companies including Apollo tyres, Reliance, Tata Iron and Steel, BPL, Videocon, ACC. He manipulated the shares of ACC Cement and took its share price from Rs 200 to Rs 9000 (4500 percent rise) in merely three months.
Harshad's business witnessed a meteoric rise. By the end of 1991, he had already risen to such prominence that the media started referring to him as the "Big Bull" & the "Amitabh Bachchan of Stock Market."
His lifestyle included a sea-facing 15,000 square feet penthouse in Mumbai's Worli with a mini-golf course and swimming pool inside the property. Along with that, he owned a fleet of fancy cars and used to travel in a Toyota Lexus car worth Rs. 40 lakh. All in all, he used to live a luxurious life that people could only dream of.
Things were going smoothly for Harshad until a journalist, Sucheta Dalal, was intrigued by his lavish lifestyle. She further investigated the sources by which Harshad Mehta has accumulated fortunes worth Rs 1000 crores in such a brief time span. Eventually, on 23 April 1992, the untold truth behind Harshad's practice of manipulating shares was brought to the public eye for the first time by Sucheta Dalal, who published an article in The Times of India explaining exactly how Harshad had carried out Rs 500 crores of financial fraud from the treasury of the State Bank of India. [5]

Moneylife The next year in 1993, Sucheta Dalal also published a book, "The Scam: Who Won, Who Lost, Who Got Away" along with Debashis Basu. The book is based on the scam.
When Harshad's scandal was exposed, the banks, from where he had borrowed money, started demanding their money, and shareholders started selling their shares. This caused a major stock market crash, which washed away worth trillions of investors' wealth in less than two months.

The CBI arrested Harshad Mehta in November 1992 along with his brothers, Sudhir and Ashwin, who were also involved in carrying out the scam. The CBI charged Harshad Mehta of 72 criminal offences and above 600 criminal action cases were lodged against him by various banks and institutions.
Harshad, who had hired the famous veteran lawyer Ram Jethmalani to see his case, was granted bail from the High Court of Bombay after spending three months in jail.
After getting released from jail, Harshad held a press conference wherein he claimed to have paid INR 1 crore as a bribe to the then PM Narasimha Rao to get him off the case. However, the Indian National Congress Party rubbished the allegations made by Harshad Mehta. Also, no evidence was found against Narasimha Rao showing that he had taken the bribe. [6]

Times Now
In 1992, the RBI formed the Janakiraman Committee to investigate into the matter. After thorough investigation, the committee reported the scam of INR 4025 crore rupees. The reported sum, if put into perspective in 2020, it would amount to INR 24000 crore. [7]

Findiaries
In September 1999, the High court of Bombay convicted Harshad Mehta, along with three others, in Rs 380.97 million Maruti Udyog Ltd fraud case and sentenced him to 5 years of imprisonment.
Harshad Mehta was serving his term in the Thane Prison when he complained of chest pain and was taken to Thane Civil Hospital. On 31 December 2001, Harshad Mehta died of a heart ailment in the hospital.
Since the scam came to light, several movies and web-series, inspired by Harshad Mehta's life, have been released. In 2020, a Hindi web series, "Scam 1992 – The Harshad Mehta Story," based on Harshad's life, was released on Sony LIV.
Another movie, "The Big Bull" starring Abhishek Bachchan, based on Harshad Mehta's life and the 1992 Indian stock market scam, is going to be released shortly.

In July 2022, after more than twenty years of Hanshal Mehta's death, his wife, Jyoti, broke her silence and launched a website, https://www.harshadmehta.in/, to defend her husband. Through the website, she accused the jail authorities, where her husband was lodged before his death, of medical negligence due to which he died on 30 December 2001. According to Jyoti, since her husband's death, she and other members of her family have been facing 'group punishment.' [8]

Mint While claiming medical negligence, the website claims,


On that fateful day, the jail authorities neglected his genuine complaint for 4 precious hours after he suffered the first heart attack at around 7 p.m. He immediately reported the unusual pain to his younger brother Sudhir who was in the next cell from where he could hear Harshad but could not see him. The jail Doctors saw him but did not have any medicine for a heart attack. Harshad, therefore, requested them to give him Sorbitrate (medicine) which I had given at the time of his arrest 54 days ago in an emergency kit which was kept in jail custody. Due to his presence of mind, Harshad requested them to give him that Sorbitrate which kept him alive for about 4 hours. Unfortunately, thereafter the jail authorities did not use that golden time of 4 hours to shift him to a hospital which could have saved his life."

While accusing the system of 'group punishment,' the widow of the late stockbroker says,

We feel aggrieved that our fundamental and other valuable constitutional and human rights have been suspended and grossly violated for past 30 years and our family is being meted out with a group punishment even though we have not undertaken a single transaction in securities with the banks nor any banks have lodged any claims on us."