Jaspal Rana Height, Age, Wife, Children, Family, Biography & More
Quick Info→
Wife: Reena Rana
Age: 45 Years
Hometown: Uttarkashi, Uttarakhand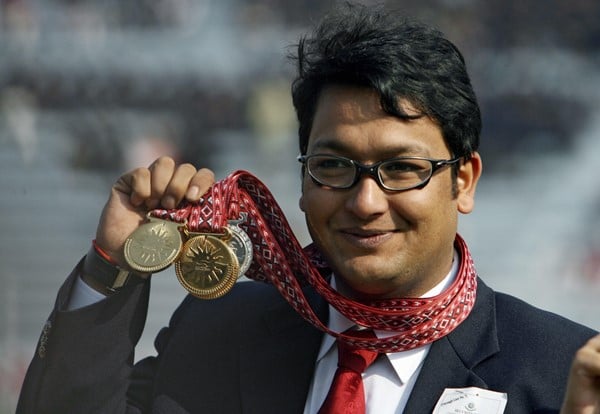 Bio/Wiki
Profession
Indian shooter, Politician
Famous for
Winning gold medals at the Asian Games and Commonwealth Games
Physical Stats & More
Height (ISSF)
in centimeters- 175 cm
in meters- 1.75 m
in feet & inches- 5' 7"
Eye Colour
Black
Hair Colour
Black
Shooting
Debut
National- 31st National Shooting Championship, Ahmedabad (1988)
International- 46th World Shooting Championship (Junior Section), Milan, Italy (1994)
Coach/Mentor
Narayan Singh Rana
Medals
• Gold medal in the 1994 ISSF World Shooting Championships in Milan (25 m standard pistol) (juniors)
• Gold medal in the 1994 Asian Games in Hiroshima (25 m center fire pistol)
• Bronze medal in the 1994 Asian Games in Hiroshima (25 m center fire pistol team)
• Gold medal in the 1995 Asian Shooting Championships in Jakarta (25 m standard pistol)
• Silver medal in the 1998 Asian Games in Bangkok (25 m center fire pistol)
• Bronze medal in the 1998 Asian Games in Bangkok (25 m center fire pistol team)
• Bronze medal in the 2000 Asian Shooting Championships in Langkawi (25 m center fire pistol)
• Gold medal in the 2006 Asian Games in Doha (25 m center fire pistol)
• Gold medal in the 2006 Asian Games in Doha (25 m center fire pistol team)
• Gold medal in the 2006 Asian Games in Doha (25 m standard pistol)
• Silver medal in the 2006 Asian Games in Doha (25 m standard pistol team)
Awards, Honours
• Arjuna Award in 1994
• Padma Shri in 1997

• Dronacharya Award in 2020
Politics
Political Party
• Bharatiya Janata Party (BJP) (2006-2012)

• Indian National Congress (INC) (2012-)

Political Journey
• Joined BJP in 2006
• Contested elections from Tehri in 2009 and lost to Vijay Bahuguna of Congress
• Joined Indian National Congress (INC) in 2012
Personal Life
Date of Birth
28 June 1976 (Monday)
Age (as of 2021)
45 Years
Birthplace
Uttarkashi, Uttarakhand
Zodiac sign
Cancer
Nationality
Indian
Hometown
Dehradun, Uttarakhand
School
Kendriya Vidyalaya School, Air Force Station Tigri Camp Tuklakabad, New Delhi
Caste
Rajput [1]

Facebook
Address
H.NO.12 VILL-MANJHON, PS-CANTT, District Dehradun
Hobbies
Playing sports
Controversy
After the poor performance of the Indian shooting team in the 2020 Tokyo Olympics, National Rifle Association of India's president, Raninder Singh, blamed Jaspal Rana for the results. He said that Jaspal Rana was a negative factor in the events, and Indian olympian Manu Bhaker also backed up the statement by saying that Jaspal Rana is the reason why she performed poorly in the events. In response to this, Jaspal Rana called out the player and the association by saying that everyone is blaming him instead of being accountable for the things where they lacked themselves. He further said that, Manu's decision to compete in two different categories lead to her poor performance as she couldn't focus on both of them, and he also talked about a message that was sent by Manu's mother, criticising him and blaming him for Manu's poor performance. Jaspal Rana informed that he was working for the benefit of the Indian team and Manu Bhanker, but unfortunately, he was misunderstood by everyone. [2]

The Quint
Relationships & More
Marital Status
Married
Family
Wife
Reena Rana (Fashion designer)
Children
Son- Yuvraj Rana
Daughter- Devanshi Rana

Parents
Father- Narayan Singh Rana (politician)
Mother- Shyama Rana

Siblings
Brother- Subhash Rana
Sister- Sushma Singh
Money Factor
Assets/Properties [3]

MyNeta
Movable:
• Cash: Rs. 25,000
• Banks: Rs. 58.17 lakh
• NSS, Postal Savings, etc.: Rs. 1 lakh
• Jewellry: Rs. 3.55 lakh
• Others: Rs. 10.75 lakh

Immovable:
• Agricultural Land: Rs. 23.95 lakh
• Non Agricultural Land: Rs. 11.70 lakh
• Buildings: Rs. 20 lakh
• Others: Rs. 8 lakh
Net Worth (as of 2009)
Rs. 1.37 crores [4]

MyNeta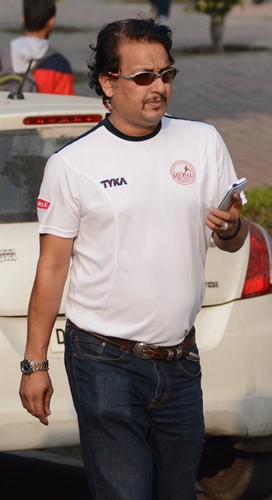 Some Lesser Known Facts About Jaspal Rana
Jaspal Rana is an Indian shooter and a shooting coach who is well known for winning a gold medal at the 1994 Asian Games, 1998 Commonwealth Games, 2002 Commonwealth Games, and others.
Jaspal Rana was introduced to the sport of shooting by his father, Narayan Singh Rana, who was an official at the Indo-Tibetan Border Police (ITBP). He was Jaspal's first coach and he taught him both pistol and rifle at the age of 10. Jaspal started with both weapons but decided to settle for a pistol.
Jaspal Rana started his shooting career at an early age when at the age of 12, he made his national debut at the 31st National Shooting Championship, Ahmedabad in 1988 and won a silver medal. With this continuous rise in his ranks, Jaspal made his international debut in 1994 with the junior series at the 46th World Shooting Championships with a world record score in Milan, Italy.
The win in Milan was memorable for Jaspal as he was suffering from a boil on his knee and was supposed to go for surgery before the World Shooting Championships event. However, Jaspal was determined to participate in the event, and he did so despite the pain he was experiencing. The result of this struggle was worth it as he bagged his first international medal (junior section), and made a junior's world record in the 25m pistol event.


As a shooter, all my achievements are memorable because it's almost 16 years of winning and losing and lots of ups and downs but 1994 Milan World Championships when I won gold with world record (is special) because I was in hospital on the night before the competition as I had a boil on my knee and it was very bad. Doctors refused us to discharge me and my coach Sunny Thomas decided to run away from there because I wanted to shoot. We came back the next day and got the surgery done."

After the event, he took some painkillers and went to the hospital to get his surgery done. Later, his coach told him that he won a gold medal in the event and made a world record in the junior category.
Jaspal Rana continued the gold medal streak and won another gold medal at the 1994 Asian Games in Hiroshima. He was awarded the Arjuna Award in the same year.
During the 46th World Shooting Championship (Junior Section), Jaspal made a record in the junior section in the 25 m centerfire pistol with 590 points. He had made this score previously in 1995 in Coimbatore, and 1997 in Bangalore in various national competitions.
In 1997, Jaspal received the Padma Shri award for his consistent performance in the sports.
Apart from these, Jaspal Rana also has several other significant achievements included gold medals in the 1998 Commonwealth Games, 2002 Commonwealth Games, and 2006 Commonwealth Games.
In 2006, Jaspal Rana began his political journey and joined Bharatiya Janata Party (BJP). He contested the Lok Sabha elections in 2009 and lost the elections to INC candidate Vijay Bahuguna. Later, in 2012, Jaspal left BJP and joined INC from the state of Uttarakhand.
In 2019, the Delhi State Rifle Association filed a case in Delhi High Court over the government's decision of omitting junior national coach Jaspal Rana's name from the list of Dronacharya Awardees for 2019. The plea was put forward by advocate Rahul Mehra, who was appearing for the association and requested the court to order the government to honour Jaspal Rana with the award. The court asked Mehra to withdraw the petition as it was not filed by Jaspal Rana himself, however, Mehra argued saying that Jaspal Rana is in Rio de Janeiro for the World Cup and the vakalatnaama will be sent by him through e-mail. Mehra also brought up the fact that several junior shooters including medal winners like Manu Bhaker, Saurabh Chaudhary, Anmol Jain, Arjun Singh, Devanshi Rana, and others have trained under Jaspal Rana and he has earned the Dronacharya award. [5]

The Indian Express
In 2020, Jaspal Rana was finally honoured with the Dronacharya Award after the controversy that took place in 2019. Jaspal Rana was happy on receiving this award as in the same year, his students- Manu Bhaker and Saurabh Chaudhary were receiving the Arjuna Award. In an interview, Jaspal said-


What can be a prouder moment than this. This award doesn't belong to me or an individual, but it belongs to the entire team which has worked alongside me, the federation, and my students."

In 2016, Jaspal Rana received a call from South Delhi's Neb Sarai police station that his father-in-law, A S Bisht, had shot himself with his licensed revolver at his residence. The reason behind the suicide was known to be losses faced by him in his businesses. The body was sent for post-mortem and later, the body was given to the family to perform the final rites. [6]

The Indian Express
In 2021, after the below-average performance of the athletes in 10-meter air pistol individual and mixed team shooting events, the president of the National Rifle Association of India Raninder Singh, said that Jaspal Rana was a negative factor in the whole team. Indian olympian, Manu Bhaker, also blamed Jaspal Rana for her poor performance and said that he ignored her during the training and focused on others. In response to this, Jaspal Rana said-


Those representing and running the sport in the country should stop manipulating and blaming others. The NRAI can blame me. Everybody can blame me. But is that the only thing that happened? Are they saying they have no role to play in India's poor showing at the Olympics?"

The trouble began when Jaspal Rana suggested that Chinki Yadav participates in the 25 m pistol events and that Manu should focus on the 10 m events. He further said-


Which shooter in the world competes in three different events? It was an extra burden on Manu and even if you pick up scores from last year, Chinki defeated Manu in almost every event in the 25 metre sport pistol. Yes, I supported Chinki because as a coach, I can see merit. Chinki deserved a place in the Olympic squad in the 25m sport pistol category, but we let her down. I can say this with guarantee that had Manu competed only in the 10m air pistol and 10m mixed teams event at Tokyo, she would have surely brought home a medal. An athlete has to know where to focus and how to play as per their strengths."

Jaspal Rana and Manu parted ways months before the 2020 Tokyo Olympics as Manu was not happy with the fact that the coach didn't spend enough time with her on her skills. Things got ugly when Jaspal Rana wore a white t-shirt with a message on its back that was sent by Manu's mother, Sumedha. In response to the controversy, Rana said-


It is unfortunate that such things happen to people after doing so much for your sport. Yes, I did put up that message but if this message came from Manu's mother, she does not have any right to criticise a national coach. I had to put it out for them to remember what they were doing. And please remember, I never put anyone's name on the message (on my t-shirt)."

Jaspal concluded the interview by saying that he was working in Manu's best interest and he was not plotting against her. He said-


I have been picked for this job because I understand this sport and I am here to make decisions. These 17 or 18-year-old shooters cannot decide how a national team will run or which players should be picked up. That decision is best left to the coach. I was not working against Manu. I was working in her best interest and sadly, they perhaps do not understand that."

Jaspal Rana's daughter, Devanshi Rana, followed her father in his footsteps and became a shooter as well. She is a part of the Indian National Shooting Team and helped the Indian team win gold medals during the ISSF Junior World Cup in Suhl, Germany in 2018.
After an unsatisfactory political career, Jaspal Rana started Jaspal Rana Institute of Education and Technology in Dehradun, where he gives training and classes to upcoming athletes.