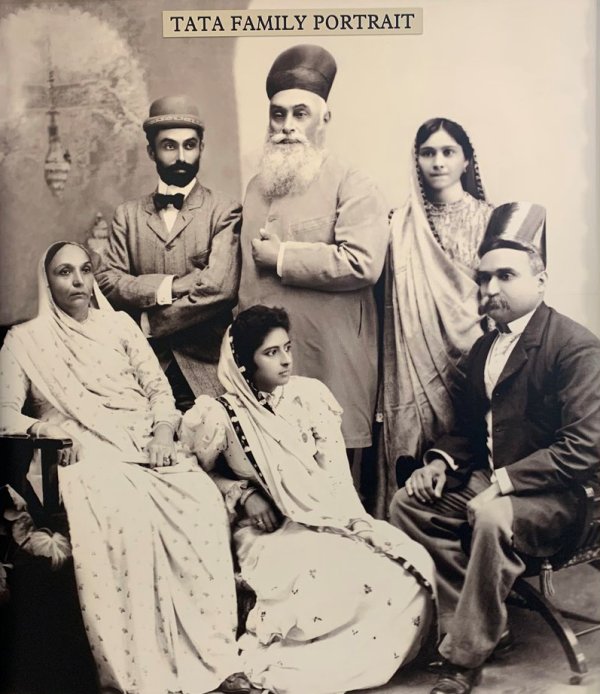 The Tatas are a Parsi family that migrated to Mumbai from Surat, a city located in the state of Gujarat. The founder of the Tata family's wealth was Jamshetji Tata. Sylla Tata, who married Sir Dinshaw Maneckji Petit, 3rd Baronet, links the Tata family to the Petit baronets. Ratan Tata, the patriarch of the Tata Group and a highly respected figure in India, is often compared to Warren E. Buffett and Bill Gates. He is known as "Mr. Clean," as his family's name was built partly on a policy of zero tolerance for corruption, and even schoolchildren look up to him.
A Rich History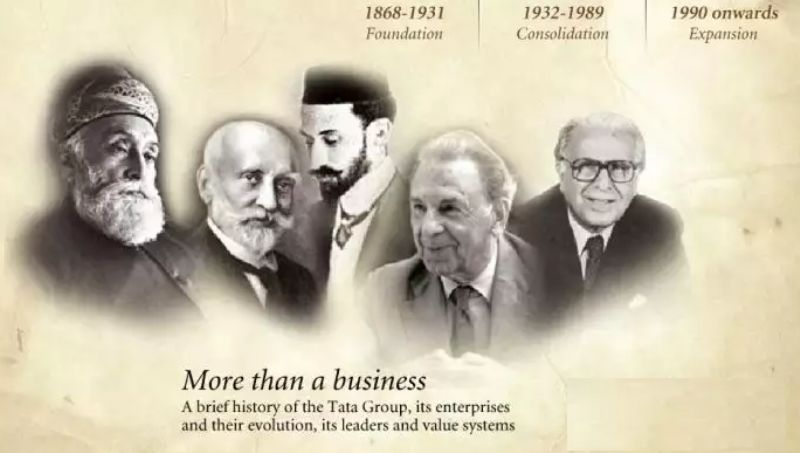 The Tata Group, a conglomerate known for producing Land Rovers, managing the iconic Pierre Hotel in New York, and selling Tetley tea worldwide, is considered an anomaly in India, a country where corruption is widespread and accepted as a normal part of life. The Tata Group, which has a rich history in India, was founded in 1868 during the British rule of the Indian subcontinent by Jamsetji Tata, a descendant of Persian immigrants called Parsis, who are a small yet dynamic community in Mumbai. The company started as a trading business and gradually expanded over the years, constructing India's first steel mill, hydroelectric power station, locally manufactured trains, and the first airline. Mr. Tata established the Taj Mahal Palace Hotel in Mumbai in 1903, which was the first luxury hotel in India catering to the needs of Indian citizens. This hotel, now considered a national landmark, was an exceptional accomplishment.
Ownership Structure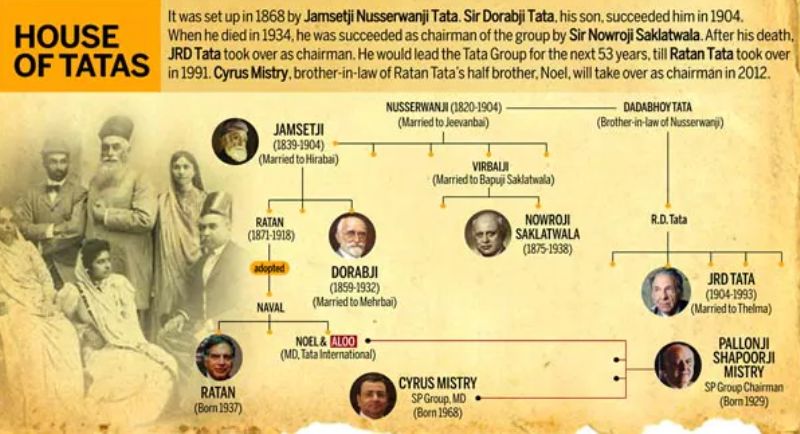 The intricate structure of Tata Sons mirrors the strategy of a diversified corporation, where the different parts of the company are not just simple profit-making centers, but also serve as a form of security in an unpredictable world. The ownership structure of the Tata Group differs greatly from other family-run businesses in India, as well as global corporations. While the Parsi community has always been the wider "family" of the Tatas, they have never entrusted the control of the company to an outsider. This tight control has led to remarkable stability, with only six chairpersons in the company's more than 150-year-old history, averaging a 25-year tenure per chairperson. The ownership structure, which vests control in an array of trusts rather than family members, is the key to this stability, avoiding the risks associated with having family members in control who may act irresponsibly or disruptively.
The chairman of the trusts is the chairman of Tata Sons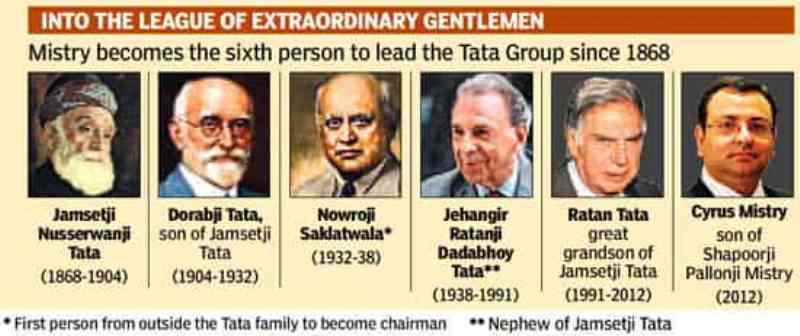 Although the Tata Group consists of more than 30 listed entities, Tata Sons, which serves as the holding company for the Tata Group, is not listed, providing insulation from the unpredictable fluctuations of the market and the accompanying pressure from shareholders to achieve short-term profits. Nevertheless, the main companies within the group that are listed do not escape the persistent scrutiny and demand for profits from shareholders. The intricate ownership structure allows the parent company to maintain control over its empire without necessarily owning the majority of shares in individual entities. Throughout most of its history, with the exception of the period when Nowroji Saklatwala was chairman of Tata Sons from 1932 to 1938, the general practice in the Tata family was that "the chairman of the trusts was also the chairman of Tata Sons." This tradition was broken in 2012 when Ratan Tata resigned as chairman of Tata Sons but remained the chairman of the trusts, while Cyrus Mistry took over as the 6th Chairman of Tata Sons. This resulted in a diarchy, where Ratan Tata retained effective control, while Mistry served as a figurehead.
Different branches of the Tata family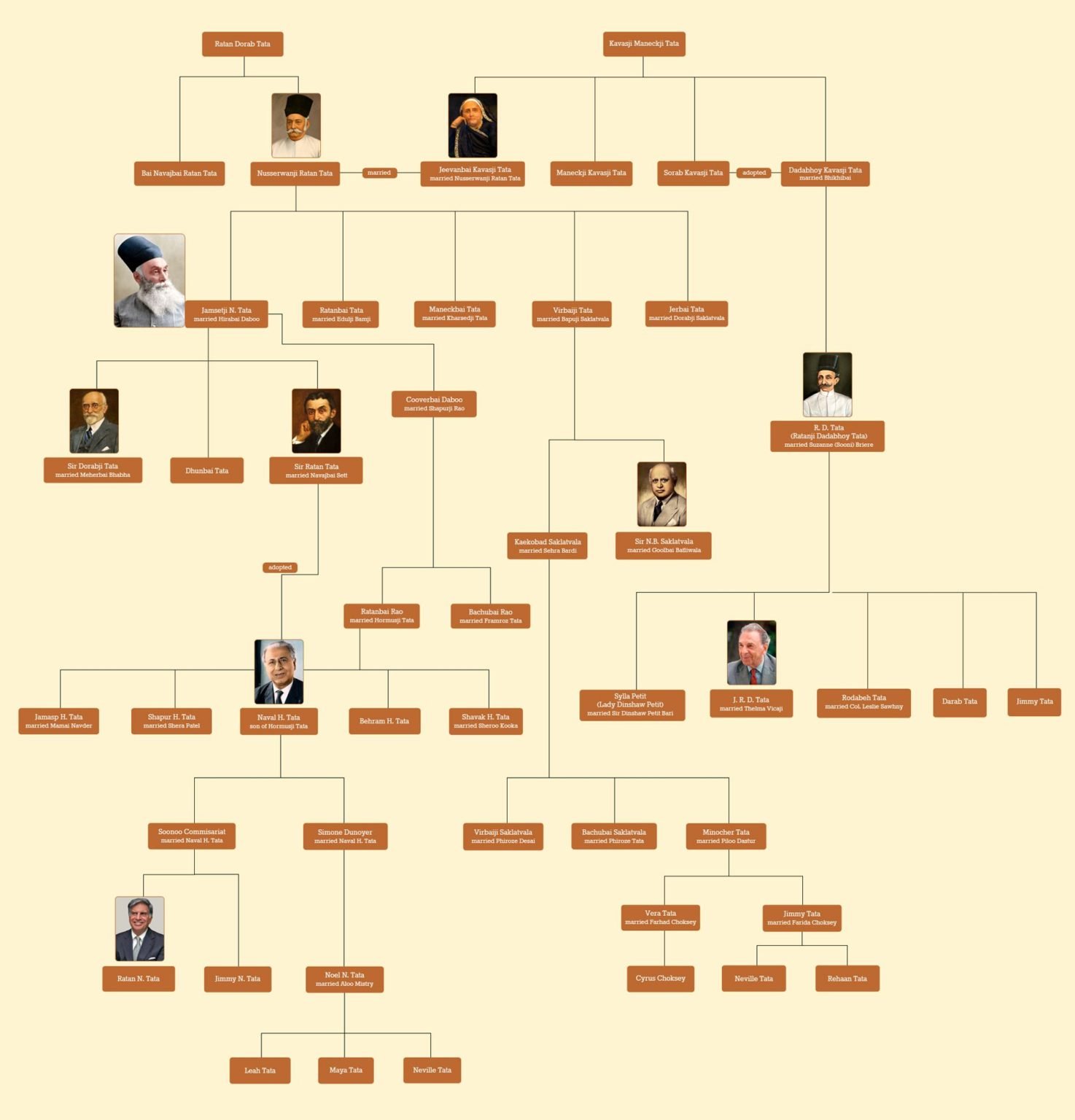 Group founder Jamshedji Tata had an uncle (mother's brother) named Dadabhoy Tata who had a son named Ratanji Dadabhoy Tata, who later became one of the partners in Tata Sons. Jehangir Ratanji Dadabhoy (JRD) Tata was the second of Ratanji's five children from his second wife, a Frenchwoman named Suzanne Briare. So, although JRD Tata and Ratan Tata come from two different branches of the Tata family, the former mentored the latter and handed him the baton in 1991. Ratan Naval Tata was born to Naval Hormusji Tata and his first wife, Sooni Commissariat, and had a brother named Jimmy, who went on to hold senior positions at the Tata group. Following their parents' separation in the 1940s, Ratan and Jimmy were brought up by their grandmother, Navajbai. Naval later remarried, and Ratan's stepmother, Simone Tata, gave birth to his half-brother, Noel Tata who is married to Aloo Mistry, Cyrus Mistry's sister.
Tata family and Wadia family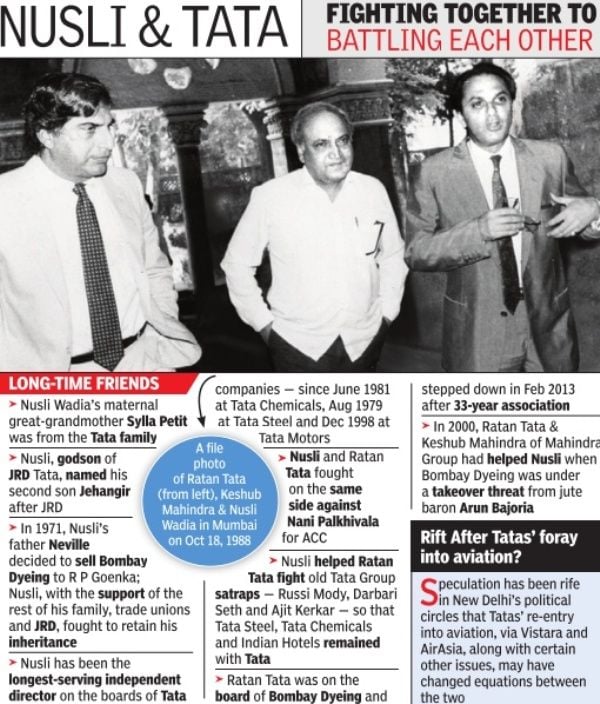 Ratanji Dadabhoy Tata had a granddaughter named Rattanbai Petit from his daughter's side, who married Mohammad Ali Jinnah, the founder of Pakistan, as his second wife. Rattanbai passed away early, but her daughter Dina chose to remain in India during the partition of the country in 1947. Dina Jinnah later married Neville Wadia, and their son, Nusli, became the head of the Wadia group after his father.
Notable members of the Tata family
Jamsetji Nusserwanji Tata (3 March 1839 – 19 May 1904)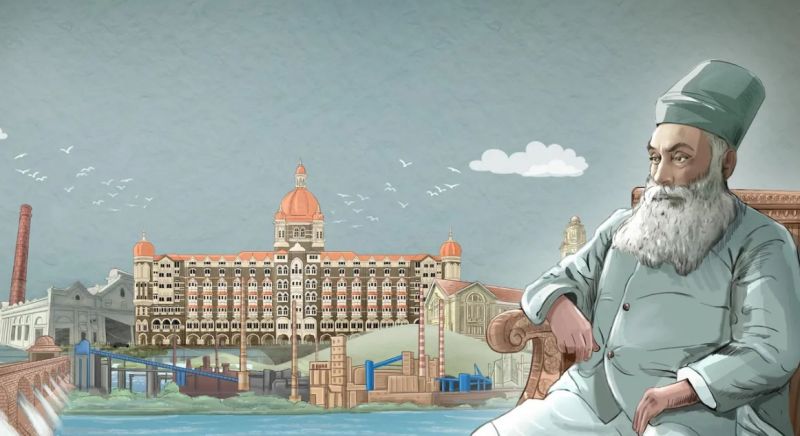 Jamsetji Nusserwanji Tata began a trading firm in 1868 with a starting capital of Rs 21,000 at the age of 29, which marked the initial stages of the future Tata group. He tied the knot with Hirabai Daboo, and their two sons, Dorabji Tata, and Ratanji Tata, followed in their father's footsteps to become the next leaders of the Tata Group, succeeding him as the company's chairmen. Ratanji Dadabhoy Tata, who was Tata's first cousin, had a significant contribution in setting up the Tata Group. His sister, Jerbai, married a merchant from Mumbai and became the mother of Shapurji Saklatvala. Tata employed Saklatvala to search for coal and iron ore in Odisha and Bihar, which he did successfully. Saklatvala later moved to England and was appointed as the manager of Tata's Manchester office. He eventually became a Member of the British Parliament, affiliated with the Communist Party. Tata was the uncle of J. R. D. Tata and Sylla Tata, who were both entrepreneurs, through his cousin Ratanji Dadabhoy. Sylla Tata was married to Dinshaw Maneckji Petit, the third baronet of the Petit family. The sister of the baronet, Rattanbai Petit, was married to Muhammad Ali Jinnah, who is known for founding Pakistan. During a business visit to Germany in 1900, Tata fell seriously ill. He passed away on 19 May 1904 in Bad Nauheim and was laid to rest at the Parsi burial ground located in Brookwood Cemetery in Woking, England.
Empress Mills
Jamsetji Nusserwanji Tata made a bold decision in 1874 by establishing a textile mill called Empress Mills in Nagpur, rather than in Bombay, which was the hub of India's textile industry at the time. This move was later proved to be a brilliant decision.
JN Tata Endowment Fund
Jamsetji established the JN Tata Endowment Fund in 1892 to support Indian students who wanted to pursue higher education abroad; a doctor named Freany Cama was the very first recipient of the JN Tata Endowment.
Taj Mahal Palace: Diamond by the Sea
On 16 December 1903, The Taj Mahal Hotel officially opened its doors for business. The hotel was one of the several visions that Jamsetji Tata had for India, and it was the only one that became a reality during his lifetime.
Sir Dorabji Tata (27 August 1859 – 3 June 1932)
When Jamsetji passed away in Germany in 1904, his older son, Sir Dorabji Tata, took on the responsibility of realizing his father's ambitious plans for India and became the 2nd Chairman of the Tata group. His spouse, Meherbai Tata, was the paternal aunt of nuclear scientist Homi J. Bhabha. Dorabji passed away at the age of 73 in Bad Kissingen, Germany, on 3 June 1932. He and his wife, Meherbai, who did not have any children, were laid to rest next to each other at Brookwood Cemetery in Woking, England. Following Dorabji's demise, his trusted lieutenant and passionate labour advocate Nowroji Saklatvala assumed the Chairmanship of the Tata group, becoming the 3rd Chairman of the group.
Tata Steel: Nerves of Steel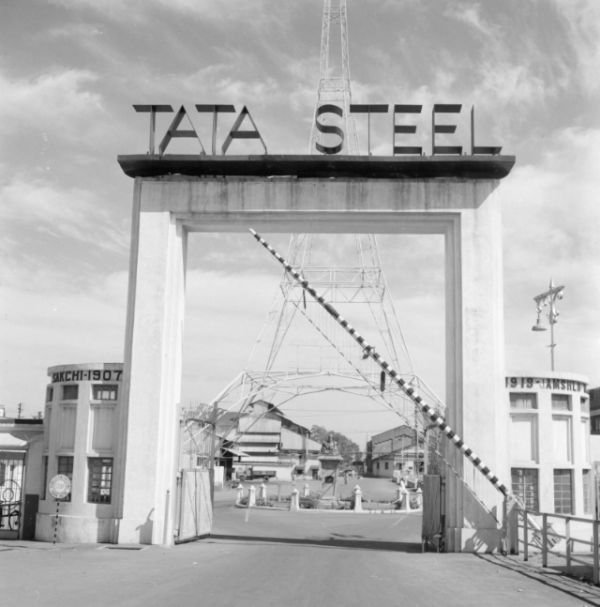 Sir Dorabji Tata established the Tata Iron and Steel Company, which is now known as Tata Steel, in the remote town of Sakchi in 1907. He also built a hospital for the local community, even before the company began production of steel.
Tata Limited
The Tata group's first international office, Tata Limited, was established in London in 1907, signaling the start of the company's global aspirations.
IISc: Science with a Soul
The Indian Institute of Science was founded in 1909 based on the vision of JN Tata, although he had passed away five years prior. The first group of students was admitted in 1911.
Tata Power: The Power of Dreams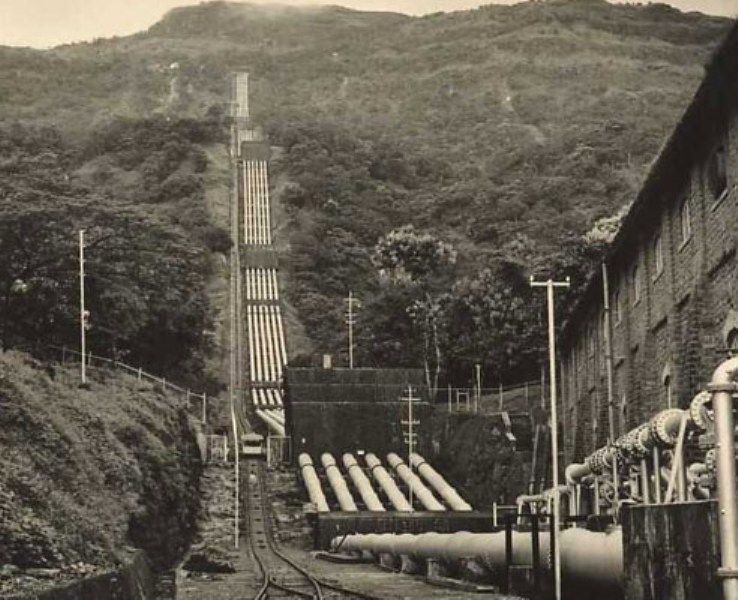 Sir Dorab realized Jamsetji's vision of introducing clean energy to Mumbai through the establishment of Western India's first hydroelectric power station in 1910, thereby giving rise to Tata Power.
Ratanji Tata (20 January 1871 – 5 September 1918)
In 1912, Sir Ratan Tata, who was a philanthropist and the younger son of Jamsetji, was deeply affected by the prevalent poverty in India. Consequently, he financed a study at the University of London to investigate the underlying reasons for this poverty. In 1893, Tata married Navajbai Sett, and in 1915, he left for England for the final time. He passed away on 6 September 1918 in St. Ives, Cornwall, England. He was buried at Brookwood Cemetery, Woking, near London, alongside his father Jamsetji Tata. Following the demise of Ratanji Tata, his spouse, Navajbai Tata, adopted an orphan named Naval, who was the grand-nephew of her mother-in-law, and nurtured him as her own child.
First Planned Industrial City
India's first planned industrial city was established in Sakchi in 1912, and it was later renamed Jamshedpur in 1919 to commemorate Jamsetji, who originally conceived the town.
Tata Oil Mills Co (TOMCO)
The Tata Group marked its entrance into the consumer market in 1917 through the establishment of Tata Oil Mills Co (TOMCO), which was recognized for its successful soap products, Hamam and Moti. TOMCO was eventually sold to Hindustan Lever in 1984.
First Tata Trust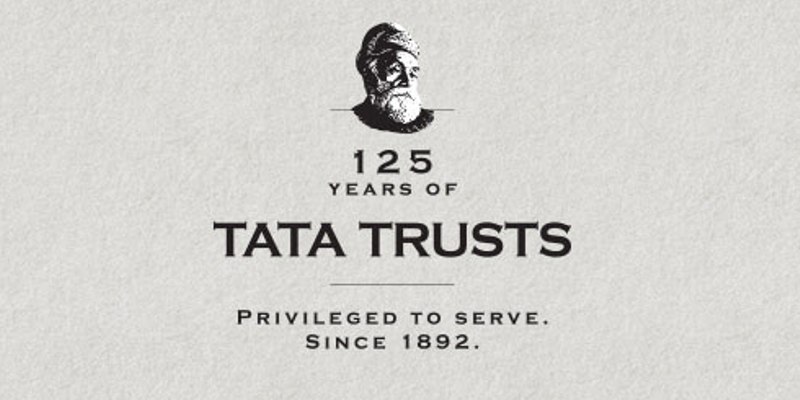 Sir Ratan Tata passed away in 1919 following which the Sir Ratanji Tata Trust & Allied Trusts, the first among the Tata Trusts, was established in line with his testament.
Naval Tata (30 August 1904 – 5 May 1989)
Naval Tata was not born into the main Tata family. He was born in 1904 in a middle-class Parsi family in Bombay. His father, Hormusji Tata, was a spinning mill master who died when Naval was only four years old. It is not clear if Hormusji was directly related to the wealthy Tata family who later adopted his son, despite sharing the same surname. However, it is certain that Hormusji was not as wealthy as the Tatas. Hirabai Daboo, the wife of Jamshedji Tata who established the Tata group in the 1800s, had a sister named Cooverbai Daboo. Cooverbai married Shapoorji Rao, and they had a daughter named Ratanbai Rao. Ratanbai married Hormusji Tata, and Naval was born to the couple in 1904. Although Naval was adopted by the Tata family, he, in fact, was not an outsider as he was the son of the niece of the founder's wife. After Hormusji passed away, Ratanbai had difficulty raising her children in Mumbai and eventually moved to Navsari in Gujarat. According to reports, Ratanbai made a living by doing Zardosi embroidery. After a while, Naval and his siblings were sent to the JN Petit Parsi orphanage in Surat. During the time when Naval was living at the orphanage, Jamshedji Tata had two sons, Dorabji and Ratanji, but neither of them had children to succeed them. In 1918, Sir Ratan Tata died at the age of 47, and the Tata family believed that they needed to adopt a son to carry on the family's legacy. Lady Navajbai, Sir Ratan Tata's wife, who was also known as Lady Tata, decided to adopt a young Naval (13-year-old). After completing his education at the University of Mumbai and later in England, Naval joined the Tata business in 1930. He married twice and had three sons. His sons Ratan Tata (5th Chairman of the Tata Group) and Jimmy Tatat are from his first wife, Sooni Commissariat, while his son Noel Tata is from his 2nd wife, Simone Naval Tata, a Swiss woman and a Catholic who ran Lakme and served as chairperson of Trent. Naval Tata maintained a strong connection to his past and at one point made a statement,
I am grateful to God for giving me an opportunity to experience the pangs of poverty, which more than anything (else) moulded my character in later years of my life."
On 5 May 1989, he died after battling cancer in Bombay (now Mumbai).
Ratanji Dadabhoy Tata (1856–1926)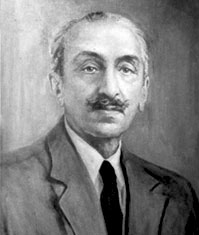 Ratanji Dadabhoy Tata's father, Dadabhoy Tata, and Jamshedji Tata's mother, Jeevanbai, were siblings. As a result, he was also a cousin of Jamshedji Tata and part of the wider Tata family. Ratanji married a Parsi girl at a young age, but unfortunately, she died childless shortly after their marriage. When he was in his forties, he married Suzanne Brière, a French woman, in 1902. This was seen as unconventional at the time and was not well-received by some members of the Parsi community. Together, Ratanji and Suzanne had five children: Rodabeh, Jehangir (J. R. D. Tata), Jimmy, Sylla, and Dorab. In 1926, he died in Paris, France.
Opium trade
Ratanji started an opium import business in China, operating as Tata & Co.; the opium trade was legal at the time. Along with other merchants including David Solomon Sassoon, he filed a petition in 1887 to the Hong Kong Legislative Council to express their concerns regarding a bill that could potentially impact their opium trading activities.
J. R. D. Tata (29 July 1904 – 29 November 1993)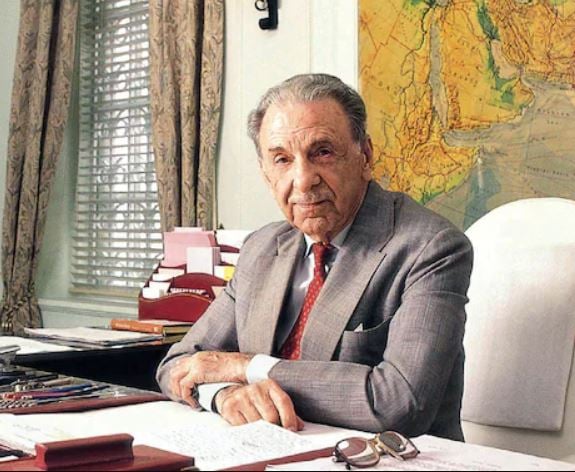 After Sir Nowroji died in 1938, 34-year-old J. R. D. Tata became the 4th Chairman of the Tata Group, becoming the youngest Chairman in the group's history; he stepped down as Chairman in 1991, naming Ratan Tata as his successor. He is best known for pioneering Indian aviation by founding Tata Airlines (later known as Air India). Tata got married to Thelma Vicaji in 1930; Thelma was the niece of Jack Vicaji. Tata had hired Jack Vicaji to defend him in a case where he was charged for driving his Bugatti too fast on Bombay's Marine Drive. Prior to this marriage, Tata was engaged to Dinbai Mehta, who later became the mother of The Economist editor, Shapur Kharegat. J. R. D. Tata was born to a Parsi father and a French mother who converted to Zoroastrianism, but he himself was agnostic. Tata died due to a kidney infection in Geneva, Switzerland, at the age of 89 on 29 November 1993.
First Indian Pilot
When he was 24 years old in 1929, JRD Tata became the first person in India to receive a pilot license, which marked the realization of his childhood passion for flying and his admiration for the renowned aviator, Louis Bleriot.
Tata Airlines
JRD Tata played a significant role in the history of Indian aviation when, in 1932, he piloted the first flight from Karachi to Mumbai, marking the birth of Tata Airlines, which later became Air India.
Tata Chemicals
Tata Chemicals was established in the remote coastal area of Mithapur in 1939. As the company expanded to become a dominant player in the market, a flourishing community developed around the plant.
Tata Memorial Centre
The Sir Dorabji Tata Trust commissioned the Tata Memorial Hospital in 1939, which became a pioneer in cancer treatment in India and provided access to cancer care for all.
Tata Motors
The Tata Group continued its fast-paced business expansion in 1945 with the creation of Tata Engineering and Locomotive Company, which later became known as Tata Motors in 2003.
Tata Institute of Fundamental Research
JRD Tata and Homi Bhabha established the Tata Institute of Fundamental Research in 1945, which marked a significant advancement in India's scientific infrastructure.
Tata Tea
In 1962, the Tata Group began its foray into the beverages industry. The first step was taken with the introduction of Tata Finlay, which later became known as the famous Tata Tea brand. The company is now called Tata Global Beverages.
Tata International
Tata Exports, which is currently known as Tata International, was established in 1962. The company is engaged in trading and distribution, as well as the manufacturing of leather goods. It operates in 39 countries.
Tata Consultancy Services
In 1968, Tata Consultancy Services (TCS) was established as India's first software services company, marking the beginning of a new era. Today, TCS has a global footprint, operating in 46 countries.
Tata Namak
Tata Chemicals revolutionized salt consumption in India in 1983 by introducing Tata Salt, the nation's first branded iodised salt. This "Desh Ka Namak" was intended to promote a robust and healthy society.
Passenger Vehicle
After achieving success in the commercial vehicle market, TELCO (now Tata Motors) expanded into the realm of passenger vehicles in 1991 with the introduction of the Tata Sierra, followed by the Tata Estate in 1992.
Ratan Tata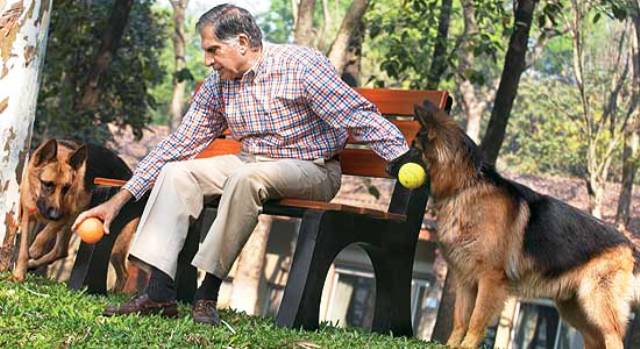 JRD Tata stepped down as Chairman after 53 years in 1991, appointing Ratan N Tata as his successor. During Ratan Tata's tenure as the 5th Chairman of the Tata Group, the conglomerate flourished and became a $100 billion enterprise. In 2017, N. Chandrasekaran, CEO and MD of TCS since 2009, was appointed Chairman of Tata Sons by the Board of Directors. He is unmarried and has no children. In 2011, he said,
I came close to getting married four times and each time I backed off in fear or for one reason or another."
Watch market
With a focus on a changing market in 1992, Titan introduced Raga to capture the women's watch market, while Fastrack (launched in 1998) became a renowned brand among young people.
Tanishq
Tata transformed the jewelry industry in India in 1994 by introducing Tanishq, a retail brand that brought order, dependability, and clarity to an unstructured industry.
Tata Indica and Tata Safari
TELCO (now Tata Motors) released the Tata Indica, India's first car that was designed and produced locally, as well as the Tata Safari, India's first sports utility vehicle (SUV), in 1998.
Tetley
Tata Tea (currently known as Tata Global Beverages) purchased the renowned 160-year-old British tea brand Tetley in 2000. Today, it is the second largest tea brand worldwide.
Tata Communications
In 2002, the Tata group purchased a majority interest in VSNL, which led to the establishment of Tata Communications. The corporation is now a world leader in network solutions, mobility, and the Internet of Things (IoT).
Tata Sky
In 2006, the conglomerate addressed the changing landscape of satellite entertainment by creating Tata Sky, a Direct-to-Home (DTH) provider.
Corus
Tata Steel purchased Corus (currently known as Tata Steel Europe) in 2007, which has since become the second largest steel producer in Europe, catering to the construction, automotive, packaging, and engineering industries.
Tata Nano
Tata Motors revealed the Tata Nano, commonly known as the "people's car," in 2008 to provide millions with access to secure transportation at a low cost. The corporation also acquired the legendary British automaker Jaguar Land Rover.