Anu Aga Height, Age, Boyfriend, Husband, Children, Family, Biography & More
Quick Info→
Age: 79
Husband: Rohinton Aga
Profession: Entrepreneur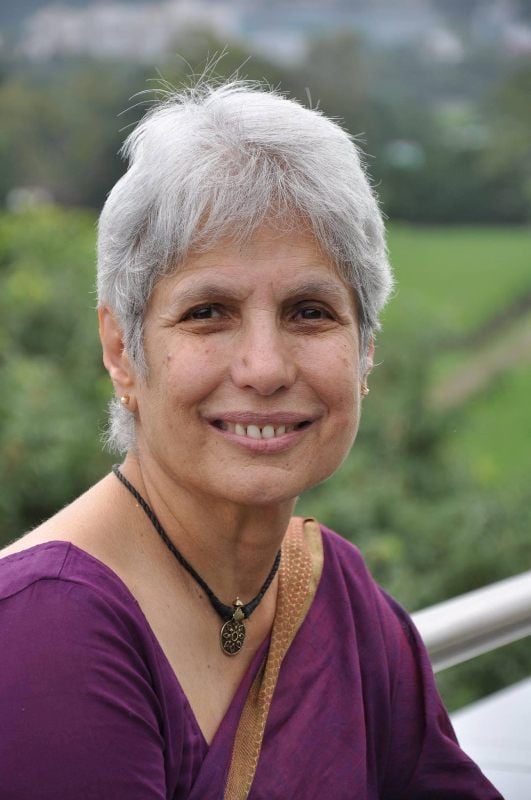 Bio/Wiki
Full Name
Arnavaz Rohinton Aga

Real Name
Arnavaz Bhathena
Profession(s)
• Chairperson of 'Teach For India' &amp
• Former Executive Chairperson of the 'Thermax Group'
• Rajya Sabha member
• Social Worker
Titles earned
• "Joan of Arc" for Thermax Limited
• Woman of Substance
Physical Stats & More
Height (approx.)
in centimeters- 164 cm
in meters- 1.64 m
in feet & inches- 5' 4"
Eye Colour
Black
Hair Colour
White
Career
Awards, Honours, Achievements
• Padmashri Award for social work in 2010

• Lifetime Achievement award by MAEER's MIT group, Pune in 2015
• BML Munjal Awards for- Business Excellence through Learning and Development in the Private sector (Manufacturing) category in 2015
• Zee Astitva Business Woman of the Year Award, 2007
• Honoured with 'Power Brands: Bharatiya Manavata Vikas Puraskar (BMVP) – Edition 2019' for her business leadership and philanthropy.
Note: She has many other awards and allocates associated with her name.
Personal Life
Date of Birth
3 August 1942 (Monday)
Age (as of 2021)
79 Years
Birthplace
Matunga, Mumbai
Zodiac sign
Leo
Nationality
Indian
Hometown
Pune, Maharashtra
School
Wadia Vachha High School
College/University
• St. Xavier's College, Mumbai
• Tata Institute of Social Sciences (TISS), Mumbai
Educational Qualification
• B.A. in Economics, St. Xavier's College (Mumbai)
• Post-graduate studies in medical and psychiatric social work, Tata Institute of Social Sciences [1]

Harvard Business School
Religion
Zoroastrian [2]

New Acropolis
Address
701, Brahmaputra Apartments, Dr. B.D. Marg, New Delhi. 110001
Hobbies
Travelling, Dancing, Reading, listening songs and Snorkeling
Food Habbit
Non-Vegetarian [3]

Books
Relationships & More
Marital Status
Widow
Affairs/Boyfriends
Rohinton Aga
Marriage Date
3 May 1965
Family
Husband/Spouse
Rohinton Dhunjishaw Aga (In 1996, he passed away due to second heart attack)

Children
Son- Kurush (Died at the age of 25 in a massive car crash)

Daughter- Meher Pudumjee (Chairperson of Thermax Ltd)


Parents
Father- Ardeshir Sorabji Bhathena (Entrepreneur)
Mother- Jini
Siblings
She has two elder brothers.

Favorite Things
Food
Fish
Favorite destination
America and Europe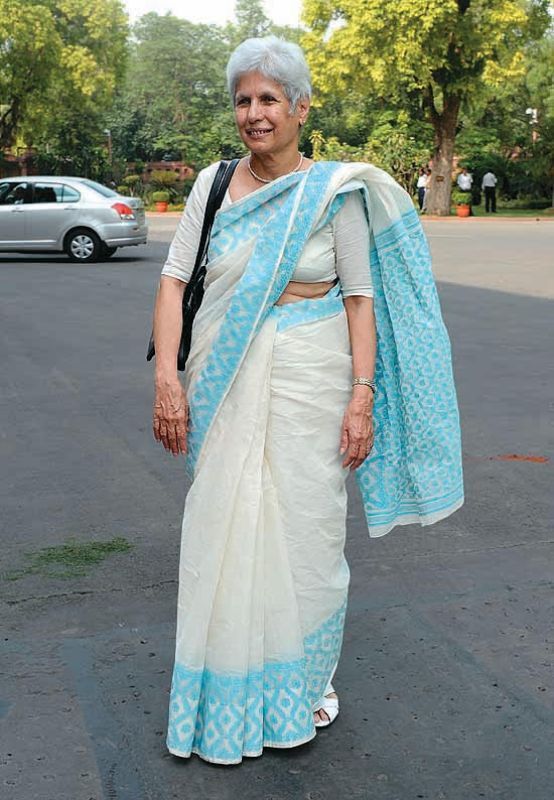 Some Lesser Known Facts About Anu Aga
Anu Aga is an Indian entrepreneur and one of the richest women in India, and she is also a social worker. She has faced multiple tragedies in her life and is labelled as one of the most influential corporate leaders of India.
Anu was born in an upper-middle-class Parsi family in Mumbai.
After completing her studies, Anu met Rohinton Aga, he pursued his education from Cambridge and worked at Wanson India with Anu's father. She fell in love with him and later, both got married in 1965. Meanwhile, Anu worked in the Child Guidance Clinic and proceeded a family.
 Anu Aga's father, A S Bhathena, was the founder of the company Thermax global which was earlier known by the name of Wanson India. The company was founded in the year 1966. Earlier, it was a hospital equipment firm that was in coalition with the Belgian company, Wanson. After a few years, Wanson India extended into a boiler manufacturing firm. In 1980, Wanson India disintegrated with its Belgian partner and resumed itself as Thermax Private Limited. In the upcoming year, A S Bhathena retired as the chairman and Rohinton Aga shouldered the title of Chairperson and Managing Director of the company.
A few years after the birth of their first child, Meher, Anu lost her second daughter to an unfamiliar illness. Later, in 1972, they were blessed with another boy child, Kurush, who was unfortunately born with a hole in his heart.
In 1980, her father retired and Rohinton's took over the charge of the company, Wanson India. Later, it was renamed into Thermax, gradually, it grew into a respected engineering firm with interests in energy and environment.
A series of tragedies began one after the other. In 1982, one sudden day, Rohinton had a massive heart attack, and while undergoing bypass surgery, he suffered a paralytic stroke. Rohinton consumed two years for his recovery and during that time, Anu got involved in the family business. Anu joined the human resources team at Thermax. Soon after his recovery, Rohinton took over the charge of Thermax again. He also wrote a book during his recovery. In 1995, the company went public, and then, Anu headed as the HR of the company.
 In 1996, after the first delivery of her daughter, Meher, a chemical engineer living in London, Anu was returning from the UK while Rohinton was heading his way from Pune to Mumbai to receive Anu as she was returning after a gap of 6 months, he suffered his second massive heart stroke in which he lost his life. His demise brought a major setback in Anu's life; moreover, having gone public a year earlier, the company was then accountable to shareholders. A striking downfall occurred in the Indian economy, that caused Thermax's share price to plunge from Rs 400 to Rs 36. Thermax suffered a loss of 13 crores and was about to disintegrate. A shareholder even accused Anu of letting him down. In an interview, talking about this setback in their life, Anu's daughter, Mehar, quoted,


It was a huge responsibility. The board had to make the tough decision of her heading the organisation within 48 hours of dad's demise. My mother's courage of conviction surfaced and she had to come up with a turnaround plan."
According to Anu, on the second or third day after her husband's demise, the board met, and they chose Anu to take over the charge as her family owned 62% shares at that time and all the executives agreed to that decision; moreover, she felt they chose her as they could bully her and get their way through, but, she was not happy with the decision as she was not prepared for it because she felt she had no knowledge about engineering and was not good at finance. Also, she was bearing the sudden loss of her husband, but looking at the loss of the company, she realised, neither her father nor her husband were from the engineering background and yet they ran the engineering company so well. Soon, she realised, one could always take help from others and learn. Likewise, she held various pieces of training and went on to learn and progress. Anu took over the charge and consulted BCG and launched the "Project Green." After becoming the chairperson of Thermax, Anu made a lot of changes. Aga dismissed the entire board, including her daughter Meher Pudumjee, she replaced them with the fresh members who could restructure the entire company's business. She pruned employees, cut unnecessary investments in non-core businesses and hired the Boston Consulting Group to restructure the company.
Soon after her husband's death, another turmoil rendered her life. Anu lost her mother-in-law the following year, and later, after 14 months of her husband's demise, she lost her son, Kurush, in a fatal car accident. After the loss of her son, Anu said,


Losing a son made the loss of a husband recede into insignificance"

According to her daughter, Meher, it was traumatic for her to lose her father, grandmother and brother in a very short span. Along with work, it became very difficult for Anu to cope with such huge losses.
According to Anu, in the time of crises, to regain strength, Anu practised Vipassana, a Buddhist form of meditative penance, that helped her cope with the trauma and provided her with strength. Gita Piramal, a writer, wrote about Anu,


Anu transformed herself with courage and uncommon common sense from an HR head to a chairman. She succeeded magnificently, as Thermax's performance shows."

Moreover, according to Anu her experiences of life taught her a lot of things. Elaborating her experiences she said,

Another important lesson I learnt after Kurush's demise was to stop asking why it happened and, instead, start acknowledging the Almighty's design of things, which can sometimes be inexplicable. As soon as you are born you are going to die. The sun rises and it sets. Similarly, all of us have to vacate this earth and if we don't, can you imagine the chaos? So, we cannot shy away from death. This acceptance will teach you to take out time and do things when people are alive. Not to postpone it, not to procrastinate."

Throughout all the pain and sufferings, Thermax was Anu's priority. In 2004, she retired as the chairperson of Thermax, and she handed over the responsibility to her daughter, Meher. At that time, the total income of the company was Rs 1,281 crore. In an interview, she also said,


You don't have to know everything…in fact, one of the beliefs I have is that skills can be hired. The leader has to show wisdom- that cannot be hired."

After her retirement, Anu began with her philanthropy and is still working for the underprivileged. She is deeply associated with Teach for India and Akanksha, both organisations and is working for the spread of education. Between 1996 and 2004, she decided to allocate one per cent of all the company's profits for charity. The Thermax Social Initiative Foundation (TSIF) runs more than nine primary government schools in Pune and Mumbai along with The Akanksha Foundation, an NGO that directly provides education to around 4,400 underprivileged children; moreover, she financially supports initiatives like Teach For India and GiveIndia. In an interview, Meher, talking about her mother's philanthropic work said,


We believe that given an opportunity and equal access to education, everyone can make something of their lives if they choose to. The relevant term here is given the opportunity and most people don't get it. So through Teach for India, Akanksha, she is trying to bring about a change."

Anu is an ardent Vipassana and yoga practitioner and extensively follows it even after her retirement. She follows a fitness schedule which is a mix of walking, cycling, exercises. According to her, she also had a passion for aerobics before she had undergone her back surgery some years ago, and the doctor had advised her to stay away from heavy exercises.
According to Anu, she is not very religious and does not follow idol worship. In an interview, expressing her views about religion, she said,


I'm not a religious person though I was born Zoroastrian, and I do go to the fire temple. But it doesn't mean anything special to me. I don't feel God there. Sometimes though, when you cannot make sense of things on earth, I feel there must be someone up there that has a master plan. Just like when you scold a child, the child may think you are cruel; but you have a plan and your intention is good. So too, God's intention is good. You come to this life to experience what you have chosen to experience, be it death, poverty, or disability. So you might think: why is Anu suffering so much? But I think of it as an opportunity, a learning process. And when you take the perspective of a thousand rebirths, of what significance is this little pinpoint of time here. But the beauty of life is that each one must find his own meaning. There is no right or wrong answer. You must keep searching to discover what makes sense to you."

According to Anu, a warm relationship with her close friends and a small family of daughter, son-in-law and her two grandchildren, grandson, Zahaan, and granddaughter, Lea, is one of the greatest support systems for Anu. In an interview, talking about this, she also said,


The time I spend with them brings pure, unadulterated joy."

Gunjan Jain, a writer, wrote a book, Arnavaz 'Anu' Aga. It was released on 30 November 2018.
Business Today ranked Anu among the 25 most powerful women in India and among the top 10 richest women in 2007. She is also known for her to transparency in corporate governance.
In April 2012, she was nominated for Rajya Sabha by the former president of India, Pratibha Patil. She held the position from May 2012 to May 2014. She also worked for the National Advisory Council of India, headed by Sonia Gandhi, with the former Prime Minister of India, Dr Manmohan Singh. From September 2012- September 2013, she was also the Member of Committee on Empowerment of Women.
According to Anu, she likes to be understated rather than being overstated. She likes to wear round neck clothes and dislikes shiny and nylon stuffed clothes. She is not very fond of wearing jewellery as her husband did not like her wearing any piece of jewellery; moreover, she feels jewellery is a waste of money.
In one of her interviews, she also revealed that she is not a gadget freak. She has no interest in technology; moreover, she has no interest in cars also.
In an interview, while expressing the happiest day of her life, she said,


Well I was very happy during the days when I was courting my husband  (I had a love marriage) And when my daufhter got married I was very happy…"