Yevgeny Prigozhin Age, Wife, Children, Family, Biography & More
Quick Info→
Hometown: Leningrad
Age: 62 Years
Wife: Lyubov Valentinovna Prigozhina
Bio/Wiki
Full name
Yevgeny Viktorovich Prigozhin [1]

FBI
Name earned
Putin's Chef [2]

The Times of Israel
Profession(s)
• Oligarch
• Mercenary Chief
• Businessman
Physical Stats & More
Height (approx.)
in centimeters- 168 cm
in meters- 1.68 m
in feet & inches- 5' 6"
Eye Colour
Brown
Hair Colour
Black (Semi-bald)
Career
Awards
• 2022: Hero of the Russian Federation
• 2022: Hero of the Donetsk People's Republic
• 2022: Hero of the Luhansk People's Republic
Personal Life
Date of Birth
1 June 1961 (Thursday)
Age (as of 2022)
62 Years
Birthplace
Leningrad (now Saint Petersburg), Russian SFSR, Soviet Union
Zodiac sign
Gemini
Signature
Nationality
Russian
Hometown
Leningrad
School
Leningrad Sports Boarding School No. 62
College/University
Leningrad Chemical and Pharmaceutical Institute, Saint Petersburg
Religion
Judaism [3]

The Times of Israel
Criminal Activities
• Robbery & Fraud
In November 1979, when he was 18 years old, he was caught stealing and received a suspended sentence. [4]

Rosbalt However, in 1981, he was caught stealing again, and this time, he was sentenced to twelve years in prison for committing robbery, fraud, and involving teenagers in criminal activities. He and a group of accomplices were found guilty of robbing homes in affluent neighborhoods. [5]

Meduza He received a pardon in 1988 and was released from custody in 1990. [6]

Forbes

• Corruption
He has faced accusations from the Anti-Corruption Foundation for engaging in corrupt business practices. In 2017, his illegal wealth was estimated to exceed one billion rubles. In 2022, he was labeled as the 'Corrupt Person of the Year' by the Organized Crime and Corruption Reporting Project, highlighting his involvement in corrupt activities. [7]

OCCRP

• Sanctions imposed by the US
In December 2016, the US Treasury Department imposed several sanctions on Prigozhin, including those under executive order 13661, due to the alleged support provided to senior officials of the Russian Federation. [8]

US Department of the Treasury In June 2017, the US imposed sanctions on Concord Management and Consulting, a company affiliated with Prigozhin, due to the company's alleged connection with the ongoing war in Eastern Ukraine. [9]

UAWIRE In January 2018, Evro Polis Ltd, a Russian company owned or controlled by Prigozhin, was sanctioned by the US Treasury Department. As per these sanctions, any property or interests in property owned by Prigozhin or the designated persons and held by US individuals or within the United States must be frozen or blocked. [10]

US Department of the Treasury In September 2019, three companies owned by Prigozhin, namely Autolex Transport, Beratex Group, and Linburg Industries, were sanctioned due to their involvement in the Russian interference in the US elections in 2016. These companies faced sanctions as a result of their connections to election interference activities. [11]

The Moscow Times In February 2022, the European Union included the Internet Research Agency in its list of sanctions. The agency was sanctioned for engaging in disinformation campaigns that sought to manipulate public opinion. They were also accused of actively supporting actions that undermine the territorial integrity, sovereignty, and independence of Ukraine. [12]

EUR-Lex

• Interference with the US elections
On 16 February 2018, Yevgeny Prigozhin, along with three of his companies including the Internet Research Agency and Concord Management, and several other Russian individuals associated with him, were indicted by a US grand jury. The charges against him included allegations of funding and interfering with the political and electoral processes in the United States, specifically during the 2016 presidential election. He also faced charges related to other crimes, such as identity theft. [13]

Internet Research Agency Indictment On 16 March 2020, the charges against Concord Management were dismissed. [14]

Law & Crime

• Wanted by the U.S.
In February 2021, the FBI listed Yevgeny Prigozhin as a wanted person and offered a reward of up to $250,000 for information leading to his arrest. [15]

The Moscow Times [16]

FBI


• Visa Restrictions by The US
In February 2022, following Russia's invasion of Ukraine, the US government imposed sanctions on several wealthy Russians, including Yevgeny Prigozhin and his family. These sanctions included visa restrictions and the freezing of Yevgeny's assets by the US. [17]

Bloomberg

• $10 Million Reward by the US
In July 2022, the US State Department offered a reward of up to $10 million for anyone who could provide information regarding Yevgeny Prigozhin, the Internet Research Agency, and other organizations involved in Russia's interference in the 2016 US election. [18]

Huffpost In an interview on 7 November 2022, he talked about interfering in the in U.S. elections and said,

"We have interfered (in U.S. elections), we are interfering and we will continue to interfere. Carefully, accurately, surgically and in our own way, as we know how to do." [19]

Reuters
Relationships & More
Marital Status
Married
Family
Wife/Spouse
Lyubov Valentinovna Prigozhina (pharmacist and businesswoman)

Children
Son- Pavel Prigozhin

Daughter(s)- 2
• Polina Prigozhina (equestrian)

• Veronika Prigozhina

Parents
Father- Name Not Known (deceased)
Step-father- Samuil Fridmanovich Zharkoi (ski instructor)
Mother- Violetta Prigozhina (former doctor and educator)

Style Quotient
Aircraft Collection
• A private jet

• Two Cessna 182s
• Embraer Legacy 600

• British Aerospace 125
• Hawker 800XP jet
Yacht Collection
A 115-foot yacht named St Vitamin

Money Factor
Assets/Properties
A compound with basketball court and a helicopter pad in Saint Petersburg (2012) [20]

Wired

Net Worth (approx.)
$1 billion (as of 2023) [21]

Daily Mail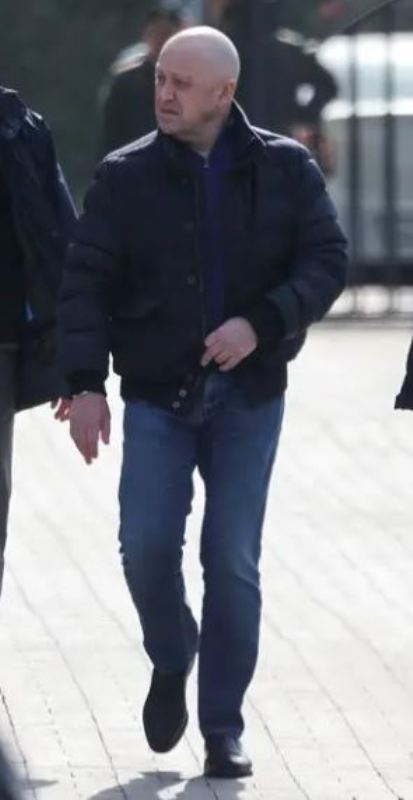 Some Lesser Known Facts About Yevgeny Prigozhin
Yevgeny Prigozhin is a Russian oligarch, mercenary chief, and businessman. He had a close relationship with Russian President Vladimir Putin before he allegedly rebelled against the Russian government in June 2023. He is a billionaire and one of the wealthiest contractors for the Russian government.
During his school days, he aspired to become a professional cross-country skier and received training from his stepfather. In 1977, he completed his education at Leningrad Sports Boarding School No. 62 to pursue a career in skiing; however, due to some reasons, he could not pursue that dream.
While studying in college, he also worked as a fitness instructor at a sports school catering to children.
Yevgeny's father passed away when he was a young child, so his mother took care of him and his sick grandmother by working at a local hospital.
After Yevgeny's release from prison in 1990, he, along with his mother and stepfather, began selling hotdogs at Leningrad's Apraksin Dvor open-air market. Their hotdog-selling business turned out to be a success.
From 1991 to 1997, Yevgeny was majorly involved in the grocery store industry. He obtained a 15% stake and held the position of manager at Contrast, the first grocery store chain in Saint Petersburg, which was founded by his former classmate Boris Spektor.
While being involved in the grocery store industry, he also ventured into the gambling industry and later, became the CEO of Spectrum CJSC. Prigozhin, Spektor, and Igor Gorbenko, together, established several other businesses in the 1990s, including those involved in construction, marketing research, and foreign trade. [22]

Neva
In 1995, as the revenues of his other businesses were declining, Yevgeny Prigozhin made the decision to venture into the restaurant industry. He partnered with Kiril Ziminov, a director at Contrast, and together they opened their first restaurant called Old Customs House in Saint Petersburg.
In 1997, he opened his second restaurant named New Island.
In 2001, Yevgeny personally served food to both Vladimir Putin and French President Jacques Chirac, when they came to have a meal at New Island.
In 2002, he had the privilege of hosting George W. Bush, the former president of the United States, at the New Island restaurant. In 2003, Vladimir Putin chose to celebrate his birthday at the New Island restaurant.
During the 2000s, Yevgeny Prigozhin established a closer relationship with Vladimir Putin, the Russian president.
In 2003, he decided to part ways with his business partner and went on to establish his own independent restaurants.
One of Yevgeny Prigozhin's companies, Concord Catering, obtained numerous government food contracts worth hundreds of millions of dollars to supply meals to school children and government employees. In 2012, he was given a contract worth US$1.2 billion to provide meals to the Russian military for a duration of one year.
Prigozhin was in control of and provided financial support to a network of three companies, namely the Internet Research Agency, Concord Management and Consulting Company, and one other. These companies faced accusations of engaging in internet trolling and trying to influence the results of the 2016 US presidential elections. They were also alleged to have carried out activities to influence political events in other countries apart from Russia. [23]

MR7 Later, he accepted that the Internet Research Agency (IRA) was involved in interfering in the US elections on behalf of Russia. In an interview in February 2023, on being asked about why he founded Internet Research Agency, he replied,


I've never just been the financier of the Internet Research Agency. I invented it, I created it, I managed it for a long time. It was founded to protect the Russian information space from boorish aggressive propaganda of anti-Russian narratives from the West." [24]CNN
In 2018, Prigozhin extended his network in Africa through the involvement of the Wagner Group. With the assistance of Pyotr Bychkov, Prigozhin was able to expand his connections on the continent. During this time, Lobaye Invest, a company linked to Yevgeny, engaged in mining various minerals such as gold and diamonds in the Lobaye prefecture. [25]

BBC News [26]

Fontanka
On 31 July 2018, three Russian journalists named Alexander Rastorguev, Orhan Dzhemal, and Kirill Radchenko, who were sent to the Central African Republic by the Investigation Management Center (SDG), were killed during their mission. They were investigating Lobaye Invest's operations and Russian interests in the eastern part of the Central African Republic (CAR), particularly at the Ndassima gold field, for a film project. [27]

BBC News In October 2017, the Russian government established a collaboration with the president of the Central African Republic. Following the murders of the three Russian reporters, Russia's foreign ministry said that the journalists were travelling without official accreditation. [28]

The New York Times
On 11 December 2018, a company called Msk LLC, which is connected to Concord Catering, was given 2.5 million rubles to organize an annual banquet called 'Heroes of the Fatherland Day' at the Kremlin. Msk LLC alleged that it was not affiliated with Concord Catering, but they had the same contact phone number, raising suspicions about their connection.
In May 2019, Maria Butina, who was convicted of acting as an unregistered foreign government agent, made a public request for financial assistance to pay her lawyer's fees. Yevgeny Prigozhin's Fund for the Protection of National Values donated 5 million rubles to support the expenses of Maria Butina's defence lawyer.
On 11 December 2019, Msk LLC, which had previously organized the banquet, received 4.1 million rubles for hosting the event for the second time. In the same year, Alexei Navalny, a lawyer and anti-corruption activist, accused Yevgeny of being linked to a company called Moskovsky Shkolnik (Moscow schoolboy) that allegedly provided low-quality food to schools in Moscow, leading to a dysentery outbreak. [29]

The Moscow Times [30]

Financial Post
Reportedly, several countries, including Australia, the European Union, Canada, Japan, Switzerland, and the United Kingdom, have imposed sanctions on Prigozhin.
Yevgeny considers himself the founder of the Wagner Group, a private military company, that is believed to have ties to the Kremlin. [32]

Bloomberg [33]

Politico On 26 September 2022, Prigozhin said that he established the Wagner Group to provide support to the Russian Forces during the 2014 Donbas War.
Wagner Group has played a major role leading up to and during the 2022 Russian invasion of Ukraine. Yevgeny Prigozhin, the founder, visited the Donbas region in Eastern Ukraine to personally assess the group's operations. In a video from September 2022, Prigozhin was seen attempting to recruit prisoners to support the Russian forces in the war against Ukraine. He conveyed that "nobody goes back behind bars" and to those who were uncomfortable with the idea "It's either prisoners or your children – you decide." [34]

BBC News
A video was released by the Wagner group on 13 November 2022, showing the ruthless killing of Yevgeny Nuzhin, a Russian prisoner, who had become a mercenary and wanted to leave the Wagner group. Another member of the Wagner group used a sledgehammer to carry out the brutal murder. [35]

The Telegraph In an interview, Yevgeny talked about the murder of the deserter and said,


It seems to me that this film should be called: 'A dog dies a dog's death. It was an excellent directional piece of work, watched in one breath. I hope no animals were harmed during filming." [36]MSN
According to retired Ukrainian colonel Serhiy Hrabskyi, the Wagner Group had a strong desire to capture Bakhmut to gain recognition. Prigozhin aimed to gain financial and political rewards if Wagner was successful in taking control of the city on behalf of the Russian government. [37]

CBC News In a statement released by his company Concord, Yevgeny Prigozhin indicated that Wagner Group had intentions to turn Bakhmut into a "meat grinder." He said,


Bakhmut is a large, well-fortified area with roads, suburbs, and water barriers. Our task is not Bakhmut itself, but the destruction of the Ukrainian army and the reduction of its combat potential, which has an extremely positive effect on other areas, which is why this operation was dubbed the 'Bakhmut meat grinder.'" [38]France 24
In January 2023, he freed the ex-prisoners, who fought in Ukraine.
On 4 May 2023, Yevgeny threatened Ukraine to utilize nuclear weapons in response to the 2023 Kremlin drone attack. [39]

The Wall Street Journal During an interview, he accused the United States of assisting Kyiv in planning the Kremlin drone attack and said,


We look like clowns threatening to use nuclear weapons in response to a child's drone." [40]The Wall Street Journal
In a statement issued by Concord's press service, Yevgeny Prigozhin referred to Russian parliament members as 'useless' and urged them to go to the frontlines. He said,


Those people who have been talking from tribunes for years need to start doing something. Where are those united Communists from the CPRF, where is the LDPR, which fights for Russia, which was left without Zhirinovsky, we can all see, has turned into a 'clown show. Mr. 'talkers' I urge you to get together in a bunch and head units like the Wagner PMC. And those who do not have organisational skills, take up machine guns or at least a sapper blade." [41]Euro Weekly News
According to some sources, Prigozhin is one of the few individuals who has the courage to talk about the 'mistakes' made by Russian military commanders during the war in Ukraine and discuss these issues with Vladimir Putin.
In 2023, following the death of a Wagner fighter, Yevgeny went to the cemetery to honour the soldier. At the cemetery, when he met the fighter's family and asked if they needed any assistance. The widow mentioned that her car needed repairs. Instead of arranging for the repairs, Yevgeny generously offered his own car, which he had used to come to the cemetery, to the widow.
On 27 May 2023, Igor Girkin, a Russian army veteran, accused Prigozhin of planning to utilize the Wagner group for a potential coup within Russia. Girkin also claimed that Prigozhin was openly violating Russian war censorship laws by criticizing the Russian high command and that his forces were showing signs of mutiny; [42]

ISW however, on 29 May 2023, Prigozhin denied having the necessary forces to stage a coup.  [43]

ISW
On 23 June 2023, a video was released in which Yevgeny was saying that the justifications provided by the Russian government regarding the invasion of Ukraine were fabricated. He said that the Russian Defense Ministry, led by Sergei Shoigu, was attempting to deceive society and the president by falsely portraying Ukraine as the aggressor with alleged plans to attack with NATO's support. [44]

Deutsche Welle
On 23 June 2023, he accused the Russian military of attacking Wagner's forces with missiles, resulting in a significant number of deaths among Wagner's fighters. In an interview, he replied to the attack and said,


The council of commanders of PMC Wagner has made a decision – the evil that the military leadership of the country brings must be stopped." [45]The Moscow Times

Shortly after his statement, the Russian Federal Security Service (FSB) pressed charges against Prigozhin for "inciting an armed uprising." [46]The Moscow Times After the accusations, the PMC Wagner force began to leave Ukraine and headed to Moscow. During the scuffle, the Wagner Group reportedly shot down an Ilyushin Il-22M airborne command post aircraft and multiple military helicopters. [47]The Guardian Vladimir Putin strongly criticized the incident, referring to it as an act of treason, and vowed to suppress the rebellion and punish the traitor. [48]Axios
Following the incident, Yevgeny Prigozhin had a discussion with Belarusian President Alexander Lukashenko, which resulted in the charges against Prigozhin being dropped. As part of an agreement, Prigozhin relocated to Belarus and the Wagner group halted its advancement towards Moscow. Initially, there were plans for Wagner troops to return to Ukraine, but those plans were cancelled when Wagner refused to sign military contracts. [49]

AP News [50]

ABC News Even though the charges against Yevgeny Prigozhin were dropped, he remained under investigation for treason. [51]

BBC News
In July 2023, it was reported that the Russian Federal Security Service was given the task to assassinate Yevgeny Prigozhin. [52]

New York Post